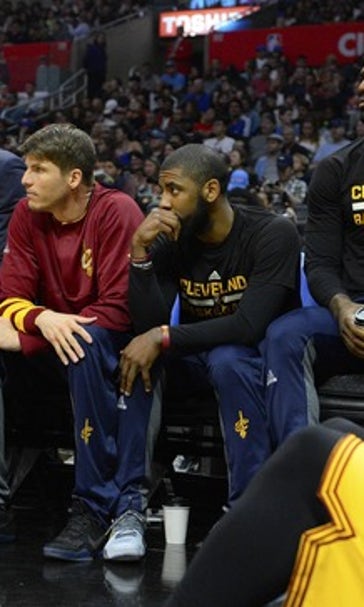 While the Big 3 get rest, Clippers rout Cavaliers 108-78 (Mar 18, 2017)
BY AP • March 19, 2017
LOS ANGELES (AP) When the Cleveland Cavaliers decided to rest LeBron James, Kyrie Irving and Kevin Love in the same game, they also provided a welcome boost to the Los Angeles Clippers, who got to sit their own starters for the entire fourth quarter of a predictably one-sided victory.
The fans paying for high-priced Staples Center seats, or tuning in for a national television game between title contenders?
They all lost out, thanks to the unsavory choices prompted by the NBA's demanding schedule.
Blake Griffin scored 23 points and the Clippers snapped their three-game losing streak with a 108-78 win over Cleveland on Saturday night.
But the Clippers' domination of the Cavs' supporting cast added another chapter to the NBA's long-running debate on rest. Coaches are increasingly choosing caution over competitiveness, and both Cleveland's Tyronn Lue and Los Angeles' Doc Rivers expressed ambivalence about the choice Lue felt he had to make.
''There is a fan base that probably bought tickets tonight to see LeBron James play for the first time,'' said Rivers, who rested Griffin on Thursday. ''They didn't get a chance to see that, and that's not cool.''
The crowd hated Lue's decision, reacting with confusion when the starting lineups were announced and then booing James when he joined the Cavs on the bench early in the first quarter. ''We Want LeBron!'' chants were taken up by much of the crowd on several occasions.
''I heard,'' Lue said. ''I wanted him, too.''
Lue said Love already was scheduled to sit out this game in his comeback from left knee surgery, and Irving left Thursday's game at Utah early with tightness in his own left knee. With the Cavs beginning a stretch of eight games in 14 days, Lue also decided to rest James instead of allowing him to play without his full supporting cast.
''It's a long season, and a lot of games,'' Lue said. ''We have a lot of back-to-back games. Everybody has. Four in five nights are tough. Five in seven are tough. ... But it's been going on for years. It's not the first time we've done it. I think coaches are taking responsibility, trying to look after their players, make sure they get the proper rest.''
James didn't speak to reporters before heading out into the Hollywood night, but Lue said the superstar didn't like the decision. Lue said his three stars all will return Sunday night against the woeful Lakers.
CLIPS CRUISE
The result was not surprising - and perhaps just what the Clippers needed to shake up their team in a humdrum March. Los Angeles (41-29) had lost six of 10, and Oklahoma City is a half-game behind the Clippers for fifth place in the Western Conference.
J.J. Redick added 16 points as the Clippers swept their season series with the Cavs. Griffin poured in 13 points in the third quarter while Los Angeles pulled away.
''Playing against the best is the reason everyone wants to play in the NBA,'' Griffin said. ''But at the same time, we'll take all of these wins. It's a bit of both. Not clear-cut one way or the other.''
THE LEFTOVERS
Channing Frye, Deron Williams and J.R. Smith started for Cleveland in the stars' place along with Iman Shumpert and Tristan Thompson. All five starters hit double figures.
The Cavaliers (45-22) have lost five of eight, but still lead Boston by 1 1/2 games atop the Eastern Conference. Richard Jefferson scored 12 to lead the Cavs in their lowest-scoring game of the season.
NOT READY FOR PRIME TIME
For the second straight week, ABC's showcase Saturday night game was dampened by a coach's decision to sit his best players. Golden State's Steve Kerr sat Stephen Curry, Klay Thompson, Draymond Green and Andre Iguodala for a showdown with San Antonio last week.
Rivers said the Saturday national games used to be protected against these problems because their afternoon starts prevented a team from being forced to play Friday night. The showcase is now an evening game.
''I think that we have to protect the national games,'' Rivers said. ''We have to treat those games like they're afternoon games, and you don't play the night before, and you don't play the next night after. It sounds so easy, but it is not, because it's hard to schedule around that. It makes the rest of the schedule harder ... but the look of (these last two) back-to-back ABC national games is not good.''
TIP-INS
Cavaliers: Shumpert played after spraining his left shoulder Thursday. ... Kyle Korver also missed his sixth straight game with a foot injury. Lue still hopes he can play on this road trip.
Clippers: Rivers flatly rejected a widely reported rumor of a possible reunion with the Orlando Magic: ''I have a past with the Magic. I have no future. My future is here.'' Rivers coached the Magic from 1999-03. ... Chris Paul went 0 for 8 from the floor, but had seven assists.
UP NEXT
Cavaliers: At the Los Angeles Lakers on Sunday.
Clippers: Host the New York Knicks on Monday.
---
---