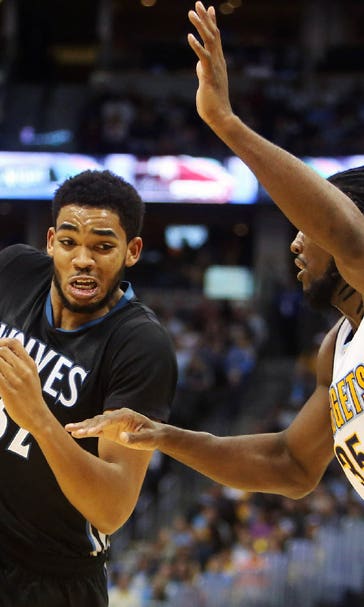 Top pick Towns' huge night helps Wolves win on road to go 2-0
October 31, 2015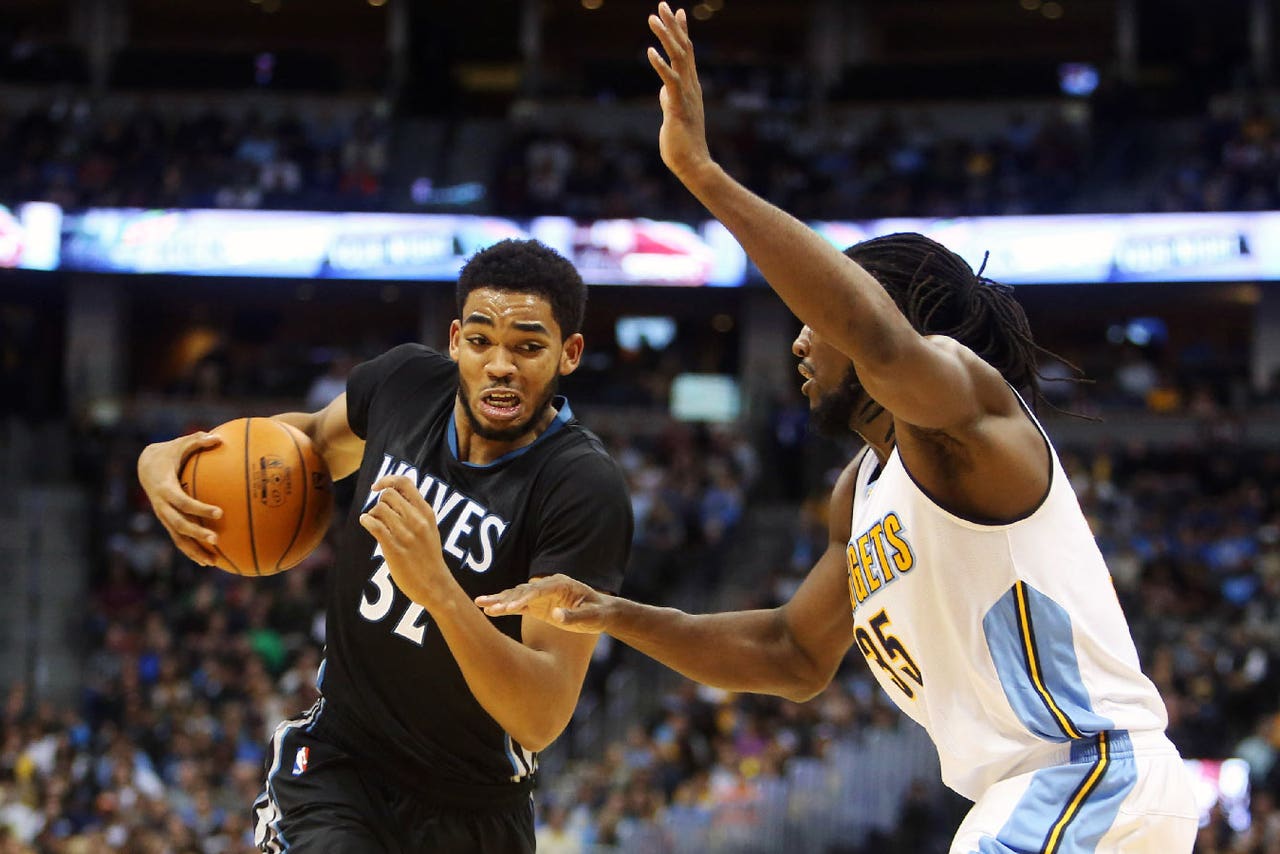 DENVER — Two emotional road wins to start the season for the Minnesota Timberwolves. Now, an emotional day awaits as they attend the memorial service of Flip Saunders.
"We go tomorrow as winners to go bury our coach," said Karl-Anthony Towns, who had 28 points and 14 rebounds as Minnesota beat the Denver Nuggets 95-78 on Friday night. "That was more important to me."
The Timberwolves have been playing with heavy hearts since Saunders died Sunday after complications from Hodgkin's lymphoma. Timberwolves veteran Kevin Garnett said that being on the court has been a "good outlet" for his team as it goes through such a difficult time.
"Something that can take your mind off reality for a little bit," Garnett said. "Tough week for us. But we're managing."
Andrew Wiggins added 18 points despite a sore back as the Timberwolves followed up a season-opening win over the Los Angeles Lakers. They were 7-34 away from home last season.
Emmanuel Mudiay scored 15 points for the Nuggets in the home debut of new coach Michael Malone.
"We came out very, very flat — no pace to our game," Malone said. "We couldn't make a shot and Karl-Anthony Towns showcased why he's one of the best young bigs in the NBA."
Towns used some tricks that Garnett has been teaching him to elude the Nuggets all evening. He became the first teenager in NBA history to record two straight double-doubles to start his career, according to the Timberwolves.
His thoughts, though, were on Saunders after the game. Same with Ricky Rubio.
"We're going to take care of our business on the road if we want to win, especially for the guy up there watching (out) for us," Rubio said. "I think we did our job."
Minnesota missed five straight free throws to start the second quarter and then hit 24 in a row. The string was snapped when Towns missed with 4:41 remaining and the game in hand.
That showed Towns is human.
"I messed up," the No. 1 draft choice said. "I haven't missed a free throw in a long, long time."
TIRED ARMS
Towns finished 11 of 19 from the floor, the most shots he said he's taken since high school.
"A lot of my points came off one dribble and going to basket," Towns said. "With them being 6-foot-9 and lighter and me being 7-foot, that's not supposed to happen. I was just seeing openings."
ROAD WARRIORS
The Timberwolves said this was the first time in franchise history they began 2-0 with both wins coming on the road.
"I'm really happy because it has been a tough week for us," interim coach Sam Mitchell said. "Our guys have worked extremely hard and should be proud."
BASKETBALL BOND
Following his firing in Sacramento last season, Malone was invited by Saunders to spend time with the Timberwolves. Malone said they bonded over basketball and it "meant the world."
"I didn't know (Saunders) long, but in the short time I got to know him, we got to be very close," Malone said. "Big loss for the entire NBA and coaching community, for the Wolves and for me, personally.
"I feel blessed to have gotten to know him the way I did before he passed."
TIP-INS
Timberwolves: Rubio had 12 points and eight assists. ... Kevin Martin added 14 points.
Nuggets: Wilson Chandler (hip) and Jusuf Nurkic (knee) didn't play. ... Malone and GM Tim Connelly are planning to attend Saunders' memorial service. ... Denver didn't have the same crisp passing and tenacious defense it had in a 105-85 win at Houston on Wednesday.
UP NEXT
Timberwolves: Minnesota plays its home opener Monday against Portland.
Nuggets: Denver is at Oklahoma State on Sunday.
---
---