Jimmy Butler
Jimmy Butler
Timberwolves get ready for Nets, move on from Butler
Published
Nov. 11, 2018 3:41 p.m. ET
Sometime on Monday, the Jimmy Butler saga is expected to officially reach a conclusion for the Minnesota Timberwolves.
After it does, the Timberwolves can focus on getting ready for Monday night when they host the Brooklyn Nets.
Butler's desire to leave Minnesota was made known shortly before training camp began in September and cast a shadow on the first few weeks of the season.
Butler was not enamored with playing with Karl Anthony-Towns, publicly said he expected to opt-out of his contract next summer to become a free agent and a trade was in place shortly after Minnesota fell to 4-9 following Friday's 121-110 loss at Sacramento.
On Saturday, the Wolves and Philadelphia 76ers reportedly reached an agreement on a trade. Butler will go to Philadelphia along with rookie Justin Patton and Minnesota will get Robert Covington, Dario Saric, Jerryd Bayless and a second-round pick in 2022.
The trade will likely be officially announced Monday after the league approves it and then the Wolves will attempt to break a five-game losing streak and rebound from a winless five-game trip that has dropped them to 4-9.
"To win you have to play with a certain intensity level and we're not playing well right now," Minnesota coach Tom Thibodeau said. "It's not any one particular person. It's not any one particular thing. It's all things. Hustle can make up for a lot and so that's what we have to get back to."
Before leaving, Butler averaged 21.3 points in 10 games and he scored 13 points in Friday's loss at Sacramento. During the trip, Minnesota allowed 116.4 points per game and lost by an average 14.6 points.
Towns scored a season-high 39 points Friday and averaged 21.6 points on the trip after averaging 18.9 points in his first eight games.
"We have to find ways to win the game, do little things and play defense," Towns said. "If we can't do that, we ain't going to win. It's simple basketball, offense, and defense. We play offense well. We don't play defense well."
Minnesota is starting a stretch where 10 of the next 12 games are at home and it will play its first home game since Derrick Rose scored 50 points against Utah on Oct. 31 but may do so shorthanded. Once the trade becomes official, Saric, Covington and Bayless are not expected to play Monday and others could be out as well.
Jeff Teague has missed six straight games with a left knee contusion, Andrew Wiggins sat out Friday with a right quad contusion that kept him sidelined for three games Oct. 24-31.
Both players will be evaluated before Monday's game though Wiggins is listed as a probable starting forward while Teague is not listed as a probable starting guard.
The Nets (6-7) are trying to secure a winning road trip of at least four games for the first time since Feb. 13-27, 2014, and are trying to get to .500 for the second time in four days.
Brooklyn opened its four-game trip with a blowout win in Phoenix on Tuesday and a 112-110 win at Denver on Friday, but took a 116-100 loss at Golden State on Saturday.
The Nets shot 46.8 percent Saturday but matched a season worst by allowing 55.4 percent shooting despite Stephen Curry sitting out for Golden State.
"I want to see how we bounce back from this. A 20-point loss is a 20-point loss," Nets coach Kenny Atkinson said. "It's an important game to test our character."
Brooklyn hung with the Warriors until late in the first half but allowed a 13-2 run, eventually trailed by 24 and went 1-for-12 from the floor during Golden State's decisive run.
Joe Harris led the Nets with 24 points and D'Angelo Russell was the only other starter in double figures with 12. Caris LeVert, who hit the game-winner Friday, was held to four points as the Nets struggled against Golden State's defense and often went into playing isolation ball.
The Nets will hope to revert to normal behind LeVert, who has seven 20-point games so far. LeVert exited Saturday's game in the third quarter with a minor knee injury and is expected to play Monday.
"It feels OK," LeVert, said. "I just fell on it a little bit, but I'll be fine for the next game."
Minnesota has won 12 of the last 18 meetings with the Nets.
---
---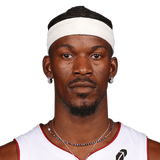 Get more from Jimmy Butler
Follow your favorites to get information about games, news and more
---