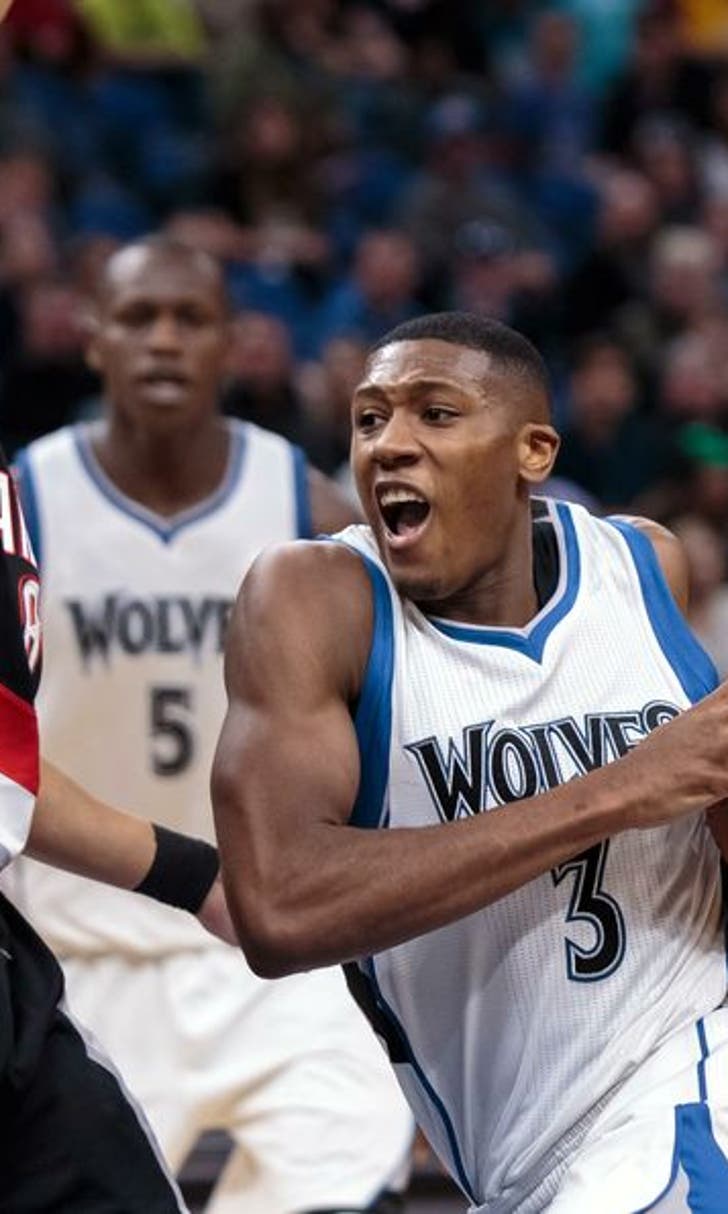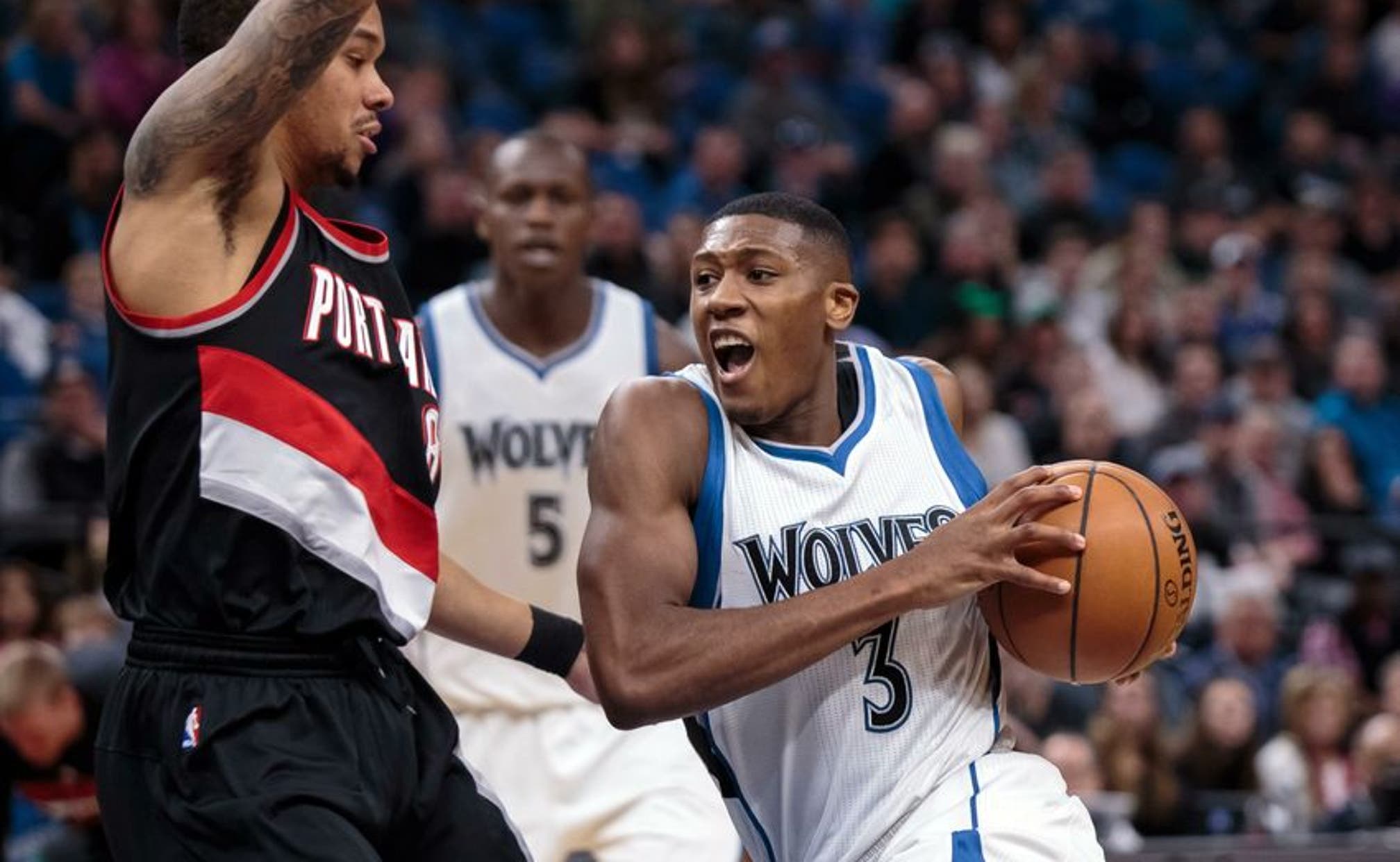 Timberwolves 2016 Year in Review: Backcourt Reserves
BY Fansided and Terrence Verwayne/FanSided via Dunking with Wolves • June 30, 2017
Jan 1, 2017; Minneapolis, MN, USA; Minnesota Timberwolves guard Kris Dunn (3) drives in the third quarter against the Portland Trail Blazers forward Al-Farouq Aminu (8) at Target Center. The Portland Trail Blazers beat the Minnesota Timberwolves 95-89. Mandatory Credit: Brad Rempel-USA TODAY Sports
As we flip the calendar towards 2017 with 35 games in the books, now is the perfect to take a look at how each player has impacted the Timberwolves thus far this season.
In our third installment of mid-season player profiles, we'll focus on the back court reserves at the small forward and guard positions and how they have performed throughout the 2016 portion of the season.
First, we took a look at the reserve big men on the team and how they fared during the 2016 portion of the season. Then, it was Gorgui Dieng and Karl-Anthony Towns' turn as we reviewed the starters. And now, on to the back court…
Traditionally, small forwards are considered front court players but in the Timberwolves' case, starter Andrew Wiggins and backup Shabazz Muhammad like to play on the perimeter in Thibodeau's system and spend minimal time on the block. At times, head coach Tom Thibodeau will rotate Nemanja Bjelica or Zach LaVine in that spot depending on whether he wants to go with a big or small lineup.
The point guard position goes four deep with starter Ricky Rubio and second-string point guard Kris Dunn garnering most of the minutes while Tyus Jones and John Lucas III get spot minutes whenever their services are needed.
At shooting guard, Zach LaVine monopolizes that spot at nearly 38 minutes a game and when he does come out, Thibs opts to go with a combination of Wiggins and Muhammad rather than sub-in backup shooting guard Brandon Rush.
Dec 6, 2016; Minneapolis, MN, USA; San Antonio Spurs guard Danny Green (14) defends Minnesota Timberwolves forward Shabazz Muhammad (15) in the second quarter at Target Center. Mandatory Credit: Brad Rempel-USA TODAY Sports
Shabazz Muhammad
Playing time: 17.5 minutes a game (30 games; zero starts)
Scoring: 5th (7.4)
Rebounds: 9th (2.5)
Assist: 11th (0.4)
Steals: 7th (0.6)
Effective FG%: 9th (47.4%)
Outside of injured center Nikola Pekovic, Shabazz Muhammad is the longest tenured reserve on the Timberwolves and their current leading scorer coming off the bench with 7.6 points a game — which tells you everything you need to know about Minnesota's bench.
Shabazz spends most of his time on baseline in the half court offense, spotting up for three's or driving to the basket where he likes to finish with his left/strong hand. He gets out quickly in transition, providing another scoring option for the Wolves on the fast break. His career thus far has been up and down and has regressed in some areas this season, but Muhammad has come on as of late averaging 13.2 points again in his last five games while shooting 49 percent from the floor and 57 percent from three.
What he does well
Muhammad is a southpaw scorer who provides another option for the second unit. He's a guy who can get hot from outside, putting up big numbers in spurts. Overall, Bazz has been good from three this year, hitting on 35 percent of his attempts from the outside.
More from Dunking with Wolves
He is not a ball-dominate player (although his assist rate remains low) and can be efficient playing without the rock in his hands on catch-and-shoots but also has the ability to score off the dribble when needed. Finishes at a high rate around the basket with a 60 percent conversion rate at the rim.
At 6'-6", he's not as big as most traditional wings but has a strong build at 223 pounds and uses that to back down smaller opponents when playing at the two-guard spot.
What he doesn't do well
Muhammad is not a play-maker for teammates and rarely sets other guys up for scoring opportunities. As a scorer, he isn't always as aggressive as he needs to be as his field goal attempts have dropped from last year when he took 8.3 per game to this year where he's averaging 6.2.
While Muhammad is excelling at the "three" part of the his job, the "D" has been lacking for some time, posting 115 defensive efficiency rating this season and averaging 114 rating throughout his career. Minnesota lacks leadership on the bench unit and Muhammad really had a chance to take on that role this season but so far hasn't lived up to that expectation. For the Timberwolves to take the next step, they'll need someone to step up in that area.
Impact on team
Muhammad is tied with Andrew Wiggins at seventh on the team with offensive rating of 107. And again, he's ranked seventh on the team in win shares at 0.6 this season, which is lagging behind his regular career rate in that category. He also carries a poor plus/minus per 100 possessions which ranks him 12th on the team at -5.7.
Jan 1, 2017; Minneapolis, MN, USA; Minnesota Timberwolves guard Kris Dunn (3) drives in the third quarter against the Portland Trail Blazers forward Al-Farouq Aminu (8) at Target Center. The Portland Trail Blazers beat the Minnesota Timberwolves 95-89. Mandatory Credit: Brad Rempel-USA TODAY Sports
Kris Dunn
Playing time: 17.1 minutes a game (34 games; 5 starts)
Team ranking:
Scoring: 9th (4.3)
Rebounds: 10th (2.3)
Assist: 4th (2.5)
Steals: 2nd (1.0)
Effective FG%: 10th (42.6%)
PER: 11th (9.6)
Tom Thibodeau likes to play his starters heavy minutes, and outside of Shabazz Muhammad, Dunn is the only person who gets meaningful minutes behind the first unit at the guards/wings spots.
At times, we have gotten flashes of Dunn's brilliance and play-making ability but his inconsistency, lack of experience and his inability to run the offense to Thibs' liking has halted him from taking over the lead guard spot for the time being.
However, anytime he takes the floor, the one thing that is evident is the confidence he shows in his game. The NBA stage doesn't look too big for him, and that's a good thing.
What he does well
Dunn is a true point guard with prototypical size at the position. His long and rangy arms have allowed him to get his hands on ball and deflect passes in the lane.
He sees the floor very well and does a good job finding guys regardless of where they are on the court. Dunn's a creative ball handler and can get to the basket with ease. He also shows the ability to be an elite on-the-ball defender and isn't afraid to put pressure on ball handler coming up the court.
Where he really thrives is in the fast break; his dribbling speed is off the charts and when he's on the run, he makes great decisions in transition whether he's scoring or finding the right man to get the ball to.
What he doesn't do well
It's been well-documented that he struggles to shoot the ball (39 percent from the field) and its something he is going to really need to work on if his game is going to advance to the next level.
And while his shot needs work, he's also needs to improve his shot selection as he takes too many pull-up jumpers with a lot of time still left on the shot clock even though that hasn't been his strength of his game.
Although he shows the ability to defend at a high level, it hasn't quite translated into a positive impact as he's allowing opponents to shoot 51.3 percent on him on two-point shots overall and 40 percent 15-feet away from the basket. Team defense is also a struggle for him as it has been for most of his teammates. He tends to lose him man at times and gets lost defensively; an issue that has followed him from Providence.
Impact on team
Dunn currently has an offensive and defensive ratings of 93 and 108, respectively, which ranks him 11th and 4th on the team.
His 0.3 win share has him at 10th on the team while his -0.8 plus/minus has him at 8th. There's not a huge difference from a team aspect when it comes to offensive and defensive ratings. The Wolves take a slight dip in offensive efficiency when he's on the court, going from 109.6 to 108.3. Opponents are scoring at a slightly higher rate as well when he's on the court, putting up 111.4 as oppose to 110.8 when he's off.
Oct 29, 2016; Sacramento, CA, USA; Minnesota Timberwolves guard Brandon Rush (4) controls the ball against Sacramento Kings guard Ben McLemore (23) during the second quarter at Golden 1 Center. Mandatory Credit: Kelley L Cox-USA TODAY Sports
As stated before, outside of Shabazz Muhammad and Kris Dunn, not a lot of guys are getting minutes behind the starters in the back court. Brandon Rush, Tyus Jones and John Lucas III aren't playing much with Rush barely edging out Jones in minutes per game at 11 to 10.4 but with only 11 games under his belt this season while playing in 10 fewer games than Jones.
With that said, I wont go into as much detail as I did with the other players on the roster but will speak on what traits each player brings to the team instead. For a little more detail on Tyus Jones, feel free to refer to my previous post on why the Timberwolves should consider keeping him as a piece of their future.
Brandon Rush
What he brings to the table
Rush is your typical catch-and-shoot type of guard. He has range to his game and will occasionally pull-up inside the arc but isn't much of a threat to attack the basket. He's a guy who will put the ball on the floor and create for himself or teammates.
Defensively, he lacks the quickness to consistently guard the perimeter one-on-one and isn't much of a post defender. In his 11 games, he has accumulated an offensive efficiency rating of 72 and defensive rating of 113. He has not shot the ball well so far this season, going 6-24 (25 percent) overall and 4-14 (28.6 percent) from three with 100 percent of his made shots being assisted.
Tyus Jones
When given the opportunity in what has mainly been garbage time minutes, save for the five games that Ricky Rubio missed back in early November, Jones has looked more than competent running the offense.
Nov 30, 2016; Minneapolis, MN, USA; Minnesota Timberwolves guard Tyus Jones (1) during a game at Target Center. The Knicks defeated the Timberwolves 106-104. Mandatory Credit: Brace Hemmelgarn-USA TODAY Sports
He's a better shooter than the two point guards starting in front of him but doesn't have the natural talents of Kris Dunn or the experience of Ricky Rubio. He lacks the ideal size that you would seek in a starting point guard in today's NBA but at 6'-2" he's certainly not the most diminutive point guard in the league.
From the sample size given, it's easy to see Jones has a natural feel for the game and balances when to shoot or pass very well. His vision and passing stands out while he doesn't turn the ball over as much as you would expect with a younger point guard.
Defensively, there's work to be done but that would be expected with the limited amount of game exposure he has. With 44 assist and only 13 turnovers on the season, his assist to turnover ratio is 3.38 and would rank him fifth in the NBA. Rubio is currently sitting with a 3.60 ratio, putting him fourth in the league.
John Lucas III
At 5′-11″ and 166 pounds, Lucas is obviously an undersized guard in the NBA. He has bounced around the league and played overseas during his 12-year professional career, with his longest stints being in Houston and Chicago at two years apiece.
He's a good three point shooter, boasting a 34.4 career percentage but limitations with size and natural ability have limited him defensively and other areas enough for him to make a noticeable impact.
What has kept in the league is his understanding of the game and ability to run whichever offense he's assigned to when supplementing the starter as well as his practice habits. Lucas has appeared in five games this season and played a total of 11 minutes and as a result of such a small sample, it's hard to give any true evaluation of his impact on the team during games.
We'll finish up the series later this week with a look at the Timberwolves' starting back court during the calendar year of 2016.
---
---