Oklahoma City Thunder
Oklahoma City Thunder
REDIRECT::Clippers thriving, Thunder struggling heading into matchup
Published
Oct. 30, 2018 12:57 p.m. ET
OKLAHOMA CITY -- The Los Angeles Clippers entered the season without many expectations.
The Clippers jettisoned Blake Griffin in a late-season trade last year, lost DeAndre Jordan in free agency and traded Austin Rivers for Marcin Gortat in the offseason.
On the other hand, the Oklahoma City Thunder had plenty of expectations after keeping Paul George before his free agency really ever began and adding Dennis Schroder and Nerlens Noel to help build up a reserve group that struggled last season.
In the early part of the NBA season, though, the Clippers have found success while the Thunder have struggled to find much positive consistency.
"It's, again, unselfishness. No one's hunting points, they're hunting the open guy." Clippers coach Doc Rivers told reporters after his team improved to 4-2 with Sunday's home win over the Washington Wizards. "And that's a good way to play; it's the only way we can play, it's the only way we'll be good."
The Clippers have done plenty of not only hunting the open guy but finding the open guy, averaging 116.5 points per game.
As good as the offense has been, the defense has been even better, allowing just 103.9 points per 100 possessions.
"It's funny because it's who we are," Rivers said, referencing Americans. "We like scoring. It's why we don't follow soccer (as much)."
They're also doing it with the help of a reserve unit that has been the highest scoring bench in the league by more than 7.5 points. The Clippers are averaging 55.4 points per game from their bench.
Oklahoma City is coming off its first win of the season Sunday over the Suns, though they nearly let a big lead slip away late in that one.
"I think we can build off that win and keep getting better," Schroder said.
The Thunder is hopeful Steven Adams, who missed Sunday's win over Phoenix with left calf tightness, will be available against the Clippers.
"I think we will have a much better idea tomorrow morning at shootaround, to see how he feels," Oklahoma City coach Billy Donovan said.
The Thunder went through a light practice Monday, with Adams participating, but the drills did not include any contact or running.
Nerlens Noel had 20 points and 15 rebounds in Sunday's win, perhaps the best game of his NBA career.
Perhaps more importantly, Noel ignited things defensively for the Thunder, with three first-half steals.
"The identity of wanting to play faster definitely starts on the defensive end," Noel said. "Getting steals, deflections, anything to get out on the fast break and getting Russell (Westbrook) coming downhill."
But Noel turned his ankle late in that game and sat the final 8:57, and is questionable for Tuesday's game.
The teams have already met once this season, with the Clippers winning 108-92 at the Staples Center on Oct. 19.
Oklahoma City was without Westbrook in that game, though.
Westbrook has played in each of the first three games of the current homestand, working his way back from offseason knee surgery.
He's averaging 22.7 points, 12 rebounds and 7.7 assists so far, and made just 1 of his 11 3-point tries.
---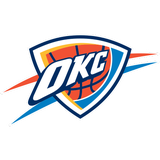 Get more from Oklahoma City Thunder
Follow your favorites to get information about games, news and more
---