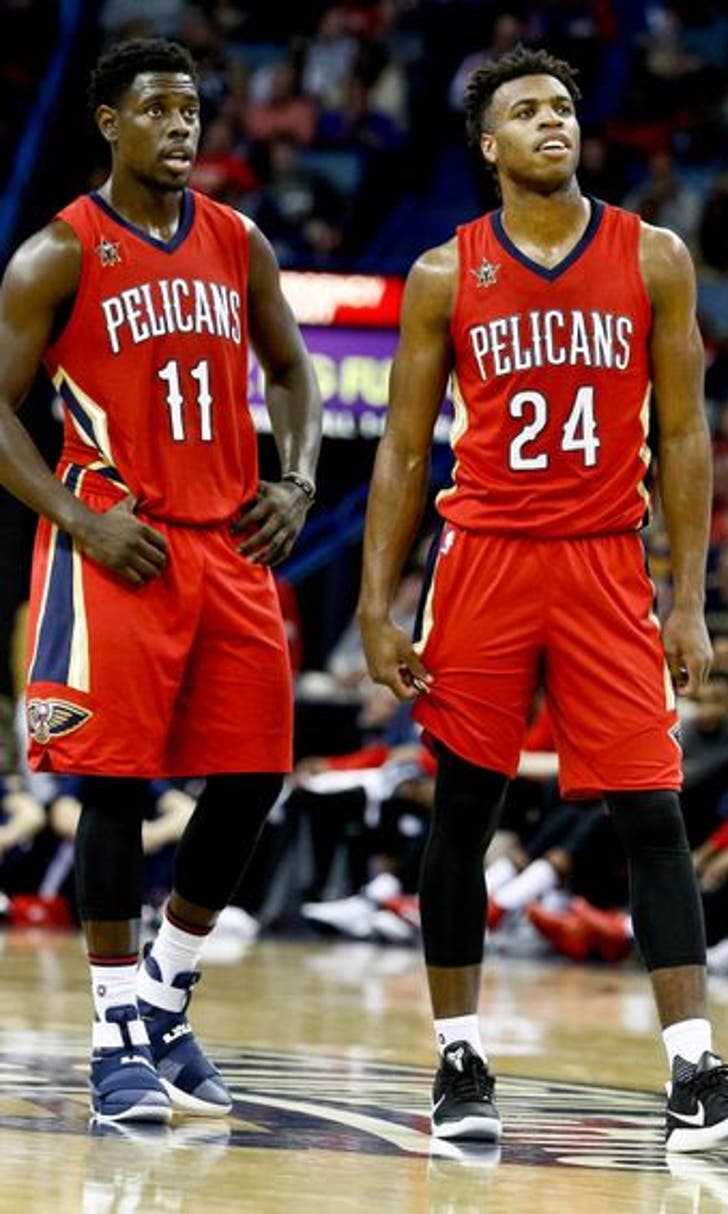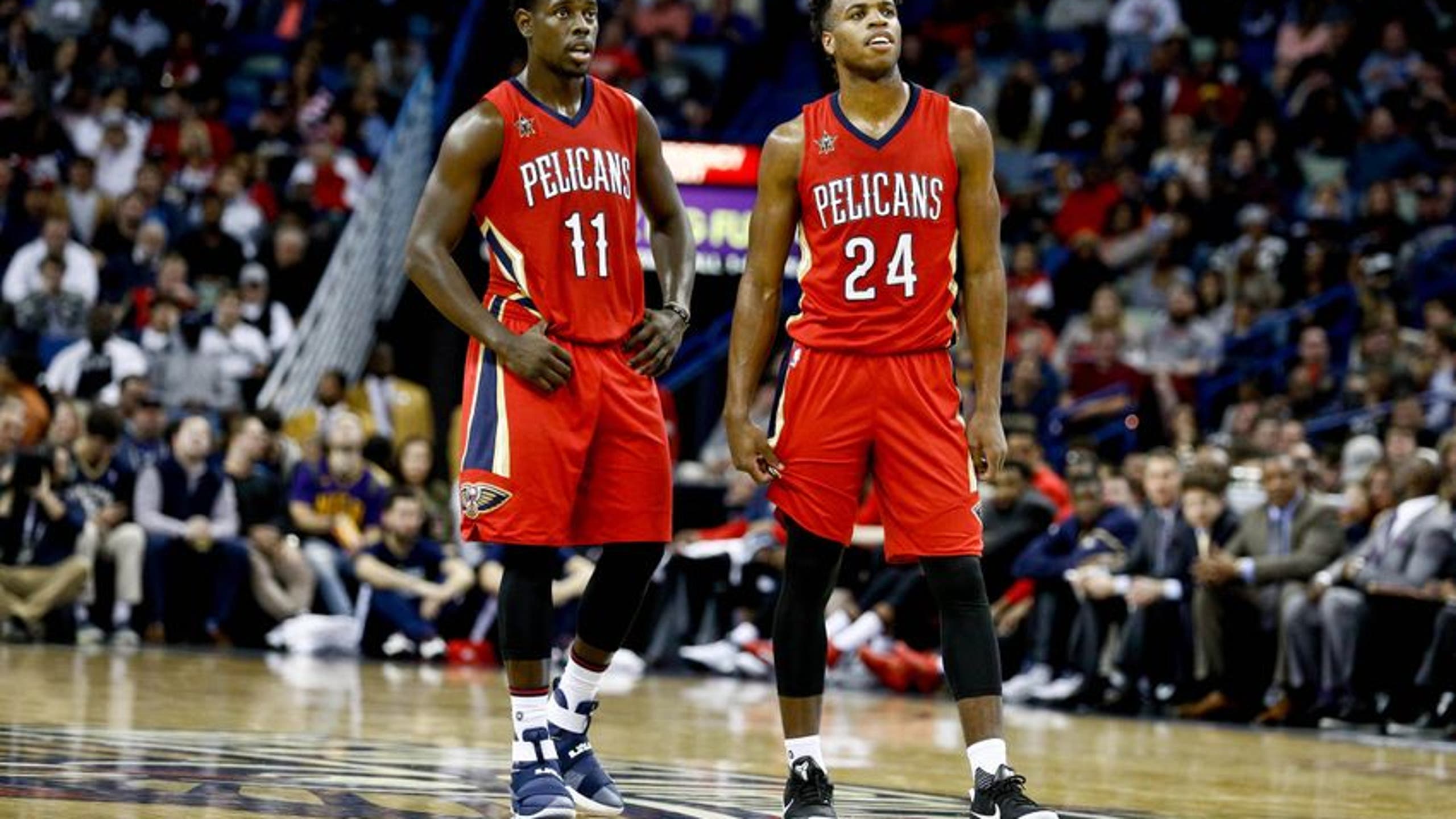 Player Grades: New Orleans Pelicans fall short in matchup versus Thunder
BY Fansided and Gared Watkins Jr./FanSided via Pelican Debrief • December 22, 2016
Another winnable game, another rough loss for the New Orleans Pelicans, who fell 110-121 to the Oklahoma City Thunder on Wednesday night.
Coming off an easy win in Philadelphia the night prior, the New Orleans Pelicans were unable to keep their winning ways going.
More from Pelican Debrief
In a matchup that was competitive for majority of the night, the Pelicans lost to the Oklahoma City Thunder 121-110. Russell Westbrook led the Thunder with 42 points, 10 rebounds, and 7 assists. Anthony Davis finished as the leading scorer and rebounder for New Orleans as he finished the night with 34 points, 15 rebounds, and 2 blocks.
In probably the most pivotal moment of the game, the Pelicans had some bad luck on both sides of the ball. New Orleans was down 89-87 during the early further quarter but allowed the Thunder to go on a 11-0 run, putting the game out of reach for the night. It only took the Thunder four possessions to complete the run.
The Pelicans came up empty offensively during a couple of extended segments in the fourth quarter, which hurt their chances of getting the score closer drastically.
New OrleansPelicans110
Oklahoma CityThunder121
Jrue Holiday
PG, New Orleans Pelicans
B+ Jrue Holiday dropped 23 points to go along with 10 assists tonight. Facing off against Russell Westbrook is a handful on the defensive side so it is important to make your presence felt on the offensive side of the ball. Holiday also tacked on four rebounds, one steal, and two 3-pointers to round out of the best lines he has put up all season. If it weren't for Westbrook scoring 40+ points tonight, he would have an A.
Buddy Hield
SG, New Orleans Pelicans
D Hield was not able to get anything going tonight. He failed to make any of his 3 shots tonight and did not make any significant contributions in any other stat categories. Becoming a starter has not guaranteed improved numbers for Hield so it will take time for him to get acclimated to the NBA game.
Solomon Hill
SF/PF, New Orleans Pelicans
C+ Solomon Hill is not involved on the offensive end much and he is not high on the pecking order of offensive options. His defensive capabilities and long range shooting are valued heavily so he will continue to see playing time until Evans is fully healthy. Hill finished the night with 5 points and 3 rebounds in 26 minutes while doing an exceptional job holding opposing players on the defensive end. Typical night for Hill.
Anthony Davis
PF/C, New Orleans Pelicans
A Anthony Davis finished the night with a stellar line of 34 points, 15 rebounds, and 2 blocks. He also kept New Orleans in the game, thanks to his 17 points and 6 rebounds in the first half. Unfortunately, Davis had to sit out for awhile after picking up his third foul while Westbrook was driving to the basket with a short amount of time left in the half. Davis is practically unstoppable no matter who he is squaring off against, especially at home in the Smoothie King Center.
Alexis Ajinca
C, New Orleans Pelicans
C- Ajinca only saw five minutes of action and failed to contribute in any areas of the game tonight.
Omer Asik
C, New Orleans Pelicans
D Another lackluster night for Omer Asik. He finished the night with only 9 minutes of playing time and 2 rebounds to show for it. It is evident that he does not have a spot in the rotation and will be forced to ride the bench barring injury or trade.
Tim Frazier
PG, New Orleans Pelicans
B His stat lines are nothing like his early season work but he is still a serviceable player night in and night out. Frazier finished the night with 10 points, 5 assists, and 3 rebounds. His minutes in the rotation are a sure thing as Tyreke Evans is still working to get into mid-season form. His exceptional decision making and aggressiveness driving to the basket will allow him to contribute even in limited action.
E'Twaun Moore
SG, New Orleans Pelicans
C Moore capped off the night with 6 points on 2 for 7 shooting from the field, with both of his makes coming from behind the arc. His offensive contributions are always needed so he will continue to have a spot in the rotation. His play on the defensive end was subpar and his inconsistency will be a factor that the Pelicans will have to get used since they are lacking in backcourt depth at the time.
Terrence Jones
PF/C, New Orleans Pelicans
B Jones had another solid outing on the offensive end with 21 points. He was only able to get 2 boards all game but he made up for his shortcomings in the scoring area. Jones finished an efficient 9 of 17 from the field, but he still has work to do on the defensive side of the ball. Even with his flaws in his overall game, he will continue to be an integral part to the rotation for New Orleans.
Dante Cunningham
SF/PF, New Orleans Pelicans
B+ After having an exceptional game versus the 76ers, Cunningham only played 13 minutes tonight. With an inconsistent spot in the rotation, Cunningham will continue to have trouble with posting quality stat lines.
Langston Galloway
PG/SG, New Orleans Pelicans
C- Galloway bounced back from his DNP-CD on the previous tonight to actually see the floor. He may have only scored 3 points in 6 minutes, but at least he was able to get a little run tonight in this matchup. His numbers will improve if he is given the opportunity to gain more playing time.
Tyreke Evans
PG/SG/SF, New Orleans Pelicans
C+ Evans is still rusty but he finished the night with 6 points and 3 assists. He has a minute limit of 15 minutes every night that he plays so it will take some time for him to get back into the groove of things. He is not suffering any setbacks so everything is positive as of now and his return to prominence may come sooner than later, depending on the coaching staff removing the minute cap on his playing time.
Other Observations:
The New Orleans Pelicans fell short in the final period of action but they have four more consecutive home games to attempt to build some steam heading into the second half of the season.
The New Orleans Pelicans will be squaring off against the Miami Heat at the Smoothie King Center on Friday night. The game will tip off at 7:00 PM CST.
---
---