Dario Saric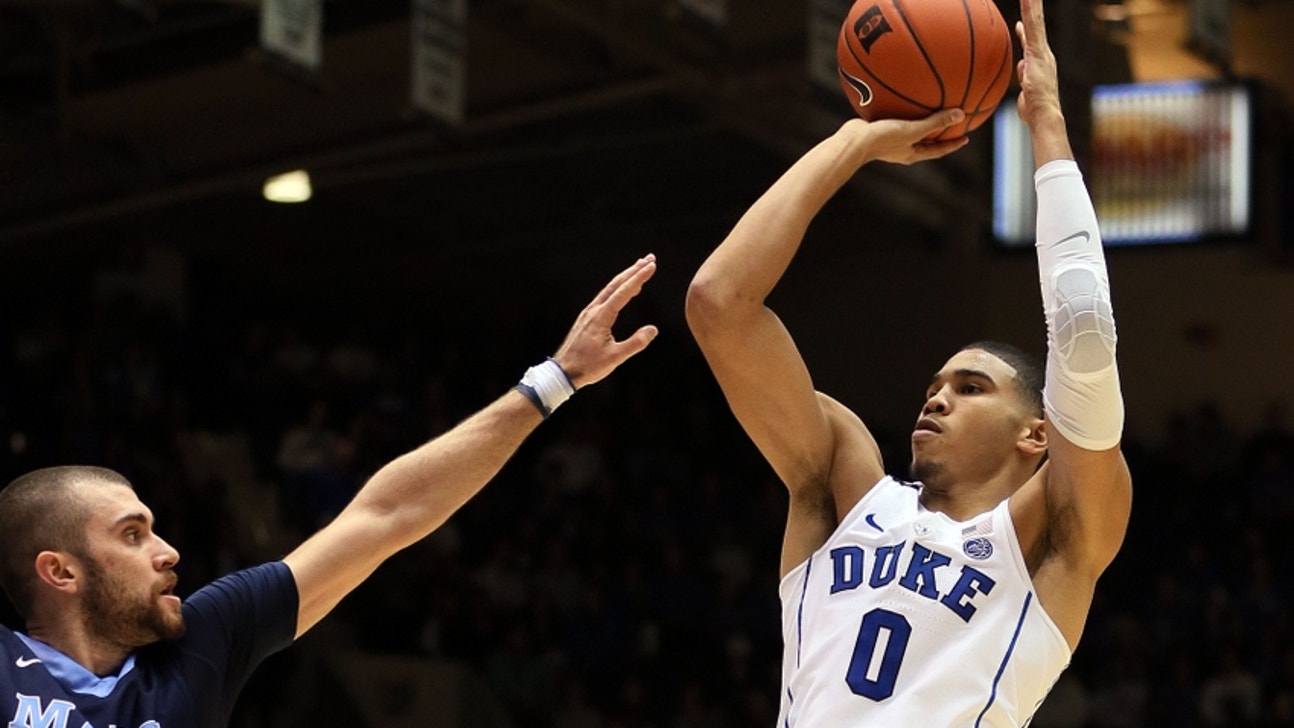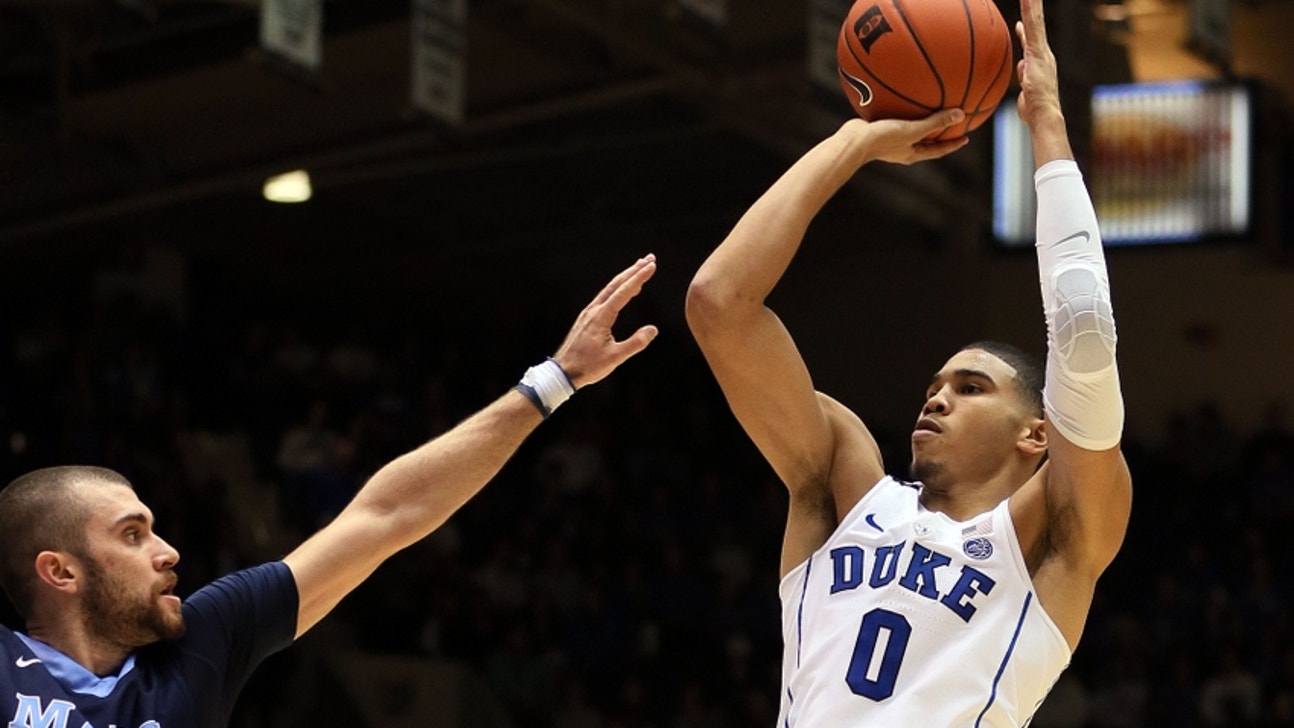 Dario Saric
Philadelphia 76ers' Draft: Jayson Tatum Shining Early
Updated
Mar. 4, 2020 2:53 p.m. ET

Fansided, Christopher Kline/FanSided via The Sixer Sense
Despite missing the first several games due to injury, Jayson Tatum looks like Duke's best prospect already — and is somebody the Philadelphia 76ers should consider.
This year, the Philadelphia 76ers face the 2017 NBA Draft with as many as four picks, and two lottery picks.  And so it makes sense to keep an eye on young NCAA talent who may declare at the end of the season.  One such school that pushes perennial talent into the NBA is Duke University.
This year, the Duke Blue Devils were plagued by injuries to kick off the season.  One such player was 5-star forward Jayson Tatum, certainly among the most prominent. Now, on a team loaded with draft prospects, Tatum's emergence continues to make him stand out in an impressive light. Overall, he's beginning to look as if he's the unquestioned best prospect in Duke's core.  For now, he is rapidly establishing himself as somebody the Philadelphia 76ers should look into moving forward.
Wing It
More from The Sixer Sense
Granted that Harry Giles hasn't gotten an opportunity to prove himself yet.  But Tatum's play places him into legitimate conversation for the best prospect in this 2017 class. Right now, guards dominate the conversation.  But it would be wrong to overlook one of the few wing players that have ascended to prominence.
There are clear pros and cons with Tatum's game, but he's making those predetermined cons much less pronounced than expected. He's already filling a nice niche alongside Grayson Allen and Luke Kennard on the perimeter, and should continue to increase his role as time transpires.
He's a well-balanced scoring threat
On one hand, Tatum's ability to score is incredibly advanced for his age. Approching19, he possesses among the most advanced footwork of any prospect at the small forward position. On the other hand, Tatum is incredibly apt in using his length and strength to his advantage, and excels in picking spots on the floor and finding cracks in the defensive structure.
Finally, he has a smooth pull-up jumper from mid-range.  Tatum also boasts a turnaround jumper in post-up scenarios that is extremely difficult to defend. He even gauges the defensive pressure beautifully.  JT has a number of nifty moves he's able to rely on to create space and get shots up.
Whether it's facing up in isolation or with his back to the basket, Tatum simply shows a superb feel for the game on offense.
Most scouts agree, he's the type of go-to scorer that has immediately transferable skills at the next level, and couples that with the athleticism needed to make plays from day one.
Here's a prime example of his innate ability to create space. He makes a nice jab step fake to the right then creates ample space off the step back, using just one dribble to do so:
Here's an example of his post-up skills, where he uses a beautiful head fake to create space and nails the fadeaway jumper:
In a manner reminiscent of Paul Pierce in some ways, Tatum uses his size and length to his utmost advantage as a scorer. He's topping off his exceptional inside-out game with 40 percent shooting from beyond the arc, and is already one of college basketball most dynamic scoring threats — without question.
He fits the bill of what the Philadelphia 76ers need
While I understand the Sixers' needs are largely at the point guard spot, they're also in desperate need of more depth on the wing. Robert Covington isn't someone I'm comfortable starting long-term, and the likes of Nik Stauskas and Hollis Thompson are quickly cooling off in lieu of their improved start to the season.
Tatum gives them another prime athlete to throw into the mix alongside Joel Embiid, Ben Simmons and Dario Saric, creating a highly versatile lineup that finds upgrades in almost every sense.
His scoring from the perimeter is something the Sixers can utilize to balance out Embiid's presence on the inside, and Simmons' precise passing ability — as well as Saric's versatility at the four — could round out the rotation nicely.
Conversation Rotation
A rotation like this could allow Brown to play to his team's flexibility on offense, something he can't do with bogged down tall ball:
This is the type of rotation that blends the size and skill of the Sixers' rotation ideally. They have shown much more efficiency in traditional setups this season, and they can still play to that strength in adding someone like Tatum alongside a guard with the Lakers' pick.
Simmons would play the role of primary ball handler, while someone like Ntilikina later in the lottery could easily aid in facilitation. Topping that off with Saric's passing skills at the four, and you have a surprisingly well-balanced rotation to boot.
On the other hand, the only concern here would be covering the two-guard on defense.  That's a task I think Simmons and Tatum could muster the ability to handle. Also, bringing Dario off the bench and rolling with a pair of guards would still provide a much more effective rotation than what the team is attempting to cultivate at this point.
His defense isn't a liability
One of the major concerns with Tatum entering college ball was his defense. His effort on the defensive end during his high school days looked iffy at times, and his ability to defend upper level competition was brought into question a fair amount.
He has, however, disposed of the vast majority of those concerns at this point. His frame and athleticism is ideal for covering wings at a high level, and he continues to showcase the ability to move his feet well on defense.
His lateral motion is of no concern at this stage, and his aggressiveness has shown massive signs of improvements. He's as well-constructed of an athlete at they come at 18, and he is showing NBA scouts that that's something he can transfer to the defensive end alongside his offensive proficiency.
The verdict: why he should be near the top of Philadelphia's list
Tatum, although he doesn't solve the guard problem, brings a bounty of other benefits to the Sixers' rotation. He's the type of perimeter scorer that could flourish alongside an inside-out presence like Embiid and Simmons.  On top of that, he has the skill set of a potential All-Star at the NBA level.
As a matter of fact, J.T. is emerging as the best small forward in the draft class, sorry Josh Jackson.  Additionally, he genuinely gives the Sixers a number of major fixes on both sides of the basketball. In the end, Brett Brown needs more firepower, and there's simply no denying the fact that Tatum provides that.
I'm not saying he's better than Markelle Fultz just yet.  But I am saying that he's making considerable gains in an ever-shifting class of incredibly talented players. Disregard the buzz surrounding the guards in this years draft class.  At this moment, Jayson Tatum is somebody who could very well end up as a deserving first overall pick. Don't count it out.
More from The Sixer Sense
This article originally appeared on
---
---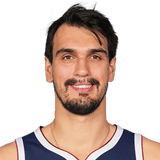 Get more from Dario Saric
Follow your favorites to get information about games, news and more
---