Brooklyn Nets
Brooklyn Nets
Nets look to take advantage of slumping Hawks (Dec 02, 2017)
Published
Dec. 2, 2017 10:47 a.m. ET

NEW YORK -- Last season, the Brooklyn Nets did not get their ninth win until their 42nd game.
This season, while still holding a losing record, the Nets are showing improvement at times and get their first crack at their ninth victory of the season Saturday afternoon when they host the Atlanta Hawks.
En route to a 20-62 record in the first season under coach Kenny Atkinson, the Nets (8-13) lost 33 times before getting their ninth win Jan. 20 at New Orleans. When the Nets scored 141 points in that game, it snapped an 11-game losing streak but also preceded a 16-game skid.
Since going 1-27 from Dec. 28-Feb. 25, Brooklyn is 19-26 and returns home coming off a 2-1 road trip. The Nets sandwiched wins at Memphis and Dallas around a loss in Houston.
Veteran forward and former Hawk DeMarre Carroll helped Brooklyn get those wins by scoring a season-high 24 points Sunday and adding 22 in Wednesday's 109-104 win at Dallas.
"The road trip we've really been going in the right direction," Carroll said. "Even in the Houston game, some of the young guys had significant minutes and they played the right way. The road trip has helped us grow. Now we've got to try to go home and get one against Atlanta."
Carroll, who was playing for Toronto when Brooklyn needed 42 games to get nine wins last season, is coming off consecutive 20-point games for the first time since March 27-30, 2015, and second time overall. His production may be counted on again depending on who is available.
Rondae Hollis-Jefferson, who is averaging 14.3 points on 49.4 percent shooting, missed the last two games with a sprained right ankle and may not play Saturday. Trevor Booker, who spent time as a starting center and started five times, would likely start at forward for Hollis-Jefferson.
Allen Crabbe missed his third straight game with lower back soreness. Joe Harris started at shooting guard Wednesday, produced 11 points at Dallas and likely would start again if Crabbe does not play.
Regardless of who plays, the Nets are hoping to improve in two areas Saturday -- winning home games and free throw shooting.
Brooklyn is 4-5 at home but just 1-5 in its last six home games, though among their opponents in those losses was Golden State, Boston and Portland.
The Nets also enter Saturday as among the league's worst at foul shooting with a 72.8 percent despite being among the league's best at getting to the line at 28.8 attempts per game. Brooklyn won Wednesday despite missing 11 free throws, marking the 15th time they made 75 percent or less at the foul line.
"At the end of the day, we've got to get better," Carroll said. "You can't be a really good team missing free throws like that. I think we will, but we've got to get in the gym and take it upon ourselves individually to knock down free throws."
The Hawks dropped their last two visits to Brooklyn and their 116-104 defeat here on Oct. 22 is among their 17 losses in the first 21 games. It is Atlanta's worst start since the 2005-06 season, when it lost 56 games.
Atlanta picked up its fourth win by rallying from 17 points down to beat the New York Knicks on Nov. 24, but followed up with a 112-78 home loss to Toronto last Saturday and Thursday's 121-114 loss to Cleveland.
Atlanta saw its defensive rating rise to 111.1 by allowing a 42-point first quarter and 18 3-pointers.
The Hawks also saw leading scorer Dennis Schroder's production drop off once LeBron James began guarding him. Schroder finished with 27 points but scored 10 on 3-of-7 shooting after halftime when the Hawks were outscored 58-47.
"I still tried to be aggressive," Schroder said. "It doesn't mean that I have to stop playing. He's a big body and it's tough to just go past him."
Schroder won't be facing any defenders like James as he goes up against an opponent that allows 113.1 points per game. He will be hoping for a better showing than his last visit to Brooklyn, when he shot 5 of 22 and injured his left leg while getting fouled by Caris LeVert.
While Schroder is healthy, others are not for Atlanta, which is missing DeWayne Dedmon (left tibia) and Mike Muscala (ankle). The Hawks will also be without rookie John Collins (left shoulder), who reportedly suffered a Grade 2 strain and is out two to three weeks.
Collins started at center for Dedmon and played 25 minutes before getting hurt. Without Collins, Ersan Ilyasova will likely see some time at center and the Hawks are hoping the 6-foot-11 forward replicates his 22-point showing from Thursday.
---
---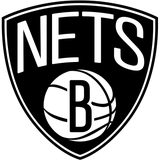 Get more from Brooklyn Nets
Follow your favorites to get information about games, news and more
---