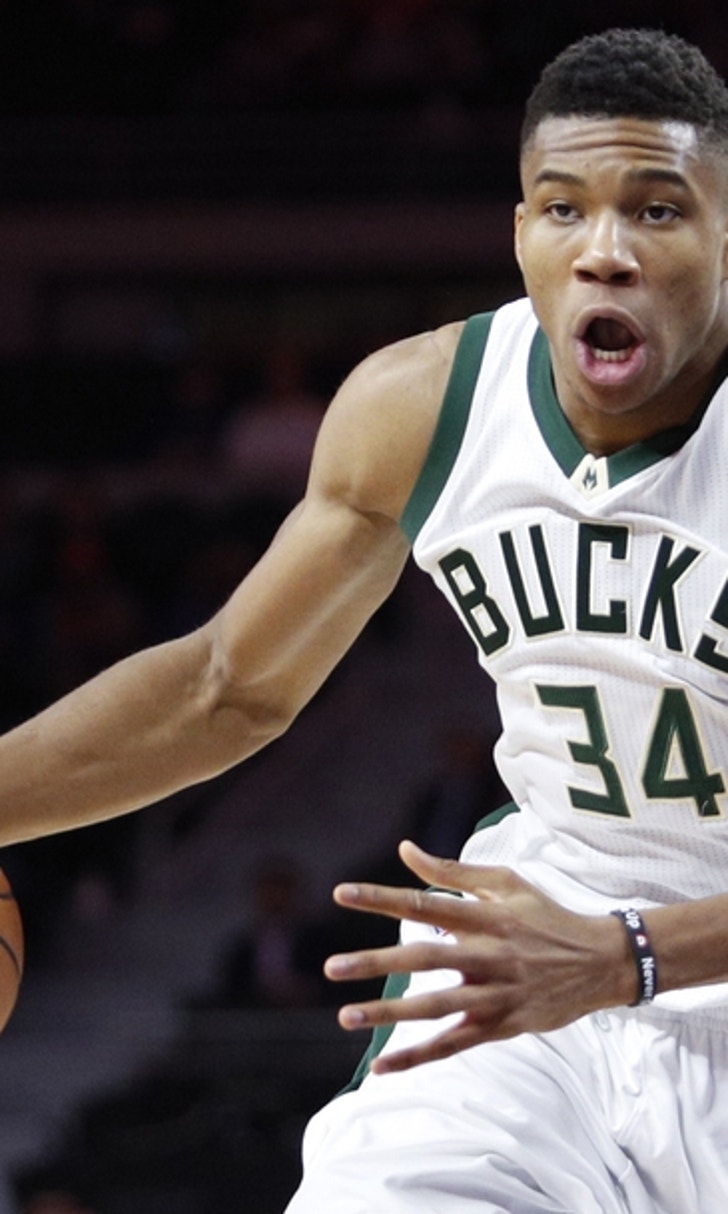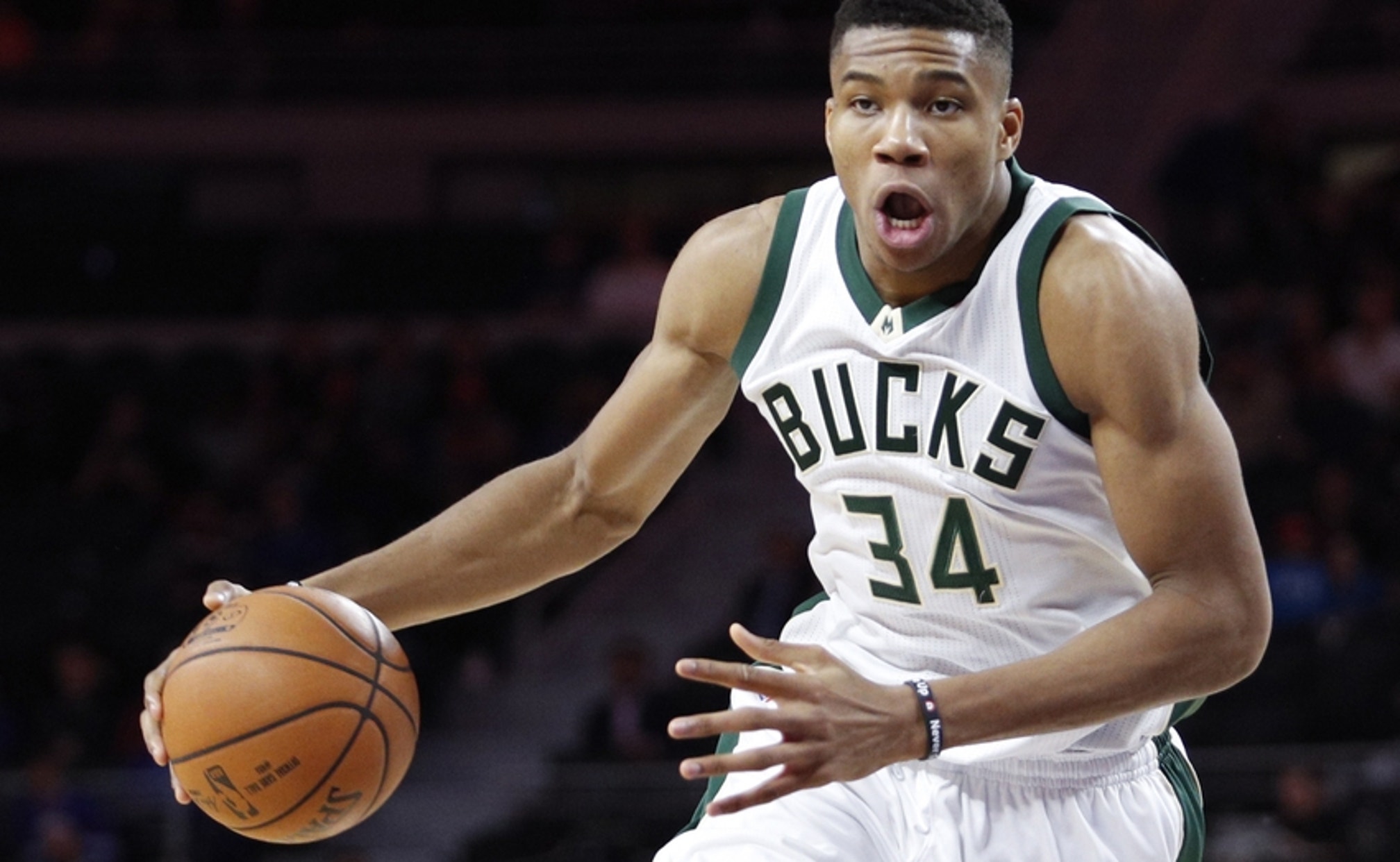 NBA: Five Players Who Should Make Their All-Star Debuts In 2017
BY Fansided and Ryan Magdziarz/FanSided via Sir Charles In Charge • June 30, 2017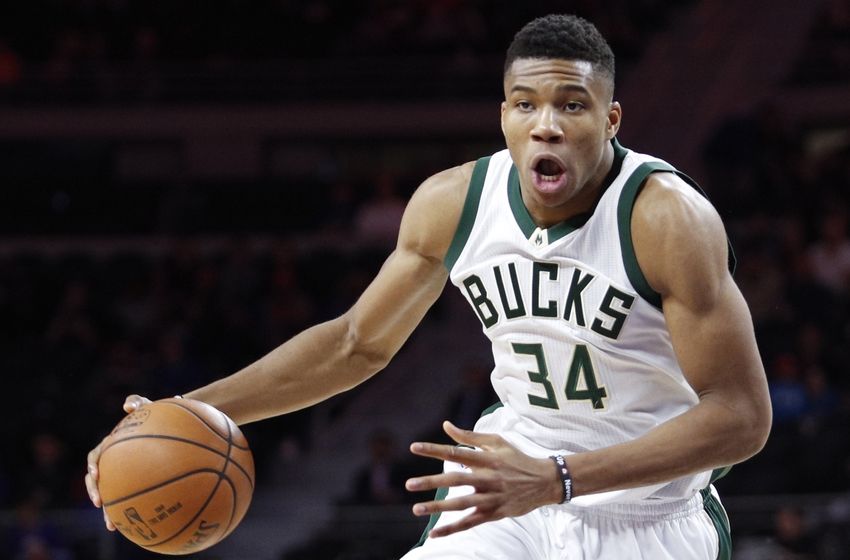 Looking at five stars who could make their NBA All-Star debuts in 2017
As we know, this year's NBA All-Star voting has been changed for the better.
The NBA media and players now have a say in who makes the All-Star teams, and who doesn't. The bottom line is, the NBA All-Star game is a show. The fans should get what they want, and see who they want to see – and the addition of the media and players into the equation could throw a wrench in that ideology.
Both the Eastern Conference and Western Conference have guys that could pull a 2016 Isaiah Thomas, and make their first all-star game. Here are a few, along with some honorable mentions that are having exceptional seasons.
Nov 1, 2016; New Orleans, LA, USA; Milwaukee Bucks forward Giannis Antetokounmpo (34) reacts after a basket against the New Orleans Pelicans during the fourth quarter of a game at the Smoothie King Center. The Bucks defeated the Pelicans 117-113. Mandatory Credit: Derick E. Hingle-USA TODAY Sports
Giannis Antetokounmpo, Milwaukee Bucks 
Greek Freak is not human. The things we see him do on a nightly bases like this effortless glide in the lane dunking over Sabonis' poor soul is unreal.
24-9-6 are without a doubt NBA All-Star numbers. Playing in Milwaukee, however, Giannis doesn't get a lot of primetime ESPN or TNT games.]
Which is the biggest reason why he might not get the nod for this year's All-Star game. However, it could be close. And a big part of that is because of the nightly highlight reels that he supplies us with.
Unless you have NBA League Pass and are able to watch him night in and night out, people may not have a real understanding of how gifted he is really is and how deserving he is of his first All-Star bid.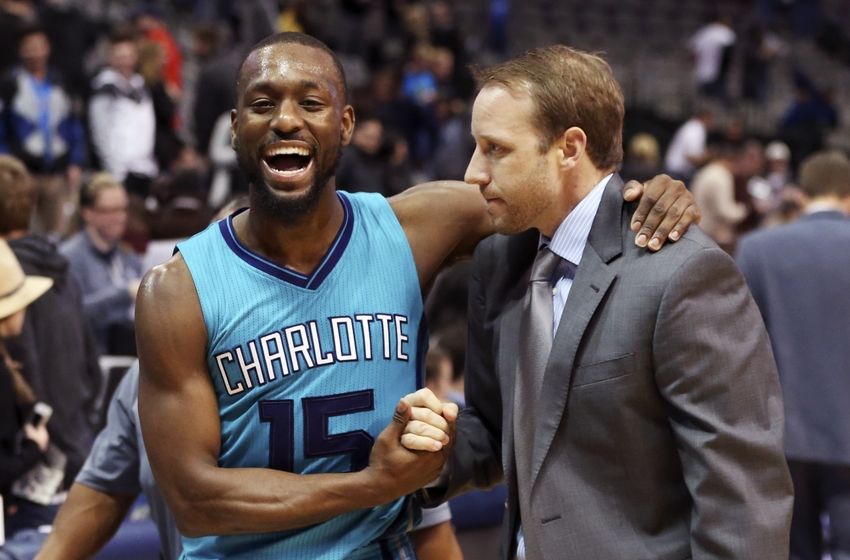 Kemba Walker, Charlotte Hornets 
The Eastern Conference point guard spot is very intriguing. John Wall is a three-time All Star but his Wizards are in 9th place in the conference. Isaiah Thomas is a shoe-in with 27 PPG and his Celtics rolling.
Kyrie Irving gets a lot of the popular votes and with his clutch gene, and because he's LeBron James' teammate, it's well deserved.
A lot of people don't notice Kemba Walker. Maybe it's because he plays in a small market that doesn't demand fan attention? Whatever it is, he's leading his Charlotte Hornets to a 19-16 start which is 4th in the Conference.
Averaging 22-5-4, he is a massive chunk of what the Hornets do both offensively and defensively. There was a lot of talk about how Kemba got snubbed last year, but he is making it known you can't forget about his name when voting in 2017.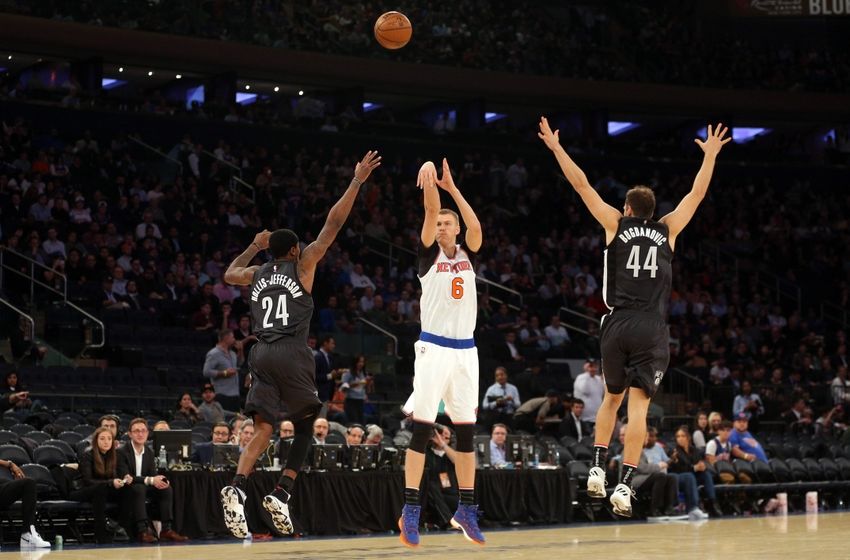 Kristaps Porzingis, New York Knicks 
KPorzee, in the words of the great Bill Simmons, is one of the unicorns of the league. His extremely rare combination of size, skill, and touch memorizes anyone who is tuning in.
Averaging 20 and 8 this year, Kristaps has no problem with popularity. He plays in one of, if not the, biggest markets in the NBA, and the fans are obsessed with him.
With Melo and D-Rose being as ball dominant as they are, Porzingis has had to make the most of his opportunity when he actually gets the ball. Look for his numbers to maybe increase the closer we get to All Star break. His 7-foot-3 frame and his unlimited range will be on display in 2017 as a member of the Eastern Conference All Stars.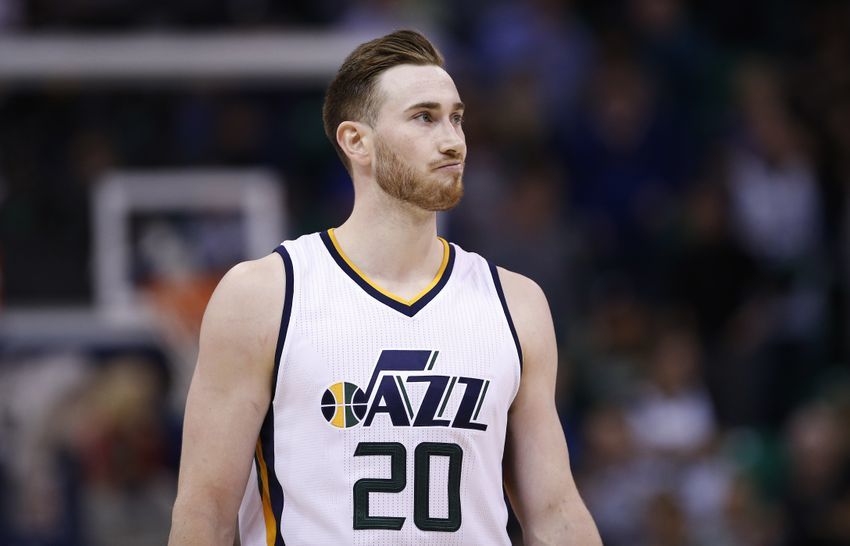 Gordon Hayward, Utah Jazz 
If voting was about hair, this would be Gordon Hayward's 301st All Star game appearance. But it's about playing the game of basketball, and Hayward might get his first bid in 2017.
He is the leading scorer (22 PPG) on a red-hot Utah Jazz team who is just now starting to play with their core guys due to injuries. If the season ended right now, they would be the 5 seed sitting at 22-14.
When you think of star wings in this league, you think of LeBron, KD, Kawhi, Jimmy Butler etc. I think he's ready to add himself to that list of star wing players.
description of the table for interested parties

| Player | Season | Age | G | MP | FGA | FG% | 3PA | 3P% | 2P% | eFG% | FTA | FT% | TRB | AST | STL | TOV | PTS |
| --- | --- | --- | --- | --- | --- | --- | --- | --- | --- | --- | --- | --- | --- | --- | --- | --- | --- |
| Paul George | 2016-17 | 26 | 28 | 35.9 | 17.3 | .445 | 6.2 | .385 | .479 | .514 | 4.7 | .924 | 6.5 | 3.3 | 1.7 | 2.9 | 22.1 |
| Gordon Hayward | 2016-17 | 26 | 28 | 35.2 | 16.0 | .452 | 5.0 | .362 | .493 | .509 | 7.0 | .878 | 6.2 | 3.7 | 1.0 | 2.0 | 22.4 |
Take a look at what three-time NBA All-Star Paul George is doing this year in comparison to Gordon Hayward. Remember this comparison when All-Star voting is taking place.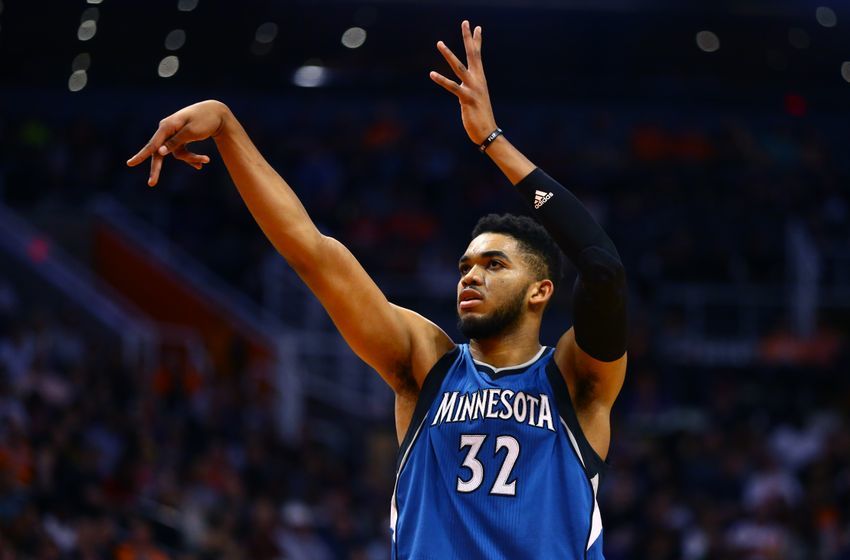 Karl Anthony Towns, Minnesota Timberwolves 
He's already a man amongst boys. Averaging 21.5 points, 11.5 rebounds and three assists, KAT is the cream of the crop of the new hybrid NBA center.
The ability to play down low and also stretch the floor offensively started with only power forwards, but KAT is showing that there is no mold you have to follow to be a successful big man.
The famous "Who do you pick to start your NBA franchise?" game has had a shift in its power rankings this year, and you can thank Towns for that.
Numerous NBA analysts and writers have picked KAT as their new centerpiece if they had to build a team from scratch. Getting an NBA All-Star bid in 2017 would put another milestone in the young superstar's very early legacy.
Jan 2, 2017; Milwaukee, WI, USA; Milwaukee Bucks forward Jabari Parker (12) drives for the basket around Oklahoma City Thunder forward Jerami Grant (9) during the fourth quarter at BMO Harris Bradley Center. Milwaukee won 98-94. Mandatory Credit: Jeff Hanisch-USA TODAY Sports
Honorable Mentions
The NBA is oozing with talent. Some would argue that right now the league is in its best shape it has ever been in. I would argue that this is true talent/player wise – no one tell Charles Barkley, though.
We have so many young stars getting good so early, which is just adding to the pile of stars that are already veterans of this game.
Having said that, this list of honorable mentions are guys that are having great seasons, but due to the depth of unreal talent the league already has, will probably not get a bid for the NBA All-Star game this season, but could fill in for someone who can't make it due to injury.
Andrew Wiggins, Minnesota Timberwolves 
More from Sir Charles In Charge
Another young and budding star in this league but shows inconsistencies in his game. It doesn't help that Minnesota is 11-24 which is 12th in the Western Conference. This is all part of the growing process for the T-Wolves. Averaging 22-4-2, this might be the last year of his career Wiggins doesn't make the cut.
Rudy Gobert, Utah Jazz
As the Ultimate rim protector, Rudy Gobert has improved tremendously from last year. He's averaging 12.5 points, 12 rebounds, and 2.6 blocks per game and is a known threat on the offensive end, not just on defense. He should get a ton of credit for his team's early success.
Avery Bradley, Boston Celtics 
Bradley is one of the most underrated players in this beautiful league of ours. He does things on both ends of the court that go unnoticed in the stat sheet. But this year, we're noticing his stat sheet as well – 18-7-2 for the 6-foot-2 shooting that plays much bigger than his size. Having him on the perimeter to guard any opposing wing or ball handler is an absolute luxury.
Nic Batum, Portland Trail Blazers
Don't worry if you know nothing about Batum. He plays in a small market in Charlotte but is making big noise with his play. A long, smooth operate on the wing, Nic gives you fits defensively, while averaging 15-8-6. His very underrated passing skill and playmaking ability matches everything else about him. Underrated but not under-appreciated in Buzz City.
Jabari Parker, Milwaukee Bucks 
The Robin to Giannis' Batman. Jabari is greatly improved from last year, developing his game around the rim as well as being able to shoot the mid range jumper with more consistency. He is averaging 20.5-6-2, which are all three higher than last year's numbers (14 PPG). No one in the league takes the ball stronger to the hole than Jabari Parker.
Zach LaVine, Minnesota Timberwolves 
If I gave you a blind resume and said name the player in the NBA that averages 21-3-3, LaVine wouldn't cross your mind for 35 minutes. He is sneakily playing at a high level this year and showing great strides in his game. His silky smooth jumper and effortless bounce is perfectly suited for the NBA All-Star game. He is already no stranger to the entire weekend, just not that specific game.
---
---