Kawhi Leonard
Kawhi Leonard
Leonard set to return for Raptors vs. 76ers
Published
Oct. 30, 2018 3:01 a.m. ET
TORONTO - The Toronto Raptors will have Kawhi Leonard back in the lineup Tuesday night when they play host to the Philadelphia 76ers.
Leonard did not play Monday night in Milwaukee, where the Raptors lost 124-109 to the Bucks in a meeting of teams that entered Monday undefeated after their first six games.
He will be facing the 76ers, who defeated the Atlanta Hawks in Philadelphia 113-92 Monday night, powered by a 31-13 third-quarter advantage.
Leonard, who missed most of last season with the San Antonio Spurs because of a quadriceps injury, has yet to play in a back-to-back set this season.
He also missed a road win over the Washington Wizards, which was the second half of games on consecutive nights.
"We met after practice (Sunday) and we were still deciding," Raptors coach Nick Nurse said before the game Monday. "He's going to play one of the back-to-backs, we're still in that phase. ...With a West Coast triple (later this week) we decided we'd give him two less plane flights and for from there."
The Raptors (6-1) had won their opening six games of a season for the first time in franchise history. They will return to the Scotiabank Arena Tuesday having won their first five home games of the season, which matches the franchise best, previously done in the 2014-15 and 2003-04 seasons.
In Leonard's absence Monday, Serge Ibaka led the Raptors' in scoring with 30 points and he also grabbed nine rebounds.
Toronto point guard Kyle Lowry had nine points and 15 assists Monday to end his streak of double-doubles at four in a row. He has recorded 10 or more assists in a career-best five straight games.
"Their game plan was great tonight," Lowry said. "They wanted the bigs to score and not the guards and they did a good job of that. They executed."
The Bucks were without their big man, Giannis Antetokounmpo, for the game Monday so the Raptors had no excuse in no having Leonard. Antetokounmpo was sidelined under concussion protocol.
"When we pressed up, they drove around," Nurse said. "When we sat back they shot over which is what they are going to do to you and what they have done every game this season. I just think they played really well, and we didn't have our best game and that wasn't going to be good enough."
Philadelphia (4-3) has won all four of its home games.
Dating to March 16, Philadelphia has won 14 straight home games, the longest active home winning streak in the NBA. The 14-game streak is the team's longest home winning streak since it won 24 straight from Nov. 27, 1982-March 23, 1983.
Philadelphia had a season-best 64 rebounds, including a season-high 16 offensive boards, against the Hawks. The 64 rebounds are the most by an Eastern Conference team this season and are the most the 76ers have recorded in a single game since Nov. 29, 2017 against Washington when they also had 64.
Ben Simmons recorded his fifth double-double in six games this season with a season-high 21 points and 12 rebounds on Monday. He added nine assists.
Brett Brown, the 76ers coach, explained what led to his team's third-quarter surge.
"We felt like we bettered transition defense and rebounding the ball," he said. "In our eyes, that was the bottom line. You can maybe kick-start some things with a score, but mostly get stops. We did that, we held them to 13 points (in the third quarter), I'm told we had 21 assists in the second half. I think Ben (Simmons) jumped in, I don't know how many points he had, but he jumped in in the third quarter, a lot of it had to do with Joel (Embiid's) unselfishness. Really, we did a good job of focusing on transition defense and rebounding."
"I think we just needed a spark and I was able to provide that for the team," Simmons said. "I told the guys to keep running with me and I'll find them."
---
---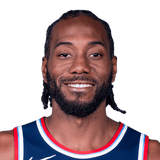 Get more from Kawhi Leonard
Follow your favorites to get information about games, news and more
---