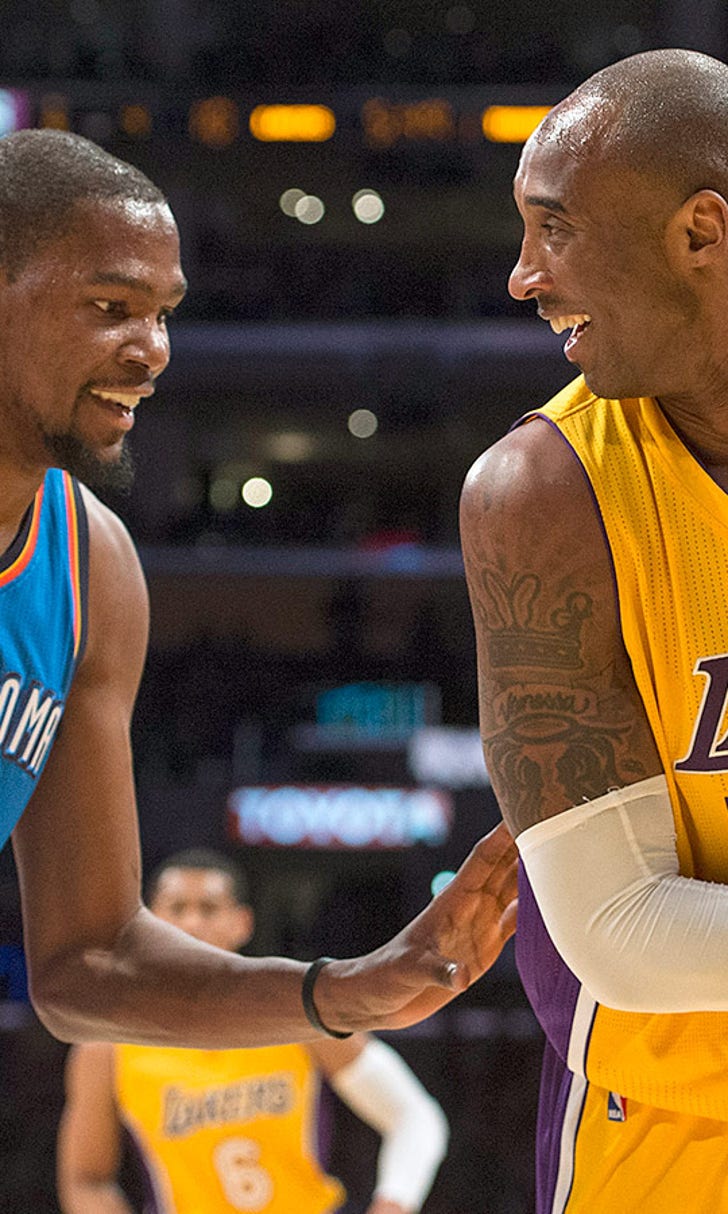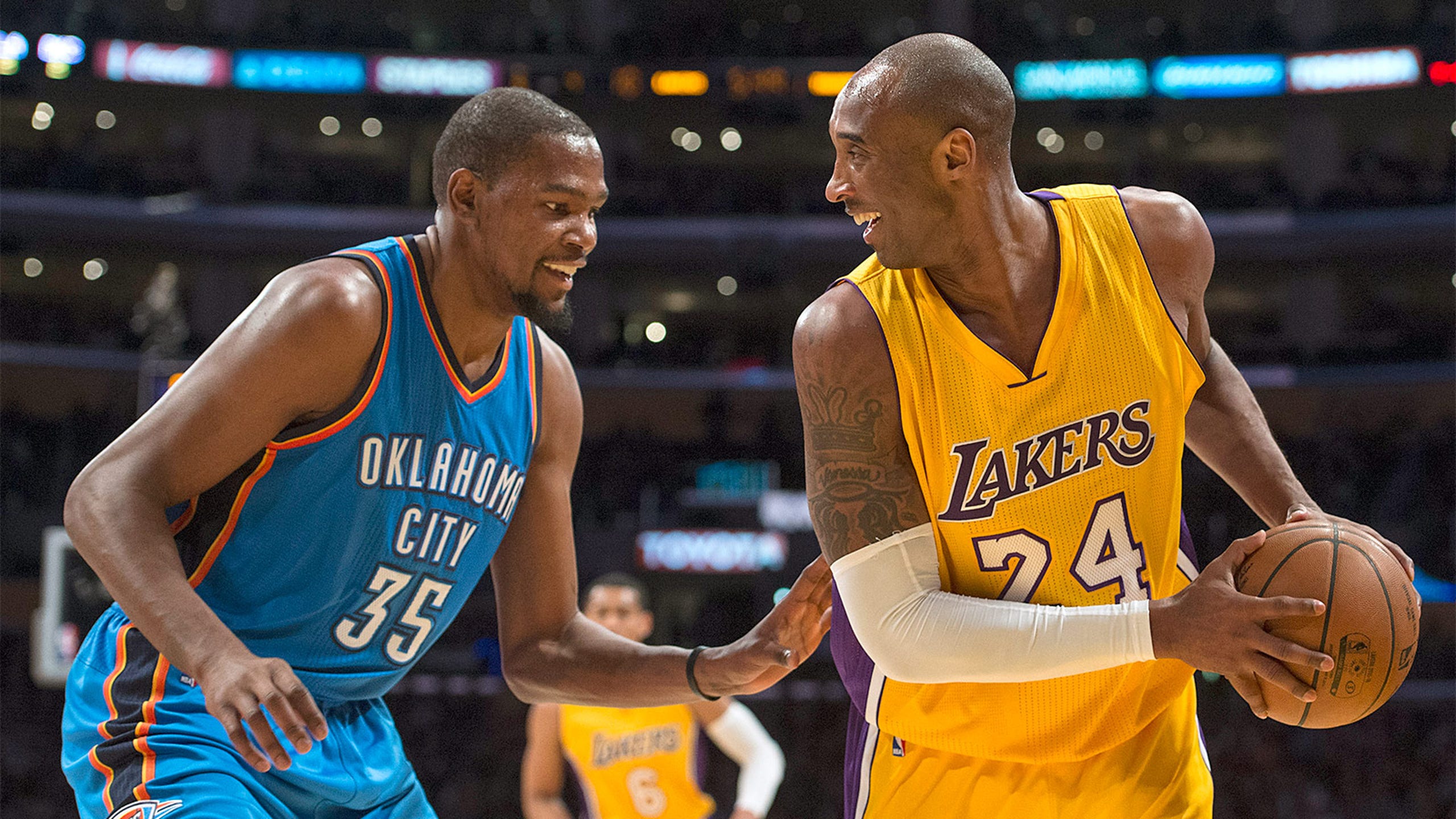 Kobe says West title contenders are more than just Warriors and Spurs
BY Jeff Caplan • January 11, 2016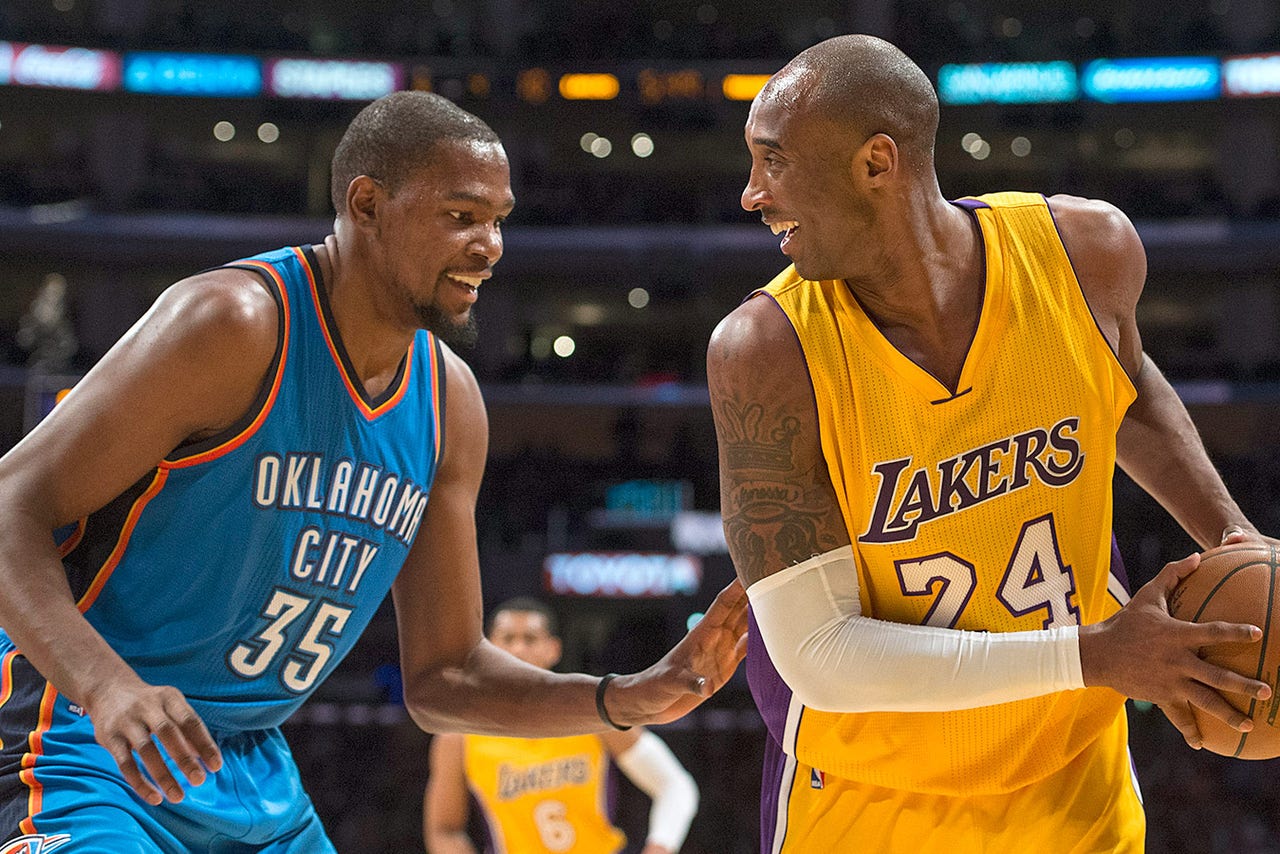 Kobe Bryant doesn't limit legitimate Western Conference title contenders to just the Golden State Warriors and San Antonio Spurs. 
The Los Angeles Lakers legend has seen the Oklahoma City Thunder three times already this season and believes Kevin Durant-Russell Westbrook-led Thunder belong grouped with the West's top two teams.
Following the Thunder's tougher-than-expected road win against the Lakers on Friday, Bryant said, via the The Oklahoman:
"You get in these close situations, close end-game situations, and Oklahoma is just as dangerous as either one of those clubs. With Russell and KD, those guys get to the basket and put a lot of pressure on your defense. A lot of pressure. So I wouldn't discount them one bit."
Entering Monday's games, the Thunder sit third in the West at 26-12, doing so while adjusting to first-year coach Billy Donovan and also missing Durant for six games in mid-November and another a week ago in a loss to Sacramento. Four of the Thunder's 12 losses have come with Durant out of action.
Bryant said the Thunder's ability to run run-and-roll with Durant and Westbrook makes them extremely dangerous:
"They're hard to defend period. Go small, you can obviously stretch the floor a lot more, got shooters on the floor. Russell penetrating and they run that 1-4 screen-and-roll with Durant at the top and shooters spread. It's tough to understand where those rotations are coming from. You have (Brandon) Bass trying to cover shooters on the short porch, in this case (Serge) Ibaka. You try to stay attached to him and then Russell is barreling down on top of you. So those are tough to cover."
OKC defeated San Antonio in the season-opener, but since then doesn't really own a marquee victory, while losing to Houston, Atlanta, Miami, Cleveland and Chicago. The Thunder have yet to play Golden State, and won't until Feb. 6, and they won't see the Spurs again until March 12.
---
---