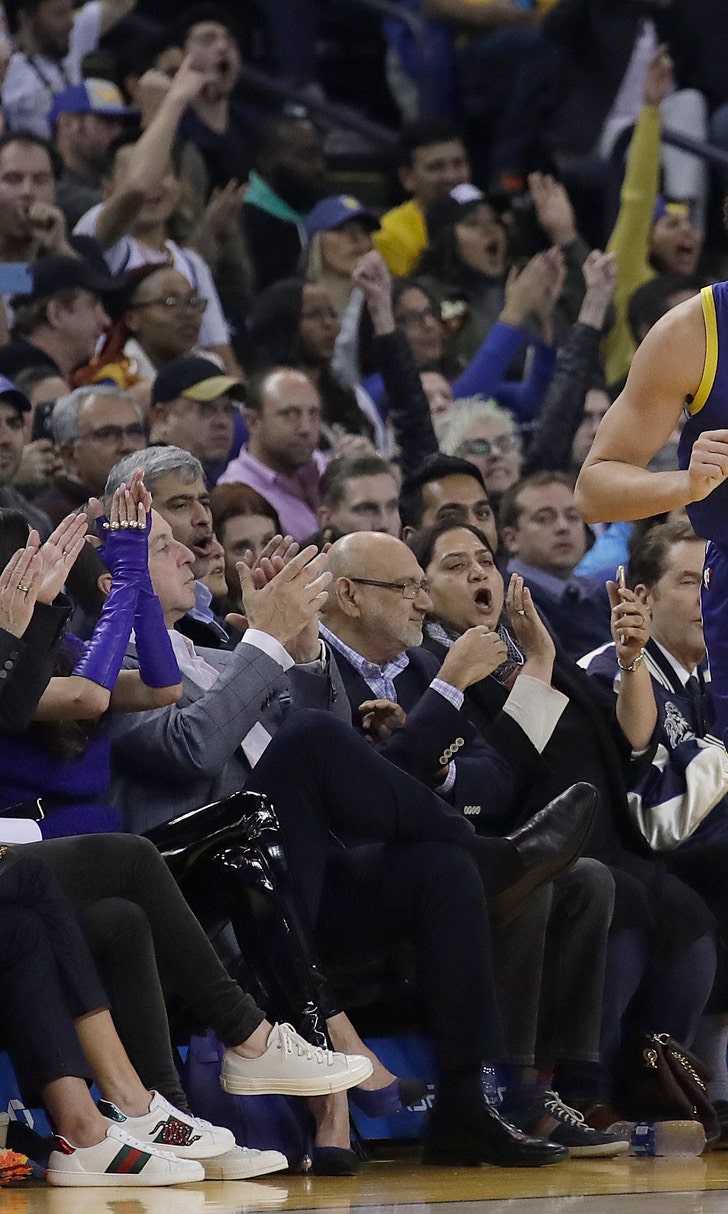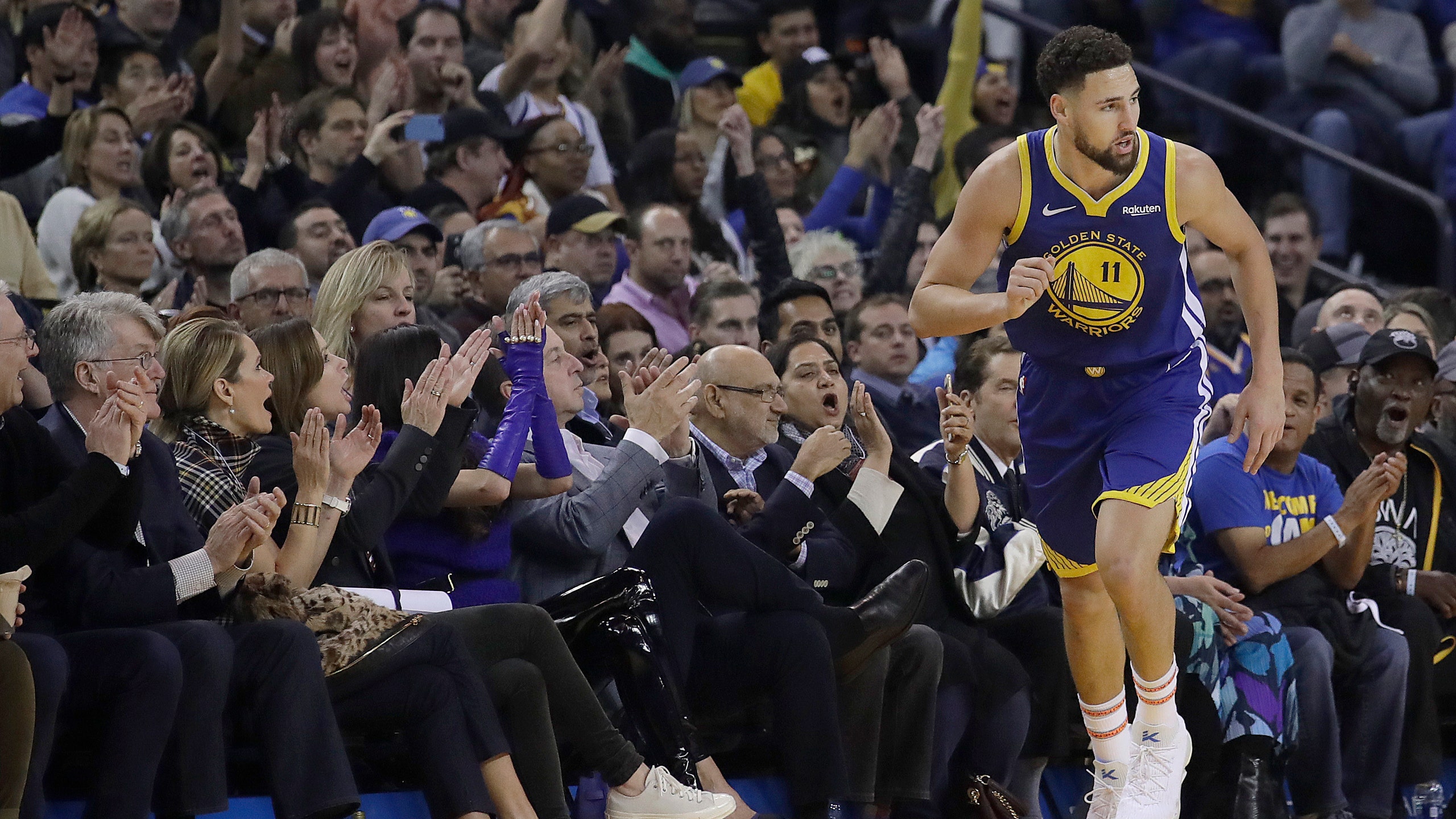 Kevin Durant leads undermanned Warriors past Hawks 110-103
November 14, 2018
OAKLAND, Calif. (AP) — Kevin Durant never found his typical offensive flow and found it a little strange playing without fiery Draymond Green, even if they have yet to make up from all that went down a night earlier in Los Angeles.
Durant isn't sharing any details.
"I'm going to keep that in house, that's what we do here," Durant said. "I'm not trying to give nobody no headlines. What happened, happened. We're trying to move on, we're just trying to play basketball."
Durant scored 29 points with a key jumper in the final minute, a day after a shouting episode on the bench with Green at least in part led to his teammate's suspension Tuesday, and the undermanned Golden State Warriors held off the Atlanta Hawks 110-103.
Klay Thompson added 24 points as Splash Brother Stephen Curry missed his third straight game with a strained left groin. The two-time MVP shuffled and danced as he celebrated big plays from the bench.
Taurean Prince scored 22 points, making four 3-pointers and finishing 8 for 14 from the floor in the Hawks' fifth straight loss and ninth in 10.
Durant led the way despite shooting 9 of 23 hours after the Warriors suspended All-Star Green for one game without pay for conduct detrimental to the team. He got into it with Durant on the bench at the end of regulation in a 121-116 overtime road loss to the Clippers and Green wasn't even at the arena Tuesday.
Jonas Jerebko started in place of Green and had season bests of 14 points and 14 rebounds — "He was our MVP tonight," coach Steve Kerr said — as the Warriors stayed unbeaten in the second game of a back-to-back this season.
Quinn Cook dished out six of Golden State's 28 assists playing in Curry's spot.
"I think we're all professional. We all love each other. We're with each other every day for nine months. Brothers are going to fight and brothers are going to get into it," Cook said. "I think the biggest thing, we know the common goal, we know what's at stake. These guys have been great for a while. I think we're all going to get past this and come together. It's going to make us stronger."
Does Durant agree?
"Who knows, we'll see," he said.
Dazzling Atlanta rookie Trae Young was held to four points on 2-for-12 shooting and missed all five of his attempts from beyond the arc. The Hawks dropped their eighth straight to the Warriors and seventh in a row at Oracle Arena.
Golden State shot 6 for 21 in the opening quarter, missing 7 of 9 3-point tries.
"Not an easy game back-to-back, just coming in a little fatigued, a little emotionally spent and we had to grind it out," Kerr said. "I'm proud of the guys. It wasn't our best game but it was a good effort. We stayed solid."
TIP-INS
Hawks: Atlanta hasn't won on Golden State's home floor since a 95-79 victory on Feb. 25, 2011, and not in the series since Feb. 6, 2015. ... The Hawks are 1-7 on the road, 0-3 vs. the Western Conference. .. Prince has hit at least one 3 in his first 13 games. "Just to see him in rhythm, in our offense with the ball and body movement that we like to play with, really helped everybody out," Hawks coach Lloyd Pierce said.
Warriors: Durant made all 11 of his free throws and grabbed six rebounds. ... Jerebko posted his 11th career double-double. ... Golden State is 40-60 all-time without Curry, 23-19 since 2014-15. ... The Warriors are 3-0 in the second game playing consecutive nights. ... Golden State sold out for the 300th consecutive game, the fourth-longest active streak in the NBA.
SMALL RING CEREMONY
Behind the scenes, a few more Warriors championship rings were delivered.
Former athletic trainer Chelsea Lane returned to Oracle with Atlanta and so did ex-Warriors performance coach and therapist Michael Irr and former assistant athletic trainer John Dusel.
Lane, who was key to getting Curry back on the court for the playoffs, left the organization after the latest championship run to become Atlanta's executive director of athletic performance and sports medicine.
Warriors general manager and assistant GM Kirk Lacob presented the rings outside Atlanta's locker room during pregame warmups.
Lane joked about texting a photo of her ring to departed center Zaza Pachulia, who won't return to Oracle until late March with his new Pistons team to get his sparkling jewelry.
UP NEXT
Hawks: At Denver on Thursday night.
Warriors: At Houston on Thursday to begin a three-game road trip all in Texas.
---
---