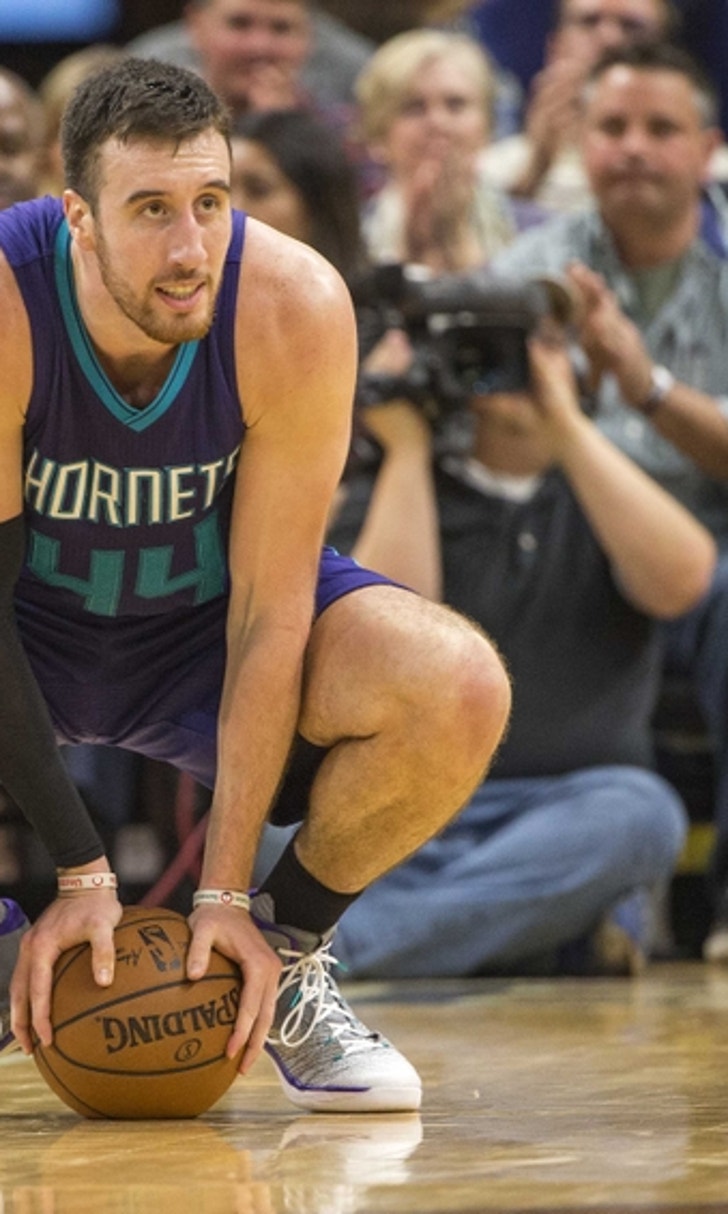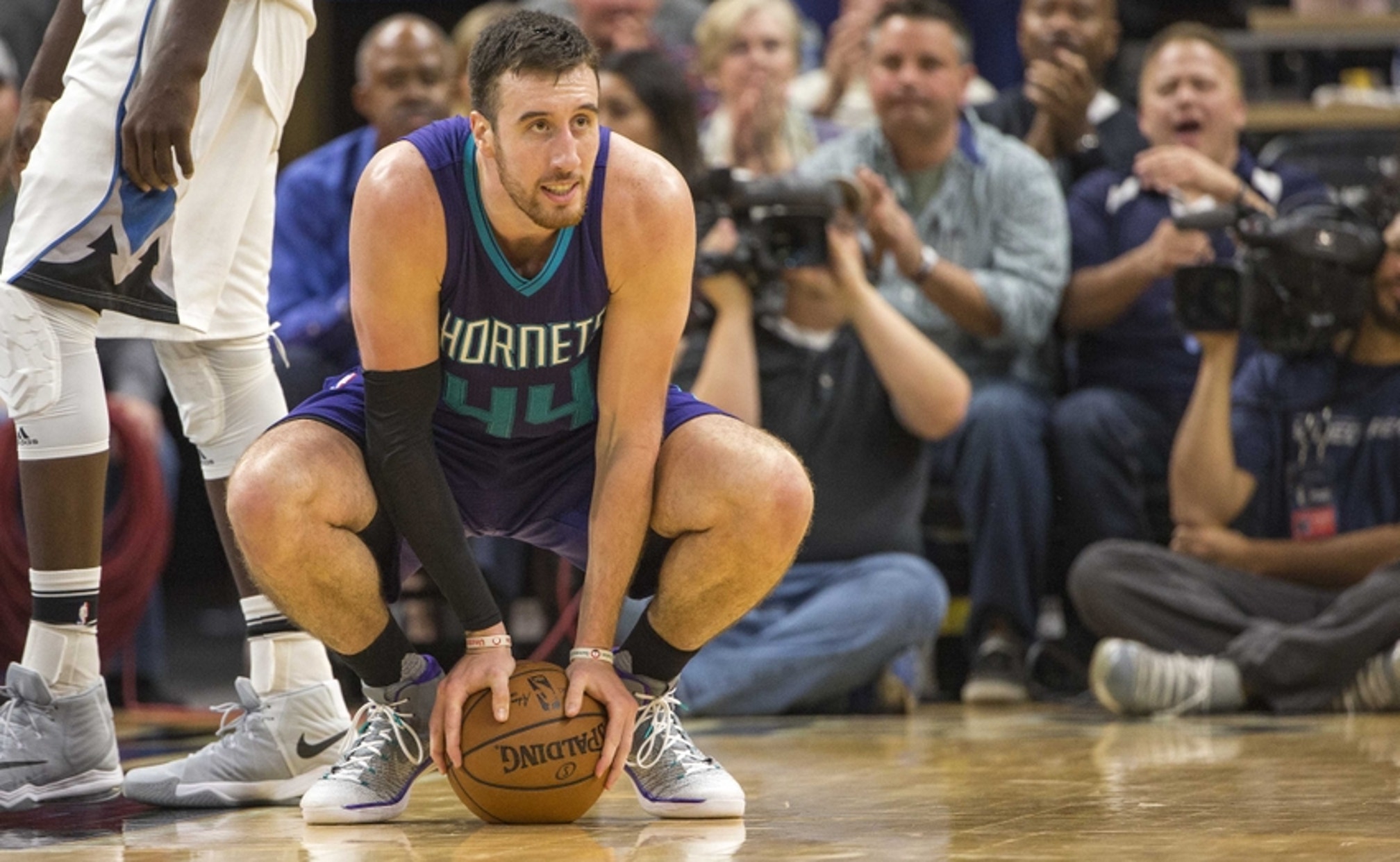 Kemba Walker and Frank Kaminsky Shine in Charlotte Hornets Win Against T-Wolves
BY foxsports • June 30, 2017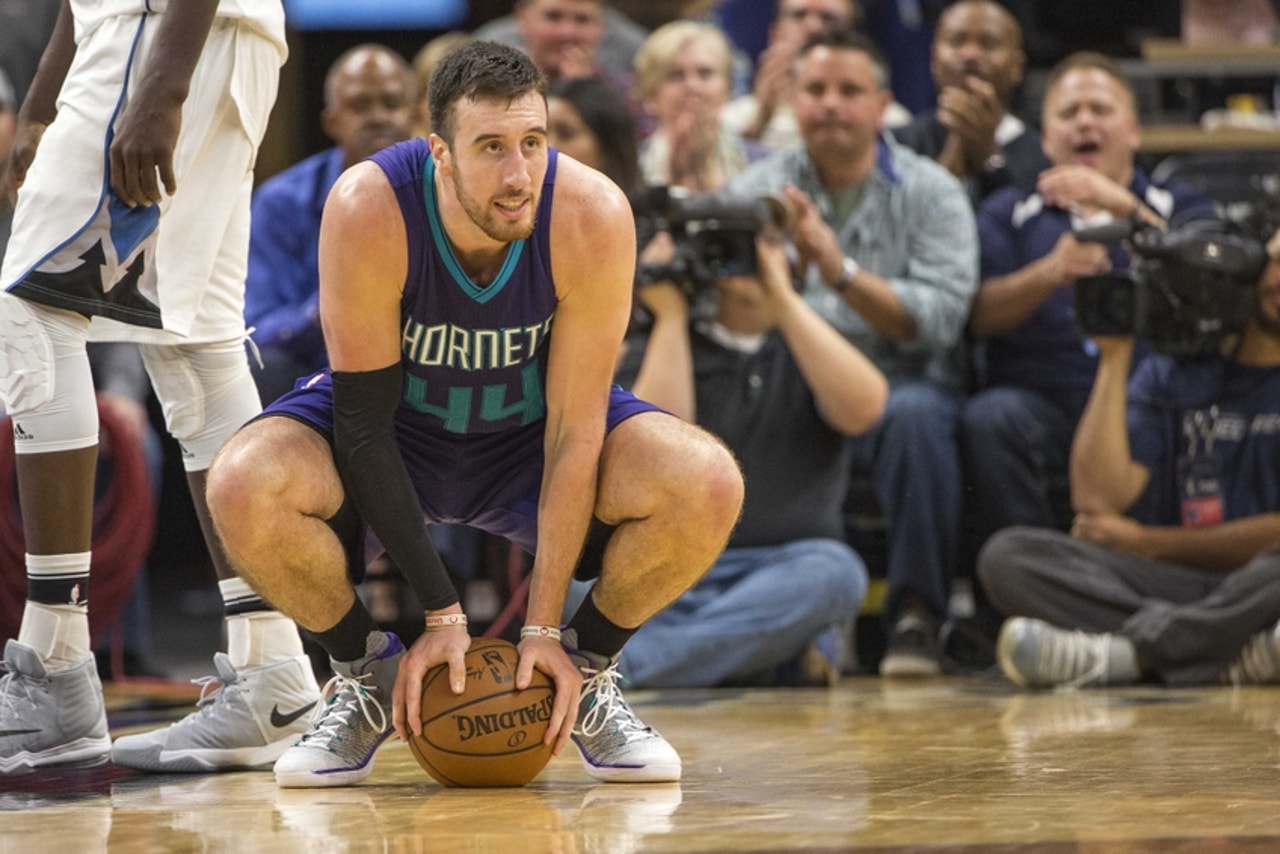 The Charlotte Hornets' comeback road win over Minnesota was led by the likes of Kemba Walker and a strong bench contribution from Frank Kaminsky.
After having Kemba Walker take a trip to the locker room while dealing with a sore back and the Charlotte Hornets finding themselves down by 12 at halftime on the road, they were in a familiar situation that we've seen far too many times this season: trailing early.
It would turn around quickly, however, as Walker returned late in the second quarter and Charlotte outscored Minnesota 36-17 in the third to take a seven-point lead into the final frame. The Hornets then handled their business, picking up an 115-108 win. Now to the individual grades:
Player of the Game:
Kemba Walker
PG, Charlotte Hornets
AAll Hornets fans held their collective breath when Kemba made a trip to the locker room in the second quarter after falling hard on his back on a drive. Walker returned late in the second quarter and did what we have come to expect from Kemba this year. He was extremely efficient, going 12 of 19 from the field and a perfect 4 of 4 from the line. 30 points, six assists, five steals, five rebounds isn't a bad day at the office, especially when he seemed to be banged up early on. If Kemba continues this red hot path, he should easily make his first All-Star Game appearance. Last night's game just helped him pad his incredible stats to this point in the year: 25.8 points per game on 49.1 percent shooting while adding 5.5 assists per game. Yeah, those are All-Star quality.
Nicolas Batum
G/F, Charlotte Hornets
AWhen the Hornets signed Nic Batum to a five-year, $120 million dollar contract, this is what general manager Rich Cho and Co. envisioned. Batum stuffed the stat sheet: 16 points, seven assists, five rebounds, and three steals on the night. The best part of his game last night was how he shot the ball. Everyone has seen that Batum is best as a facilitator to the offense, but he's even better when he's scoring at a good rate while shooting solid percentages. He's only shooting 39.8 percent on the year and 34 percent from deep, but you couldn't tell that those were his numbers last night. He shot 5 of 9 overall, 4 of 5 from deep. That's a $120 million dollar performance.
Michael Kidd-Gilchrist
F, Charlotte Hornets
BMKG's box score was fairly unimpressive: six points on 2 of 5 shooting, six rebounds, one block, and a pair of turnovers. That's two fewer points and rebounds than he accumulates on average this year. He was also tasked with guarding Timberwolves' forward Andrew Wiggins, who ended the night with 29 points on just 10 of 24 shooting. Anyone who watches Kidd-Gilchrist knows that what he does goes beyond the box score: he's extremely active, forces tough shots, and rebounds aggressively. Even though he didn't light up the stat sheet, his unrelenting play helps the team every single night.
Marvin Williams
F, Charlotte Hornets
DMarvin couldn't get his shot to fall throughout the contest: 1 of 9 from the field and 0 from 5 from deep. The only thing that fell for Williams were his four free throws. He was going up against Karl-Anthony Towns on the defensive end, and KAT had 21 points but shot poorly to the tune of 9 of 23. Marvin deserves credit for what he did on the defensive end, but his offensive play pulled down his grade drastically. 3 and D needs the 3 part to work.
Cody Zeller
C, Charlotte Hornets
B+Zeller had a great night: 14 points, nine rebounds, a block, and helped Marvin Williams out in dealing with Karl Anthony-Towns. Zeller paired with Batum and Kemba has continued to be a recipe for success in the pick and roll game, and until teams find a way to stop it, expect to see it consistently. He was outmuscled a few times when defending both KAT and Gorgui Dieng, but he's still the best option the Hornets have at the center spot.
Frank Kaminsky
F/C, Charlotte Hornets
AThat was one of the best games I've ever seen from Frank in his young career: 20 points off of the bench, 8 of 14 from the field, 3 of 7 from deep, and four rebounds. He's the biggest scoring threat off of the bench, especially when Jeremy Lamb is out, and it was nice to see Frank the Tank perform when called upon. One of his biggest knocks last year and early this year was his defensive ability. and last night that was a non-issue, If he has these types of performances night in and night out, people won't question why he was taken ninth overall.
Marco Belinelli
G/F, Charlotte Hornets
BMarco did what he's asked to do: knock down shots. 5 of 8 overall, 2 of 2 from deep in 27 minutes. A lot of people were worried when Cho dealt the 22nd pick in the 2016 draft for Belinelli, but the deal looks better and better as the year goes on. He's taking 7.7 shots per game, 3.3 of those being threes, and he's knocking down a red hot 42.4 percent of those. His defensive effort has been better than expected as well, which head coach Steve Clifford is sure to love.
Ramon Sessions
PG, Charlotte Hornets
DSessions had a rough 13 minutes on the floor. 0 of 2 from the field, both of those being from deep. He also had three assists but they were paired with three turnovers. A lot of his minutes came against Timberwolves' backup guard Kris Dunn, who went 2 of 3 from the field and got free to create too many times for comfort. Sessions throughout his career has been a steady veteran, but he'll need to improve his efficiency. He's only shooting 28.8 percent this year and 16.7 percent from deep. The redeeming quality before last night was his assist to turnover ratio. For the year, Ramon is dishing out 3.6 assists per game to just 1.1 turnovers per game. If he's not shooting well and he's not facilitating, it's a negative on both ends.
Roy Hibbert
C, Charlotte Hornets
BRoy had his best game since returning from a knee injury, dropping in nine points on 4 of 5 shooting and grabbing four boards in just 12 minutes of action. As teams have done throughout his career, Minnesota attacked him in the pick and roll a hand full of times for easy buckets, but his defense in the paint and his ability to both rebound and create boards for others make him a valuable piece in the Hornets puzzle.
Spencer Hawes
C, Charlotte Hornets
The Charlotte Hornets will return to Spectrum Center on Friday night to take on the Atlanta Hawks. Tipoff will be at 7 P.M.
More from Swarm and Sting
This article originally appeared on
---
---