Nicolas Batum
Nicolas Batum
Hornets-Grizzlies Preview
Published
Dec. 10, 2015 9:32 p.m. ET

The heavy lifting the Charlotte Hornets endured last week against the best team in basketball was about as unpleasant as it's been for the rest of the league. What came from it, though, seems to be an ability to handle everything that's been thrown at them since.
The Hornets can win four straight for the second time in under a month Friday night in Memphis, but it's the Grizzlies seeking a fourth straight win in the series.
After falling 116-99 at home to Golden State on Dec. 2, Charlotte (13-8) has gone 3-0 while limiting opponents to 87.0 points per game and 39.0 percent shooting. A 99-81 home win over Miami on Wednesday gave them an average winning margin of 14.7 in those games.
"I thought we had good energy, and our defense was really good," said coach Steve Clifford, whose team will play just its second road game since Nov. 17. "I thought guys were locked in and we did a good job individually also. A lot of the defense turned turn into good offense."
Nicolas Batum has a triple-double with 10 points, 11 rebounds and 11 assists, and Clifford credited him with plenty of the success on the winning streak as the team continues to play without Al Jefferson.
"His passing was unbelievable," Clifford said. "These last three games now, if you made a video, you'd have eight, nine clips of just - that's just talent. Nobody teaches anybody how to do that. When he catches the ball, he knows where everybody is, and he knows not to throw the ball to guys that can't do it where they are, and he knows where to give it to guys so they can do something.
"He has just such an exceptional sense of how to play."
Charlotte acquired Batum as part of a offseason roster overhaul from Portland for Gerald Henderson and Noah Vonleh. The 6-foot-7 shooting guard hasn't had his shot in the last two games, hitting just 7 of 24, but he has 19 assists and 18 rebounds in that time.
"I'm blessed they've embraced me," Batum said.
Memphis (13-10) is familiar with the former Western Conference foe, limiting him to 8.1 points on 33.8 percents shooting and 22.6 from 3-point range in his last eight games against the Grizzlies while with the Trail Blazers.
The Grizzlies have also handled the Hornets well, winning the last three meetings and six of the last seven.
They're in position to win consecutive games after Matt Barnes knocked down a halfcourt shot with 1.1 seconds to play in Wednesday's 93-92 victory in Detroit. Coach Dave Joerger didn't get too caught up in how things ended but complimented the defensive effort after struggling to make stops for much of the previous three games.
"Good win; haven't been playing great," Joerger said. "I thought our defensive effort tonight was pretty good. We got after people. We kind of shot ourselves in the foot and that's what I told the guys. To play defense through what we did to ourselves with the turnovers and the missed free throws, that's just a heck of a defensive effort."
Offensively, Zach Randolph showed some promise, scoring 21 points on 10-of-18 shooting after being held to an average of 11.8 while shooting 35.8 percent in his first five back from a five-game absence due to a knee injury. He also had a season-high 16 rebounds.
His interior presence is all the more welcomed given Memphis' perimeter game lately. The Grizzlies were 4 of 15 from 3-point range against the Pistons and have shot 24.1 percent over their last six games while never making more than five.
---
---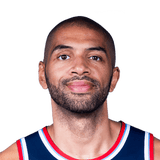 Get more from Nicolas Batum
Follow your favorites to get information about games, news and more
---