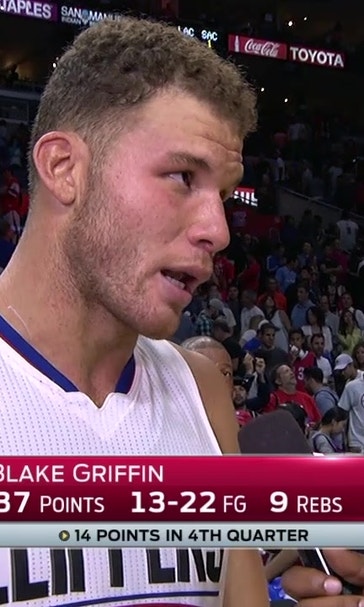 Griffin's 37 points lift Clips; Cousins sidelined with Achilles injury
November 1, 2015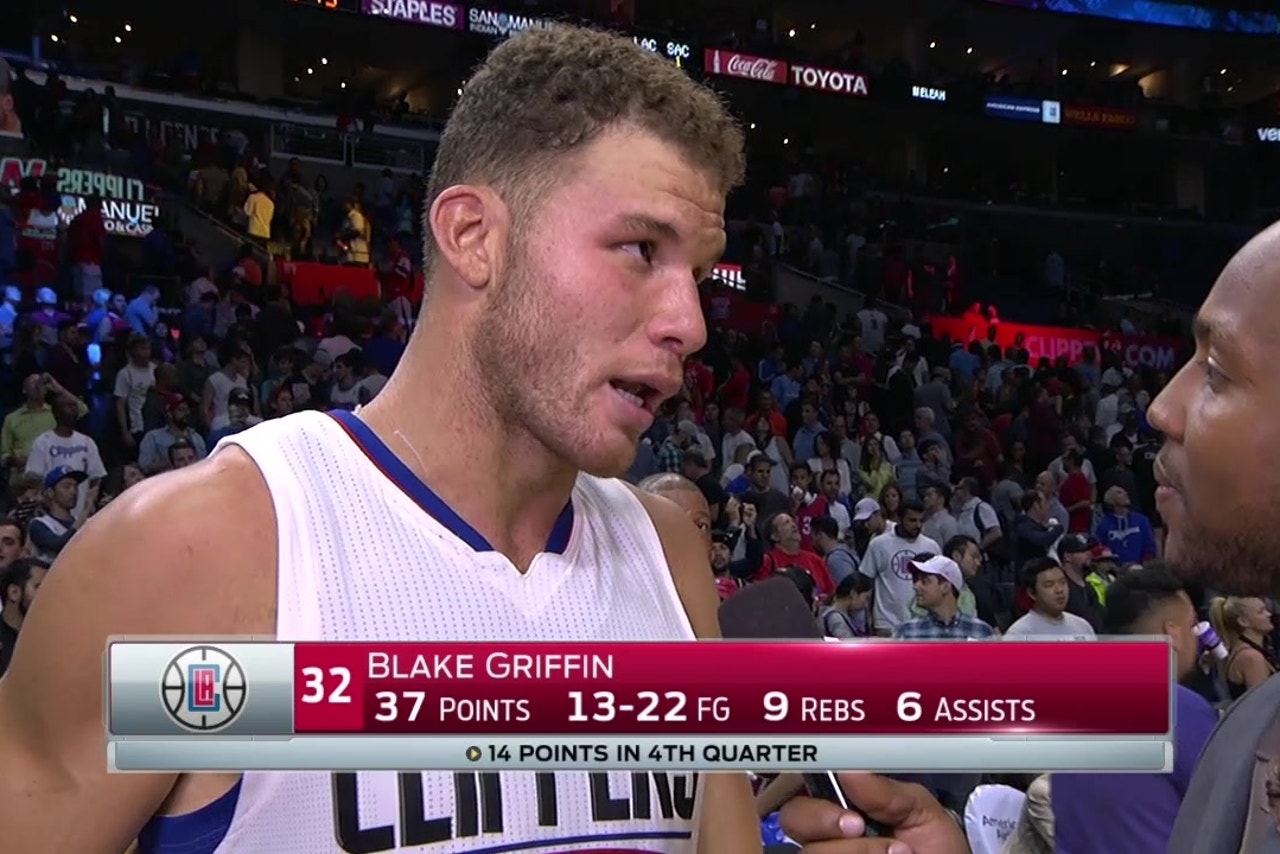 LOS ANGELES — One of the operative buzz words running through the Los Angeles Clippers' practice facility and their dressing room has been "sacrifice" — which they hope will get them past the second round of the playoffs after consecutive seasons of disappointment.
Blake Griffin alluded to a sense of urgency Saturday night after getting 37 points, nine rebounds and six assists for the Clippers in a 114-109 victory over Sacramento. They are off to their first 3-0 start since winning their first four games in 2007-08.
"To get off to a good start and beat a good team like that is important for us," Griffin said. "If we would have won one more game last year, it would have put us in second place in the conference and we would have had homecourt advantage through the first two rounds of the playoffs. You think about those things."
J.J. Redick added 23 points and Chris Paul had 17 points and 11 assists for the Clippers, who won their fifth straight and 18th in the past 21 meetings with the Kings. The streak includes a 111-104 win at Sacramento last Wednesday in the season opener for both clubs.
DeAndre Jordan had 15 points and 18 rebounds for the Clippers, putting him within 31 of Elton Brand's franchise record of 4,710 rebounds.
Rajon Rondo had 21 points and eight assists and Rudy Gay added 20 points for the Kings, who finished with 50 points in the paint a night after scoring an astounding 80 there during Friday night's 132-114 home victory over the Lakers.
Seven-foot center Willie Cauley-Stein, the team's first-round draft pick, had eight points and nine rebounds. DeMarcus Cousins had 13 points and nine rebounds in the loss, but was limited to 15 minutes because of a strained right Achilles.
"With DeMarcus out and some of their bigs in foul trouble, we tried to exploit some mismatches that were presented to us," Griffin said. "When he have shooters spread like we do in the corners, it makes it tough for the defense. So we kept going back to the plays that were working for us."
Trailing by eight after Jamal Crawford's 17-footer with 7:35 left in the fourth quarter, the Kings pulled ahead 96-95 with a 9-0 run capped by Gay's 3-pointer and two free throws with 6:13 to play.
"It was in that certain stretch that we were able to get back into the game, and we got some stops," Kings coach George Karl said. "We didn't let our defense dictate our offense, and vice-versa. That group that was in there kept pushing, regardless of if they scored or if we got stops."
But the Clippers responded with 10 straight points, eight by Griffin, to make it 103-96 with 4:23 left. Former Clipper Darren Collison, who scored 11 of his 15 points off the bench, hit a 3 to make it 106-103 with 2:22 left, but the Clippers hung on despite not making a field goal over the final 3:05.
"Some of my turnovers down the stretch were terrible — especially when I pride myself on taking care of the ball and executing," Paul said. "Blake made some great plays and we were able to pull it out."
TIP-INS
Kings: Karl appeared amused before the game when asked about Cousins' remark following the previous meeting with the Clippers that he hates them. "I like passion. I like anything that keeps you kind of having the edge on competition," Karl said. "I think it's important. I don't think people understand that energy and competitive mentality is a talent in this league. Everybody says it's a mentality, but it's a talent. And to be able to do what DeMarcus does — put 20 points on the board with double-digit rebounds and being our best defensive player every night — is a tremendous responsibility. He's just learning the ropes of being a responsible player in our league."
Clippers: Coach Doc Rivers' regular pregame media session was handled by assistant coach Mike Woodson. Rivers spent Saturday morning in Minnesota along with Karl for the funeral of Flip Saunders, the former Timberwolves, Detroit Pistons and Washington Wizards coach who died last Sunday at age 60 after complications from Hodgkin's lymphoma. Rivers and Karl sat next to each other on the plane back to Los Angeles, and they were working on their respective scouting reports together, according to Karl.
UP NEXT
Kings: Host Memphis on Tuesday.
Clippers: Host Memphis on Monday.
---
---
National Basketball Association