Goran Dragic
Goran Dragic
Goran Dragic evolving as a player and a leader for Heat
Published
Jan. 20, 2017 3:15 a.m. ET

MIAMI (AP) Goran Dragic has already been mentioned in trade rumors, and it's quite reasonable to think that will continue over the next few weeks.
His opinion on all that is clear: He wants to stay in Miami for a long time.
And the way he's playing now, the Heat probably aren't eager to lose their point guard.
In a season filled with problems for the Heat, this is at least a nice problem to have. Dragic's stock may be rising on that trade market, in concert with him getting more and more comfortable being a leader in Miami. He had 32 points Thursday in Miami's 99-95 win over Dallas, shooting 11 for 15 and knocking down all four of his 3-point tries.
''He's improved and I don't know if anybody's noticed,'' Heat coach Erik Spoelstra said. ''He's worked so much on his game - first, which is most important for us, defensively. He's really taking pride in defending pick and rolls, challenging shots, rebounding the ball better.
''Guys want him to step up and lead. The last couple years, it's been a little uncomfortable for him. Now he's stepping up and saying a whole lot more.''
Sometimes, he even has too much to say for Spoelstra's liking.
At 13-30, this has not been an easy season for Miami and Dragic has taken losses hard. It not unusual for him to text Spoelstra in the wee hours after tough games, talking about things he could do better. Spoelstra's usual answer to those middle-of-the-night messages is something akin to ''go to bed, we have practice tomorrow.''
Dragic had 22 of his 32 in the second half on Thursday, one of the reasons why Miami rallied from a halftime deficit for only the third time all season.
''His game has evolved so much now, not just the 3-ball, but his ability to put the ball on the floor and hit midge range pull-ups,'' Spoelstra said. ''Those are the kind of shots that keep a defense honest.''
Spoelstra was a point guard in college, and he's forged quite a relationship with his current point guard. Dragic was particularly moved when Spoelstra headed to Slovenia to spend time with him over the summer, and they're closer now than ever.
That's another reason why he wants to stay put.
''I had to evolve in my role,'' Dragic said. ''I've never had these kind of coaches who are communicating, texting, calling. I was a little uncomfortable in the beginning. Right now, I've opened up a little bit.''
He's had to become a leader, out of necessity.
When Dragic came to the Heat in a trade two years ago, Dwyane Wade was the star guard, Chris Bosh was the big man that everything was built around. Wade is in Chicago now; Bosh has a locker still in Miami, but his playing days with the Heat are over because of his health struggles. And while Udonis Haslem is the 14-year Heat veteran and Hassan Whiteside leads the NBA in rebounds, it has become Dragic's team in many respects.
''Goran is Goran,'' Heat rookie Rodney McGruder said. ''He's going to play. He's a great guy and a great teammate. That's what I like most about him, he's a great teammate. He's a heck of a player, too.''
Dallas star Dirk Nowitzki put it more succinctly.
''He's tough,'' Nowitzki said.
Dragic is averaging 21.5 points and shooting 52 percent over his last eight games. He's shooting 41 percent from 3-point range, which would be a career high if he stays there. He's under contract for three more years, though his average salary of $17 million makes him almost seem like a bargain starter in this NBA.
''I'm just doing my job,'' Dragic said. ''Like I've mentioned many, many times, I feel really good here. The city is awesome. Fans, great. The organization is the top organization in the league. My family, they're feeling amazing. So, of course I want to stay here. But the only thing I can do is play basketball. That's what I'm focused on.''
---
---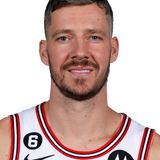 Get more from Goran Dragic
Follow your favorites to get information about games, news and more
---