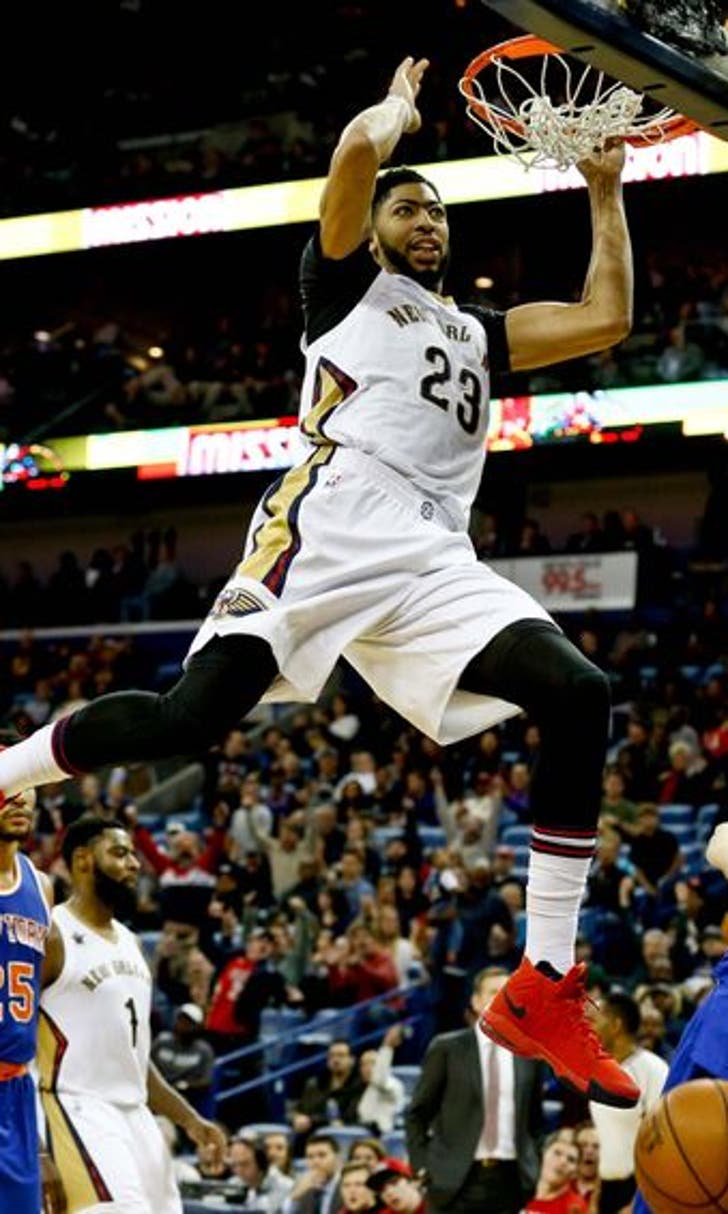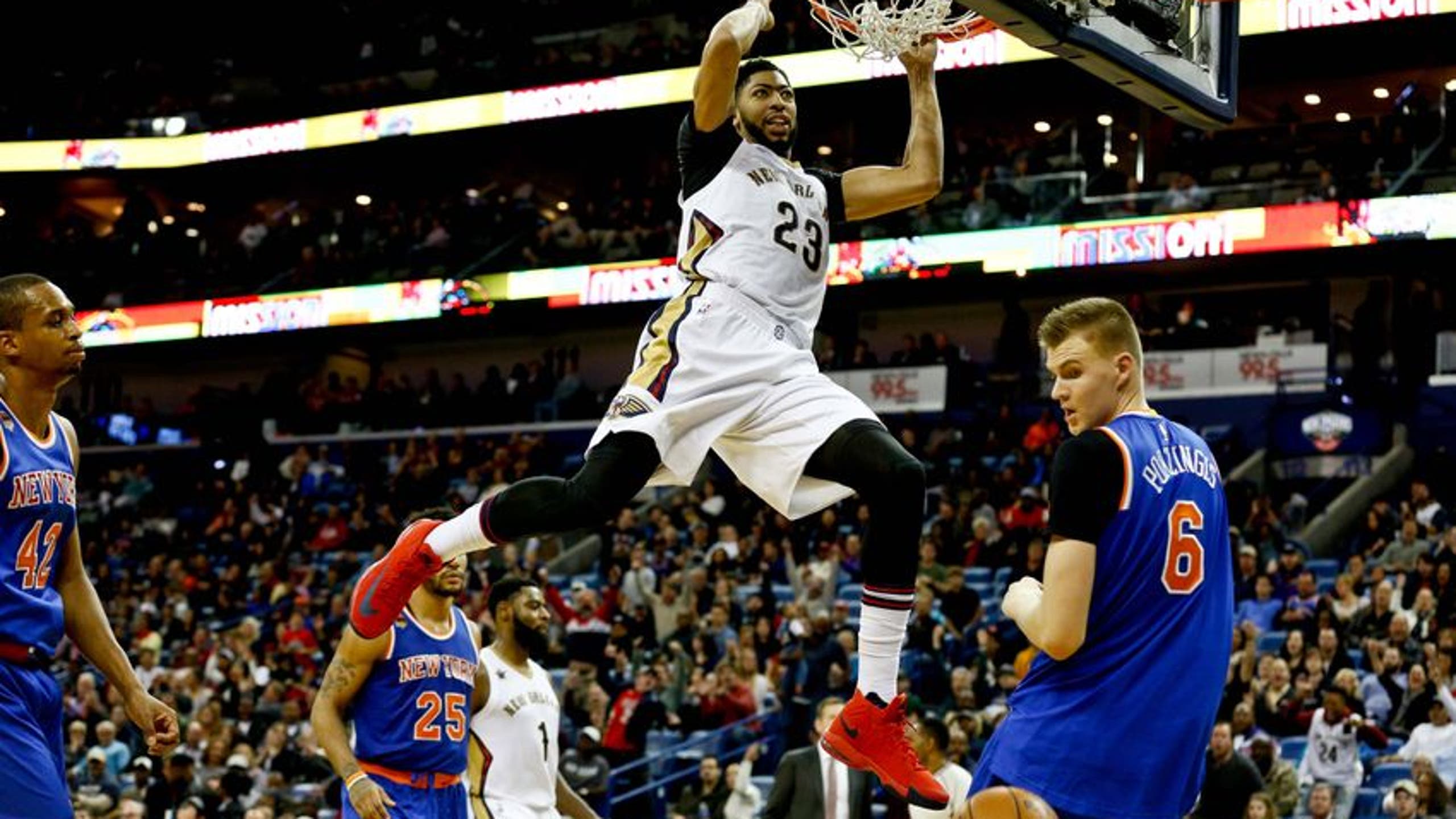 Game Recap: New Orleans Pelicans dominate New York Knicks
BY Fansided and Charles LaRocca/FanSided via Pelican Debrief • December 31, 2016
The New Orleans Pelicans are looking better than they have in a long time. After a win over the New York Knicks, they sit at 13-21 and three games out of the playoffs.
New OrleansPelicans104
The New Orleans Pelicans completed a 4-1 streak in the homestand last night by defeating the New York Knicks 104-92. New Orleans was in control for most of the game despite a late run by the Knicks to bring the game within 4 at the half. The Pelicans would respond by going on 13-0 run in the second half to take a commanding 68-53 lead. From their the Pelicans never looked back and coasted to an impressive win.
This win was the best of the streak: It combined a small ball style with good ball movement and terrific individual defense. It was not perfect by any means, but it was consistent enough for the Pelicans to win relatively easily. The first marker of a good team is being able to beat opponents at home. The Pelicans did that in this homestand so they deserve credit. With that being said, here are the grades from last night's game:
Jrue Holiday
PG , New Orleans Pelicans
B Jrue Holiday – despite what the stat sheet says – was very impressive. He fared far better than his counterpart Derrick Rose, so that's a plus, but offensively he missed a number of makable looks pretty badly. He thrived in the second half by settling into a facilitator role, and did a really nice job squeezing passes into tight windows. His best work (per usual) was out of the pick-and-roll with Anthony Davis. Holiday constantly got by his initial defender, and more often than not, he made the correct decision. Ideally, you would want better finishing, but Holiday's jump-shot has been hit or miss all season, so you take what you can get in that department. Defensively, his on-ball work was superb, as usual. He physically dominated Rose individually, denying him from getting to the spots he likes; where Jrue struggled was off the ball. Holiday was caught ball-watching on a couple of backdoor cuts, each resulting in an easy layup. Overall though, it was a good performance from the Pelicans point guard: He only scored 12 tonight, but the boost from the rest of team masked his modest point total.
Jrue also dunked on the unicorn that is Kristaps Porzingis, so enjoy that.
Buddy Hield
SG , New Orleans Pelicans
C+ Buddy Hield scored in double digits for the third straight game; that's a good thing. He's hit multiple threes in three straight games; another good thing. Despite being a starter, Hield isn't averaging a ton of minutes, but in his time the Pelicans are running a number of plays for him to get open. That continued tonight as Buddy connected from three to score the games first points. He wasn't very effective from the field against New York though, going 3-9 overall and 2-5 from behind the arc. But he worked impressively as a pick-and-roll ball-handler with Anthony Davis, and was able to create some good looks from mid-range out of it. The shooting concerns should be gone now, its time for fans to focus on the more important aspects in his development. For example, against the Knicks, Buddy was able to get the line twice. That's a big positive for a shooter, as it creates easy buckets; it is something I hope continues going forward.
DON'T GO UNDER BUDDY HIELD SCREENS.
Solomon Hill
F, New Orleans Pelicans
BNew Year, New Solo. At least, thats what the Pelicans probably hope. A disappointing start to his Pelicans' campaign could be remedied if he has more performances like he had last night. Hill scored 10 points on an efficient 4-6 from the field, including 2-4 from three. The "three" and the "D" were on full display from Hill tonight, and he was up to the task of defending professional scorer Carmelo Anthony. Hill was up for the task, contesting all of Melo's shots and making him work for his points. The majority of Melo's points came at the line tonight (9-10) as he shot 8-22 from the field and had trouble getting space against Solomon Hill. A slight complaint, though, is Hill's inability to rebound: In 28 minutes, Hill grabbed as many boards as the people reading this. That's zero. For small-ball to be consistently successful, there has to be a concerted effort toward team rebounding. I am skeptical if Hill is capable of being a positive part of that.
Dante Cunningham
F , New Orleans Pelicans
B-Another game, another solid Dante Cunningham outing. The guy really is impressive. It's cliche to say he does "the little things" or he's the "glue guy", but its not a coincidence that this team has been at its best when he's been healthy. His 3-7, 8 point, 3 rebound stat line doesn't jump out at you, but Cunningham was solid tonight. Performances like this one are what you can pretty much expect on a nightly basis, and Cunningham becoming a corner three specialist has been a very pleasant surprise. Matched up with Kristaps, Dante did as well as you can; again though, rebounding is a problem.
Anthony Davis
C, New Orleans Pelicans
AAnthony Davis was the best big man on the court tonight. In a battle of basketball fairy tales, the Brow defeated the Unicorn (Kristaps Porzingis). He wasn't at his sharpest offensively, but masked that by making intelligent rolls to the rim and getting to the basket. Davis finished with 23 points on 9-18 shooting, and I hardly remember him making a single jump shot. Thats great, effective offense. Anthony Davis also dominated the glass tonight, grabbing 18 total rebounds. Seventeen of his 18 boards were defensive, and helped limit a big Knicks team from hurting them further on the glass. Davis's switch to center has anchored this team and given it new life.
Davis's willingness to go all the way after grabbing rebound has been a fun development this season.
Tyreke Evans
G , New Orleans Pelicans
B+Tyreke Evans was back to his old self against the Knicks. He scored 16 points in only 18 minutes to give the Pelicans a much-needed scoring boost off the bench. Evans would score 10 straight points in the second quarter to keep the Pelicans afloat with Anthony Davis resting. Watching Evans dominate the Knicks' second unit reaffirmed my belief that his best role with the Pelicans is as a sixth man. Let him have at opposing defenses with his drive-and-kick-oriented offense. Evans also had 5 rebounds and 4 assists, and could have easily had more than that if a few more corner threes went down. Evans is a ball-stopper, there's no arguing that. But he has a use: numerous times tonight, he sucked in the Knicks' defense and found an open shooter on a kick out. A bench unit of Tyreke, E'Twaun Moore, and Langston Galloway compliment each others' skills well.
E'Twaun Moore
G/F, New Orleans Pelicans
B+E'Twaun Moore was a huge spark off the bench tonight, scoring 12 points and knocking down two threes. Moore seems to be the preferred guard in crunch time, and given his defensive prowess, it's easy to understand why. Moore finished 5-10 from the field and 2-3 from behind the arc. His shot was on tonight, and now would be a good a time as any for Moore to heat up.
Langston Galloway
G , New Orleans Pelicans
DGreen-light Galloway caught a few reds tonight. He finished 2-7 from behind the arc and didn't really do much against his former team. But, Galloway currently closer fits what the Pelicans need right now than Tim Frazier, so his rotation spot doesn't seem to be in danger.
Terrence Jones
F/C , New Orleans Pelicans
C-Terrence Jones was ho-hum against the Knicks. Jones didn't really do anything memorable in his 18 minutes, but as long as the Pelicans continue to go small, he will get his minutes.
PLAY OF THE GAME
The best ball movement all year by the Pelicans, a thing of beauty.
FINAL THOUGHTS
The New Orleans Pelicans took care of business on their home-stead. They are now 1.5 games back from the 8th seed but the true test will be to see if this team can carry their success to the road.
More from Pelican Debrief
This article originally appeared on
---
---