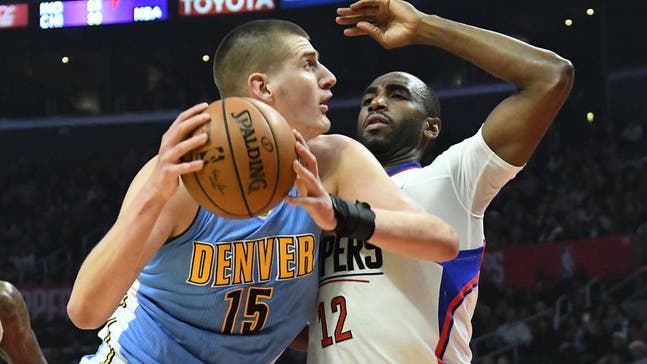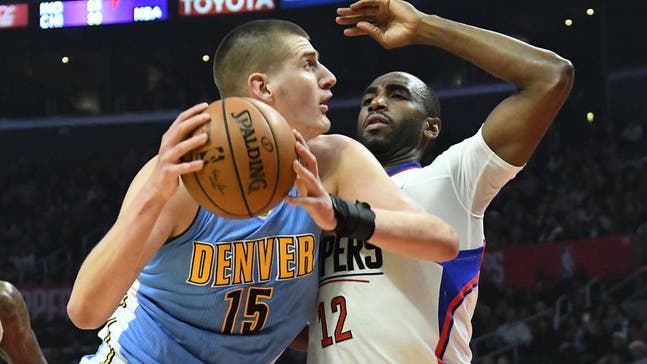 Denver Nuggets vs. Los Angeles Clippers Player Grades
Updated
Mar. 4, 2020 6:56 p.m. ET

Fansided, Mathew Huff/FanSided via Nugg Love
Dec 26, 2016; Los Angeles, CA, USA; Los Angeles Clippers forward Luc Mbah a Moute (12) guards Denver Nuggets forward Nikola Jokic (15) in the first quarter at Staples Center. Mandatory Credit: Jayne Kamin-Oncea-USA TODAY Sports
The Denver Nuggets struggled to win on the road, but they were able to claw it out eventually.
The Denver Nuggets went on the road and captured a win against the Clippers last night.
This was an exciting game and the Nuggets were actually able to close out a game for once. Although yet another blown double digit lead is concerning, Denver showed a lot of fortitude by overcoming a deficit of their own to re-capture the lead late in the game.
Fans may need to take this game with a grain of salt considering the Clippers were without two of their best players in Chris Paul and Blake Griffin. In addition, other key role players were absent however; a win is still a win.
The win was very impressive but which 3 Nuggets had the best night?
Want your voice heard? Join the Nugg Love team!
Let us show you with our own player grades.
Dec 5, 2015; Philadelphia, PA, USA; Denver Nuggets forward Will Barton (5) celebrates Denver Nuggets guard Jameer Nelson
Will Barton-B
Will Barton has had a relatively disappointing season to be honest. Part of this may be due to the inconsistency of the lineups with the injuries at the beginning of the year and him having to start at times.
This is something he isn't accustomed to, but now Denver is at full strength. Barton can now focus on what his true role is, being the 6th man to provide a spark off the bench.
More from Nugg Love
Last night, he did exactly that. He shot an outstanding 57% from the field including 50% from 3-point territory netting him 23 points off the bench.
Not to mention his play-making was off the charts resulting in 6 assists from him, an area that he normally doesn't excel in on the court.
He nearly had a double-double finishing with 23 points and 8 rebounds.
The Denver Nuggets need Barton to be a fire starter off the bench and that's exactly what he gave Denver in the win.
Oct 14, 2016; Denver, CO, USA; Golden State Warriors forward Andre Iguodala (9) defends Denver Nuggets forward Danilo Gallinari (8) in the third quarter at the Pepsi Center. The Warriors won 129-128. Mandatory Credit: Isaiah J. Downing-USA TODAY Sports
Danilo Gallinari-B+
Gallinari is finally showing the Nuggets a little bit of consistency. His shot is still streaky and he still frustrates fans with his "hero ball," mentality at times, but he has been productive as of late.
Tonight, he notched another double-double, something that has been a common occurrence recently for Gallinari.
A 23 point, 11 rebound performance is the type of game that will aid the Nuggets more times than not even if it is on about 42% shooting.
The thing that may get overlooked about Gallinari's performance last night is that he had the 2nd highest differential of 10 and even had 3 steals.
Defense is certainly not a strong suit of his game so this is rather refreshing.
If Gallinari can continue to put up these numbers while improving his shooting percentage just a bit, then he will be the offensive weapon the fans were hoping to see at the beginning of the year.
Mar 27, 2016; Los Angeles, CA, USA; Denver Nuggets center Nikola Jokic (15) is defended by Los Angeles Clippers center DeAndre Jordan (6) during an NBA game at Staples Center. Mandatory Credit: Kirby Lee-USA TODAY Sports
Nikola Jokic-A
This should not come as a surprise, considering he was Denver's biggest threat last night. Here at Nugg Love, we love Jokic and last night proved why we do have such high praise of him.
He clearly has been Denver's biggest asset this month and he carried that momentum into last night. The man led the team in scoring with 24 points on about 69% shooting. That's nearly 70% from the field! Just let that soak into for a moment.
nuggets
Nugg Love 2wDenver Nuggets: What It Means To Win in the Mile High
More headlines around FanSided:
8w - Denver Nuggets: DFS Picks for the Season Opener against the Pelicans11w - Denver Nuggets Fantasy: Implications From Preseason Opener12w - Emmanuel Mudiay: Analyzing the Art of Passing15w - Denver Nuggets: Will Malik Beasley Sadly Only Get Insurance Minutes?15w - Top 5 Denver Nuggets with Any Fantasy Basketball ValueMore News at Nugg Love

What may be even more impressive is that he helped hold the Clippers star Deandre Jordan to a relatively sub-par performance.
Yes, Jordan still did get a double-double, but when one realizes  Jokic' s weakness tends to be his defense and Jordan ate the Nuggets alive last time these teams matched up, it is easy to be impressed. This was a refreshing defensive performance by Jokic.
Furthermore, Jokic also led the team in differential with a differential of 17 (Jordan's was -11).
Not to mention, Jokic got another double-double with 24 points and 10.
To top it all off, the man was yet again close to a triple-double finishing with 8 assists.
Games like this why many fans believe that Nikola Jokic will be the face of the Nuggets' future.
Dec 20, 2016; Los Angeles, CA, USA; Denver Nuggets forward Kenneth Faried (35) loses the ball while defend day Los Angeles Clippers forward Marreese Speights (5) during the second quarter at Staples Center. Mandatory Credit: Kelvin Kuo-USA TODAY Sports
Los Angeles Clippers-B-
The Clippers really did not play that bad of a game when one considers they were without their two best players.
They were also playing without J.J. Reddick and Paul Pierce as well. However, they still showed up and put up a fight.
At one point, they were able to erase a 17 point Nuggets lead and even take control of the lead. The one bright spot Los Angeles can take from this loss is that they now know they can get firepower from other players whenever key players are out.
Jamal Crawford led the way for with 24 points which is really not that surprising; the man is the reigning 6th Man of the Year after all. Moreover, other players stepped up for them.  Doc River's son, Austin Rivers poured in 19 points.
Raymond Felton also had an impact finishing with 10 points, and Brandon Bass put up a decent contribution as well by also finishing in double figures with 11 points.
The Clippers may have lost tonight, but they fought until the end, which is characteristic of all playoff caliber teams.
---
---