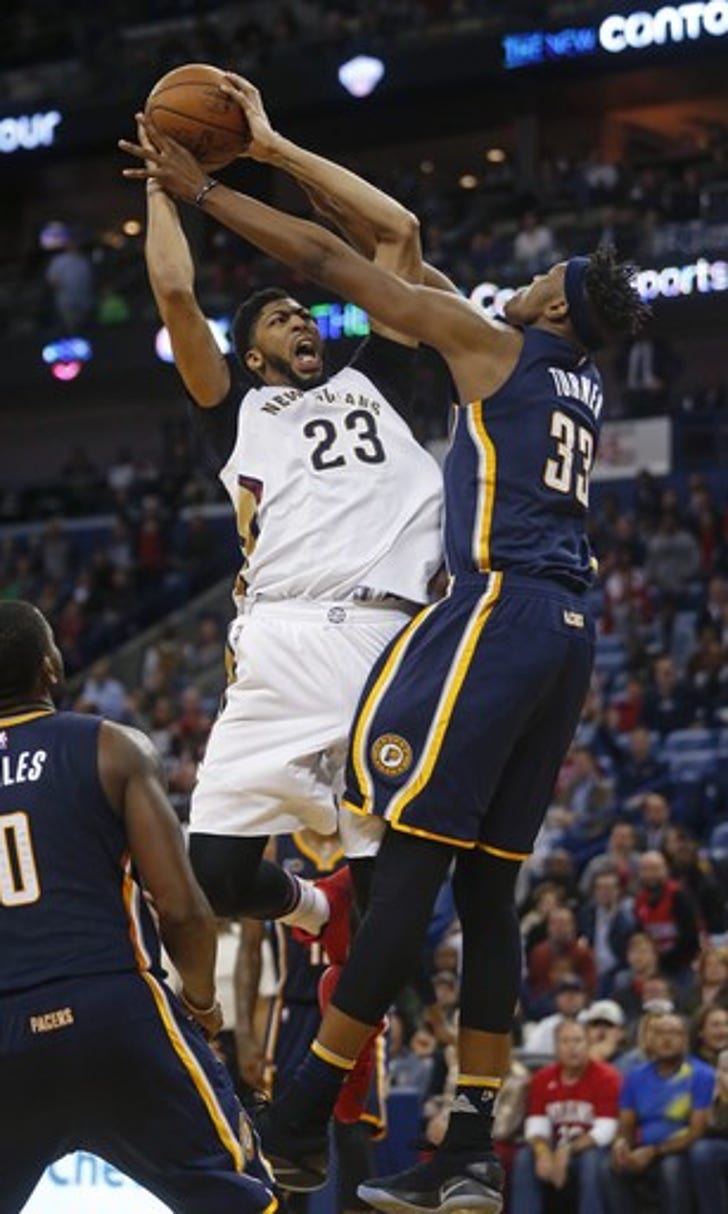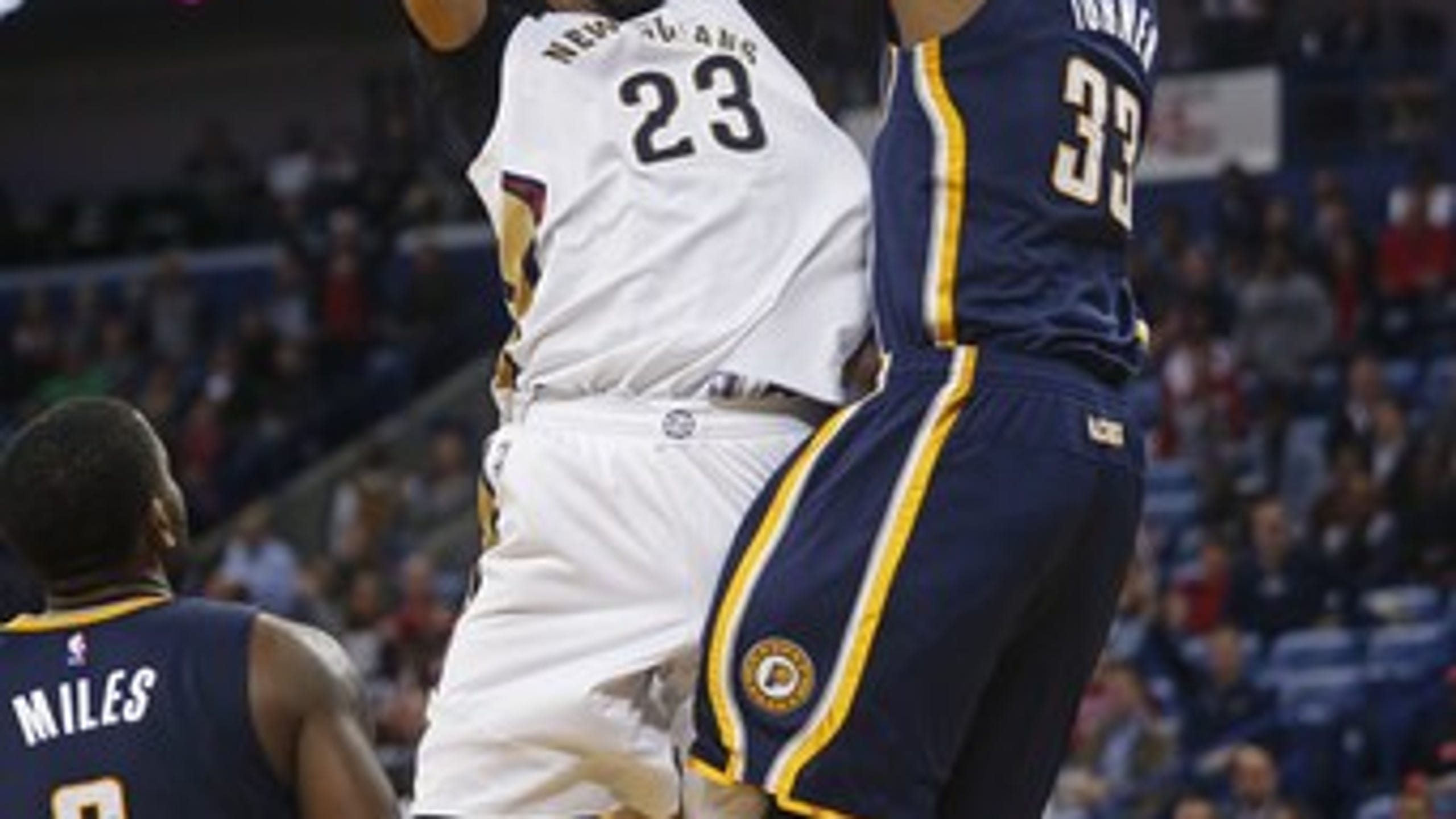 Davis, Hield lift Pelicans past Pacers, 102-95 (Dec 15, 2016)
BY AP • December 16, 2016
NEW ORLEANS (AP) Anthony Davis backpedaled from the 3-point line, his arm staying up in the follow-through position as his shot went down to push New Orleans' lead to eight points with a minute-and-a-half to go.
A mere 12 seconds later, his arm was extended again - this time to swat away Thaddeus Young's running floater as the Pelicans emphatically closed out a 102-95 victory over the Indiana Pacers on Thursday night.
''My teammates were just telling me to end the game,'' Davis said. ''Of course, they lean on me to try to close out down the stretch. I was just trying to be aggressive.''
Davis was having a pretty good night even before his late flourish, finishing with 35 points, 16 rebounds and five blocked shots. He highlighted his latest dynamic performance with two 3-pointers and a couple of driving dunks. During a pivotal 15-0 Pelicans run inside the final 5 minutes, he converted a three-point play on a driving dunk, hit a 3, added four free throws and blocked two shots.
Davis ''got loose in a couple transitions. He made a 3. They're moving him around,'' Pacers coach Nate McMillan said. ''He hurt us really in transition and just attacking the basket.''
Rookie Buddy Hield also hurt the Pacers with a career-high 21 points, hitting five 3s along the way.
''He can shoot it even better than he did tonight,'' Pelicans coach Alvin Gentry said of Hield. ''He's just learning what a good shot is.''
And New Orleans even got its first production of the season from guard Tyreke Evans, who played 11 minutes in his return from a right knee injury that also sidelined him most of last season. He had seven points, three rebounds and two assists.
''He played pretty well in his limited minutes,'' Davis said.
Jrue Holiday, who started the Pelicans' decisive surge with a driving layup, had 16 points and 14 assists, while Terrence Jones added 10 points, 11 rebounds and two blocked shots.
Myles Turner scored 26 points on 11-of-14 shooting for Indiana, but the Pacers missed eight straight shots during a 4-minute scoring drought late in the fourth quarter. Indiana's Jeff Teague had 21 points and 10 assists and Paul George had 18 points.
The game was close through 3 1/2 quarters, when neither team had built a lead larger than eight points. The Pacers led 90-85 after George's layup with 4:52 to go, but that's when the game turned dramatically in New Orleans' favor.
''There's something we're not doing right. We have to address it,'' George said. ''The majority of our losses, we've been in the game or in control. We're not figuring out how to close it.''
TIP-INS
Pacers: Al Jefferson scored 14 points. ... G Rodney Stuckey was sidelined by soreness in his left hamstring, which he pulled during a loss at Miami on Wednesday night. His absence further thinned Indiana's depth at guard with Monta Ellis skipping the trip because of his right groin strain. ... George was assessed a technical foul for arguing a call on the defensive end in the second quarter.
Pelicans: Reserve PG Tim Frazier, who sprained his right wrist during Tuesday night's loss to Golden State, was scratched from the lineup. ... New Orleans outrebounded Indiana 56-46.
OFF TARGET
Indiana entered the game shooting 37 percent from 3-point range but hit only 3 of 21 (14 percent). Davis said the Pelicans had something to do with that.
''That was one of our biggest focuses was guarding the 3-point line. We wanted to be up on ball screens and make them shoot 2s,'' Davis said. ''They rely on their 3s a lot and we just wanted to make sure it was tough on everyone.''
COMPETITIVE REUNION
In his first game against the team he left in free agency after last season, New Orleans small forward Solomon Hill often guarded George, who failed to score 20 points for just the first time in seven games.
''We didn't let him close to the basket. Everyone had my back,'' Hill said. ''We felt like he didn't get comfortable tonight and that changed the dynamic of their team.''
UP NEXT
Pacers: Visit Detroit on Saturday night to complete a three-game trip.
Pelicans: Visit Houston on Friday night to begin a three game trip.
---
---