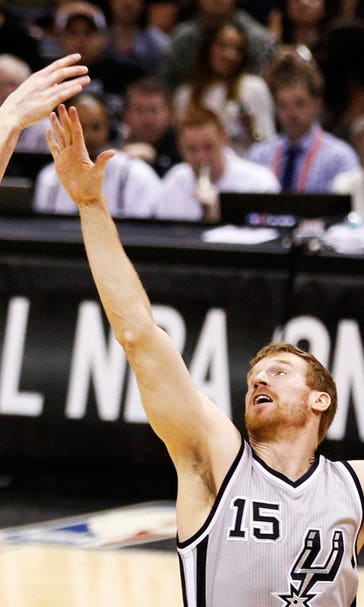 Cavaliers-Spurs Preview
January 13, 2016

The Cleveland Cavaliers should be feeling pretty good these days thanks to an eight-game winning streak, a perfect start to their longest road trip of 2015-16 and Kyrie Irving's latest big performance.
And, hey, they were the last team to win at the AT&T Center - 10 months ago.
As high as the Cavaliers have been, the San Antonio Spurs have been on another level as they seek their 32nd straight win at home when two of the NBA's best teams meet on Thursday night.
With Golden State stealing the show through the early part of the season, San Antonio (34-6) has quietly built the best start in the storied franchise's history. The Spurs are riding a season-high nine-game winning streak and are 22-0 at the AT&T Center, the second-best start at home by a Western Conference team ever behind Portland's 26-0 in 1977-78.
The last time San Antonio walked off its own court with a loss came in a 128-125 overtime defeat to Cleveland on March 12 thanks to Irving's career-high 57 points.
Since, the games haven't been close. The Spurs hold a plus-16.1 points per game differential at home, on pace to be the second best of all time behind the 1995-96 Bulls' 17.1. San Antonio's total of plus-14.1 would be the NBA's best ever.
The Spurs' 93.5 points per 100 possessions allowed are on pace to be the fewest in the league in more than a decade. The last team to do better? San Antonio itself in 2003-04 at 91.6.
The last four wins have featured as many different leading scorers: Tim Duncan, Kawhi Leonard, LaMarcus Aldridge and Tony Parker. Parker had 14 points in the first five minutes of the third quarter en route to a season-high 31 in Tuesday's 109-99 win at Detroit.
''I don't know how to explain that - it is just going to happen,'' Parker said. ''There are so many weapons on this team; it can be anyone any night.''
More nights than not it's going to be LeBron James for Cleveland (27-9), but the Cavaliers' latest win suggests they might be close to getting Irving all the way back as he continues to find his footing after fracturing his kneecap in the NBA Finals.
Irving has averaged 16.5 points in 10 games since returning last month. After scoring eight points on 3-of-15 shooting in Sunday's 95-85 win at Philadelphia, he had 22 points and nine assists in Tuesday's 110-107 overtime win at Dallas.
That was the Cavs' fourth straight win to open a six-game road trip that includes stops in all three Texas cities. Cleveland has won eight straight for a second time this season.
Irving sank a 3 to put Cleveland up 109-105 with 13 seconds left Tuesday off a pass from James, who has averaged 27.8 points, 9.8 rebounds and 7 assists the last four games but passed up an open jumper.
''It's just the confidence I have in him and he has the confidence in his self,'' James said.
James had 31 points in 44 minutes of the OT win at San Antonio after being held to 15 points in a 92-90 loss in Cleveland earlier in the season. Kevin Love totaled 18 points on 6-of-22 shooting against the Spurs last season.
---
---