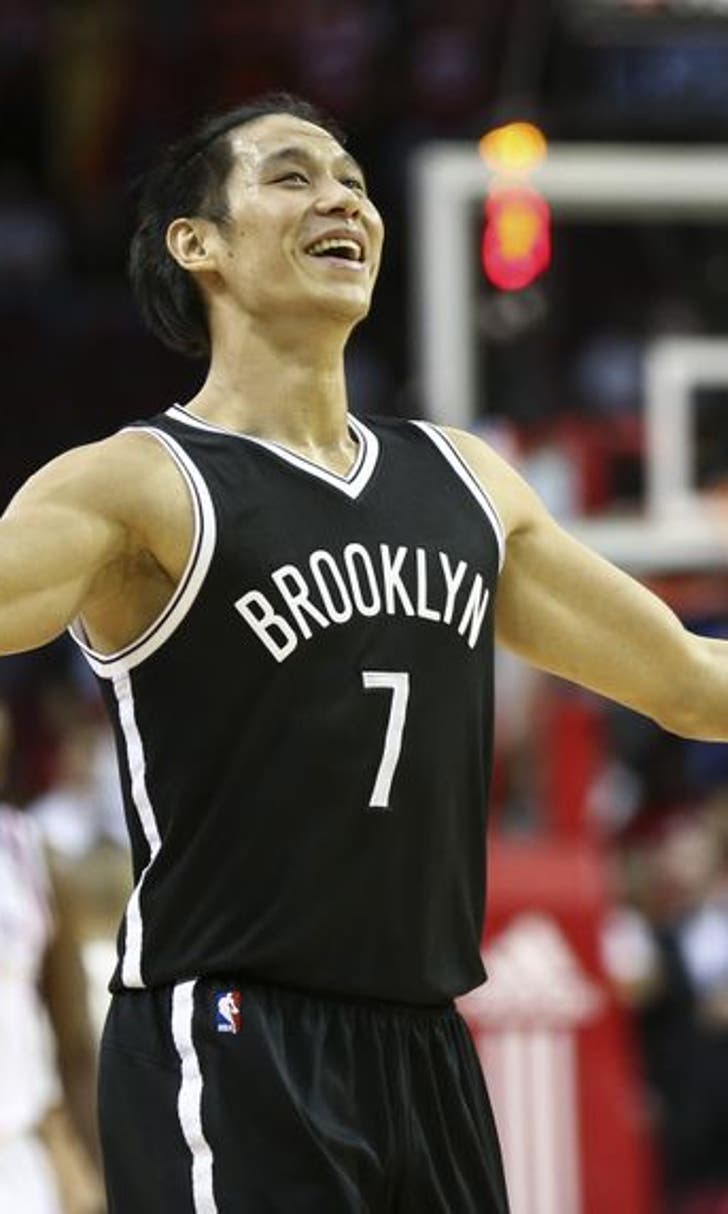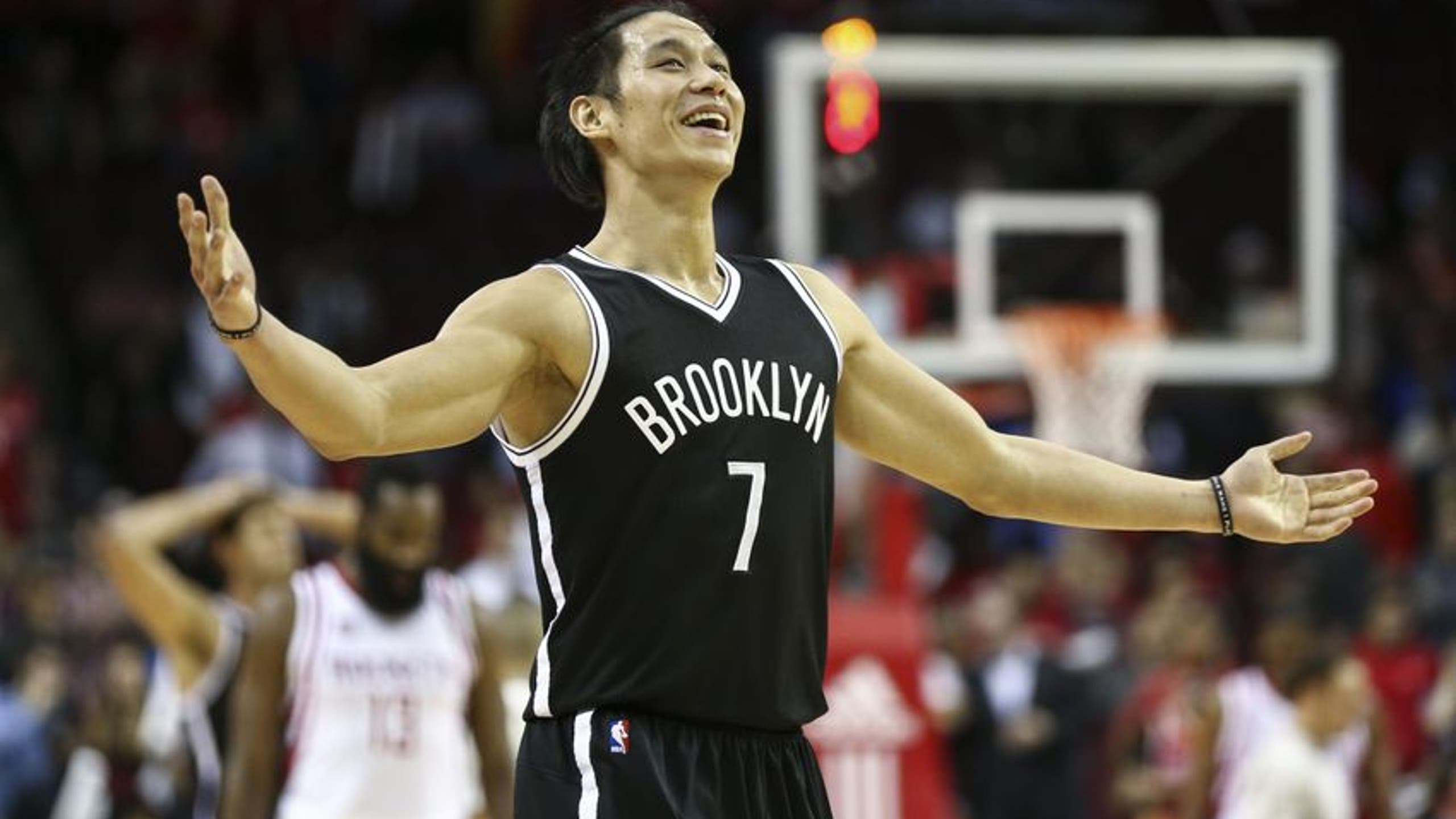 Brooklyn Nets: Week 7 Stars and Slackers
BY Fansided and Darnell Gilet/FanSided via Nothin' But Nets • December 14, 2016
Dec 12, 2016; Houston, TX, USA; Brooklyn Nets guard Jeremy Lin (7) reacts after a play during the fourth quarter against the Houston Rockets at Toyota Center. Mandatory Credit: Troy Taormina-USA TODAY Sports
This was one of the better weeks in Brooklyn over the last year.  With Jeremy Lin returning from injury, hope was restored as the Nets hoped to turn around a lost season.
Unfortunately, in week 7, the Nets still had to settle for a sub .500 record. There is a silver lining though. The Brooklyn Nets were able to come out with a victory for a second week in a row.  At this point, any week that has a victory is worthy of celebration.
More from Nothin' But Nets
In addition to Lin's return, Sean Marks also signed Spencer Dinwiddie from the D-League leaving the Nets fans hopeful for Sean Kilpatrick part two. Finally, although it was a loss, the Nets competed with the high-powered Rockets.
In their first gave at full health in weeks, the Nets looked promising. That promise made this week's stars and slackers column an enjoyable piece to write.
Dec 12, 2016; Houston, TX, USA; Brooklyn Nets guard Jeremy Lin (7) dribbles the ball as Houston Rockets guard Eric Gordon (10) defends during the third quarter at Toyota Center. Mandatory Credit: Troy Taormina-USA TODAY Sports
Stars
After missing 17 straight games, the Nets' fearless leader and face of the franchise has returned. The hamstring injury that hobbled Lin, a thing of the past. Hopefully. Having gone only 4-13 in that stretch deflated all hopes the Nets had of exceeding expectations and proving skeptics wrong.
Prior to the injury, Lin averaged 15 points, six rebounds, and four assists per game.  Having this type of production is a sigh of relief as Lin helped the Nets remain competitive in a loss against the rockets. In 20 minutes of play, Lin scored 10 points while dishing out seven assists. As Lin gets his legs back under him, the hope is that Isaiah Whitehead can return to the bench, providing a much needed punch for the second unit.
D-League:
Lin is not the only addition to the Nets roster this week. In an expected move, Marks once again went to the D-League to bolster his roster. In 2015-2016 he found Kilpatrick. In 2016-2017 he found Dinwiddie. We will see if Dinwiddie can produce the same, or similar results as Kilpatrick. However, Dinwiddie is as promising of a D-League talent one can hope for.  At 6'6″ Dinwiddie does many things well.
He is versatile and can play point guard through small forward effectively. Dinwiddie has great vision along with the ability to create for himself or others. Furthermore, he is a willing defender. If not for an ACL injury, Dinwiddie might not have been available for the Nets through the D-League. We will have to wait and see if Dinwiddie can excel enough in any area to become a productive player on a nightly basis.  For now, similar to last year, the D-League might have shined a light on another gloomy season for in Brooklyn.
Dec 12, 2016; Houston, TX, USA; Houston Rockets guard James Harden (13) dribbles the ball as Brooklyn Nets guard Sean Kilpatrick (6) defends during the third quarter at Toyota Center. Mandatory Credit: Troy Taormina-USA TODAY Sports
Slackers
Nets Inbounding and Three-Point Defense
In a season where wins are hard to come by, the close losses are tough. After going down 120-118 against the heavily favored Houston Rockets, the Nets had the opportunity to tie the game or take the lead. However, rather than getting even a contested shot off, the Nets turned the ball over on the in-bounds pass. A win against the Rockets could have given this Nets team a much needed confidence boost. Instead, the Nets are left with a loss, out of the hands of victory. Plays like this remind us of a timeless truth: bad teams find ways to lose.
Three-Point Defense
Against the San Antonio Spurs, the Nets three point defense was atrocious. Wide open three after wide open three were given to the Spurs. This porous defense led to the spurs shooting 14 of 26 converting on 54 percent of their attempts from range on their way to a blowout victory.
Following the abysmal performance against the Spurs, the Nets gave up 17 three pointers on 40 percent shooting. None of the 17 had more impact than a wide open shot by Eric Gordon with less than two minutes left in the game that tied it up at 116. With less than two minutes in the game, the Nets appeared on their way to victory. However, their poor three point defense reared its ugly head aiding in two losses.
---
---