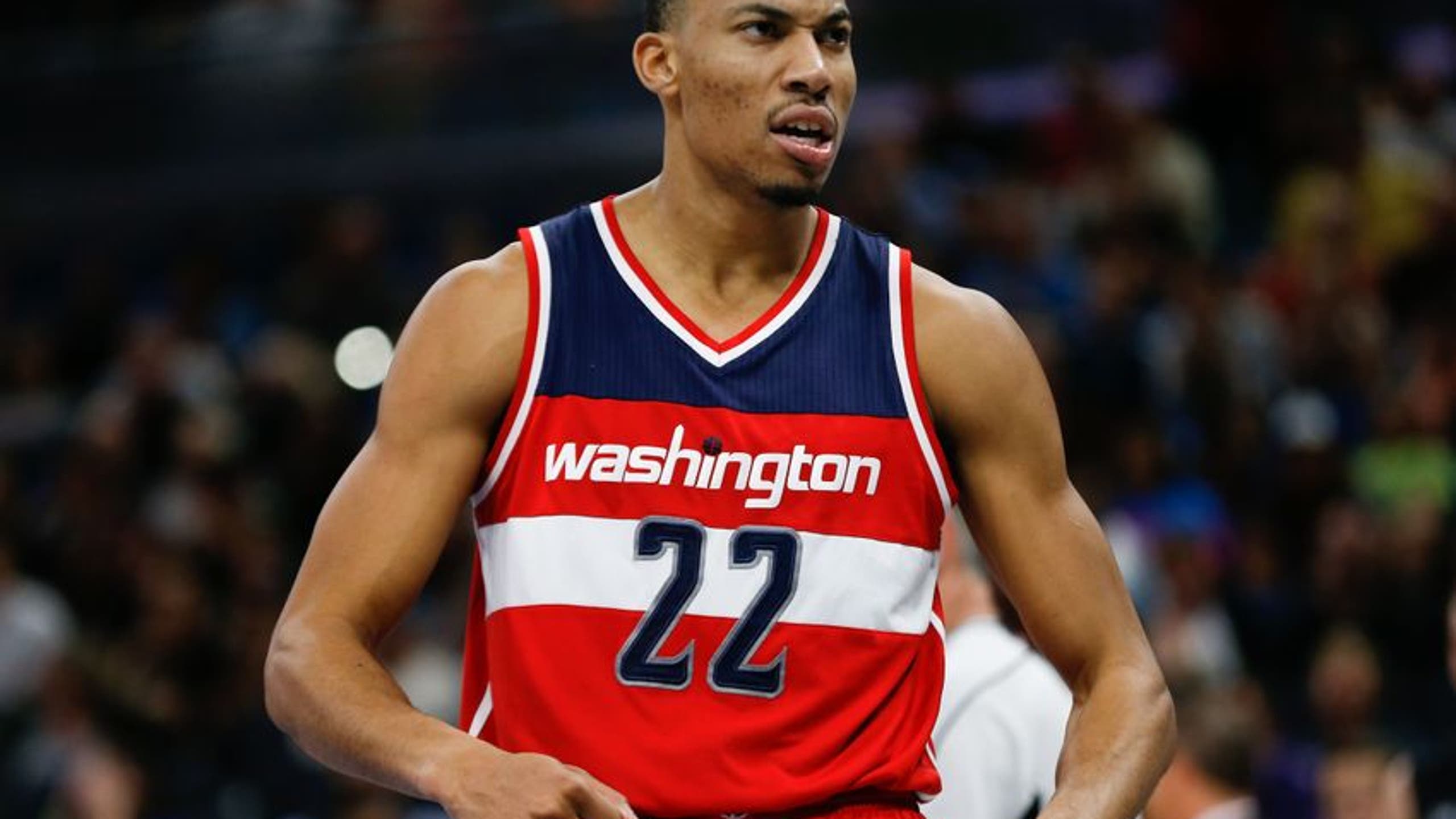 Breakout Watch: Six NBA players reaching new heights
BY Fansided and Jared Dubin/Fansided • December 15, 2016
Every offseason, rosters around the NBA undergo significant changes. Those changes lead teams to shift their strategies, which in turn provides opportunities for players to step into new roles. Some players fail to handle the added burden, while others shine when thrust into a greater spotlight. Just as it has in years past, the same has happened with several players this season.
Below, we'll run through six players that — whether because of injuries, trades, or merely development — stepped into new realities this season, and have adjusted to them with great success.
Otto Porter, Washington Wizards
Porter is one of those players that has progressed in a few areas every year in the league. This season is the culmination of all those progressions. How good has he been this year? This good.
As he has in every season of his career so far, Porter is shooting better from the field (53.5 percent, heading into Wednesday night) and on 3-pointers (41 percent) than he did a year ago while also playing more minutes and averaging more points, rebounds, steals, and blocks as well. He's once again working on career-highs in player efficiency rating, true shooting percentage, rebound rate, and steal rate; and he's turning it over less than ever before, too.
Read More: Pick-and-pops with Kristaps Porzingis are unguardable
Porter has a become hyper-competent role player on a team that is sorely lacking in competence almost everywhere else on the roster. His best skill — and one that makes him a perfect fit with John Wall — is his ability to find creases in the defense when moving without the ball. Fall asleep for even half a second and Porter will hit you with a well-timed cut, Wall will find him, and the Wizards will get a bucket. A low-level 3-point shooter that teams were happy to let fire away as recently as a couple years ago, Porter's hit rate now has him among the better moderate-volume shooting wings in the game. He's able to swing between the three and four spot on both offense and defense, with his 7-foot-1 wingspan helping him corral ball-handlers on the perimeter and challenge the shots of bigger players inside.
Aaron Doster-USA TODAY Sports
Kentavious Caldwell-Pope, Detroit Pistons
KCP, who entered the league the same year as Porter, has really put together something nice so far this season. He's knocking down 37 percent of his looks from outside on over five attempts per game, making him one of only 25 qualified players in the league to reach those levels. He's still a hounding defender, especially when sicced on a lead ball-handler.
The big development for KCP this year, though, has been his ability to work as a secondary ball-handler and playmaker. The Pistons were without Reggie Jackson for the first 21 games of the season, an absence that eliminated the entire basis of Detroit's offense — no duo was involved in more pick-and-rolls last season than Jackson and Andre Drummond; everything the Pistons were built around offensively stemmed from that initial high screen. With Jackson out and Ish Smith starting in his place, Stan Van Gundy shifted some more of the ball-handling responsibility to the wings, and Caldwell-Pope picked it up in stride. Along with his career-highs in usage and true shooting percentage, KCP has an assist rate nearly double his previous career-high as well.
And it's not just that teammates are making more shots on his passes (59 percent this year vs. 49 percent last year). He's actually creating more chances. Only 16 percent of his passes last season led to assist opportunities, per SportVU data; this year that number is 23 percent. Whether as a secondary pick-and-roll guy or looking to dish after attacking a closeout, he's shown real growth as a ball-mover.
Troy Wayrynen-USA TODAY Sports
Maurice Harkless, Portland Trail Blazers
Even last year, when he operated mostly as a solid bench player before a late-season move into the starting lineup, it seemed a little ridiculous that the Blazers essentially got Harkless from the Magic for free. (All they surrendered was a 2020 second-round pick.) At the time of the deal, Harkless was coming off an injury-marred, regression-plagued third season, but he was still a 22-year old that had flashed interesting skills on both sides of the floor during his first two campaigns.
Harkless did the same last year, and after signing a new deal and being made a full-time, heavy-minute starter, he's progressed even more this season. The trade now looks like highway robbery, with the Blazers getting an above-average two-way wing for the possibility of selecting a player that will likely never step on the floor in the NBA, five years down the line. That's outright theft.
Harkless has quickened the trigger on his jumper and is now launching from deep over three times a game while connecting at a respectable percentage. At the very least, it's dangerous to totally ignore him beyond the arc. He's gotten a little bouncier as a secondary attacker as well. His defense, though, and particularly his versatility on that end, is what makes him a really valuable contributor for Portland. He can switch across four positions and mostly hold his own, and on a team with weak backcourt defenders, that's a great skill to have.
Winslow Townson-USA TODAY Sports
Avery Bradley, Boston Celtics
Bradley hasn't so much taken on a larger role this season as he has improved in two very specific and very important areas.
First, he's shooting lights out from basically every area of the floor. Bradley's made 61.5 percent of his shots from inside three feet, 48.1 percent between 10 and 16 feet from the basket, 43.7 percent from between 16 feet and the 3-point line, and 42.7 percent from beyond the arc. The spot-up shooting has been expectedly good, but his work on shots off the dribble has been a big surprise. Among 56 players taking at least four pull-up shots per game, per SportVU data, Bradley has the seventh-best effective field goal percentage — ahead of guys like Isaiah Thomas, Kemba Walker, and Kevin Durant.
Next, Bradley's become an absolutely monster on the glass. Bradley is averaging 7.5 rebounds per game. To put that in perspective, his career-high before this season was 3.8 per game back in 2013-14, and his next-highest average was 3.1 the following season. Add the totals from those two seasons together and Bradley is still hitting the boards harder this season alone. Bradley's rebound rate of 11.5 percent is higher than those of Serge Ibaka, LeBron James, Jahlil Okafor, Paul George, Marc Gasol, Kawhi Leonard, Brook Lopez, and Carmelo Anthony, to name just a few. It helps that he's doing his best work on the defensive glass, where the Celtics routinely get hammered, and where he has helped save them from being one of the most decrepit boarding teams in recent memory. His 19.3 percent defensive rebound rate is second only to Russell Westbrook among all guards, per Basketball-Reference, and exceeds that of all but 39 forwards.
Mark J. Rebilas-USA TODAY Sports
Wilson Chandler, Denver Nuggets
It's easy to forget because the 2015-16 Nuggets were largely forgettable, but Chandler didn't play at all last season. Not "he wasn't part of the rotation." He didn't play. Just a couple months after signing an extension to stay in Denver, Chandler went down for the year with a hip injury that required surgery. (It was the second hip tear of his career. Back in 2012, he had season-ending surgery on his left hip, knocking him out for the season. Last year, it was the right hip that kept him out.)
Read More: Wilson Chandler is still waiting
Chandler's come back with a vengeance this year, killing it as "the guy" off Mike Malone's bench even while playing somewhat banged up in several games. Chandler's working on (stop me if this sounds familiar) career-highs in usage rate, scoring, and rebounding, and he's all over Denver's best lineup combinations. His ability to seamlessly slide between any wing or forward position helps Denver experiment with different combinations of players around him, and he can capably handle defensive matchups on the perimeter or inside.
It seems like Chandler has been in the league forever (probably because this is somehow his ninth season) but he's still only 29 years old. He's got some miles on his legs and some wear on his body due to all the injuries, but he's proving this season that he's got plenty left to give. Basically what I'm saying is: contenders in need of a big wing (pay attention, Clippers and Raptors) could do a whole lot worse than giving the Nuggets a call to see if they'll part with Chandler.
Brad Penner-USA TODAY Sports
Sean Kilpatrick, Brooklyn Nets
Just a couple season after being called up from the D-League to play for the Timberwolves because he was the closest available player to the arena the team was playing in that night (Madison Square Garden, where Flip Saunders has some pretty good lines when asked about it during pregame), Kilpatrick has emerged as a legitimate scoring option for the Nets. Given their injury issues at the guard spots and the lack of perimeter creators elsewhere on the roster, it's no wonder that Brooklyn has been over eight points per 100 possessions better with Kilpatrick on the floor.
He's done his best work when creating his own looks off the dribble (he's using around six combined possessions per game as an isolation and pick and roll ball-handler, per the Synergy data on NBA.com), especially when he's managed to get to the basket, where he's finishing about 66 percent of his shots. Among the 60 players averaging at least five drives per game, only 17 have shot a better percentage from the field on drives. The next step is being able to create for his teammates when he's on his way to the rim and not just when he can see the whole floor from the perimeter. Among the same group of 60 players, only 14 have a lower assist percentage on their drives.
More from FanSided
This article originally appeared on
---
---