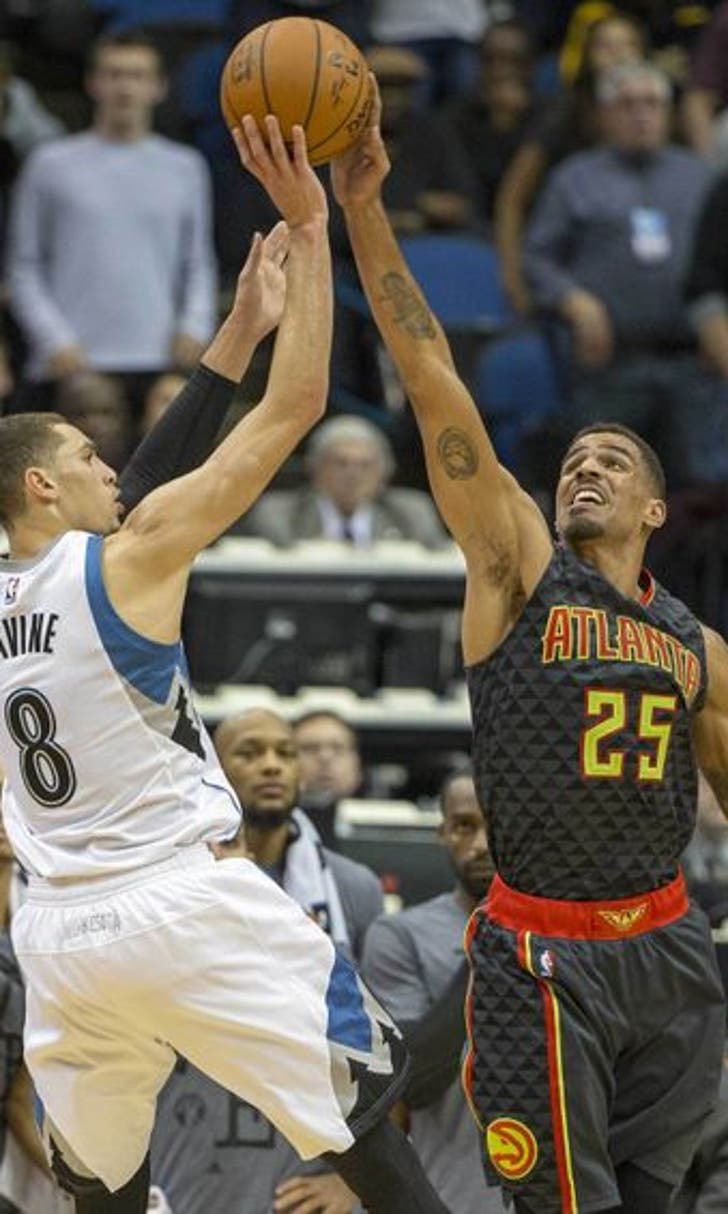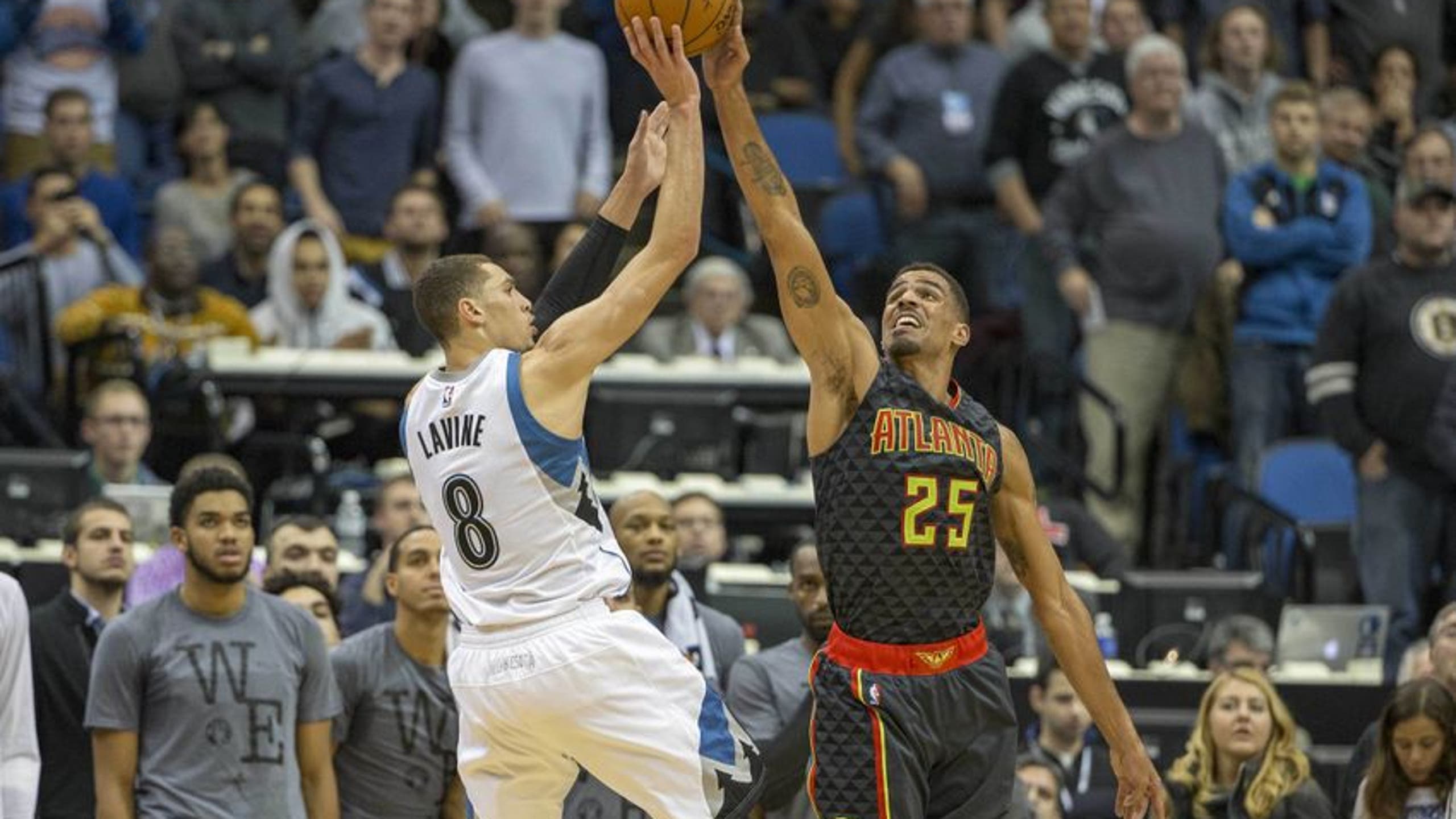 Atlanta Hawks Game Preview: Dec. 21 vs. Minnesota Timberwolves
BY Fansided and Andrew Snyder/FanSided via Soaring Down South • December 21, 2016
Nov 25, 2015; Minneapolis, MN, USA; Atlanta Hawks guard Thabo Sefolosha (25) blocks a shot from Minnesota Timberwolves guard Zach LaVine (8) in the second half at Target Center. The Timberwolves won 99-95. Mandatory Credit: Jesse Johnson-USA TODAY Sports
The Atlanta Hawks return home tonight to take on the Minnesota Timberwolves. What will Minnesota bring to the table?
This roller coaster ride of a season continues. The Atlanta Hawks got back to their winning ways Monday night with a thrilling victory over the Oklahoma City Thunder. The game came down to the last minute, with Paul Millsap netting a game-winning jumper with ten seconds remaining.
There's no time to celebrate the victory. It's time to move on to the next opponent. The Hawks will return home Wednesday to take on the Minnesota Timberwolves.
The Timberwolves have been a disappointment this season. They were the darlings of the NBA this summer. The Ringer dubbed them as the NBA's new "hipster" team. Meaning that they were a fun young team that was on the cusp of competing for a playoff spot in the Western Conference. Some writers even predicted that they would win 50 games.
It doesn't look like that's going to happen. Minnesota is currently 8-19 on the season, despite boasting talented young players like Andrew Wiggins, Karl-Anthony Towns, and Zach LaVine, and having Tom Thibodeau as their new head coach.
Their offense has been better than their defense thus far, something that is unheard of for a Thibs coached team. They have the 10th best offense in the NBA, scoring 108.5 points per 100 possessions, while their defense ranks 27th (they allow 111.2 points per 100 possessions).
Nevertheless, this game won't be a cakewalk. Towns is an absolute superstar and has the ability to win games all by his lonesome. The Timberwolves have beaten good teams this season. They have victories against the Charlotte Hornets and the Chicago Bulls. Like the Hawks, they lack consistency. They're extremely talented, they're just flawed. Their porous defense makes their margin for error razor thin.
If the Timberwolves win this one it will be in a high scoring shootout. That could make for an entertaining game.
Apr 26, 2016; Atlanta, GA, USA; Atlanta Hawks forward Paul Millsap (4) and guard Dennis Schroder (17) react against the Boston Celtics in the third quarter in game five of the first round of the NBA Playoffs at Philips Arena. The Hawks defeated the Celtics 110-83. Mandatory Credit: Brett Davis-USA TODAY Sports
Key To The Game For Atlanta: Build Consistency
The best word to describe this Atlanta Hawks team would be inconsistent. On their best nights they can knock off anyone. On their worst nights they can lose to anyone. Lately, they've been better than that.
They've won two of their last three games, tough road wins against the Raptors and the Thunder. Those performance shared some similarities. They moved the ball on offense. They knocked down three-pointers. Dennis Schroder and Paul Millsap played like stars. Sure, their defensive effort wasn't what it was during their 9-2 start, but they got wins against good teams.
More from Soaring Down South
If they can put together a similar effort against Minnesota they'll have something that we in the business like to call a "winning streak." One thing to watch will be whether or not Dwight Howard plays.
Howard sat out the win over OKC with back tightness. He was outstanding in the win over the Raptors, finishing with 27 points and 15 rebounds on 10-for-13 shooting. In Saturday's loss to Charlotte, he was less involved offensively, but still finished with 10 points and a whopping 23 rebounds.
I'd expect to see Howard back in the starting five if his back will allow it. I also want to see if Budenholzer implements the small-ball lineup that started against the Thunder for certain stretches. The lineup featuring Schroder, Kyle Korver, Kent Bazemore, Thabo Sefolosha, and Millsap is a squad that could be tough to stop in terms of scoring.
On the other hand, a starting five with Schroder, Bazemore, Sefolosha, Millsap, and Howard projects to be a lock-down defensive group. That lineup currently has a net rating of plus 11.2 points per 100 possessions in nearly 48 minutes together.
I imagine Coach Bud will continue to tinker with different looks against Minnesota. It's nice to have options.
Nov 17, 2016; Minneapolis, MN, USA; Minnesota Timberwolves forward Andrew Wiggins (22) laughs with guard Zach LaVine (8) against the Philadelphia 76ers at Target Center. The Timberwolves defeated the 76ers 110-86. Mandatory Credit: Brace Hemmelgarn-USA TODAY Sports
Key To The Game For Minnesota: Have A Complete Defensive Effort
You know about Karl-Anthony Towns, and you'll hear more about him later, but the Timberwolves are more than just a one man. They are a team. A team that has been really bad defensively. Gorg is a reliable defensive player , but the rest of the squad hasn't quite grasped Tom Thibodeau's complex system yet.
That's to be expected, they're a young team. At one point in time, Andrew Wiggins was expected to be an elite defensive player. He's got all the tools, it just hasn't come together. A 27th ranked defensive rating is not what Thibs expected to see during his first season up north.
Individually this team is filled with bad defensive players on the perimeter (other than Ricky Rubio). According to ESPN.com, Wiggins has a defensive real plus/minus rating of -2.90. Zach LaVine's is -2.97. That's not what you want from your two starting wings. The eye test suggests Towns has all the tools to be an impact defensive player, but even his defensive real plus/minus is a disapointing -2.19.
Rubio is above average defensively when healthy, but injuries have slowed him down this season. Dieng and Towns are both solid, but they can't do much to stop ball-handlers from blowing by defenders on the perimeter. There's a chance Dennis Schroder could have his way with Minnesota, darting into the lane and getting to the free-throw line as he's been doing with regularity in recent games.
Dieng or Towns will be a tough match-up for Paul Millsap, but Atlanta's shooters might have a field day. Eventually the Timberwolves will be a good defensive team under Thibodeau. Just not this season.
Dec 19, 2016; Minneapolis, MN, USA; Minnesota Timberwolves center Karl-Anthony Towns (32) reacts after getting a foul called on him in the second half against the Phoenix Suns at Target Center. The Timberwolves won 115-108. Mandatory Credit: Jesse Johnson-USA TODAY Sports
Opposing Player To Watch: Karl-Anthony Towns
Karl-Anthony Towns could be the best player in the NBA within the next five years. That may sound crazy, but it's true. He does it all, and he does it while being a 7-foot center. He can shoot, he can handle the ball, he can pass, he can score in the post, and he should be an elite defender at his peak.
On offense he's like a guard in a big man's body. He's averaging 22.3 points and 11.1 rebounds per game this season on 47.9 percent shooting and 34 percent from beyond the arc. He's a particularly difficult match-up for the Hawks if the Timberwolves unleash small-ball lineups that would force Dwight Howard to guard him on the perimeter.
Towns typically plays with Gorgui Dieng, which would seem to play into Atlanta's favor. I'd expect Mike Budenholzer to give Paul Millsap the task of slowing down Towns. In the end, Minnesota may not have enough talent around Towns to beat the Hawks.
The core of Towns, Andrew Wiggins, and Zach LaVine is a talented one, but their bench depth leaves something to be desired. This game may end up like Monday's Hawks win over the Oklahoma City Thunder. Russell Westbrook got his, but Atlanta got the win.
Will history repeat itself against Towns and the Timberwolves?
Dec 19, 2016; Oklahoma City, OK, USA; Atlanta Hawks guard Kyle Korver (26) smiles as he leaves the floor after defeating the Oklahoma City Thunder at Chesapeake Energy Arena. Mandatory Credit: Mark D. Smith-USA TODAY Sports
Prediction
I think a peaceful, easy win is on the horizon for Atlanta. Towns will go off, as he usually does, but the rest of the Timberwolves will not be able to contribute enough for them to come away with the win.
Dennis Schroder will wreak havoc in the paint, as he did in Oklahoma. Paul Millsap will make life difficult for whichever big man Minnesota decides to throw at him. The Hawks will take, and make, the open three-pointers Schroder's penetration creates. It will be a high scoring affair that Minnesota will keep close, but the Hawks will head to Denver with a two-game winning streak.
It may be December, but this feels like an important game. Psychologically it would be helpful for them to get over .500 as we draw nearer to 2017. Friday is a winnable game against the Denver Nuggets, but playing in that altitude means you can never guarantee a win.
Even if Atlanta is clearly better than Denver, the Nuggets are better at home than they are on the road. A win against Minnesota means they won't risk falling back below .500 before Christmas.
They wouldn't want to dampen their holiday cheer.
Prediction: Hawks 105 Timberwolves 96 
---
---