Indiana Pacers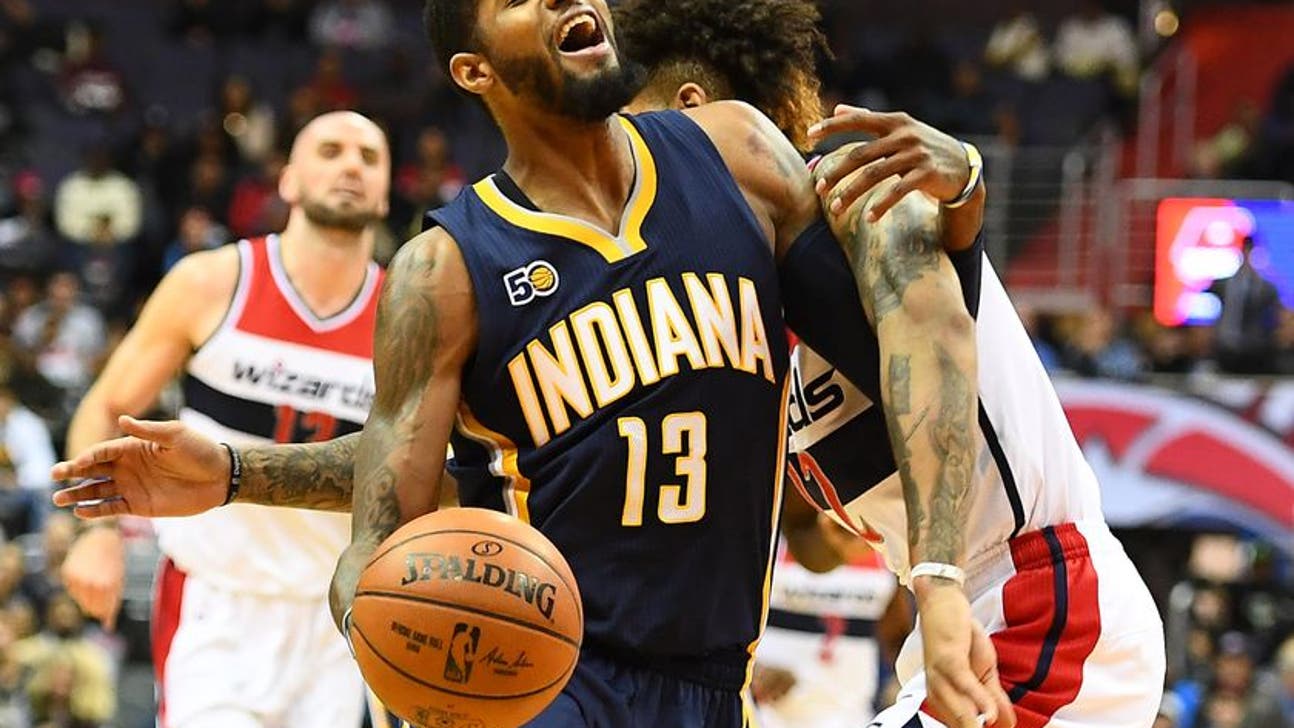 Indiana Pacers
8p9s Roundtable: Are the Indiana Pacers Going To Make a Move?
Updated
Mar. 4, 2020 2:36 p.m. ET

Fansided, Ben Gibson/FanSided via 8 Points, 9 Seconds
Dec 28, 2016; Washington, DC, USA; Washington Wizards forward Kelly Oubre Jr. (12) fouls Indiana Pacers forward Paul George (13) during the first half at Verizon Center. Mandatory Credit: Brad Mills-USA TODAY Sports
The Indiana Pacers are now on a four-game losing streak and looking dysfunctional, is it time to make a change?
The Indiana Pacers are currently on their longest losing streak of the season at four games, prompting some soul searching as the team sits three games below .500.
Depending on who you ask, this is either Larry Bird's fault for building the team on the fly, Nate McMillan for not getting more out of his players, Paul George for not doing enough, or something else entirely. Nobody knows for sure.
Though Indiana hasn't played as badly as they had earlier in the season, the results are pointing to the need for something to change, for something to happen.
While fingers are getting pointed in all directions, we gather the 8 Points, 9 Seconds staff for another roundtable to examine the issues.
When the season began, would you have expected the Pacers to look like this at 15-17?
Will Furr: I don't find it supremely surprising. I thought we would be looking at a team that would be 5-6 games over .500; this Pacers team isn't markedly worse. I don't think it's a stretch to see the Pacers, if healthy, go 5 or 6 games over .500 the rest of the way and finish in the ~44 win range.
More from 8 Points, 9 Seconds
Jon Washburn: I didn't expect this, but I wouldn't say that this is unexpected. I would have predicted Indiana to be in the 18-14 range, so when one factors in their early season injuries, this actually isn't too far off. The bigger concern is not their record, but the actual way they've played. You know…somewhat lifeless and uninspiring.
Josh Padmore: I did temper expectations a bit, because all of the new faces with the team, but I didn't expect them to play this poorly.
Ben Gibson: I expected them to be on the right side of .500. We knew there were issues with the roster, but it seemed like the collection of talent could overcome that. It seems like Monta Ellis, in particular, was pushed to the limits of his capabilities on defense, and the team has struggled to make up for his and other players liabilities.
Dec 20, 2016; New York, NY, USA; Indiana Pacers center Myles Turner (33) and forward Thaddeus Young (21) battle for a rebound with New York Knicks guard Derrick Rose (25) during the second half at Madison Square Garden. Mandatory Credit: Adam Hunger-USA TODAY Sports
Who or what is the biggest reason for the Indiana Pacers' struggles so far?
Furr: It takes a village. The backcourt of Teague/Ellis didn't work well, especially on defense. The Pacers have a single shooting guard who can shoot, and he's masquerading as a 2nd unit power forward half his time on the court, and a small forward the rest of the time. The defense hasn't been good, with the exception of a small 4-5 game stretch. There are only 3 Pacers that have played every game this year.
Washburn: Larry Bird. He asked for the squad to play a certain way, and then fired Frank Vogel for not acquiescing to his demands. Then, he brought in players that don't fit that desired style of play, and asked Nate McMillan to make it work anyway. One of the most crucial characteristics that all successful things have in common is that they know who they are. The Pacers have no idea what their identity is; consequently, they've drifted along the current of mediocrity all season.
Padmore: The team as a whole isn't getting it done consistently enough. Defense has been an issue, too, but at times they've looked like a solid defensive team. Same goes for the offensive end. All about consistency.
Gibson: The team isn't built in a way that should be expected to win consistently. The Pacers have relied on either a Teague-Ellis backcourt (too small) or a Teague-GR3 one (inexperienced) and that has led to many of the defensive issues. In the past, the Pacers had length and size to bully teams off the perimeter, but now they give up too many corner 3-pointers, even if the overall 3-point shooting percentage for opponents is low. With so many issues there, the defense behind them struggles to both overcome the backcourts issue as well as having some of their own exposed.
We knew these issues before the season, and there still there. It isn't all Larry Bird's fault, but the way the team was constructed, this was almost inevitable.
Dec 14, 2016; Miami, FL, USA; Indiana Pacers forward Paul George (13) warms up prior to the game against the Miami Heat at American Airlines Arena. Mandatory Credit: Jasen Vinlove-USA TODAY Sports
How much of the blame should be put on Paul George?
Furr: PG has struggled some with inconsistency this year, but 21 points/7 rebounds/3 assists/2 steals on 44/37/92 isn't a problem by any means. It would be nice to see a bump in a few of those – few more points, another assist or 2, better than 44% overall – but you could say that for any player. PG isn't this team's problem.
Washburn: 5 percent? 10 percent? I'm not sure, but the answer is certainly not any higher than that. PG has sacrificed a lot this season while trying to implement new guys.
He's taking less shots than he did last season, and his usage rate is lower than it's been in four years. He's shooting a higher percentage and turning the ball over less. He's also been a destroyer in crunch time for the Pacers, all while defending the other team's best wing player for every second that he's on the floor. I'm honestly unsure what else should be expected out of George. Maybe score three more points? Earn one more trip to the free throw line every night?
Padmore: He has to play much better, but he shouldn't be getting much so much of the blame. It's the team as a whole that's struggling. Paul isn't the only one we thought would be doing better.
Gibson: None, really. He closes out exceptionally well and while some think he should be more of a leader, that seems somewhat of an unrealistic expectation. That's not to say he doesn't have a leadership role, but if he was expected to be some sort of Kevin Garnett like enforcer or a floor general of sorts like Chris Paul, that's expecting something we've never seen from him. In a perfect world, maybe he would be that, but that's just not something I've ever expected from him.
Oct 26, 2016; Indianapolis, IN, USA; From left to right Indiana Pacers general manager Donnie Walsh, owner Herb Simon, and president Larry Bird watch the Indiana Pacers play against the Dallas Mavericks at Bankers Life Fieldhouse. Indiana defeats Dallas 130-121 in overtime. Mandatory Credit: Brian Spurlock-USA TODAY Sports
If you are in charge of the Indiana Pacers, do you make a trade before the deadline?
Furr: Obviously, that depends on what's available. The 2 biggest areas of concern (as I see them) would be a 3 & D shooting guard (or at least 3 and reasonably sized), and a stretch-ish backup power forward. There are a few teams out there with assets that might be looking to deal (the Nuggets come to mind with their glut at shooting guard and power forward), but what do the Pacers have to give up? The return for a guy like Ellis/Stuckey/GRIII/Allen isn't going to be a ton, in most cases.
Washburn: I don't think the Pacers have any pieces that would net guys that move the needle much, outside of Myles Turner and Paul George. I like Paul George, and I don't think Indiana should trade him; however, if the Pacers are still below .500 at the Break, and are in 9th or 10th in the East, I would strongly consider trading PG to Boston for both Brooklyn picks and another young piece. This next draft is ridiculously loaded, and the Pacers could wind up with two Top 8 picks with such a deal.
(Note, the Pacers would never actually do this…the Simons would rather be 43-39 for ten consecutive seasons than be bad for one year. I'm just saying, "If I WERE to make a trade this season, I think this is the only one that could actually bring back real assets to Indiana.)
Padmore: Yes. The team needs a glue guy who can fit in perfectly. It would be hard to pull off, though.
Gibson: If there is someone available, sure. But my problem with most trade "rumors" is they are only that. Rumors. People want to believe that it is easy for a team to move some assets around — say Monta Ellis — and get greater value back. While pointing out all of Monta's flaws, fans often get an expectation that another team will gladly trade a valuable asset for a player that has underperformed and is on the wrong side of 30.
If the Pacers make a trade and want real value back, they'll have to give up more than the parts that aren't meshing with the current squad.
Nov 20, 2016; Oklahoma City, OK, USA; Indiana Pacers guard Monta Ellis (11) drives to the basket in front of Oklahoma City Thunder forward Andre Roberson (21) during the first quarter at Chesapeake Energy Arena. Mandatory Credit: Mark D. Smith-USA TODAY Sports
Name one player, coach, or executive that won't be with the team after the trade deadline.
Furr: I don't think we see any coaching or front office changes. I think Larry Bird has complete safety and autonomy to operate as he pleases, and this is Nate McMillan's first year at the helm. It feels like Ellis has to go, but the Pacers aren't going to give him away. He's still a talented and useful player, just a bad fit for the Pacers, and a bad fit next to Jeff Teague.
I think he and/or Stuckey are the most likely candidates (followed by GRIII), but I wouldn't be surprised if Bird didn't find any offers to his liking and decided to ride it out. The Pacers will be dealing from a place of weakness if they look to move either Monta Ellis or Rodney Stuckey, and Bird doesn't strike me as the type to take a poor return just to make a move.
Washburn: Unless an opposing GM randomly falls in love with Monta Ellis, the entire squad will remain unchanged. Indiana will probably sneak into the playoffs as a 7 seed, where PG will harass DeMar DeRozan again. Unfortunately, George Hill is gone, and Kyle Lowry will average 26 and 10 in a Gentleman's Sweep.
Padmore: I think a new coach would be more realistic if the Pacers' struggles continue. Monta Ellis will certainly be in some trade talks, but he doesn't have much value on the market right now. I don't see a trade happening unless they make an extremely unexpected one. Which I doubt. As of now, I don't see any moves being made, including a coaching change. If anything, I could see Larry Bird waive Rakeem Christmas and sign a Free Agent. I think the team will be in a position to make the Playoffs, but not as the seed they wanted heading into the season.
Gibson: Monta Ellis seems like the most likely candidate. He has the most name recognition and could help a team that needs some scoring. This is even more likely if he starts making an impact coming off the bench. If Larry Bird is really in a win-now mode, it just seems likely that somebody will get moved, and while Ellis isn't a hot commodity, he might have the best chance to contribute to a team — if he is put in the right situation.
---
---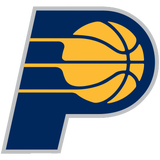 Get more from Indiana Pacers
Follow your favorites to get information about games, news and more
---