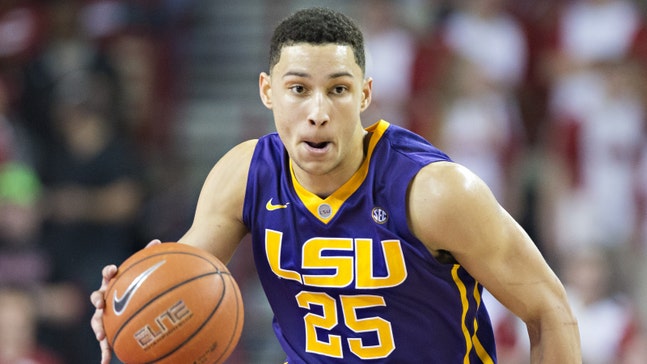 2016 NBA mock draft
Published
May. 18, 2016 9:00 a.m. ET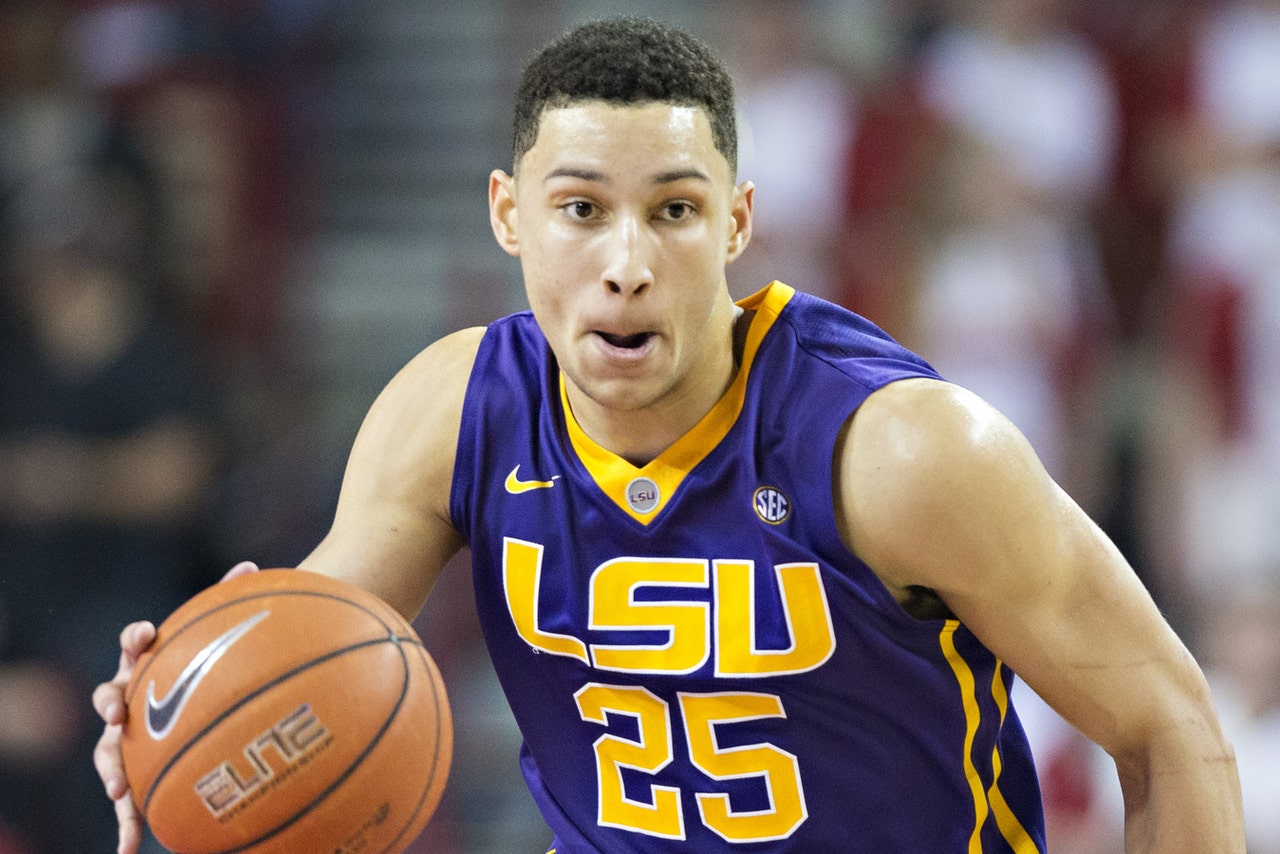 It's officially draft season for NBA fans all across the country, and Tuesday night we got a whole lot of clarity on how it will all play out come June 23. The NBA Draft Lottery took place, with the Philadelphia 76ers earning the top spot, followed by the Los Angeles Lakers, who'll pick second, and the Boston Celtics, who will be picking third overall in place of Brooklyn.
So who is going where? Here is our best guess, with FOXSports.com's first NBA mock draft of the 2016 season.
1. Philadelphia 76ers: Ben Simmons, F, LSU
As I said Monday, Simmons is far and away the best player in the draft, and if you haven't been paying attention, the 76ers need as many good players as they can get. Philly has been tanking for four years hoping to land a star, and Tuesday the Sixers got another chance. Let's hope they don't blow it.
2. Los Angeles Lakers: Brandon Ingram, F, Duke
The Lakers needed a little bit of luck, and got it here. Not only were they able to keep the selection (it was top-three protected) and end up with the No. 2 pick in a two-player draft, but they're also in line to grab a guy whose skills perfectly complement the other pieces they already have. LA is still a long way away from competing for titles, but Ingram and D'Angelo Russell are good pieces to build around.  
Brandon Ingram
3. Boston Celtics (from Brooklyn): Dragan Bender, C, Croatia
The Celtics missed out on the Simmons/Ingram bonanza but may have gotten lucky in their own way: After making the playoffs, Boston doesn't have any huge, glaring needs, nor are there the players in the No. 3 spot who would have addressed them. Instead they can take Bender, who at 19 years old is a long-term project, but also a potential future star.
4. Phoenix Suns: Jaylen Brown, F, Cal
The reviews on Brown weren't stellar at the NBA Combine, but his skill set — as a big, physical wing player — perfectly fits with the pieces that Phoenix already has. Plug Brown in with Devin Booker, Alex Len, Brandon Knight and Eric Bledsoe, and the Suns have the makings of a future playoff team.
5. Minnesota Timberwolves: Jamal Murray, G, Kentucky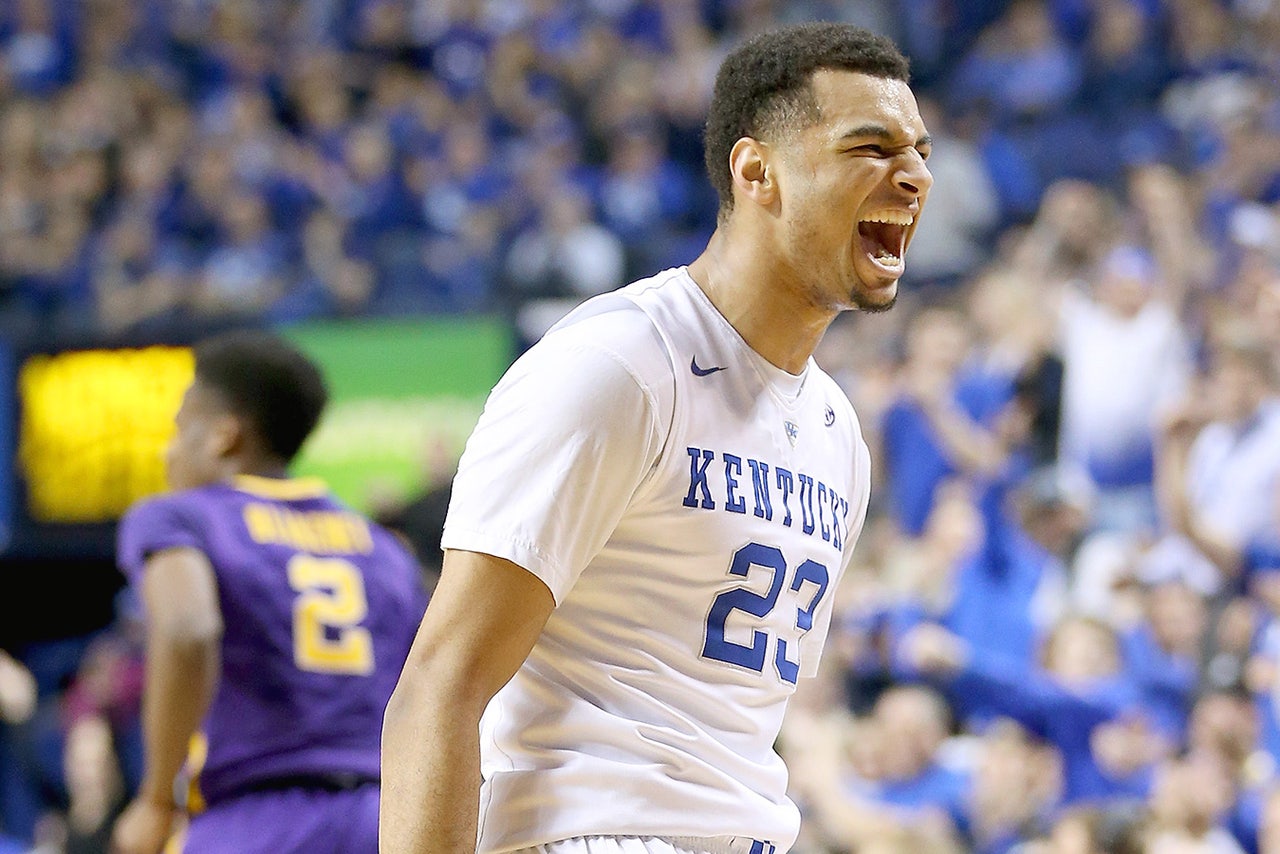 Jamal Murray
The lottery gods weren't shining on the T-Wolves this year, but that may be a good thing. At this point Minnesota doesn't need another superstar, but instead a piece it can slide in next to Karl-Anthony Towns and Andrew Wiggins. Murray is exactly that, a dead-eye shooter who will space the floor and complement Towns and Wiggins perfectly. This team could be really good ... as soon as next year.
6. New Orleans Pelicans: Buddy Hield, G, Oklahoma
The Pelicans desperately need wing scoring, and they'll get it with a guy who averaged 25 points per game last season at Oklahoma. No, Hield isn't a complete player, but at this point you know exactly what you're getting from him. And with Eric Gordon hitting free agency, what Hield has is exactly what the Pelicans need.  
7.  Denver Nuggets (from New York): Timothe Luwawu, F, France
Instead of going for any of the obvious top players still on the board (Kris Dunn, Henry Ellenson, Jakob Poeltl), the Nuggets go with the high-upside pick in Luwawu, a high-flying wing player from France who should provide a running mate for Emmanuel Mudiay for years to come.
8. Sacramento Kings: Kris Dunn, G, Providence
Poor Dunn ends up as the loser of the lottery, landing in the place where promising careers go to die: Sacramento. With Rajon Rondo entering free agency, he fills an immediate need and should have an immediate impact.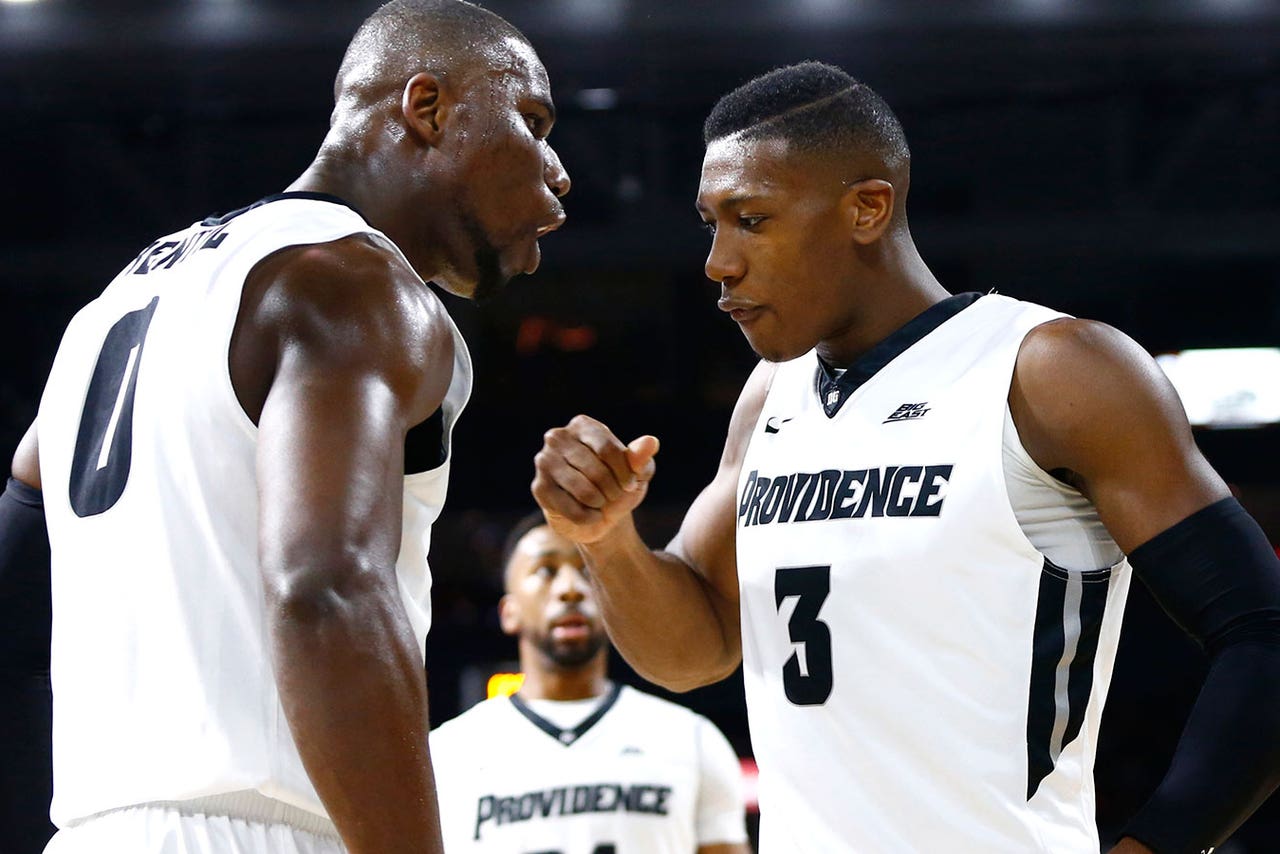 Kris Dunn (3)
9. Toronto Raptors (from Denver): Marquese Chriss, F, Washington
With so much of their lineup set in stone, the Raptors are able to gamble on a high-risk, high-upside pick like Chriss, who has all the size, skill and athleticism to one day evolve into the perfect, modern-day NBA power forward. He could play more than expected in 2017 if Bismack Biyombo leaves via free agency this offseason.
10. Milwaukee Bucks: Jakob Poeltl, C, Utah
It's the obvious fit, and the right one as well. Poeltl immediately will bring a defensive presence and offensive production to the low post in Milwaukee.
11. Orlando Magic: Deyonta Davis, C, Michigan State
With so many young players and no coach at the moment, it's hard to know exactly what direction the Magic will go. Davis provides them a solid backup to Nikola Vucevic in the present, and a big, strong, physical, young player who one day could develop into a dominant low post player.
12. Utah Jazz: Denzel Valentine, G/F, Michigan State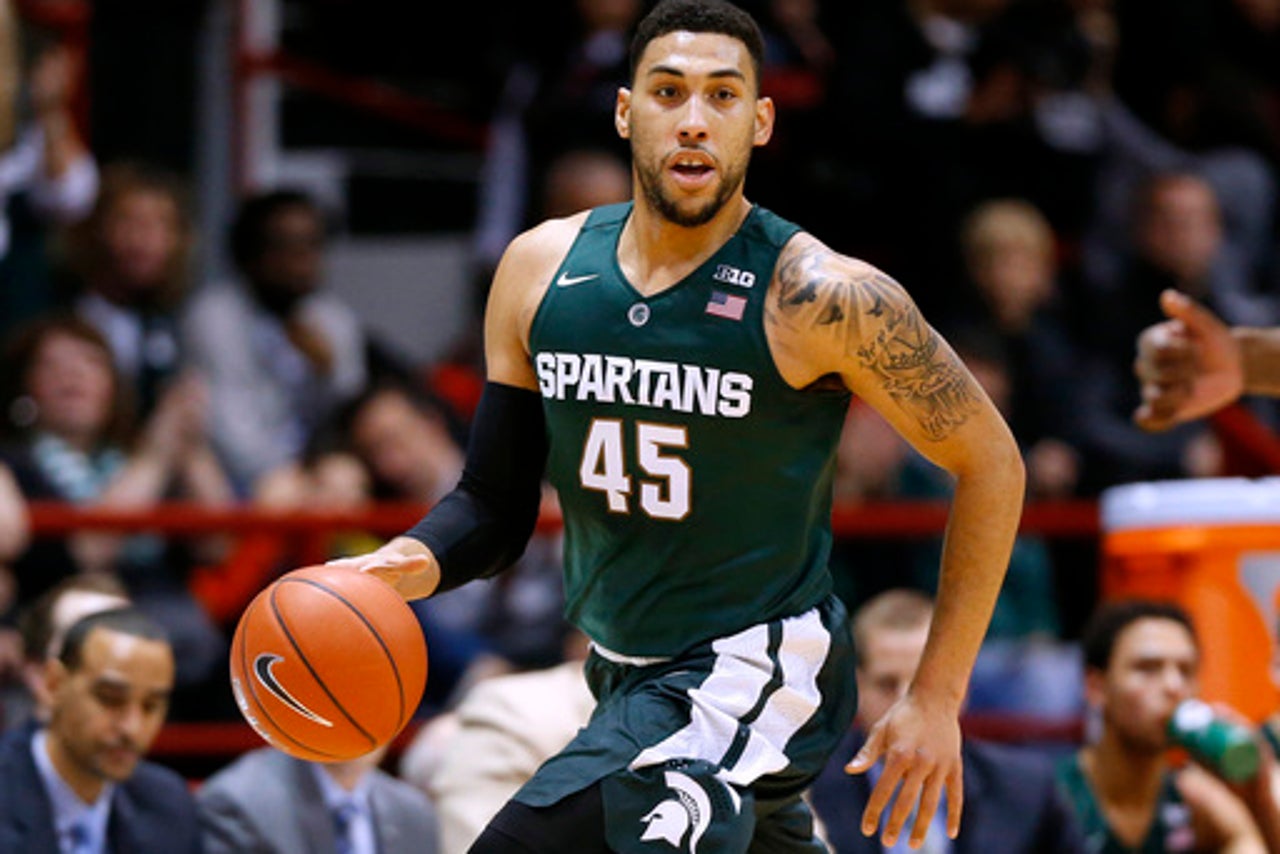 Denzel Valentine
The Jazz desperately need a point guard, and the question that Utah will need to figure out between now and the draft is whether Demetrius Jackson, Tyler Ulis or Wade Baldwin is either a short-term or long-term upgrade over who they already have. Since taking any of the three seems like a reach at this point, they go for the best player available in the draft, and one who has a skill set that seemingly can fit into any lineup.
13. Phoenix Suns: Henry Ellenson, F, Marquette
The bad news for Ellenson is that this is nothing short of a free fall for him, but the good news is that Phoenix is a perfect landing spot for the former Marquette forward. He should slide in right alongside Alex Len and get immediate playing time with a young team.
14. Chicago Bulls: Domontas Sabonis, F, Gonzaga
Sabonis was one of the few players who elected to skip the Chicago pre-draft combine altogether last weekend, prompting many to wonder if he's been guaranteed a draft selection. If so, this seems like the perfect fit, with Chicago potentially losing Pau Gasol and Joakim Noah this offseason and Sabonis entering the NBA as a ready-to-contribute big man. Given where we had him ranked on our Big Board coming in, Sabonis would be a steal for Chicago here.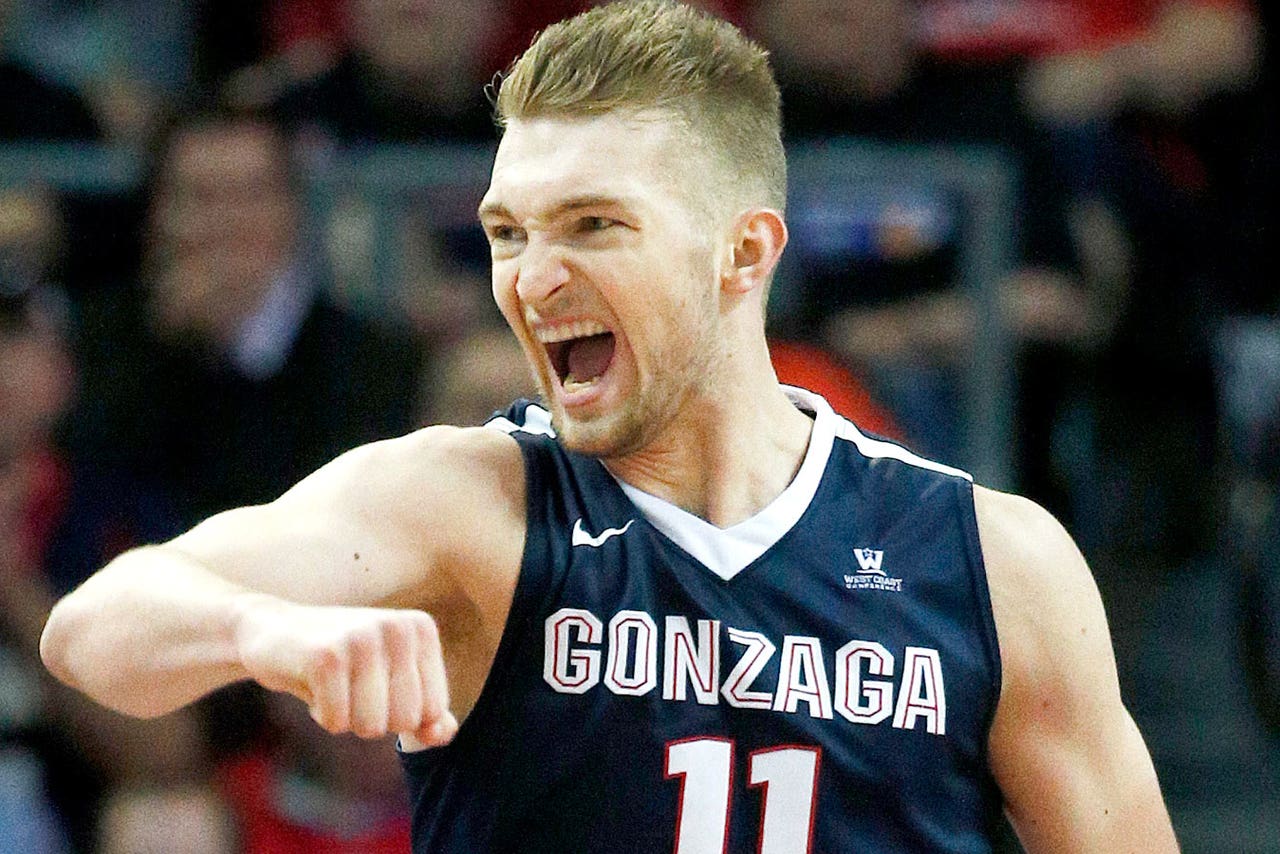 Domontas Sabonis
15. Denver Nuggets (from Houston): Taurean Prince, F, Baylor
The Nuggets got their shooting guard of the future earlier in the draft and now get their small forward as well. Denver needs shooting and defense and Prince is the epitome of the modern "three and D" guy.
16. Boston Celtics (from Dallas): Skal Labissiere, C, Kentucky
Danny Ainge is a master at drafting not just for the present but also for the future, and there might be no player with better long-term upside than Labissiere. Sure, things didn't work out as planned at Kentucky, but there's also a reason he was projected as a top-five pick throughout the season. He'll need two or three years to develop, but if the Celtics are patient, they may have a future star.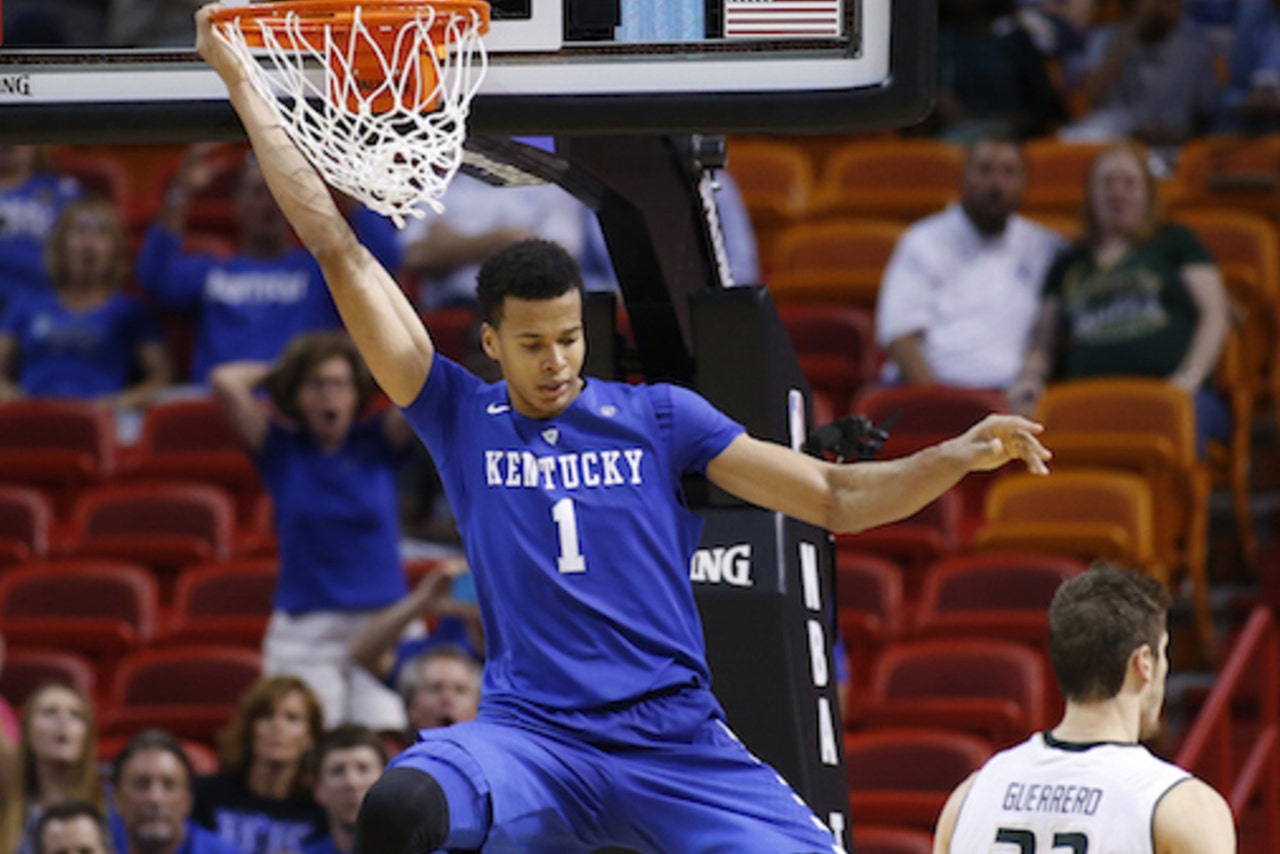 Skal Labissiere
17. Memphis Grizzlies: Wade Baldwin IV, G, Vanderbilt
For a team which has made the playoffs six straight years, the Grizzlies sure have a lot of questions. Zach Randolph and Marc Gasol are on the wrong side of 30, and wing scoring is a priority. But so too is finding a replacement for Mike Conley, who could leave via free agency, and Baldwin — at 6-foot-4 and just under 200 pounds — is physically ready to step in and play in the NBA tomorrow.
18. Detroit Pistons: Tyler Ulis, G, Kentucky
With so much young talent on their roster, the Pistons don't appear to have any glaring needs. Instead they make the smart pick in Ulis, who not only will provide a backup to Reggie Jackson, but also leadership and toughness on a still-emerging Detroit team.
19. Denver Nuggets: Brice Johnson, C, North Carolina
After using their first two picks on high-upside players, the Nuggets play it safe with Johnson. No, Johnson never will be a star in this league, but he will be a serviceable front court backup for years to come.
20. Indiana Pacers: Demetrius Jackson, G, Notre Dame
While the consensus is that Indiana will go big, Jackson fits a nice long-term need for the Pacers. With George Hill hitting free agency next offseason, the former Notre Dame point guard can sit and learn the NBA game this year before moving into the starting lineup in 2017-18.
21. Atlanta Hawks: Malachi Richardson, F, Syracuse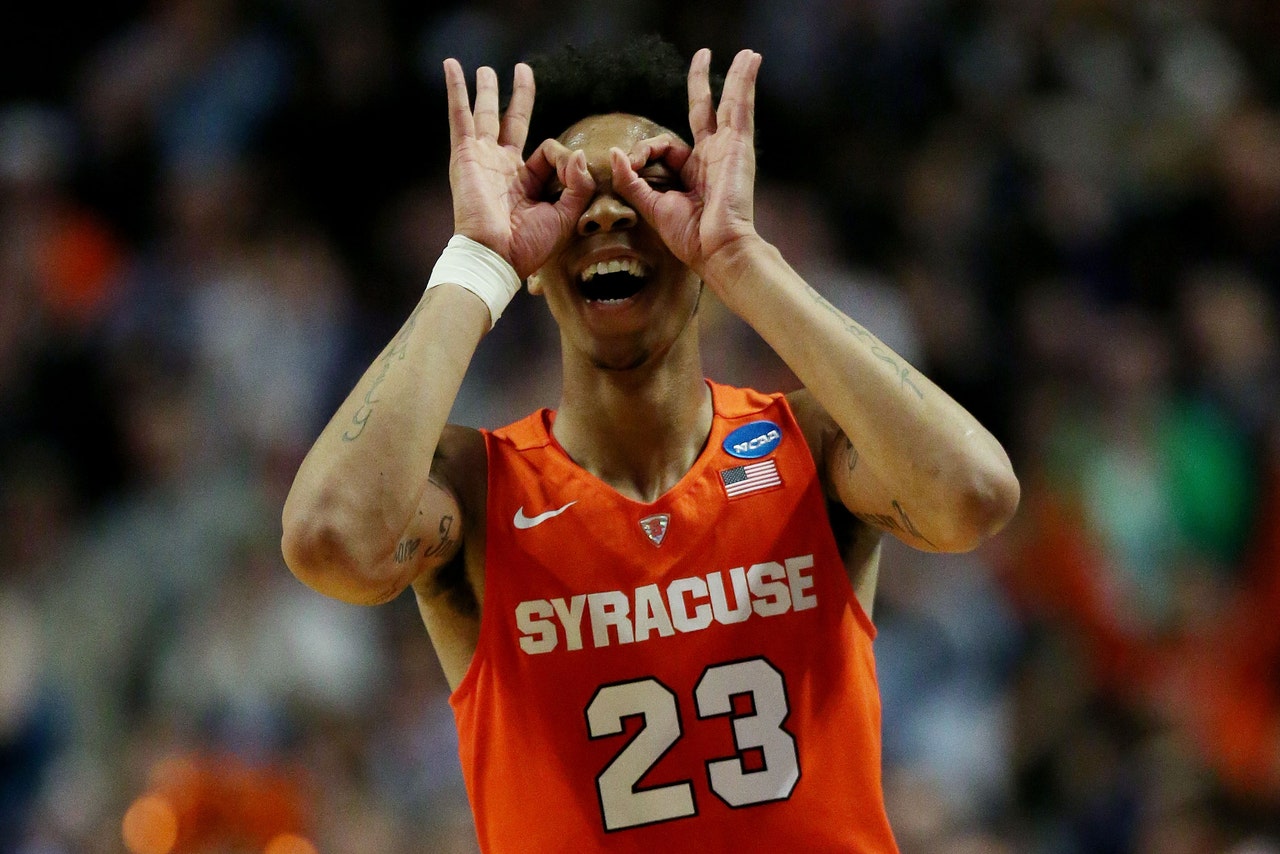 Malachi Richardson
In the short term the Hawks lack wing scoring, and in the long term they lack star power, and Richardson eventually could fill both needs. Yes, he's a long way from being a complete player, but as Richardson showed in Syracuse's run to the Final Four, few players have more long-term potential than he does. His 23-point performance against Virginia was one of the best games anyone played in the tournament.
22. Charlotte Hornets: Damian Jones, F, Vanderbilt
With Al Jefferson hitting free agency, Charlotte needs size in the post and that's exactly what Jones provides. Despite a somewhat disappointing season at Vanderbilt, there's still a reason he was a projected lottery pick entering the season. The tools are there; it's just a matter of whether Jones wants to use them or not.
23. Boston Celtics: Diamond Stone, F, Maryland
At this point the Celtics already have taken two projects (Bender and Labissiere), so why not take another project who at least can contribute next season. Stone has the overall size and toughness in the post, two things Boston could use immediately.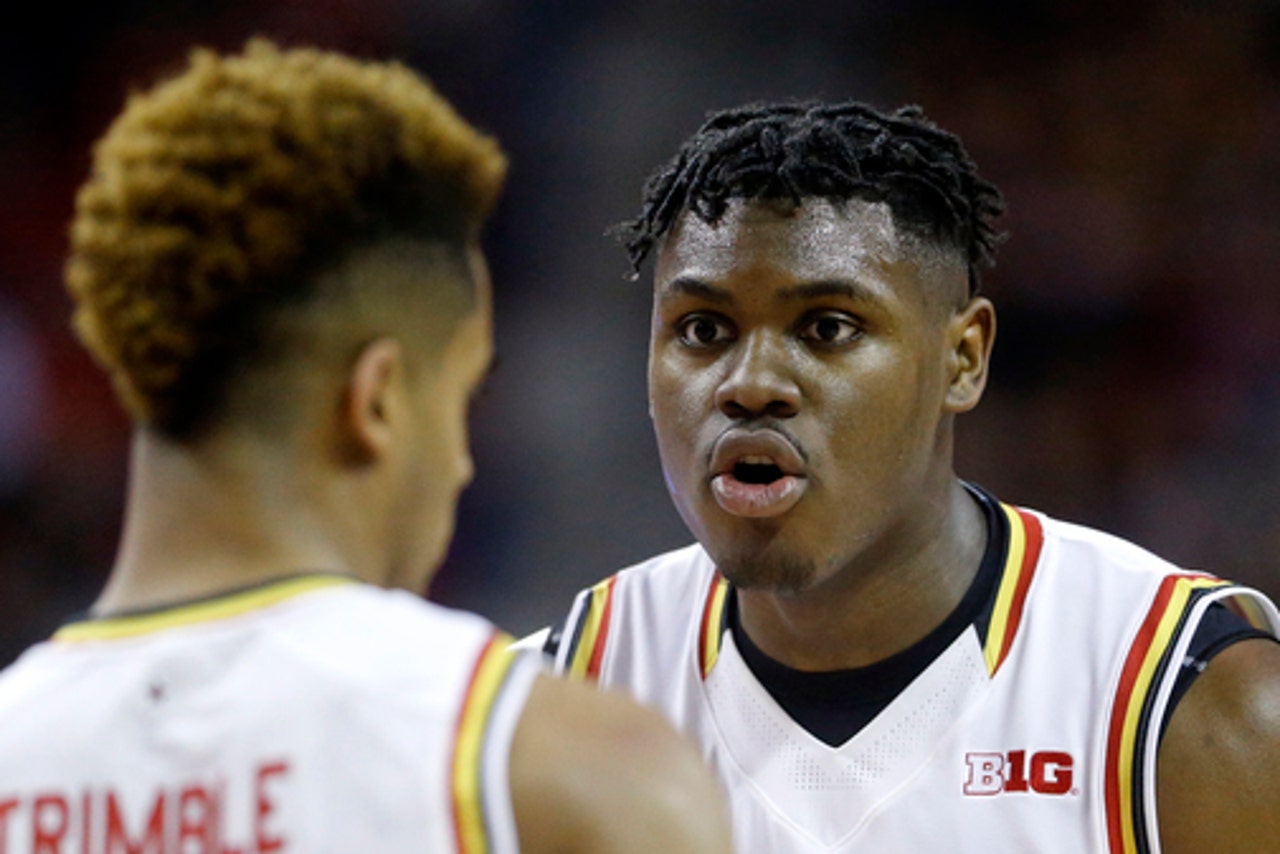 Diamond Stone
24. Philadelphia 76ers (from Miami, via Cleveland): Malik Beasley, G, Florida State
The 76ers need perimeter scoring, and while Turkish forward Furkan Korkmaz is probably the best fit, he also has threatened to pull out of the draft if he's not guaranteed a lottery pick. Therefore Philly does the next best thing and goes with Beasley, a versatile scorer who averaged 15 points in his one season at Florida State.
25. Los Angeles Clippers: DeJounte Murray, G, Washington
The Clippers could try to add front-court depth to help ease the burden on both Blake Griffin and DeAndre Jordan, but with Jamal Crawford hitting free agency, bench scoring could be a priority too. Murray will provide plenty of that after his freshman season at Washington, where he averaged 16 a game.
26. Philadelphia 76ers: Patrick McCaw, G, UNLV
The 76ers are back on the clock, and with new management it's really difficult to project exactly what they'll do with all these picks. The hunch here is that after targeting scoring with Beasley, they go with the more well-rounded backcourt player in McCaw. The former UNLV product may be the best perimeter defender in the draft, after averaging 2.5 steals to go along with just under 15 points per game in Vegas last season.
27. Toronto Raptors: Ivica Zubac, C, Croatia
While Zubac's countryman Ante Zizic is the better long-term prospect, he isn't expected to come over and play in North America for at least another season. Again, Bismack Biyombo can opt out of his contract this summer, and if he does, Zubac is a big body that Toronto can plug in next year.   
28. Phoenix Suns (from Cleveland, via Boston): Ante Zizic, C, Croatia
If the Suns are lucky enough to get Jaylen Brown and Henry Ellenson with their first two picks, they should have no problem grabbing Zizic (who again, won't play in the NBA next season) and stashing him in Europe for a year. In the long term he could add front court depth alongside Alex Len.
29. San Antonio Spurs: Cheick Diallo, F, Kansas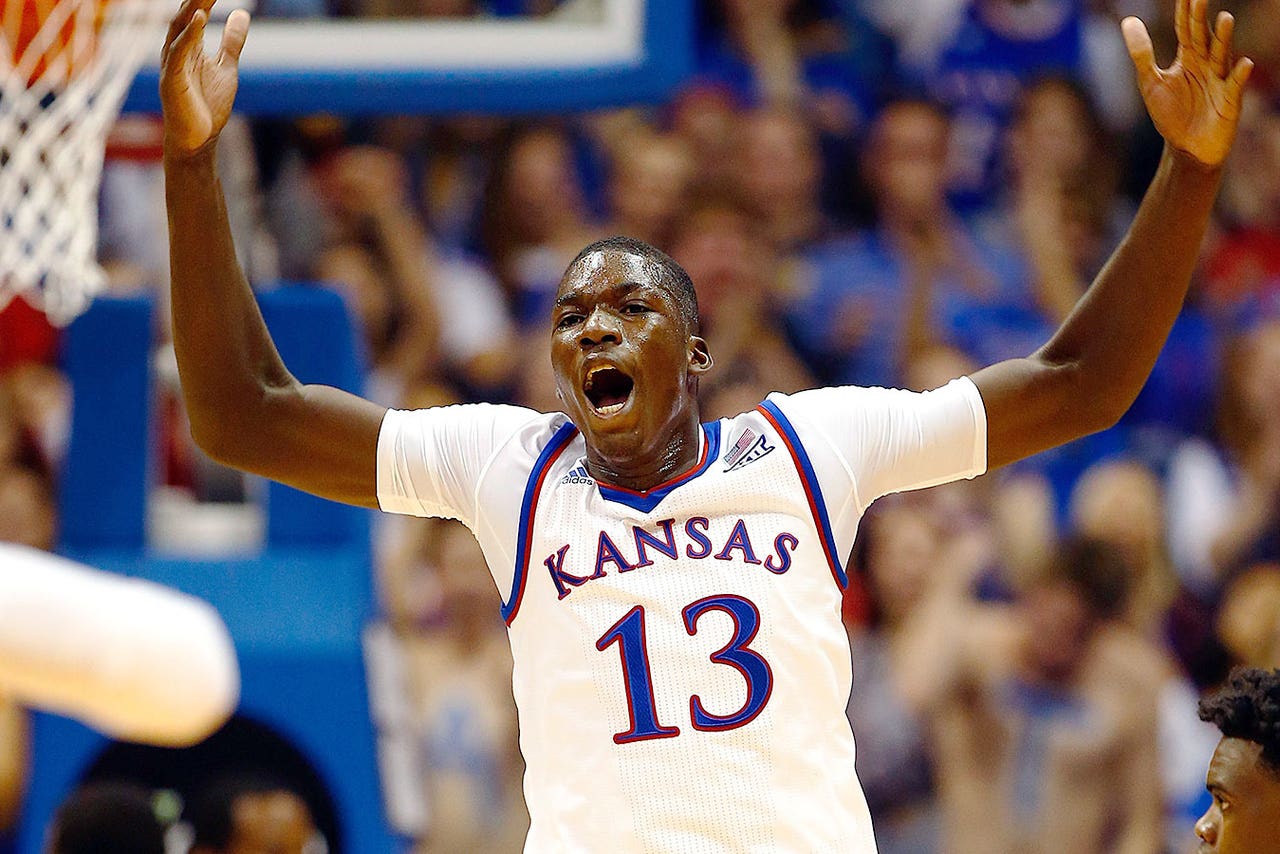 Cheick Diallo
No one drafts better than the Spurs, so it only makes sense that they somehow, magically end up with a guy at No. 29 overall who was projected by some as a Top 10 pick before the season. Diallo was planning to stay in the draft only if he got a first-round guarantee, so it makes sense that he lands somewhere in this range.
30. Golden State Warriors: Stephen Zimmerman, C, UNLV
Zimmerman saw his draft stock tumble throughout his one season at UNLV, but there's a reason that he was projected as a first-rounder prior to his college days. His size and athleticism will be a perfect addition to Golden State's front court at a time when they need it. Marreese Speights will be a free agent this offseason, and Andrew Bogut after next year.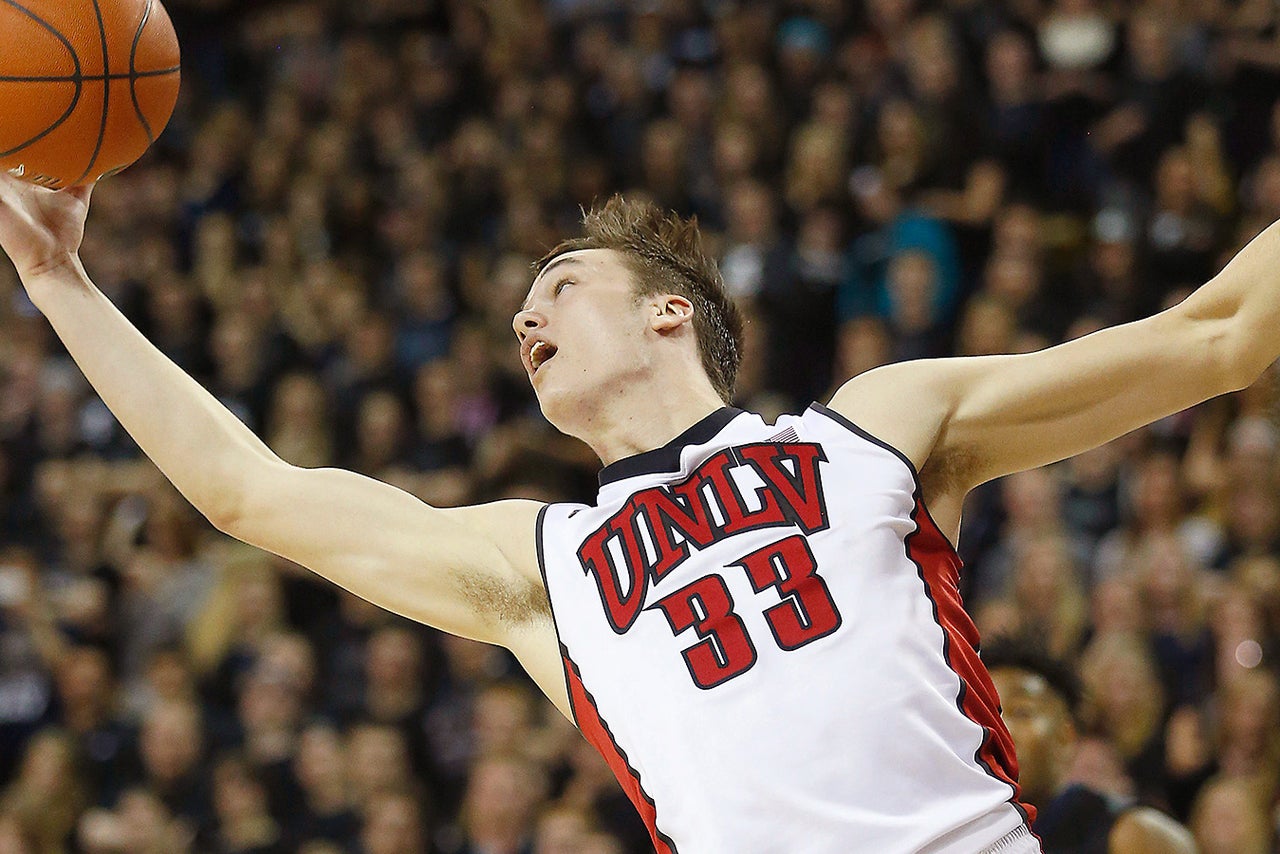 Stephen Zimmerman
Aaron Torres covers college basketball for FOXSports.com. Follow him on Twitter @Aaron_Torres or Facebook. E-mail him at ATorres00@gmail.com.
---
---