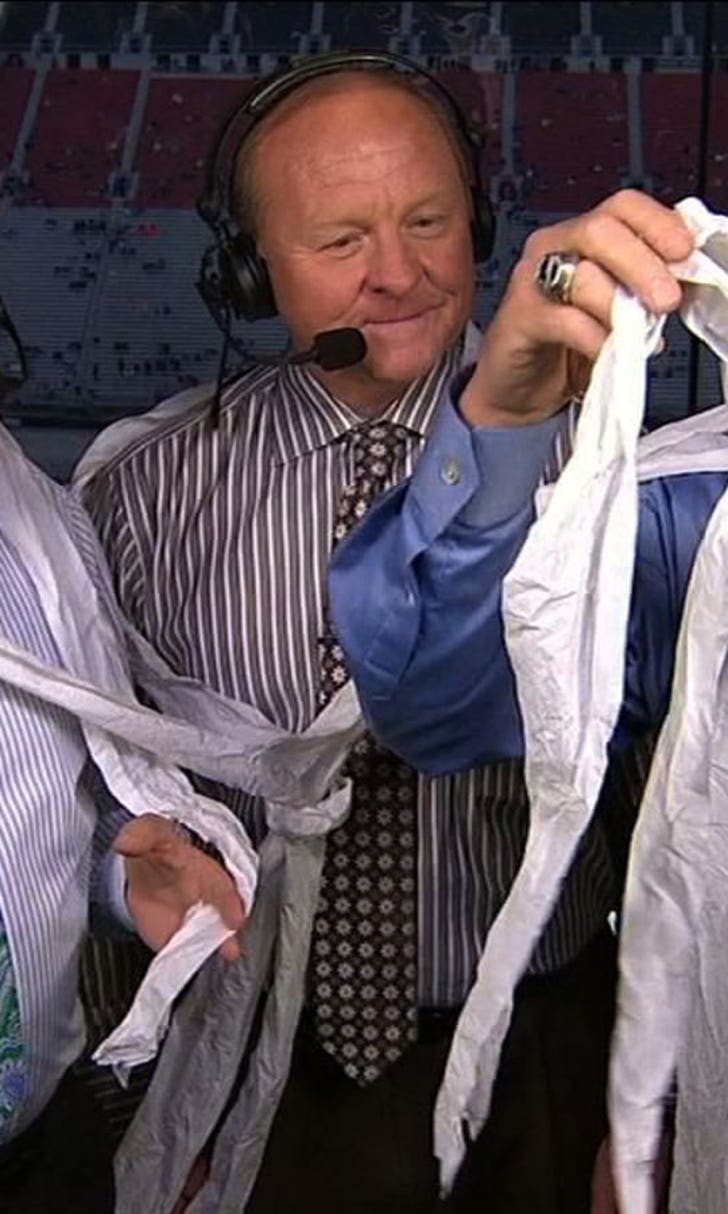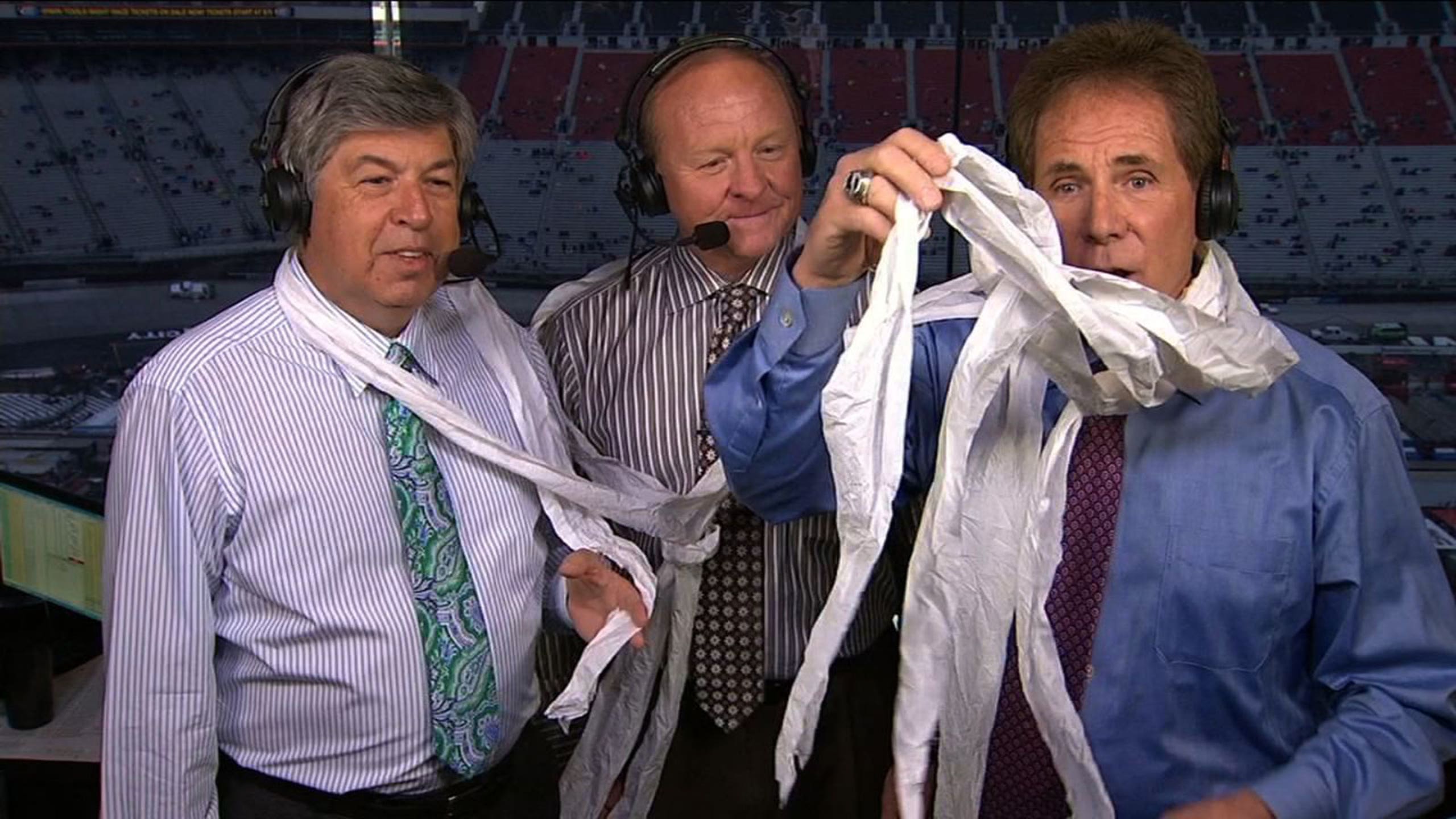 Wrapped up: NASCAR on FOX crew keeps busy during rain
BY foxsports • March 16, 2014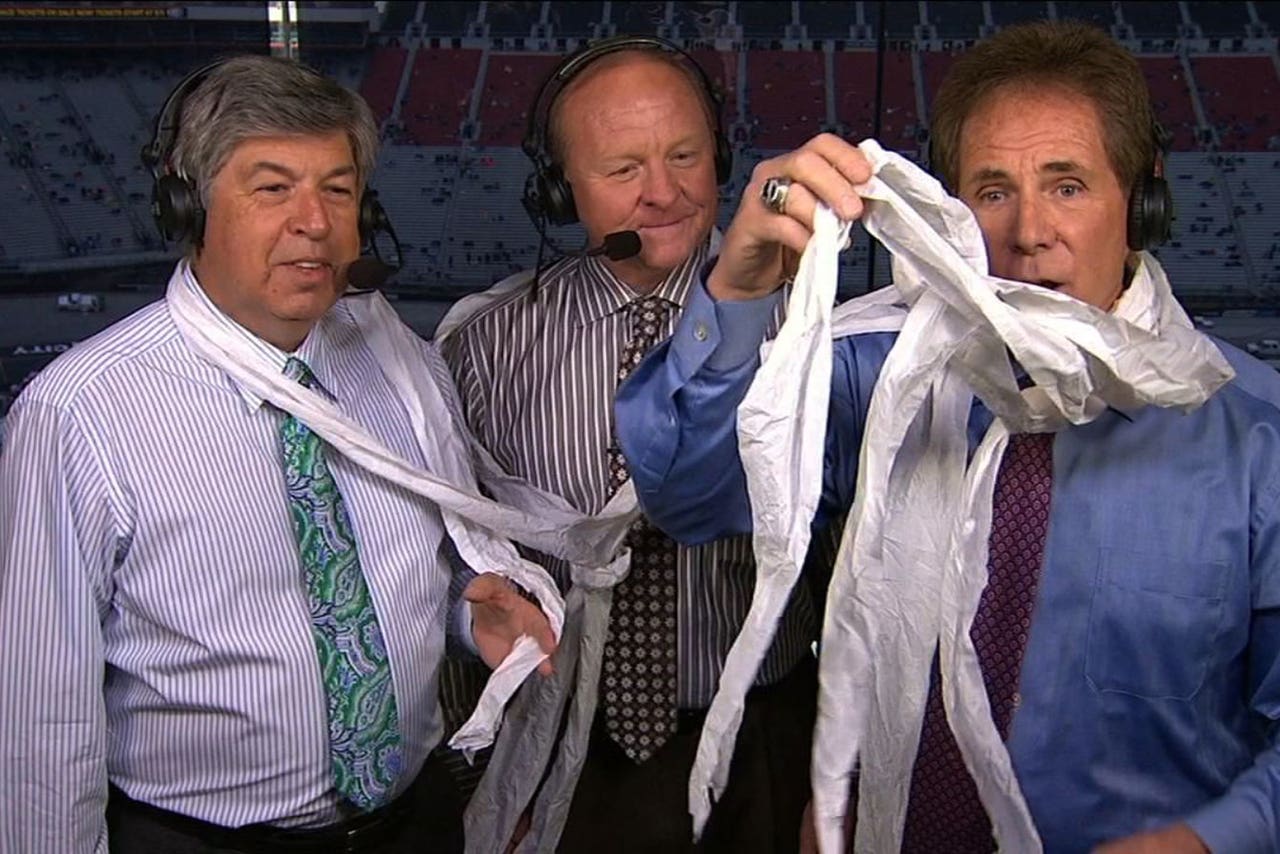 WHAT THE NASCAR ON FOX ON-AIR TEAM DOES WHEN IT CAN'T STOP THE RAIN
FOX CONTINUES LIVE COVERAGE OF NASCAR SPRINT CUP SERIES RACE FROM BRISTOL
Rain ... one of the most detested words in NASCAR. 
Lengthy rain delays, such as the one Sunday at Bristol Motor Speedway that has delayed the NASCAR Sprint Cup Series race (continuing live coverage on FOX tonight), send fans scrambling to their cars, drivers to the shelter of their motorhomes and teams to the well-stocked pantries in their haulers. 
A couple of hours into a rain delay, however, drivers often are napping or having a midday snack while crew members have wiped out their food supplies and are keeping local pizza delivery joints hopping.
But what does the NASCAR on FOX team do during these wait-and-see hours?
They work ... and possibly longer days under these circumstances than anyone else in the sport. There is no snoozing or downtime for the on-air, production or technical teams, as everyone remains on standby throughout the day and in constant radio communication with each other.
Below, the NASCAR on FOX on-air team of play-by-play announcer Mike Joy, analyst and NASCAR Hall of Famer Darrell Waltrip and pit reporters Steve Byrnes and Krista Voda share what they do when they can'€™t stop the rain:
ON THE GENERAL POPULARITY AMONG FANS OF NASCAR ON FOX RAIN-DELAY BROADCASTS:
"Years ago at Texas, we did a rain-fill broadcast that was the second-highest rated sporting event of the weekend, thus creating our own monster. I knocked on a lot of motorhome doors of veteran drivers that day, asking them if my FOX crew could come in to dry off. They'd say 'no' and shut the door in my face. Matt Yocum and Kevin Harvick toilet-papered Darrell Waltrip's bus that afternoon. Mischief ensued and everyone had fun, so we at FOX became a victim of our own success. We realized fans want to see their favorite driver interviewed, and sometimes that means seeing their dogs, kids, motorhomes, snack preferences or whatever else. We try to make it as entertaining as possible." -- Steve Byrnes
ON THE MOST CHALLENGING PART OF A RAIN-DELAY BROADCAST:
"It's maintaining your energy throughout and trying to remain optimistic, as forecasts are at best 'educated guesses' as weather patterns often take unexpected turns. Then, when a race resumes after a lengthy delay, you need to get viewers quickly up to speed on what they may have missed earlier." -- Mike Joy
"You can't have a set format for a rain delay, so you're charged with finding things of interest that have happened up to the point in the race when it started raining. That gives me a chance to use my experience and share stories, and also lets us debrief drivers about what they've noticed. We can beat on motorhome doors and talk to people we don'€™t usually get to interview. Rain-delay broadcasts are painful in a sense but also can be fun." -- Darrell Waltrip 
"The uncertainty during a rain delay is difficult because pit reporters don't know where we need to be at any given moment. It's all contingent on where drivers decide to go. Am I grabbing a driver in the motorhome lot or on pit road? You don't want to make a driver wait to talk to you, but you need to have an interview lined up when the booth tosses to you. So, learning how to time our interviews is a logistical tap dance." -- Krista Voda
ON WHAT MIGHT SURPRISE VIEWERS ABOUT THE ON-AIR TEAM€™'S JOB DURING A RAIN DELAY:
"The way we go about telling stories might surprise some. There is an obvious desire for fans to hear from Jimmie Johnson and Dale Earnhardt Jr.  We are aware of that, but we also enjoy telling stories of people like Landon Cassill. During the rain delay in the Daytona 500, I found out he had been in a terrible accident in Daytona. He was riding his bike and got hit by a car. He tore up shin and was in the hospital, so we told that during the rain delay. We have opportunities to tell stories about lesser-known drivers that we might not otherwise have." -- Steve Byrnes
"We don't just nap or even leave the booth during long delays. We are doing cut-ins and updates throughout the delay and reviewing replay packages for use later in the day. There is still work to do. And we are constantly monitoring weather patterns in the area, forecasting apps and weather sites, and keeping up with track-drying operations." -- Mike Joy
"A year ago, I would have said it's that pit reporters constantly dip into our knowledge base about drivers and the history of the sport. Going into a race, we're assigned certain drivers and we prepare and research for those specifically. But during a rain delay, I might need to interview another driver at the drop of a hat that I didn'€™t necessarily prep for. Therefore, we must have a lot of info and background knowledge at the ready. But now that I'm a working and nursing mom, I've learned it's very hard to find a place to pump during a rain delay without resorting to a port-a-potty!" -- Krista Voda
ON OPPORTUNITIES THAT RAIN DELAYS AFFORD THE NASCAR ON FOX ON-AIR TEAM THAT IT MIGHT NOT OTHERWISE HAVE:
"During a rain delay, we are in constant standby mode because we are taking instructions as they come in. We find out what we're doing on-the-fly from the broadcast truck, director and producer and from FOX Sports in LA. In the Daytona 500, for example, we could take off our headsets but had to have them right next to us because we had to be in earshot to learn how soon we were back on the air and how many interviews we'd need to get. Matt Yocum, Krista Voda and I joke about this, but rain delays are where we really earn our money. There's only so much the booth can talk about in a rain delay, but we have access to the drivers and we're responsible for the bulk of that content." -- Steve Byrnes
"There is some downtime, so I can catch up on some reading or engage race fans on twitter. It's not as boring as just sitting around watching it rain might sound." -- Mike Joy
"The NASCAR on FOX team is like the drivers because when we see rain in the forecast, we become somewhat deflated because we have a lot of energy and anticipation for the race but then have to hit the mental 'pause' button for rain fill. But we are able to have conversations with drivers and team members we normally wouldn't get to have. That is great, but we'd all rather be racing than hanging out under a tent chatting and getting soaked." -- Krista Voda
ON THE LENGTHY DAY THAT RAIN DELAYS PRESENT THE ON-AIR TEAM:
"Everyone involved in the television broadcast is in standby mode. Although we might be in alternate programming, we're constantly on headsets in case we need to jump on the air for an update or if the schedule has changed. But the camera guys who are up on the roof have an even longer day. They're the unsung heroes of our broadcasts because they're up on the roof in the rain, wind and elements all day whether we're racing or not." -- Krista Voda
---
---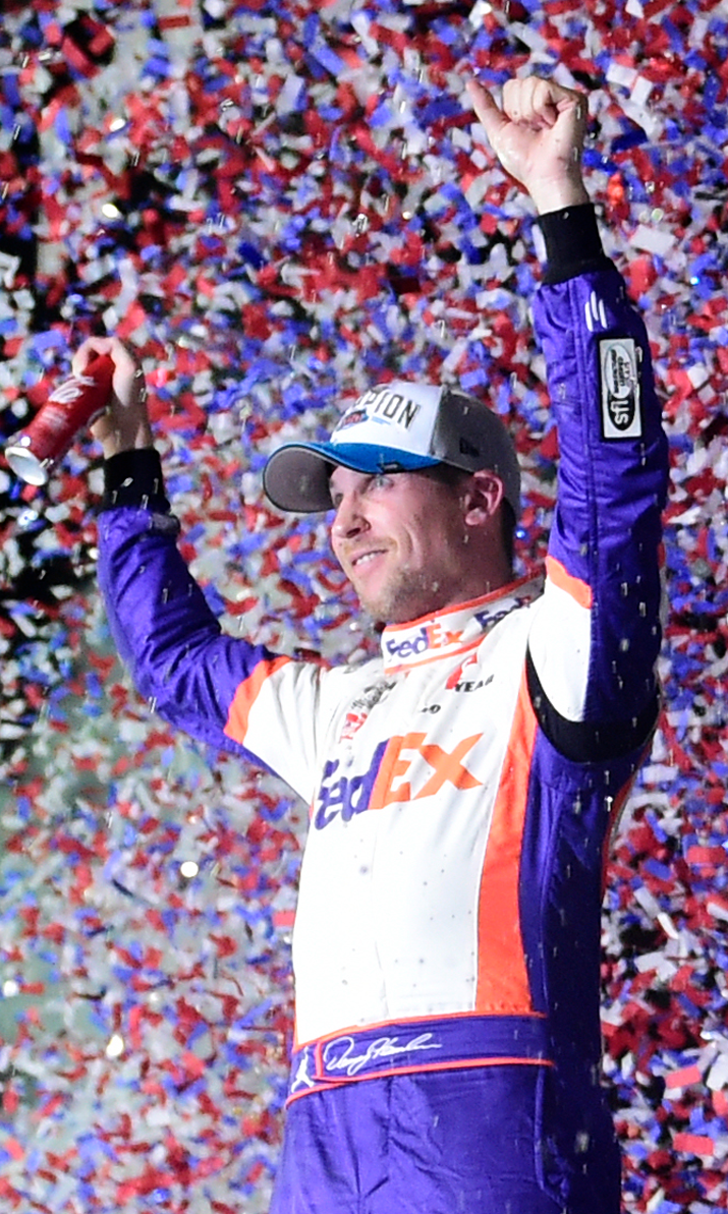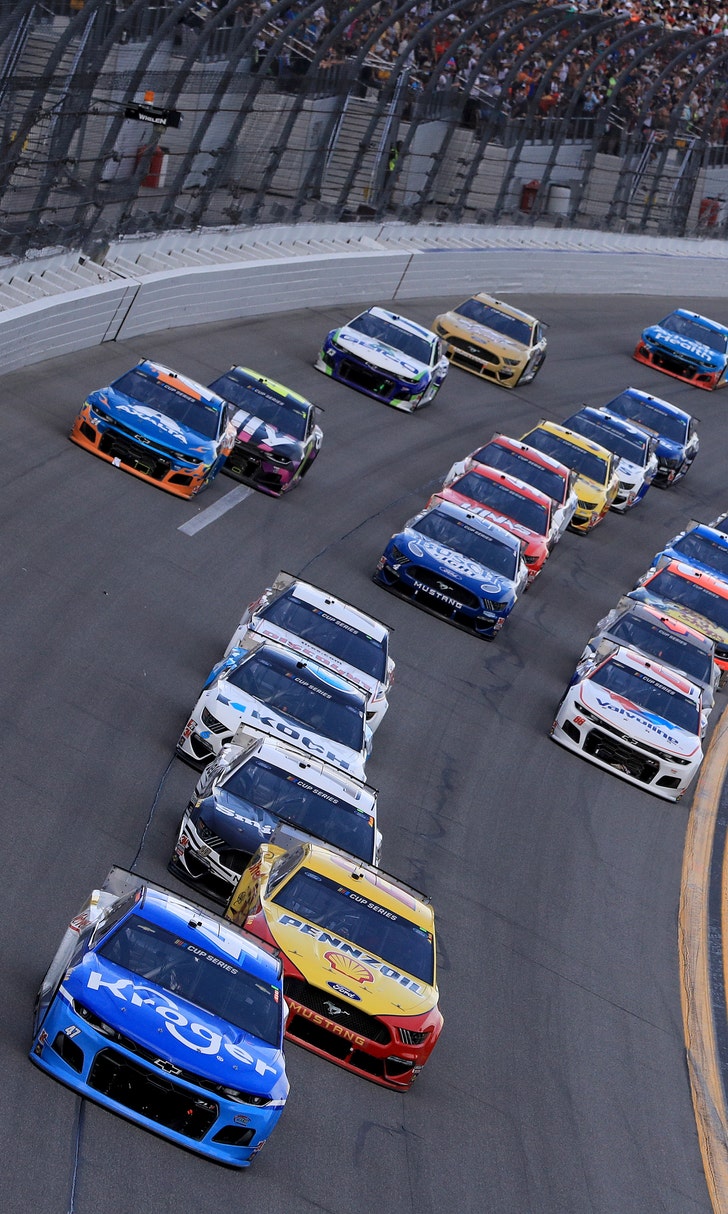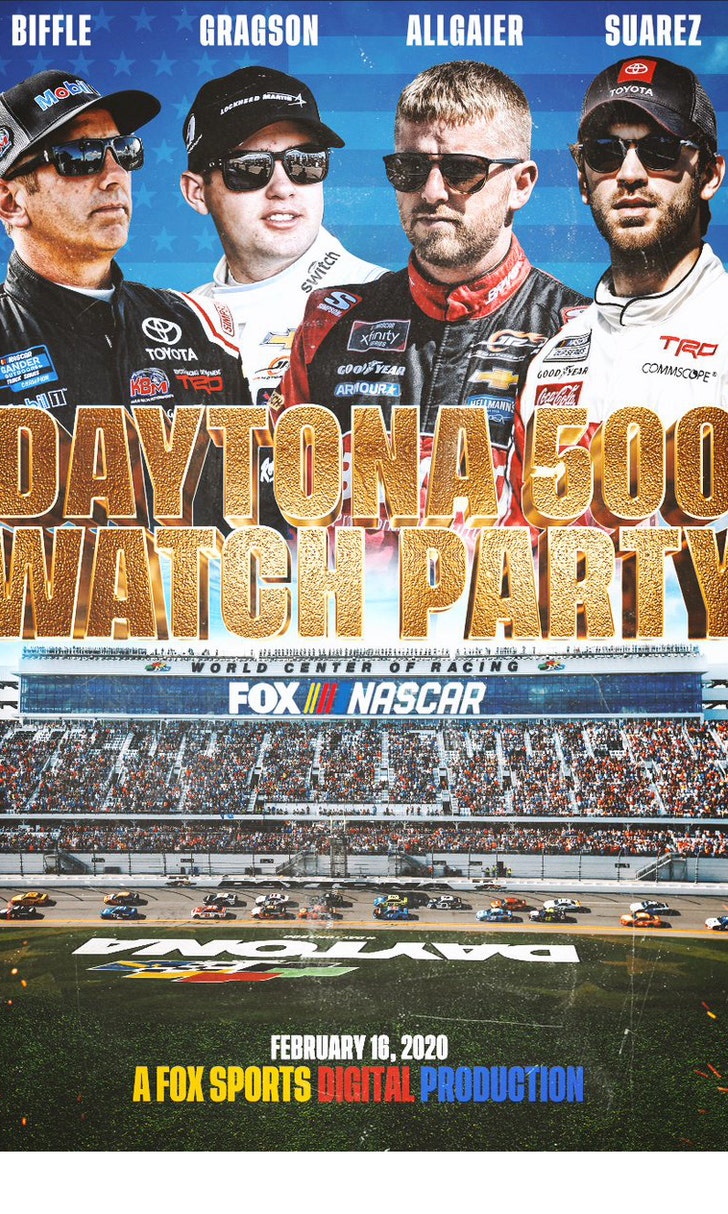 The Daytona 500 Watch Party!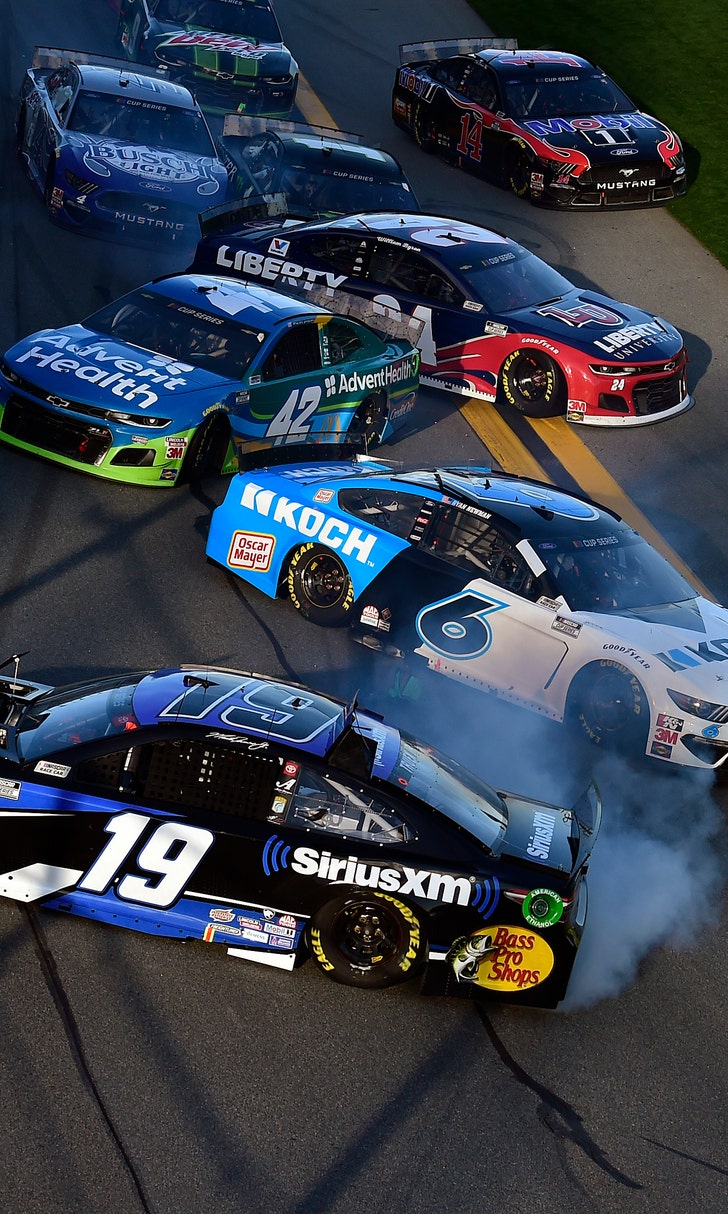 The Numbers Game At Daytona