Sweep thoughts: Can JJ do it again?
BY foxsports • August 3, 2013
Jimmie Johnson is looking to make a clean sweep of Pocono Raceway in 2013.
It would not be the first time the five-time series champion won both Sprint Cup races at the 2.5-mile track. Nor would it be his first sweep of the season. Johnson accomplished that task last month when he won the Coke Zero 400 after taking the Daytona 500 in February.
But it would be the first time since 1982 — when Bobby Allison pulled it off — that a driver swept both Pocono and Daytona.
Still, sweeps are nothing new to Johnson. From 2002 to 2009, the No. 48 Lowe's Chevy swept at least one track in every season but one. Johnson even pulled off triples by winning two races at Darlington, Pocono and Charlotte in 2004 and Dover, Richmond and Atlanta in 2007.
As one of six drivers to win both races at Pocono since the track received a second date in 1982 — and potentially the first competitor to complete the sweep there twice — Johnson believes Pocono's layout and the close proximity of the June and August dates make it simpler to hit on a winning setup.
"Pocono, to me, has always been a track that I felt a sweep is possible and easier to have a sweep here than other tracks just due to the calendar," Johnson said.
"There is not a lot of time between the first race and the second race. Things don't change a ton. The track doesn't change a ton, although it does lose some grip later in the season. With the cool temperatures this weekend, I'm not sure it's going to be much different than what we had in the spring.
"The Daytona sweep, I would say, is probably the hardest one to get. When you look at restrictor-plate racing and the draft and how many cars really have a shot to win, I think the odds shift the other way pretty far. For a while there, I think the first handful of years of my career, we were able to sweep each year. We had a nice consecutive streak going then that came to an end.
"I've personally enjoyed sweeps. They have meant a lot to me, and I'm happy that I have one this year. It would be awesome to have two sweeps in a year if that is possible this weekend."
Certainly, the driver's fondness for the track plays into the equation. Although his Hendrick Motorsports teammate Jeff Gordon leads the series with six wins at Pocono, Johnson holds the best average finish there among current drivers at 8.7. That number has been bolstered by three wins, 10 top fives and 16 top 10s in 23 starts.
Johnson won from the pole in June. On Friday, he set a new track record of 180.654 mph. For him, Pocono is simply a good time.
"Shifting here makes this track so much fun," Johnson said. "When we weren't allowed to shift for a while, the fun factor kind of went down some. The gear change allows you to help turn the car; it makes it interesting. You've got to manage the tranny. There is an rpm match you have to get right getting into third gear. So it brings back a lot of fun for me.
"Trips to victory lane definitely increase the fun factor as well. Sunday there is good potential for it to be pretty high on my list."
SECOND TIME AROUND
Danica Patrick ran 10 races in 2012 to prepare for her rookie season in Sprint Cup.
But Pocono Raceway is just the second track Patrick has visited twice this year after her return trip to Daytona last month. Compared to Daytona, Patrick hasn't found the results she's sought at the "Tricky Triangle."
In June, she qualified 30th and finished 29th. On Friday, her fastest lap was 31st on the speed chart, but she qualified 34th with a lap of 175.860 mph. And that was after Patrick and crew chief Tony Gibson concentrated solely on qualifying runs — a departure from her last trip to the track.
"We fired off OK, and it just seemed like as we tried to increase speed, we were finding some issues that were preventing us from being able to go faster," Patrick said. "So, we're trying to keep up with what the car does in qualifying trim. So, it didn't end up great, but hopefully it will be good in qualifying.
"It's challenging to pass here. But I think that our race set-up is good. I felt like it was one of the more balanced cars that we've had so far this year, here. So, I think that we have a good direction to go for race runs, but we all know how important qualifying is."
The biggest challenge for Patrick lately has been getting the through the corners more efficiently. With three turns, Pocono is different than any track on the Sprint Cup schedule. But Patrick struggled with similar issues at Indianapolis and finished 30th.
When asked whether she could see any area of improvement on the track, Patrick joked, "Umm, when you're turning the wheel.
"All three corners are pretty different, but definitely in the race, (Turn) 3 is very important because it's the longest straightaway. And in qualifying (Turn) 2 is very important because it's so fast. I'm looking at like what Tony (Stewart, teammate/team owner) is doing and I'm like, 'I can't do that yet!' But I'll keep working on it."
SOCIALIZING
Clint Bowyer has some guidelines for what's watched on the TV aboard his bus. From Bowyer's Twitter:
"Had to make a rule in the bus here. Absolutely no Kardashians!!! I could feel myself getting dumber by the second.''
NUMBERS GAME
4 — Years since Ford had won a NASCAR truck race, before Ryan Blaney, 19, powered his Ford F150 to victory lane at Pocono on Saturday for his second career trucks win.
2 — The place finish for truck pole-sitter Miguel Paludo — his best effort in 62 career starts.
52 — Number of points that leader Matt Crafton is ahead of Jeb Burton in the trucks series.
SAY WHAT?
Crafton on salvaging an eighth-place finish in the closing laps of the Pocono trucks race after the event went to double overtime:
"I was getting greedy, and they were yelling at me, 'Big picture. Big picture.' But, I saved it. That was hairy — definitely. The back end just got out. I got really, really loose under (Joey Coulter) and just about wrecked it. All in all, not a bad day. Not good, but not bad. (The restarts were) stupid. Just chaos."
---
---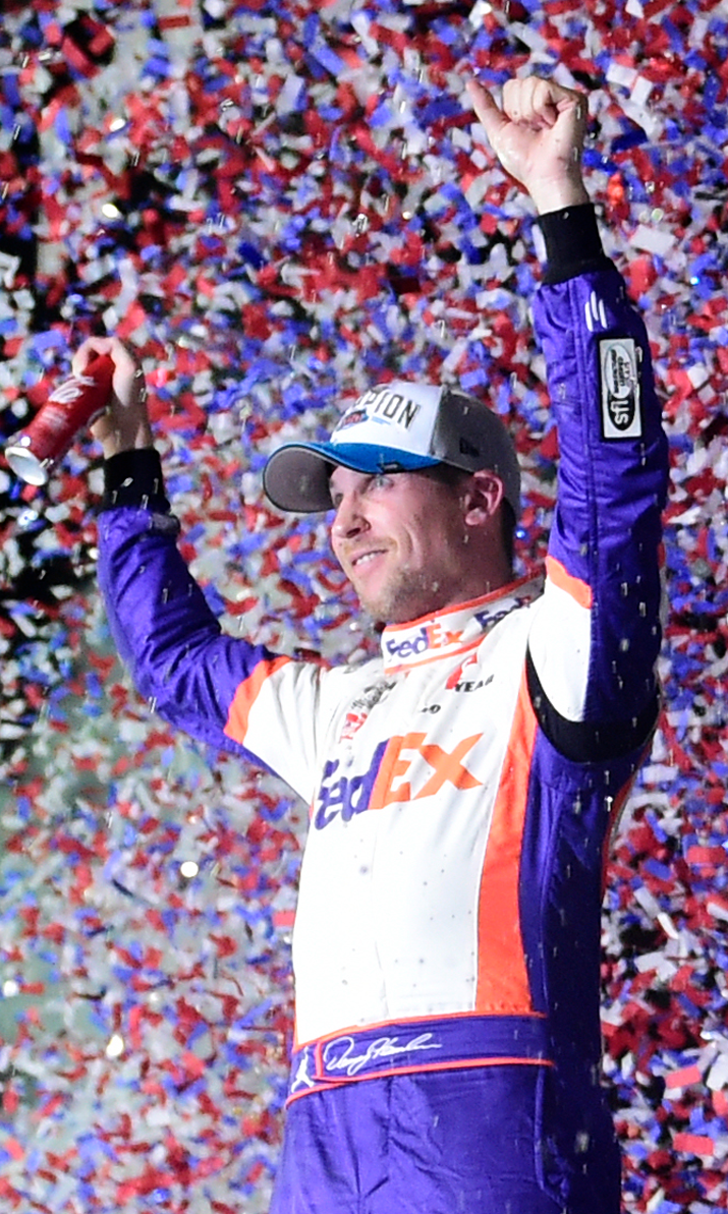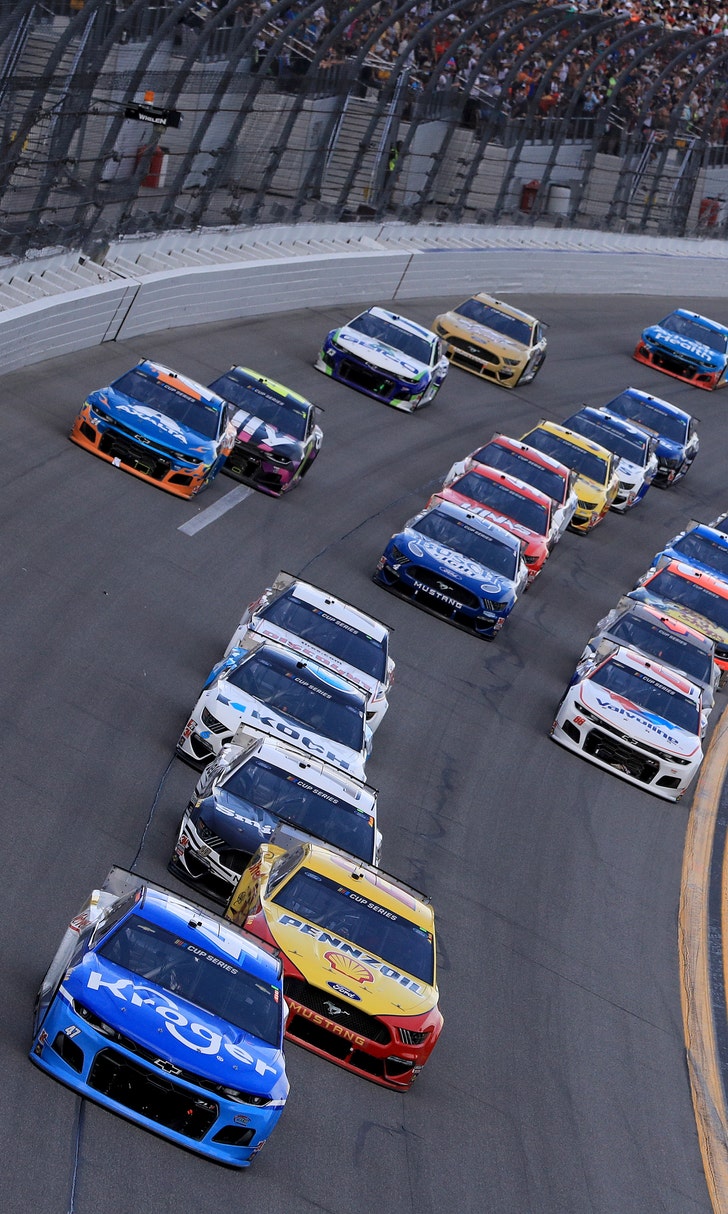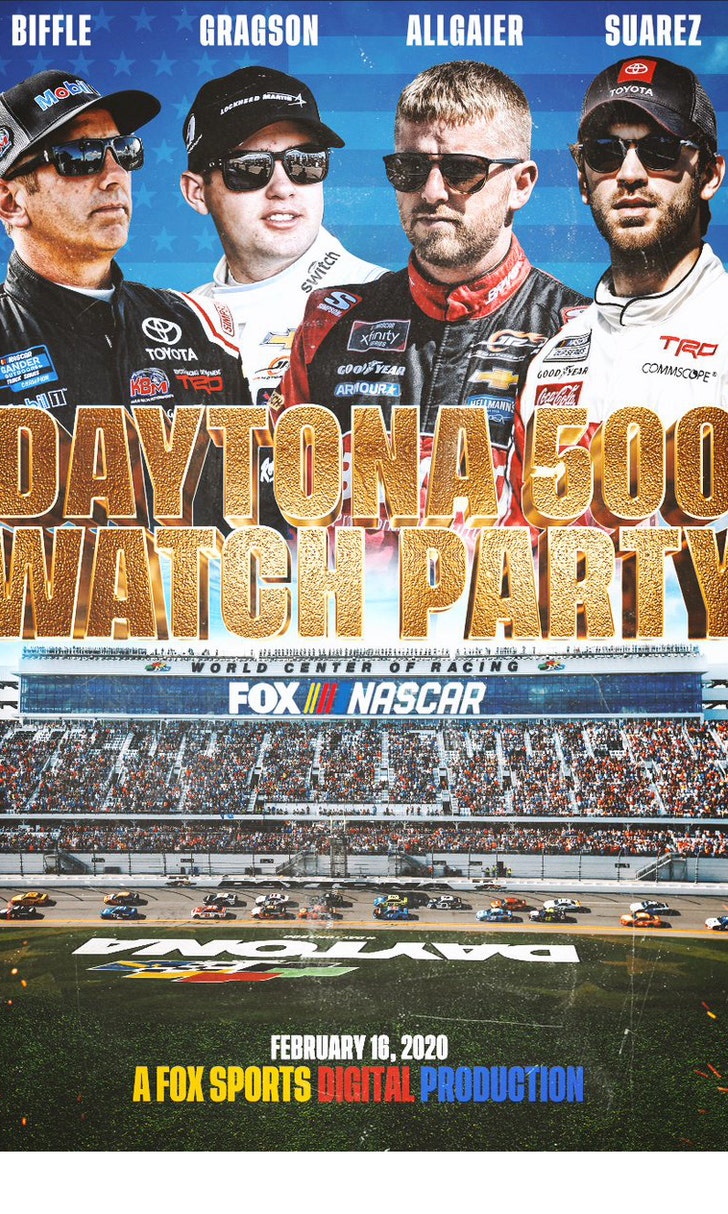 The Daytona 500 Watch Party!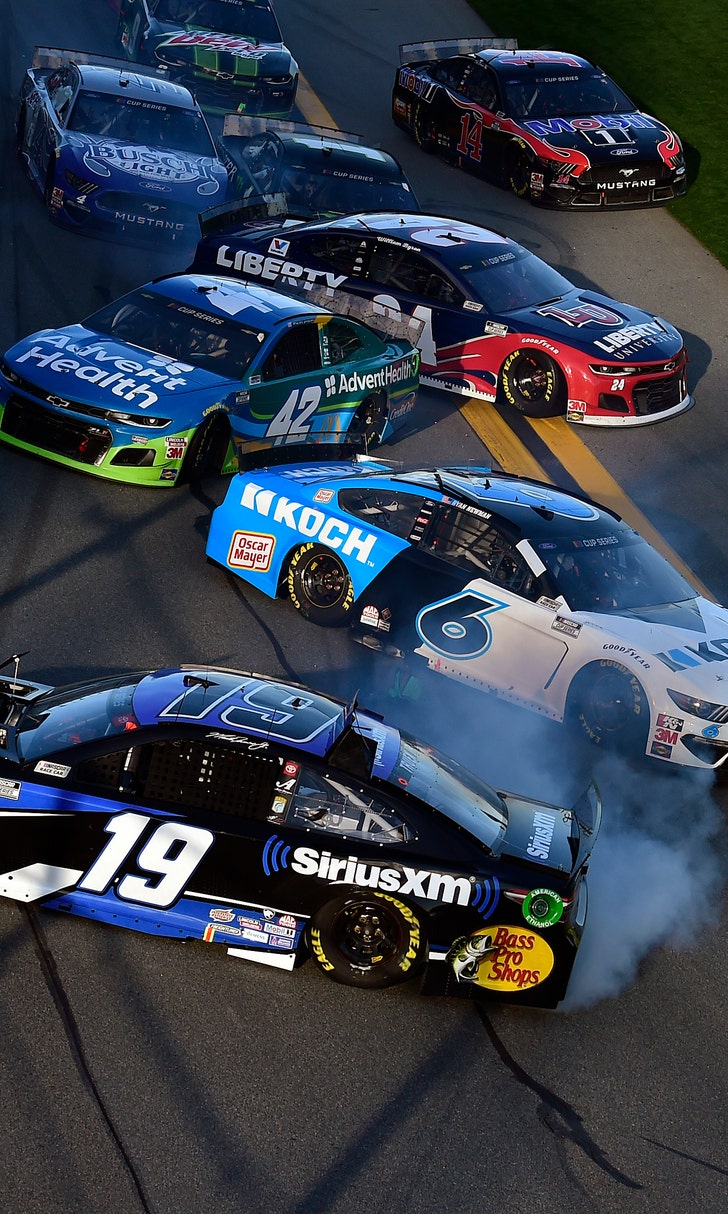 The Numbers Game At Daytona