NASCAR Cup Series
NASCAR Cup Series
Shorter rain delays? It could happen
Published
Jan. 22, 2013 12:00 a.m. ET

NASCAR's goal in 2013 is to provide a better race experience for fans on and off the track.
Near the top of the list is chairman Brian France's promise for a new track-drying system by Speedweeks at Daytona International Speedway next month.
The system, which has the potential to dry the 2 1/2-mile track in a half-hour and 0.526-mile Martinsville Speedway in 15 minutes, will benefit fans in the stands as well as enthusiasts at home annoyed by pesky rain delays.
"Track drying . . . has always been a difficult thing for our fans, both on television and certainly at the track, that once it rains, how long it takes us to get the track dried again," France said. "So what I declared to our team a couple years ago is 'Let's change the way we do it, let's innovate, let's get a system, and the goal is to improve it by 80 percent.' So that means if we're drying Daytona off, where it usually took two and a half hours, we get it down to 30 minutes. That's the goal.
"And we're real close. We'll be debuting our first generation of this track-drying system, which is pretty interesting, and we also are going to do it in a much more green, carbon-emission-friendly way. So what that means is obviously when you're at the track, we're going to be able to dry Martinsville off in 15 minutes. It's going to be a spectacular thing, and all auto racing will benefit from this as we go down the road."
Since 1976, NASCAR has relied on jet dryers or even safety vehicles and race cars to dry the racetracks. Over the course of eight to nine months, NASCAR's Research & Development Center has created a system that NASCAR president Mike Helton claims is "quite a bit" different from a visual and operational standpoint. Helton paints the picture as "a gang of pipes behind a pick-up truck that the air is being pushed through," rather than the current process in which the jet dryer just blows the water off the surface.
"It uses compressed air as opposed to jet engine," Helton said. "It's designed to expedite, obviously, the removal of water using compressed air and heat, where the jet dryers were simply designed around blowing and depended more on hot air. The new system depends more on compressed air. . . .
"There's a few faces out here that will remember when we used to dry tracks off with just a fleet of vehicles going around the racetrack, or dragging tires behind pickup tricks — and then someone came along with the jet dryer that expedited it quite a bit and served its purpose for a long period of time. But in today's world, with the expectations of getting the show done and getting it on, there was a high priority placed by Brian and the rest of us to come up with a way that we could expedite that. And Robin (Pemberton, NASCAR vice president) and the folks at the R&D Center responded to that and come up with ideas, and this one seems to have quite a bit of validity to it."
Pemberton has tested the device at Daytona International Speedway and Charlotte Motor Speedway (where the teams could have benefited from such a device last Friday with the remnants of a winter storm). He credits his team with the design and the build and says NASCAR officials will run the system.
"The design work is done," Pemberton said. "The fabrication work is almost done. We've had some track testing with it, and it shows a lot of promise. It sheets the water right off the surface. It takes a little bit to touch things up afterward, but it takes a good swipe at it the first time by. It's better right out of the box, but we'll keep working on it.
"From what I've seen, it's significantly better. Yes, you'll have to take into consideration . . . many different elements — how wet the track is, relative humidity, temperature — but it is better. And we'll chase that all day."
For Daytona International Speedway president Joie Chitwood, the new drying system couldn't come sooner — well, maybe last year when the Daytona 500 was rained out on Sunday and moved into Monday's prime-time lineup. Jet dryers won't go away completely, but the new track dryers will expedite the process.
"For us as a racetrack, we're aligned with NASCAR on the objectives of this," Chitwood said. "At the end of the day, NASCAR has a pretty lengthy schedule, back-to-back weekends. Any time we have a rain delay, it's a challenge for our competitors, for our fans. Any opportunity we can have to shorten the window that we're red (flagged) for rain or wet conditions, that's going to be good for the industry, for sponsors, for fans and for TV.
"We've supported NASCAR. We've done a lot of testing here at our racetrack. I hope we don't have to use it, but if we do, I think it's going to improve the experience for everyone involved. But again, I hope that we have done all this training and all this work and don't have to use it, because then we will have had green conditions and no rain."
---
---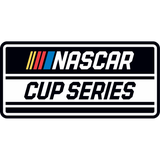 Get more from NASCAR Cup Series
Follow your favorites to get information about games, news and more
---