Ragan may have saved his job
BY foxsports • July 2, 2011
David Ragan's victory in the Coke Zero 400 was sweet revenge.
After NASCAR black-flagged Ragan when he was leading the Daytona 500 with two laps to go, he watched his first career Sprint Cup win slip away.
While no driver believes that a track "owes them one," Ragan and crew chief Drew Blickensderfer came to Daytona with a plan for redemption.
Ragan drafted with Roush Fenway Racing teammate Matt Kenseth, who won the 2009 Daytona 500 under the direction of Blickensderfer. Ragan took the lead in the No. 6 UPS Ford on Lap 162 during the restart after the first of three wrecks erupted in the closing laps of the race. And Kenseth committed to pushing Ragan to the finish.
"It's all yours," Blickensderfer said. "It's all yours. You just won it.'
While Ragan was happy to "deliver a win for UPS," rather than hoot and holler in the race car, the low-key racer seemed more jubilant that the win could be a catalyst for qualifying for a wild-card spot in the Chase for the Sprint Cup — and an opportunity to hang on to his job.
"We feel like we've been a player for the Chase all year," Ragan said. "Kind of disappoints me being 17th. We should be 13th in points. So we've got a lot of work to make up. We've got good tracks coming up. So I'm happy about the win. We should be higher in points than that."
At the start of the season, Jack Roush put Ragan on notice. The UPS sponsorship was on the line — as are all the other sponsors at Roush Fenway Racing. While 3M re-upped with Greg Biffle in April, just this week Crown Royal, Kenseth's sponsor, announced it would not return in 2012 despite wins by the No. 17 team at both Texas and Dover this year. The sponsors on the No. 99 team are waiting for Carl Edwards to come forward with his plans for next season before committing to future involvement.
But for Ragan, who had 146 opportunities to close the deal during his tenure at Roush but had not taken the No. 6 Ford to Victory Lane, time was running out. Jack Roush was "hopeful" that Saturday's win could turn the tide.
"Certainly we're hopeful that UPS will carry on in a meaningful regard with the sponsorship of the 6 car," Roush said. "Now that we are in negotiation, we don't have assurance that that's going to be the case. But David has arrived at the upper echelon. He's a winner now. And he's given a win to UPS, and hopefully they'll consider that as they think about the value of the program and what it means to all their employees and what it means to their customers to have this association.
"It certainly means a lot to us. But to finally have David in the winners' column is a really big thing for us. He's had several poles this year and been close a number of times.
"We've been snake-bitten with this last five laps where the caution comes out. You take two tires, no tires, gas only, stay on the racetrack, and all of our programs have not done as well as some of the others in making that judgment. We let several of them get away, but happily we've got this one landed and it's something that UPS will think about when they make their determination on what they'll do next year."
While UPS would not offer definitive plans for Ragan's future, the sponsor did offer props Saturday night.
"We're very proud to have David Ragan as UPS Racing's brand ambassador and are excited to congratulate him on his first win," said Ron Rogowski, UPS vice president, sponsorships & events. "David has a great future ahead of him and we look forward to many more trips to Victory Lane with him."
Kenseth understands the pressure that Ragan has been under — and it started well before this year. Ragan was just 20 when Roush gave him a shot in the Cup Series in 2006. The following year, Ragan was expected to take over the company's flagship ride after long-time driver Mark Martin parted ways with Roush.
"Stepping in the (No.) 6 car after Mark leaving and all that stuff isn't exactly the easiest job in the world," Kenseth said. "So it took a little while to find the group of guys that he seems to work the best with. Ever since they kind of mixed that up and Drew got over there and they switched some guys around, their performance has really picked up. You could see it coming. I know it's at a speedway but you could see it coming at other tracks, too.
"He's been running faster in practic;, they've been racing better and qualifying better. It's really hard to win at this level. They've been improving along with the organization, so I'm happy for them to get that win because he deserves it, especially after the 500 as well."
Under Blickensderfer's direction, Ragan, 25, has made solid gains this season. In addition to scoring his first Cup win and his first career Cup pole (at Texas), he's posted more top-five and top-10 finishes than he did last season. He's led more laps in 17 races this season than any other year he's been in the sport.
Ragan continues to pick up confidence and feels he can be a contender on a variety of tracks — not just the restrictor-plate variety. On Saturday night, he also picked up three positions in the points standings — which gives him more than a fighting chance to get a spot in the Chase.
But before Ragan could think about the postseason, he had a score to settle.
"Coming back here and to get that win here at Daytona is that extra little bit that I wanted," Ragan said. "Kind of to show the Daytona race track 'Here's what we've got.' So that makes it a little bit more special. I think a win anywhere on the circuit would have been great and we would have moved on and talked about it probably, but coming back here to Daytona, being able to run the same type of race we ran in February and learning from our mistake, not making a mistake.
"We had a couple of opportunities to do it on those last few restarts and I didn't do it, so that's gratifying that we were able to come back to Daytona and kind of prove to the race track that we're better than that — that we can take you and we beat 'em and it feels good."
Points hit
The No. 99 Ford team refused to quit Saturday night, but a chain of unfortunate circumstances resulted in Carl Edwards losing the points lead to Kevin Harvick.
Edwards tied his season-worst finish of 37th after contact with teammate Greg Biffle sent the No. 99 Ford into the inside retaining wall coming out of Turn 1 on Lap 24.
Although Biffle apologized for the contact, Edwards accepted the blame for the incident.
"It was just the timing of everything," Edwards said. "I was being aggressive and kind of having a little bit of fun, but that's what we decided we were gonna try to do. We were gonna go out there and race a little harder this time.
"We had the points lead and not a lot ot lose, so it's no big deal. It is what it is. If you take the last five restrictor-plate races and average them out, we've done very well."
Initially, Edwards appeared to have minimal damage to his car, but soon began complaining of heat and exhaust fumes entering the cockpit. The crew scurried to replace the crush and quarter panels that had been damaged in the wreck. But Edwards' problems continued throughout the night with a wheel issue on Lap 65.
Despite repeated trips to the pits for service and repairs, Edwards soldiered on.
"We don't ever give up and that's the thing," Edwards said. "I told my guys to keep their heads up. We'll take this bad day and keep our pride. This is part of it. We knew coming here we could come out losing a bunch of points and we lost about as many as we could but that's OK. We're still right there. Hopefully, we'll be leading after next week."
Edwards had a 25-point advantage over Harvick entering the weekend. He now trails Harvick by five points and is five points ahead of third-place Kyle Busch.
Collision course
Trevor Bayne, winner of this year's Daytona 500, completed just four laps before becoming the first casualty in Saturday's race.
After contact with drafting partner Brad Keselowski when their bumpers did not align properly, Bayne went sailing off into the wall in Turn 1.
"It's not fun, I can promise you," Bayne said. "It takes about a half-second and you say, 'Oh, here it goes,' because you get sideways and you know the point of correction. You know at what point you can still correct and then you know when it's too far.
"I watched a little bit of it and it looked like I slowed down and I was kind of sliding sideways, and then when it finally slowed down enough it just hooked and went right. That happens when you're at these high-speed places, so, like I said, I just hate that it was us."
Bayne finished 41st — the worst finish of any Daytona 500 winner in the Coke Zero 400 in the same year.
Numbers game
6 — Number of cautions in Saturday night's race (for 24 laps).
8 — Drivers that have won for Jack Roush in the Sprint Cup Series.
25 — Different leaders — breaking the record of 22 in this year's Daytona 500.
25 — Laps led by Ryan Newman — the most by any driver.
57 — Lead changes — a new summer Daytona race record, breaking the previous mark of 49 (1974).
124 — Wins for Roush Fenway Racing.
Say what?
Matt Kenseth on Carl Edwards' ability to race with a broken air filtering system in his cockpit: "Cale Yarborough never had a cool box or a scrubber. I don't think it's that big of a deal on Lap 20, not when you're in the shape Carl's in. He's in the best shape of anyone in the garage."
---
---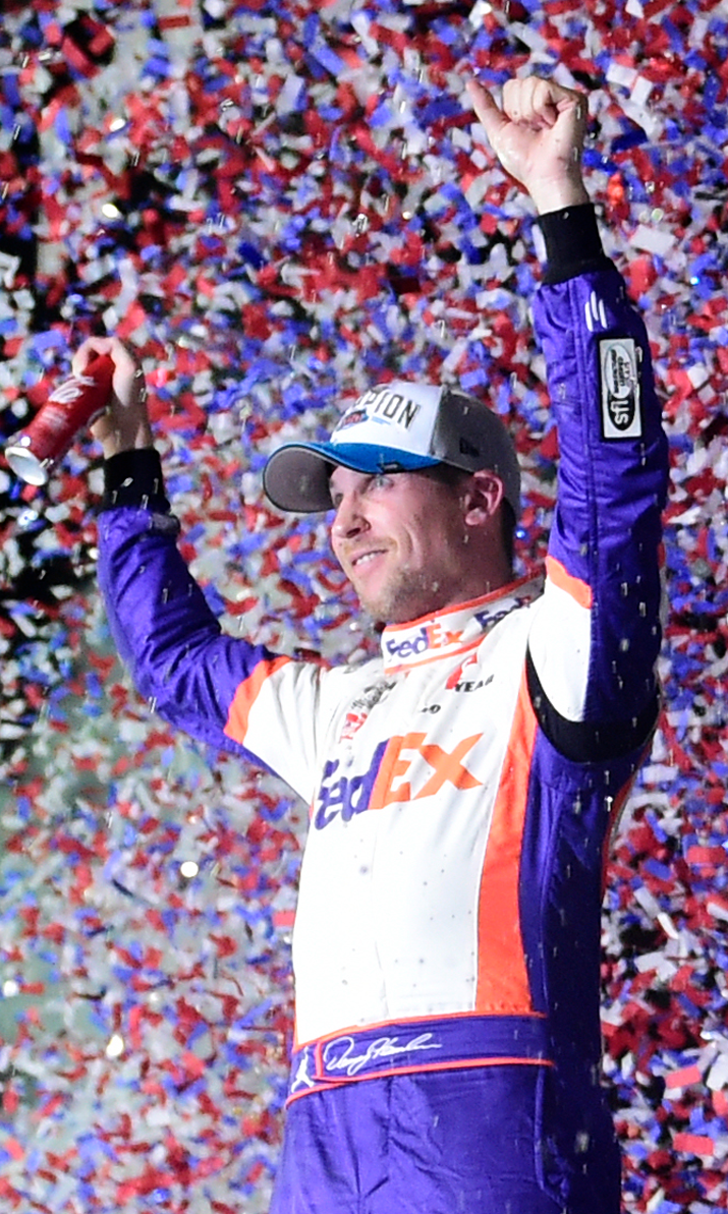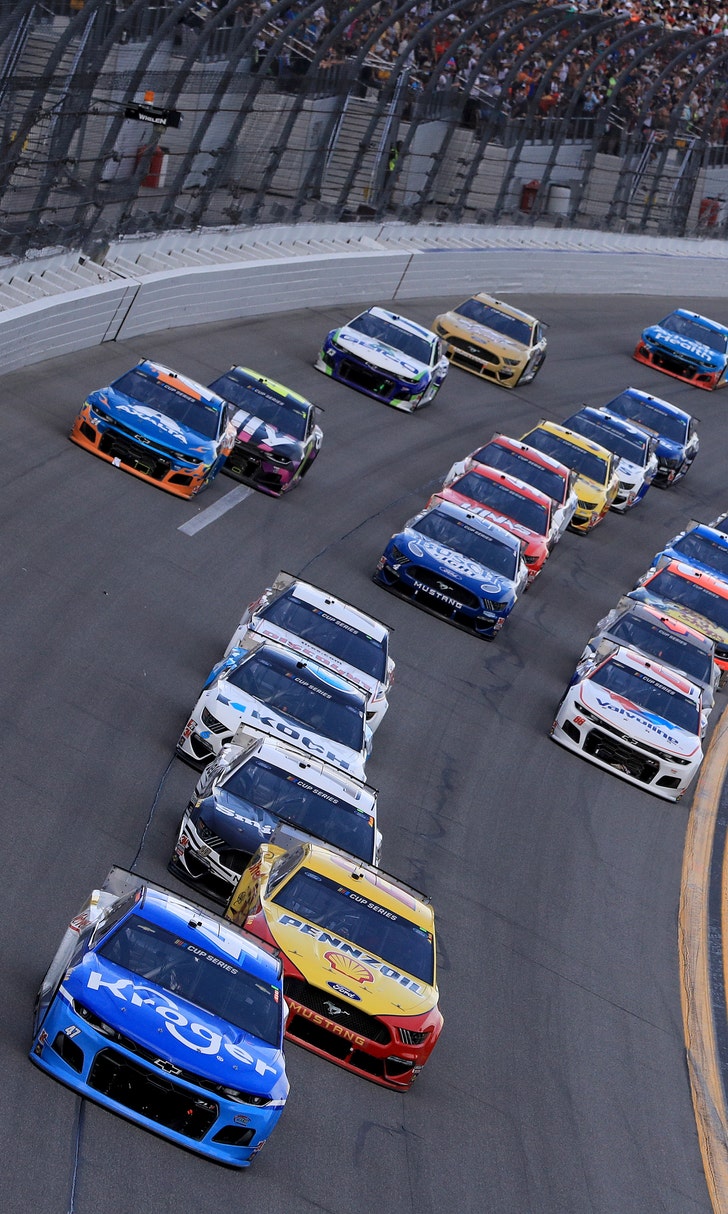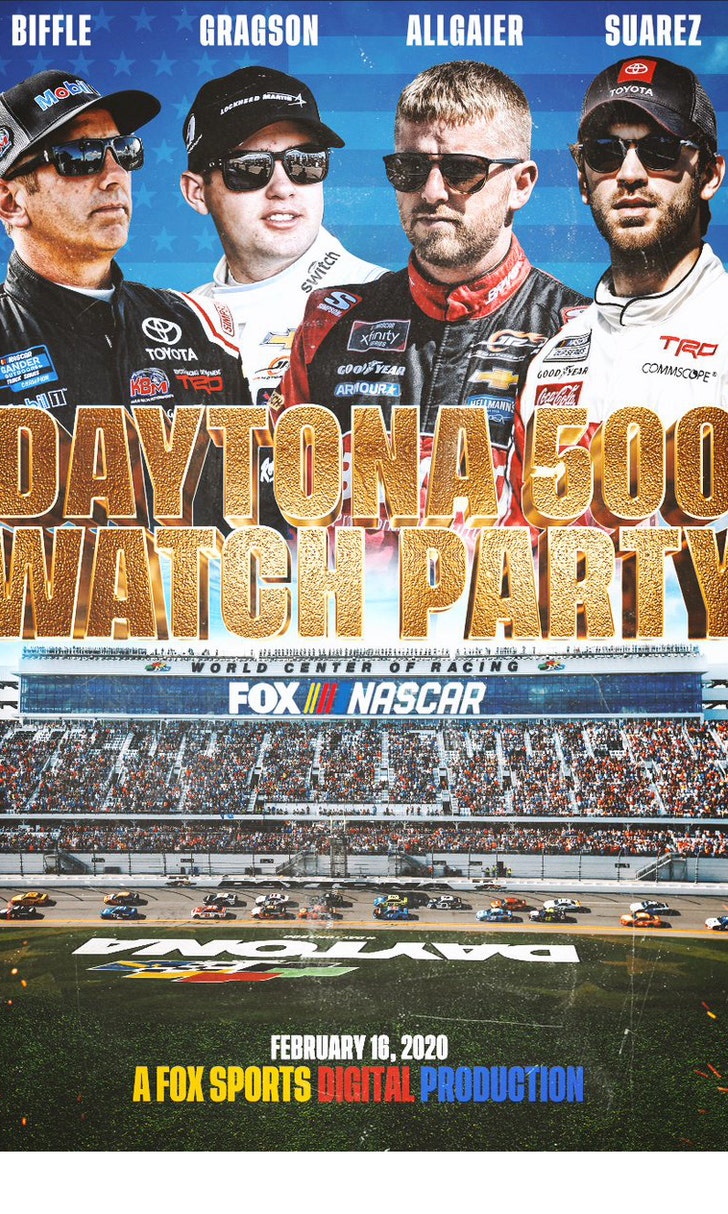 The Daytona 500 Watch Party!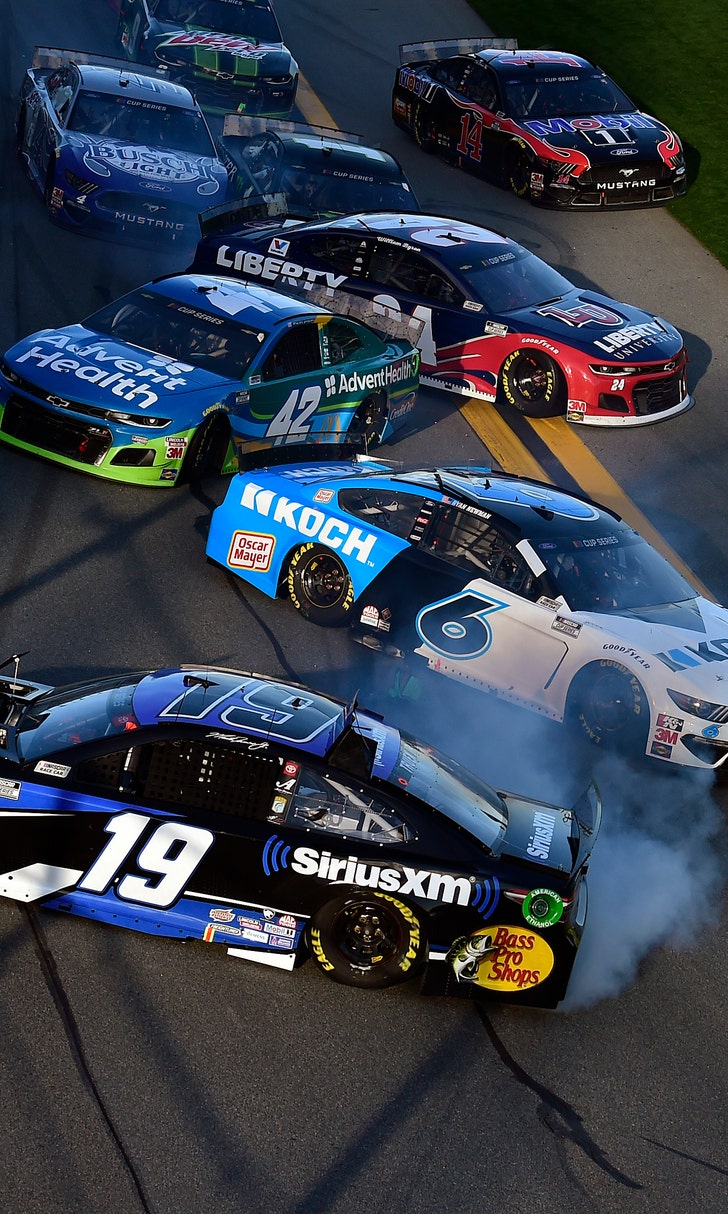 The Numbers Game At Daytona