Owner switch powers up McMurray
BY foxsports • July 9, 2010
Jamie McMurray was all smiles after his qualifying run.
The driver of the No. 1 McDonald's Chevrolet put his car on the pole position for Saturday's Lifelock.com 400 with a lap of 183.542 mph. For McMurray, it was his third pole of the season.
"I can't believe it," McMurray said as he watched the last few cars that had to qualify on time. "I'm so happy. I prayed and prayed for this this morning."
Friday's pole was particularly special because "Big Mac" pulled off the feat at Chicagoland Speedway -- McDonald's home track. On Thursday, McMurray was building Big Macs from the buns up at a local franchise.
Flipping burgers seems galaxies away from where McMurray was just one year ago as the odd man out at Roush Fenway Racing. Under NASCAR's four-car rule, RFR had to eliminate a team at the end of the 2009 season. McMurray didn't make the cut.
However, he exited on a high note, scoring the company's last victory -- at Talladega on Nov. 1 -- before returning with Chip Ganassi to drive the No. 1 Chevrolet.
"Certainly my life has changed a lot -- racing-related," McMurray said. "It's a lot different than it was a year ago."
While McMurray's life has changed for the better, that hasn't been the case for many of his friends. Elliott Sadler, who acknowledged Friday he's a free agent, is going through a deal similar to what McMurray experienced before his departure from Roush.
McMurray knows precisely how it feels to be in an awkward situation that is not providing results.
"Elliott has won some races in the past, made the Chase, and Elliott hasn't lost his passion or his motivation to drive a race car. He just isn't in the right position," McMurray said. "Hopefully, he'll get another chance with another team to prove himself. Media should never write off people until they know all of the scenarios that those people are faced with."
McMurray has seen how miserable his former Roush teammates are. Matt Kenseth, whom McMurray considers one of his best friends in the garage, was absolutely distraught on Friday. Another week, another struggle to find speed.
"If you ask me today, I don't feel like we are making gains," said Kenseth, who qualified 34th. "I feel like we are going backwards."
McMurray said he is "really shocked" Roush Fenway Racing has yet to find a cure.
"That is an organization that is just not ever down for very long," McMurray said. "It seemed like at Michigan they turned it around and then we got here and they unloaded really good, but the cars just don't seem to have the speed that they need and it just doesn't take very much with these cars to be really good or really bad. You just change one thing, and all of the sudden you're horrible.
"I feel bad for all those guys, though, because it's been a while since they really felt like they were on top. That's one of those organizations that is used to winning a lot. Even the Nationwide program doesn't seem to be where it needs to be."
McMurray said he didn't want to leave Roush Racing. He's adamant that there are no bad feeling toward Jack Roush despite the perceptions fans or the media might have.

"I know the reason of what happened, and, in reality you need to be careful what you wish for, because I didn't really want to leave there. I was really happy," McMurray said. "The way it's all worked out, it honestly couldn't be any better for me right now."
McMurray is right. After he renewed his relationship with his former boss Ganassi, the pair marked their reunion with a Daytona 500 win. In his personal life, McMurray will celebrate his one-year anniversary later this this month with wife Christy. The couple is expecting their first child.
And halfway through the No. 1 team's first season together, McMurray has gained a new friend and supporter in crew chief Kevin "Bono" Manion.

"Our sport is all about just getting yourself in the right situation," McMurray said. "…(Manion is) my friend and also my crew chief. You can't buy that, and you can't make that happen. You can't make those relationships. It's not just Bono; it's everybody on our team. I really like everybody."
For Manion, finding the balance between being the boss and being everyone's buddy has been tough at times. But he said McMurray makes that challenge easier.
"It's really difficult when you get in the position of being the manager," Manion said. "There is the persona that you're (a jerk) and you can't have friends. You have to tell people they have to work on holidays or work overtime, and the finger gets pointed at you. You're the guy that they don't like.
"What's key about this team is Jamie is very much a part of this team. And he is genuinely one of the nicest people I've ever met. But he comes to the shop, he's with the guys, he goes to lunch with us. We have a good working relationship with everybody here. I've definitely been on the other side of the street, and we're going to ride it high."
The baby blues
Jimmie Johnson learned quickly that along with the joy of having a child comes the challenge of finding sleep.
The four-time Cup champ apologized after he entered the media center at Chicagoland. Johnson had just come from a nap and wasn't "quite awake."

"The last two nights I stayed at the hospital with (wife) Channi and the baby," Johnson said. "I flew up this (Friday) morning. And tonight I'll go home and relieve Channi's mom and let her go get cleaned up and get an overnight bag and I'll go back home sometime tonight and crash out and get some sleep so that I have plenty of energy for tomorrow."
Johnson didn't lack energy for qualifying. He posted the second-fastest lap (183.452 mph) to share the front row with McMurray for Saturday's race. Chicagoland Speedway is one of the four tracks where Johnson has yet to win a Cup race, along with Watkins Glen, Michigan and Homestead.
 
NASCAR's roving reporter
Denny Hamlin received major props from the media for revealing LeBron James' new NBA home of Miami by Twitter on Wednesday night.
"I didn't break it. I just had a really good source," Hamlin said. "Everyone's going to think: 'Where were you when you found out?' I remember I was playing golf with Michael Jordan."
Now Hamlin just needs to learn not to reveal his sources.
 
Numbers game

• Kyle Busch won his seventh Nationwide Series race of 2010 on Friday. He became the second all-time winner in the NNS with his Chicagoland Speedway victory -- his 37th win in 188 starts. Mark Martin leads the tour wit 48 wins.
• Rookie Brian Scott finished a career-high third in his 25th start.
• Danica Patrick finished a career-best 24th in her fifth Nationwide start -- one position ahead of Morgan Shepherd.
• Toyotas swept the top five postions in the Dollar General 300.
 
Say what?
When FOXSports.com asked Juan Pablo Montoya his plans for the open week, he replied: "Having a baby. It's 10 days away right now. It's fine. It's a girl — Manuela. We don't do family names. We don't do juniors. We give them their own name and that's it."
---
---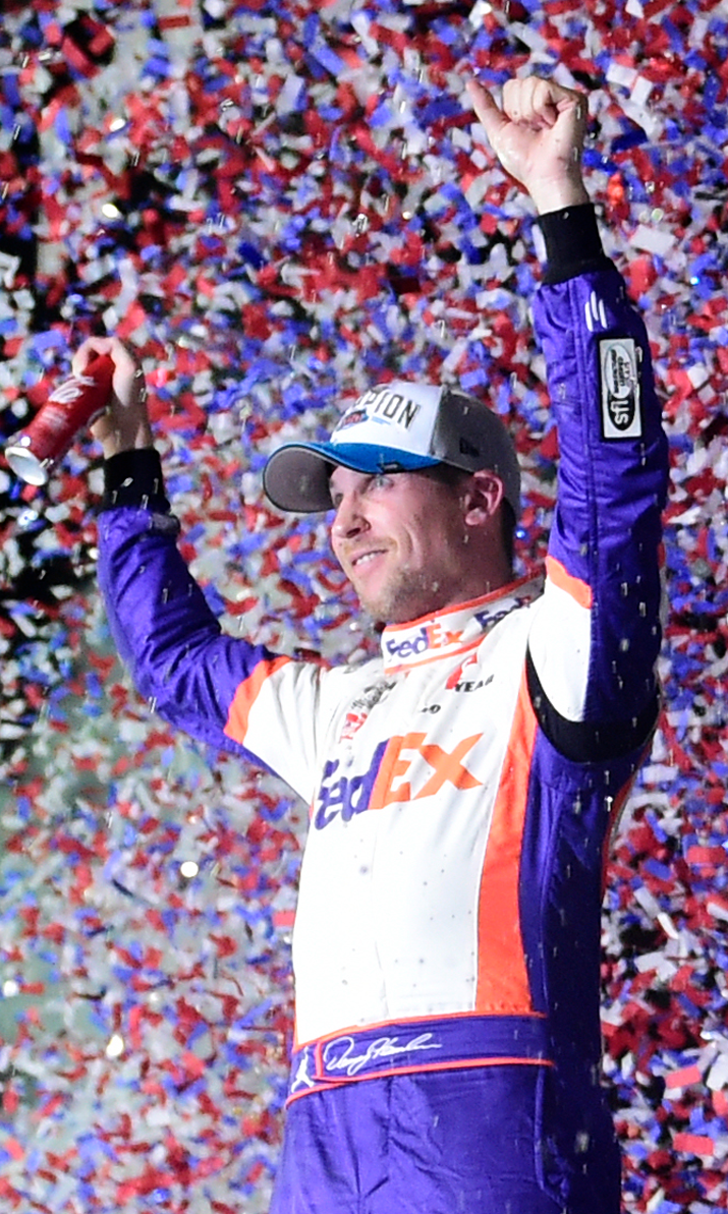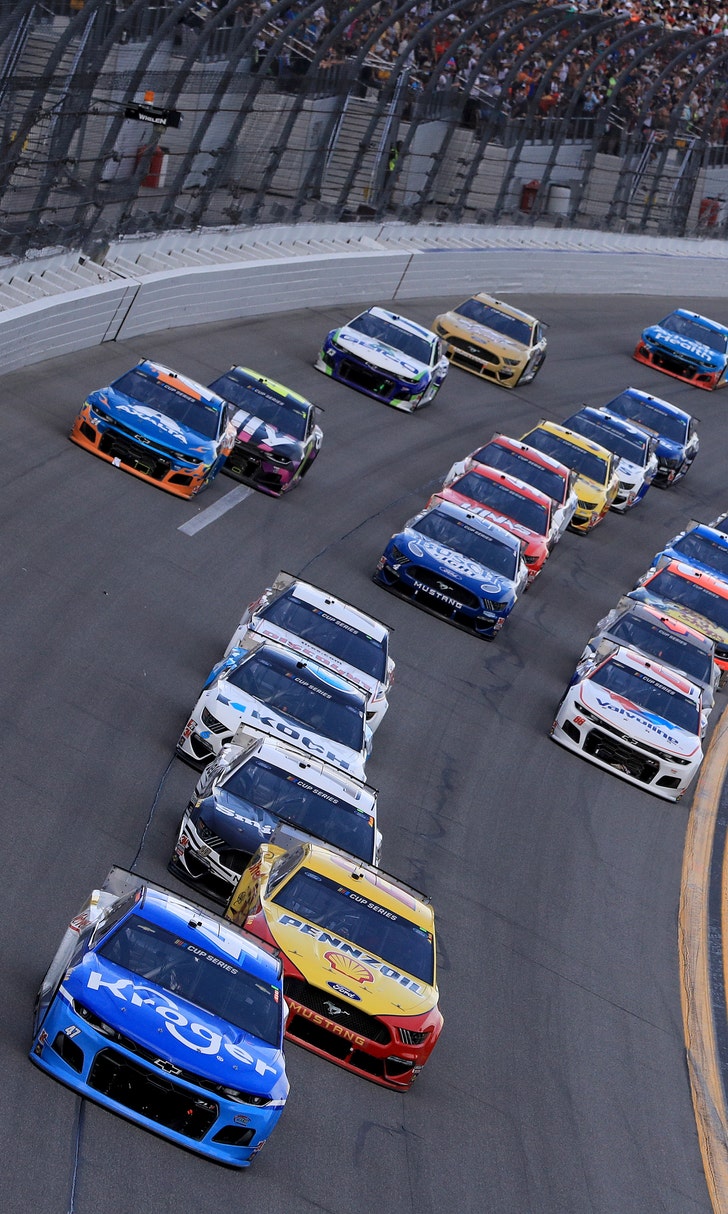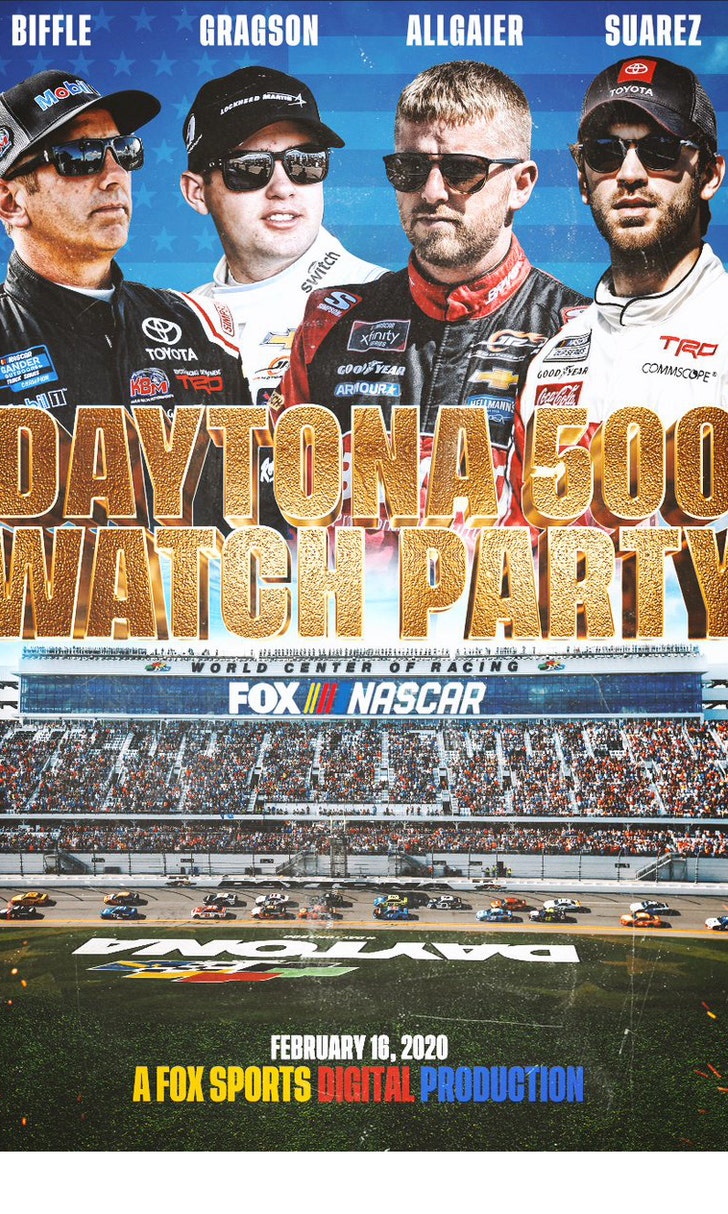 The Daytona 500 Watch Party!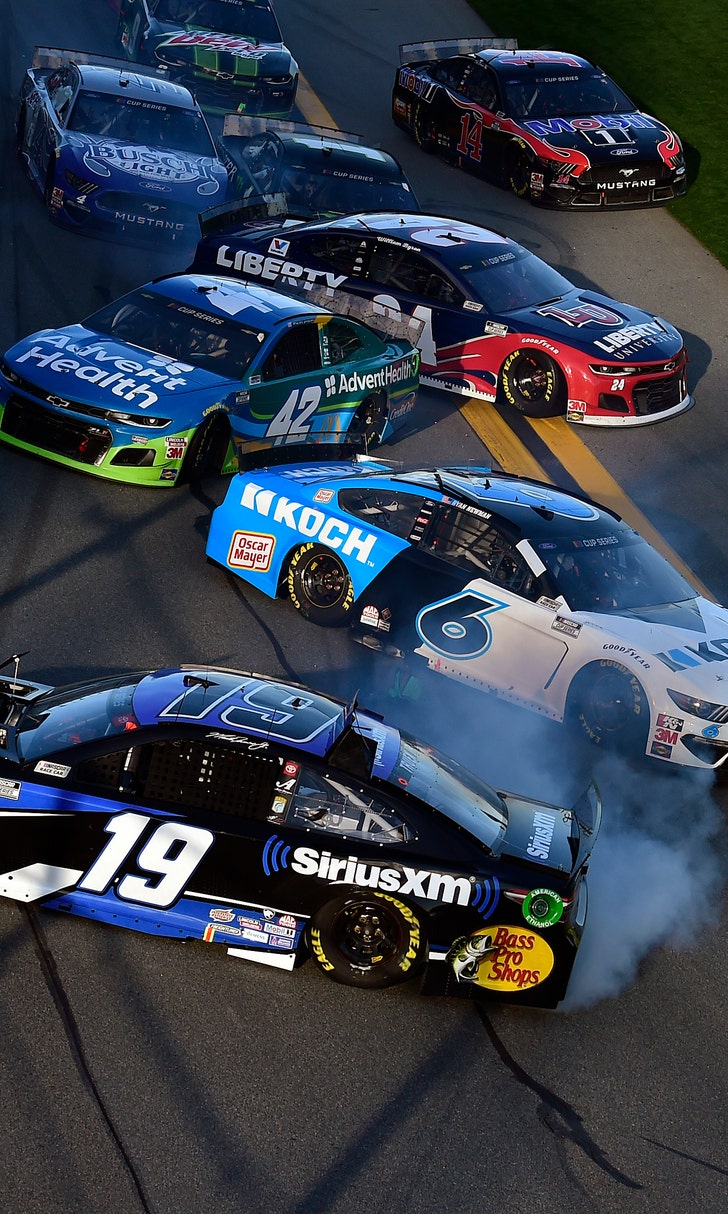 The Numbers Game At Daytona