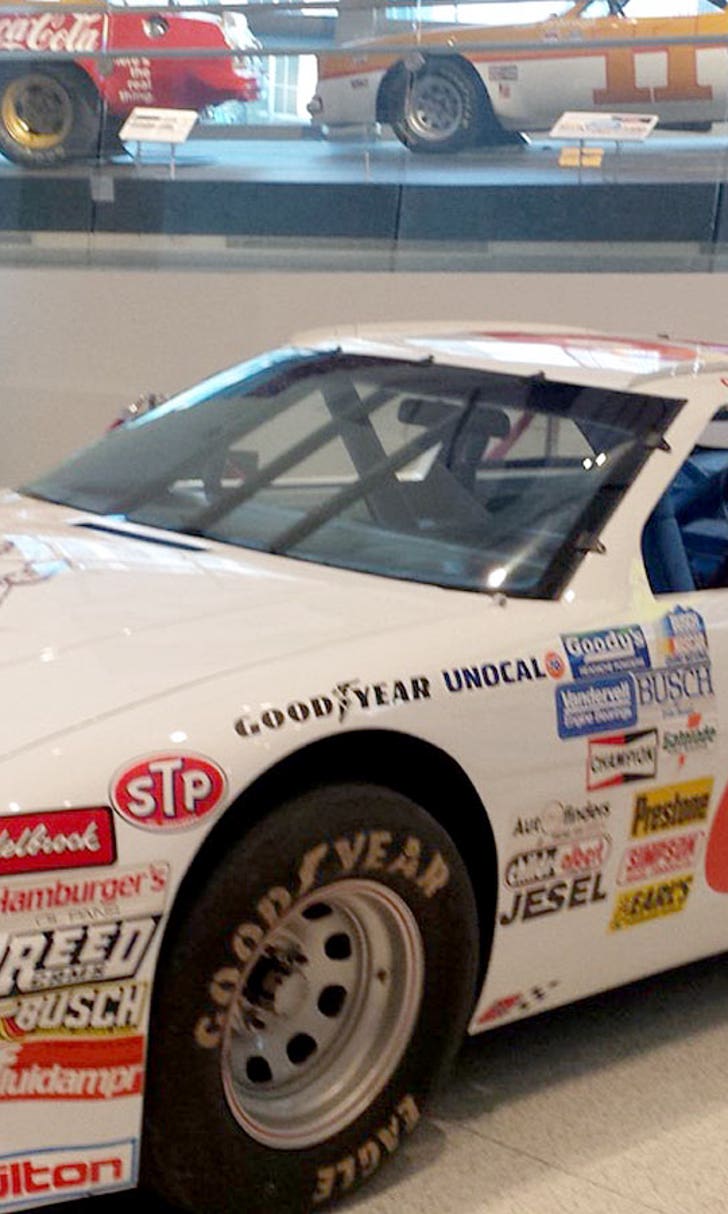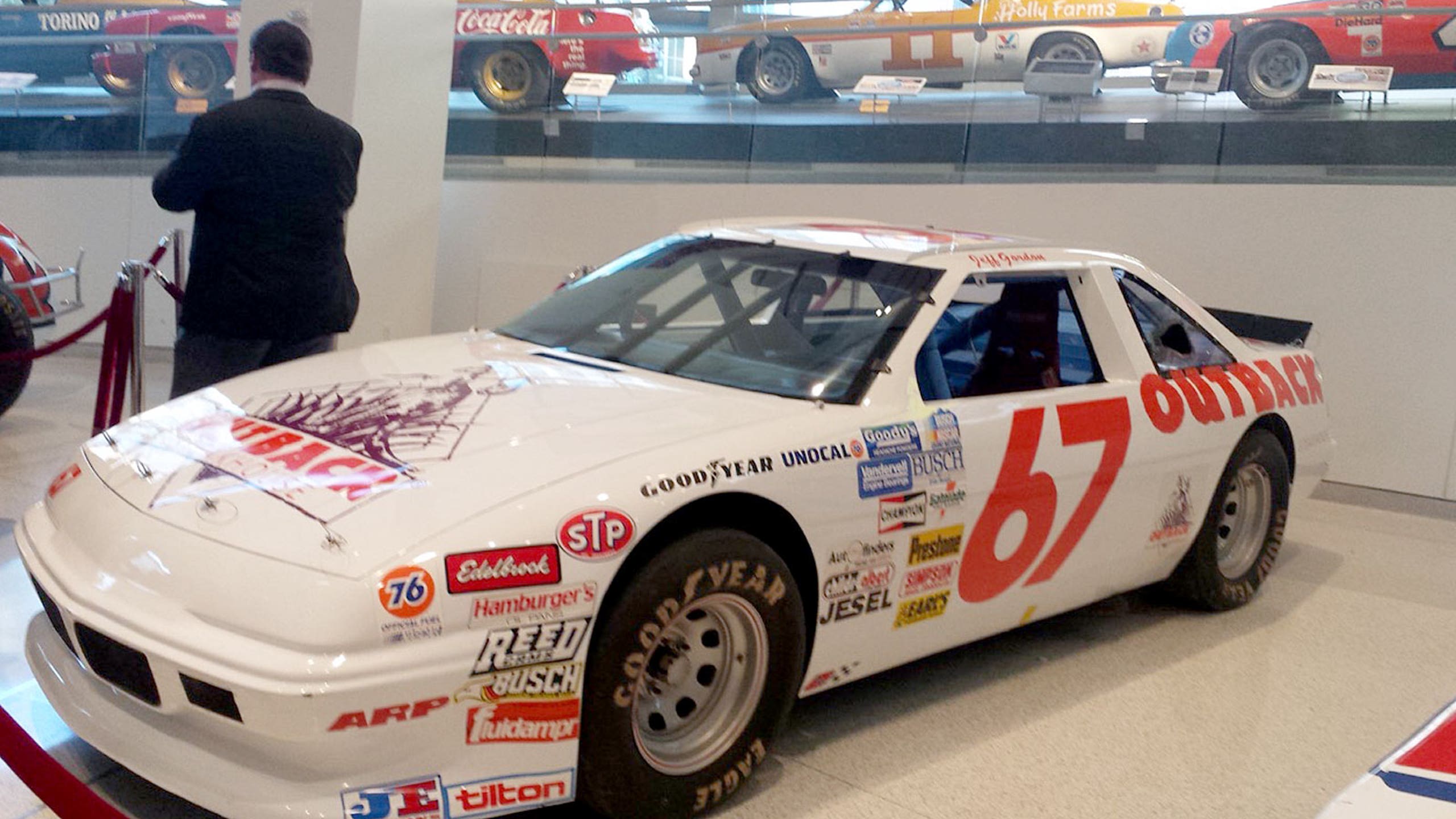 New NASCAR Hall of Fame exhibit features treasured Jeff Gordon cars
BY foxsports • October 8, 2015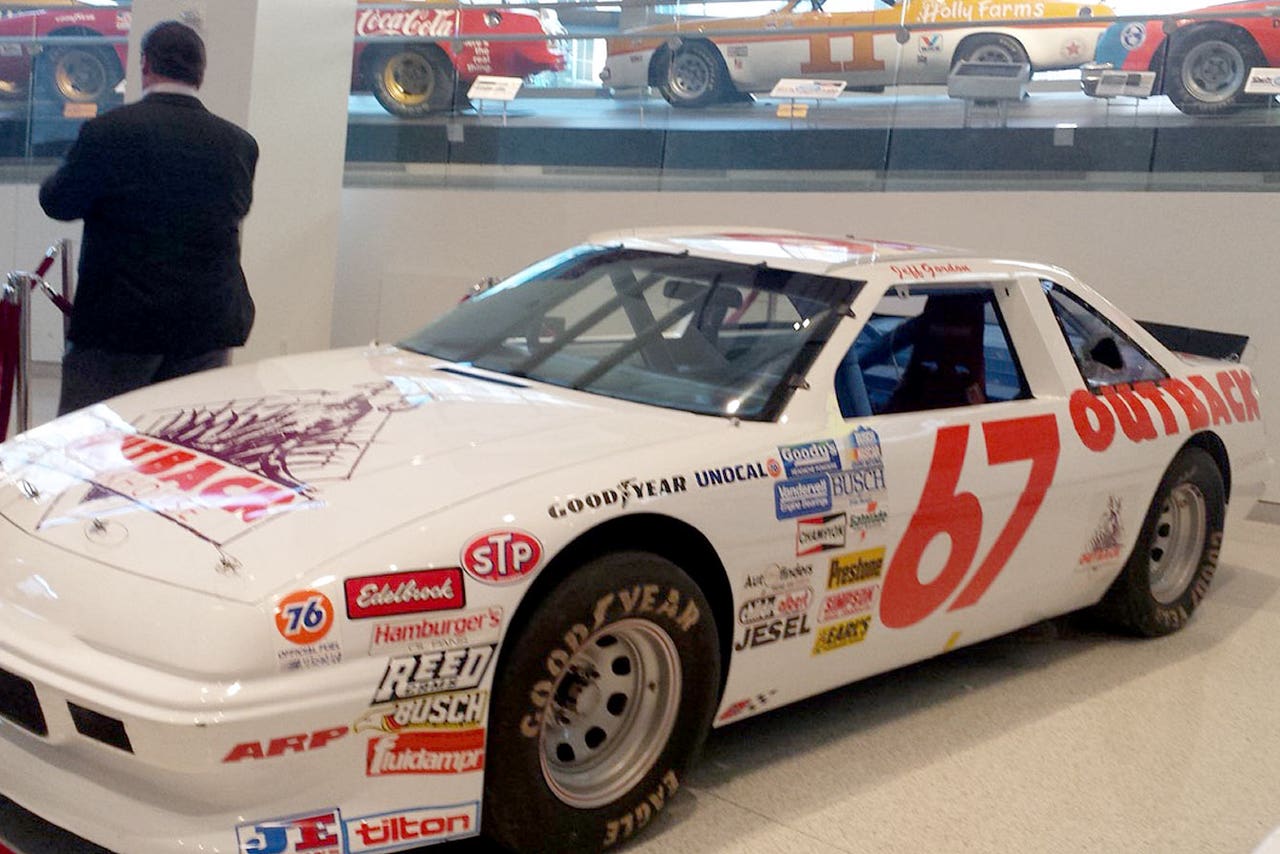 In January 2020, Jeff Gordon will likely be enshrined in the NASCAR Hall of Fame as a first-ballot candidate. With a career behind the wheel that spans over two decades and includes four Sprint Cup championship, 92 wins, five Brickyard 400 trophies and three Daytona 500 victories, Gordon has rightly earned his spot inside the sport's most honored walls.
However, as Gordon prepares to end his full-time career behind the wheel, the NASCAR Hall of Fame is paying tribute to his contributions to racing by featuring several of his most important and iconic cars.
The new "24: A Tribute to Jeff Gordon" exhibit features winged sprint cars, USAC midget cars, Busch (now XFINITY) Series cars, his 1994 Coca-Cola 600-winning ride, his 1997 Daytona 500-winning car and the final rainbow paint scheme he competed with earlier this year at Bristol Motor Speedway.
One car that caught Gordon off guard and brought back a host of memories was the No. 67 Outback Steakhouse Pontiac he drove in the NASCAR Busch (now XFINITY) Series in 1990. This was the first of Gordon's ventures into stock-car racing, and he caught arguably his biggest break driving the white-and-red car.
"When I look at this Pontiac, this No. 67 car over here, that one, I don't know if I've ever seen that car before. That's a first for me," Gordon said during Wednesday night's event. "That's where I got my very first (NASCAR) start."
Joining forces with team owner Hugh Connerty after a successful trip to the Buck Baker Driving School, Gordon attempted to make his first NASCAR start in the No. 67 Pontiac at Charlotte Motor Speedway in October 1990, but did not qualify due to wet weather.
Instead, the team showed up to Rockingham Speedway and Gordon shocked many in the garage. With virtually no stock-car experience, Gordon qualified the car second in the field and started his first NASCAR race from the outside of the front row. At the time, Gordon had no idea how monumental that day would be not only to his future, but the future of NASCAR as a whole.
"Unfortunately, I have the kind of memory that goes immediately to me wrecking on Lap 23 (of that race)," Gordon said with a laugh. "We actually tried to run Charlotte first, and qualifying got rained out. We were pretty fast, so I knew the car had good speed in it. Then we went to Rockingham and I knew we had good speed it in that day, but we weren't anywhere close to thinking we were going to be on the outside of the front row. I laid down a great lap, and I think everybody was surprised.
"Even today, if you think about it, if somebody comes along and they're not in one of the top cars or with one of the top teams out there and you haven't heard a whole lot about them and all of a sudden they end up on the front row, it's going to draw you attention and you're going to wonder who this person is. For me, I was fortunate that wrecking on Lap 23 didn't take away from being on the front row."
While their time together was limited, Gordon credits that first race at Rockingham for opening the door to team owner Bill Davis, who put him in the No. 1 Baby Ruth Ford for the 1991 Busch Series season. Success with Davis in the No. 1 car then opened the door for a struggling team owner named Rick Hendrick to approach the young upstart.
"I remember getting some huge phone calls after that," Gordon said of his Rockingham qualifying effort. "I didn't realize how big it was at the time. I knew I was excited that we were on the front row, but I had no idea what it would do for my career."
Standing in the NASCAR Hall of Fame Wednesday night, Gordon was taken back when he looked at the car that kickstarted his NASCAR career, and he had longtime NASCAR competitor Steve Barkdoll to thank for it being there.
Barkdoll helped prepare the car for Gordon in 1990, has owned it for years and helped preserve it as Gordon's first NASCAR ride. Wednesday night, his smile was beaming almost as big as Gordon's.
"I kept it in my shop in North Carolina for about 15 years, but it's been in Iowa for the last five or six," Barkdoll told FOXSports.com. "It's really amazing and really cool. What's really amazing is that Jeff and I have been friends for the last 20 years. I was leaving and he requested I stay to take pictures with him. So that was pretty cool."
Now, thanks to the new exhibit in the NASCAR Hall of Fame's Great Hall, fans will be able to learn more about Gordon's path from the open-wheel dirt tracks of the Midwest, to the stock cars that saw his NASCAR career grow, flourish and then become legendary.
The "24: A Tribute to Jeff Gordon" is now open to the public and runs through Jan. 10, 2016 at the NASCAR Hall of Fame in Charlotte, North Carolina.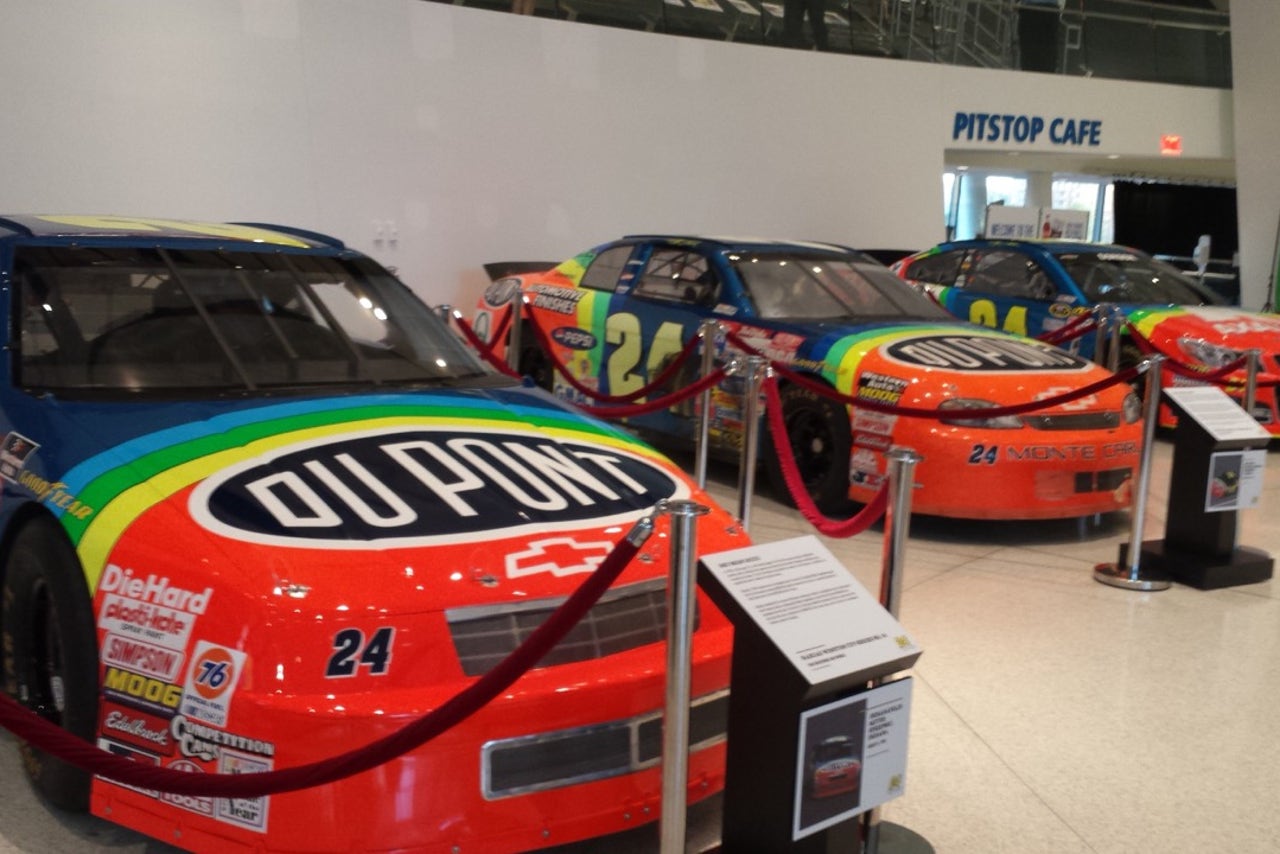 ---
---