NASCAR Cup Series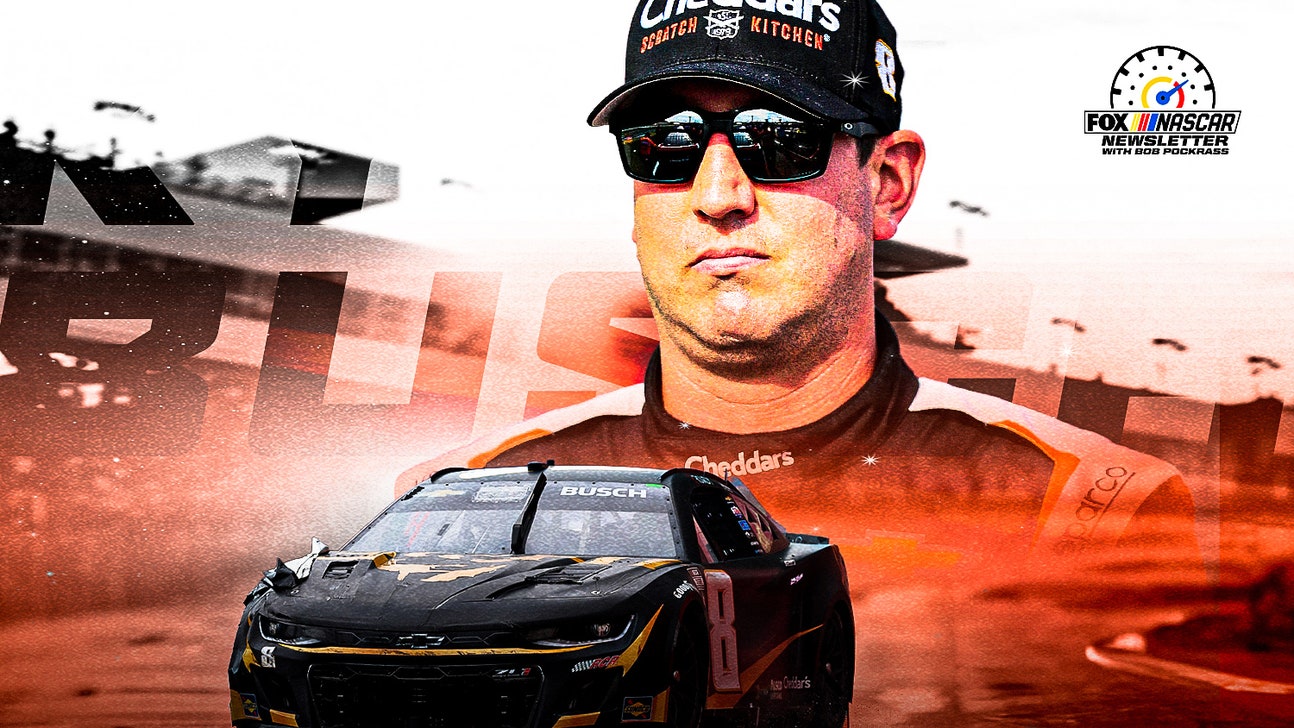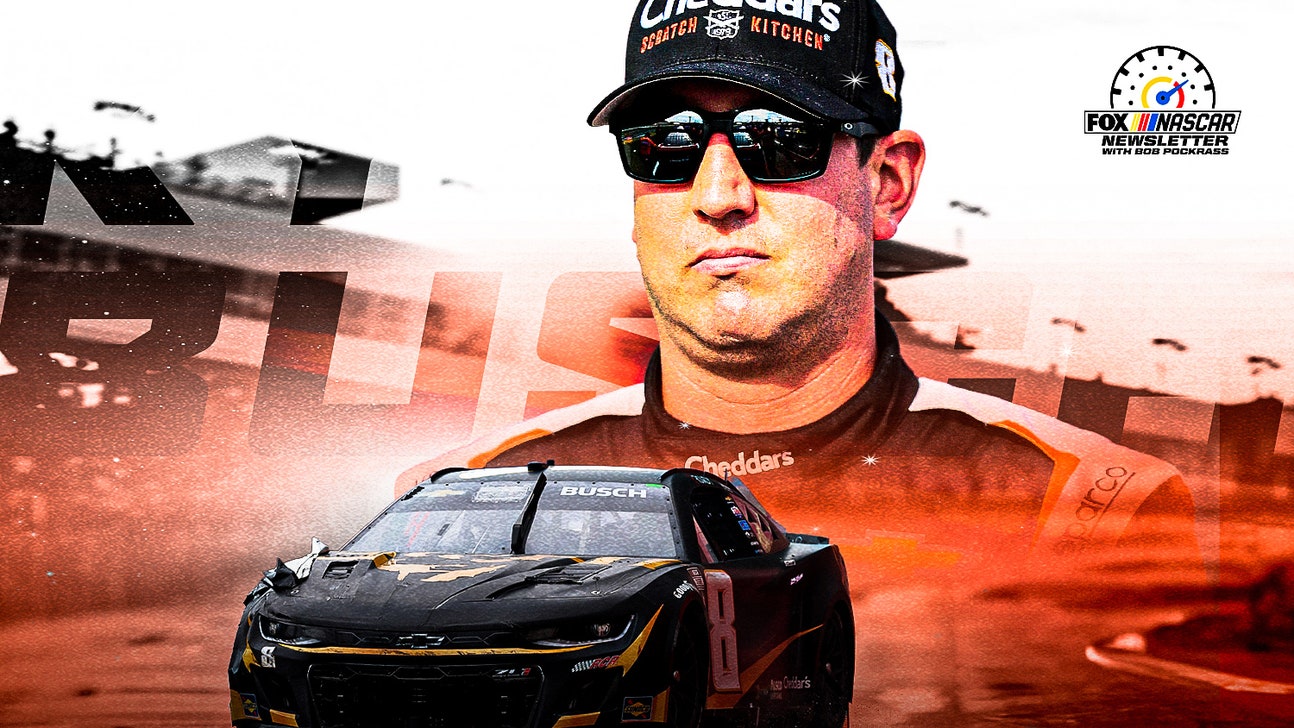 NASCAR Cup Series
Kyle Busch 1-on-1: On nearly not racing in 2023 and his ideal succession plan
Updated
Jul. 13, 2023 12:44 p.m. ET
Go back a year ago, and Kyle Busch was truly unsure of whether he would have a NASCAR ride in 2023. He even told NASCAR Chairman Jim France, "Nice knowing you."
That revelation comes near the end of this 1-on-1 interview with Kyle Busch that he did with FOX Sports last Saturday at Atlanta.
He talks about the transition to Richard Childress Racing, working with crew chief Randall Burnett, having driver Austin Dillon as a teammate and how many years of racing he has left in him.
The interview has minor edits for brevity and clarity.
Looking for more NASCAR content? Sign up for the FOX Sports NASCAR Newsletter with Bob Pockrass!
You're halfway through the first season at RCR. I can't imagine that things are going worse than you thought with three wins. So has it gone about what you thought or better?
It's gone about what I thought. I guess the three wins is probably a little bit ahead of where I thought we would be. But some of the consistency that I've not brought to the team of speeding on pit road, or just issues on the racetrack, incidents on the racetrack, mistakes [I've made] have been a lot. And that's kind of set us behind. The team and I have really pushed through and powered through many of those to be able to get good finishes on days that maybe we weren't really seeing the potential for a good finish. If we can clean that up, we can be better than what we are right now. But I think halfway through our first year, we've been strong. And it's been nice to work with Austin and Richard and Randall and all the guys to continue to push and evolve and see any areas of weakness to work on.
Is there anything that Richard Childress has said to you that you're like, 'Wow, I didn't realize he knew that' or his knowledge went so deep?
A little bit was sort of the engineering side, looking at people and who he's talking to and who they want to go after and try to find some guys to kind of bring on — whether it's the Chevy side, or whether it's the RCR technical side. Sharing some of his ideas and his thoughts of where to recruit some individuals was pretty interesting to me.
So he has his pulse on who he wants?
He does, actually. He has his pulse on a few guys that are both inside NASCAR and outside NASCAR to just try to bring in and make the group stronger.
Do you agree with those — like those are the right people RCR should be targeting?
To the extent of how I know them, sure. But I don't know them personally or anything like that. I just know where they're coming from. And I feel like that could be a good pick.
Is there anything about Austin Dillon that you know now that you didn't know before?
Just how much he knows and how much he resonates as a racer. He knows how to talk the talk and walk the walk and do that sort of thing. In our team meetings and things like that, we've talked a lot about the same issues that we have in the race cars when we run similar setups. It's been interesting to see a couple places we can run the same setups, and then there's other places where we can't run the same setup — that he's better than I am or vice versa and it just doesn't flow for the two of us. We're finding out what those differences are and kind of what that split looks like so whatever my setup is, they know what split to do to make him comfortable and vice versa.
Have you guys talked at all about him living with the pressure of driving the Dale Earnhardt No. 3 and you living with just the pressure maybe of being Kyle Busch? Have you two compared notes?
No, that has not come up in conversation. It's been more all about competition-related and things like that. The conversations related to him and his grandfather's number — obviously, yes, it was Dale's number, but it was Richard's first — I can kind of see all of that and how that's gone on. But to me, he wants to be known as Austin Dillon and wants to go out there and show the world he can do it. And I think there's been a lot of races this year where he's been really fast and just hasn't come through to get the finishes they deserve. 
What would you consider the highlight so far this year?
I would say the highlight of the year was probably [the win at] Fontana, just how early that happened and how out-of-the-box strong we were. We ran really good at the Clash. We ran really good at Daytona. We went to Fontana, we won. Then it kind of slowed down a little bit and now we've kind of built into some consistency. There's been some ebbs and some flows. But I just really enjoyed going to Fontana and winning the last race there [on the 2-mile]. That place is pretty special to me, means a lot to me for all the things that I've had gone on with me during my time of racing there [including his first Cup win]. So it was cool to win that one.
That's a track where you've won three races for three different organizations (Hendrick, Gibbs and Childress). You have that opportunity at Loudon this weekend. Does it mean anything to win with different teams at different tracks?
I think it just showcases that you, the driver, are talented enough to be able to do that. That's pretty cool. It's not just the team. You could always say, 'OK Joe Gibbs Racing is the best team going to Loudon. They've had a stranglehold on that place for how long, having the best average finish.' But if I can go there and I can be fast and we can contend for a win, then it shows that I've got something to do with it as well, too.
The Chevy simulator is by Hendrick Motorsports and it's a pretty long haul from there to RCR. So do you get up to RCR often?
Not often enough, I'll admit to that. I want to go up there and see the guys. I actually asked Randall, 'Hey, are you guys going to be here on X Thursday?' And he goes, 'No, the hauler loads on Wednesday night, and it's gone so we're taking the day off.' And I was like, 'Damn, OK, I wanted to come up and just hang out with the guys and take them to lunch and stuff like that.' But I've been up there a handful of times this year for sure. So we'll call it six months into the season and I've been up there at least five. So I might have missed a month.
Is it weird to go to the simulator and you're almost driving on to the Hendrick campus, the team you drove for early in your career?
A little bit. Not really. I see the gate and I turn left, I have not stepped foot in that building, but I've got a lot of friends over there so it's cool to be able to throw stones.
What is the one difference maybe about RCR that you just don't know until you're kind of immersed in it?
The culture, obviously. They have a strong racing culture. They've got a strong racer's racer demeanor. And I really enjoy that. I like that a lot about the place. I wouldn't say their engineering background or their engineering department is as in-depth as some other teams that I've been with before, but they get the job done. They build nice, clean stuff. They know what they're doing — nutting and bolting is half the project, knowing where you've got to put the nuts and bolts is about the other half of the project, which is engineering. But I feel like we've had a fair shake at it so far. And we're going to continue to work on it and make it better yet.
How busy is it at home with an 8-year-old (Brexton) and 1-year-old (Lennix)?
It's pretty busy. The next two months, I think I have a total of eight nights that I'm going to be sleeping at home. I've got a lot coming on with Brexton racing, me racing, going and doing some testing and some other stuff that we're we've got going on that I'm trying to just go do.
If I talked to you last July, and I said: OK, you're going to be at RCR, you're going to have three wins, you're going to be a fifth in points at the midway part of the season, would you have taken it? I know, you've said it took a pay cut, too. But if I talked to you in July would you've said, "Okay, that's acceptable?"
If you were a fortune-teller, for sure. I would say, 'Yeah, OK I could see myself doing that. That's OK. I'm good with that." I'm glad Austin called and picked up the phone and just reached out to see if there was any opportunity there. And then Richard and I getting together and talking and going through the different options that were available and me being able to get in there. Things always happen in life for a reason. You're never really sure a lot of the times why, but this was just one of those moments of a reset and kind of a new chapter, maybe even a new book. But it's fun to be reading it out right now.
Last year you were saying I don't know if I'm going to race next year?
I didn't. It was [Loudon] weekend last year. I told Jim France, I said, 'Nice knowing you. I'm not going to be here next year.' And so he was like, 'Wait, what? What does that mean?' He then found out. Maybe he had something to do with it [here at RCR], I don't know.
So how many years do you have left?
I don't know. I would really like to run a year of trucks before Brexton is old enough and then turn the truck over to him when he's old enough. But we'll see how all that plays out. Got to have sponsors first.
[Read more: NASCAR Power Rankings: Kyle Busch, Kyle Larson jockey for top spot]
What To Watch For
Martin Truex Jr. swept both of the opening stages last year at New Hampshire Motor Speedway, but Christopher Bell had the best car at the end of the race, passing Chase Elliott with 42 laps to go and never looking back.
All three of those drivers should be strong, but this could be a perilous race.
Several drivers, including Kyle Busch, spun just trying to find the limit of the car and the tire. 
They could have a similar search this year as the tire has changed to wear out more during a run. The tire change is designed to hopefully create a little more passing and reward drivers who can manage their tires the best. This will be the first race with this tire. 
Oh, and there's the potential for rain Sunday. NASCAR has the wet weather tires and would use them to race — not necessarily in the rain but before the track is completely dry.
Thinking Out Loud
The decision of the NASCAR Hall of Fame nominating committee to keep Jimmie Johnson eligible for induction as part of the 2024 class despite his racing a handful of NASCAR events this year is the right and wrong decision.
It's wrong because he isn't retired. A driver who competes in races is not retired. And if the thought is a driver needs to be retired for two years and then put on the ballot in the third year of retirement, he hasn't truly met the parameters since he has raced this year after two years of competing in IndyCar.
But it's the right decision because the nominating committee made the same ruling with Jeff Gordon, who came back and drove when Dale Earnhardt Jr. was out with a concussion. They made the same ruling for Matt Kenseth, who competed in 2020 when Chip Ganassi Racing needed a driver to replace Kyle Larson.
The Hall of Fame needs drivers who are current superstars in order to attract visitors to the shrine. So it makes sense NASCAR would want to get these drivers in as soon as possible. But a driver shouldn't still be planning to do races and get in the Hall of Fame, at least under the eligibility provision on being retired (there is a provision that a driver with 30 years of racing or is 55 years old is eligible).
Social Spotlight
They Said It                                                                       
"I snowboarded my whole career on off-weekends and over the offseason. That, I think takes care of that answer." —Jeff Gordon on whether he is re-evaluating permissible off-the-track activities for Hendrick drivers
Bob Pockrass covers NASCAR for FOX Sports. He has spent decades covering motorsports, including the past 30 Daytona 500s, with stints at ESPN, Sporting News, NASCAR Scene magazine and The (Daytona Beach) News-Journal. Follow him on Twitter @bobpockrass, and sign up for the FOX Sports NASCAR Newsletter with Bob Pockrass.
Top NASCAR stories from FOX Sports:
FOLLOW
Follow your favorites to personalize your FOX Sports experience
---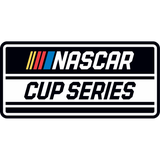 Get more from NASCAR Cup Series
Follow your favorites to get information about games, news and more
---