NASCAR Cup Series
NASCAR Cup Series
Hamlin's fiery exit caps rough day for JGR
Published
Jun. 18, 2012 1:36 a.m. ET

Denny Hamlin's car slid across the grass, and before he could get out, flames began shooting out of it.
Hamlin was fine and the fire was extinguished, but it was that type of day for Joe Gibbs Racing. Hamlin exited the race and finished 34th, just moments after a multicar accident knocked Joey Logano out in 35th. Kyle Busch had engine problems and finished 30th.
Hamlin's car came into contact on lap 134 with Ryan Newman's in a turn, sending Hamlin spinning at the base of the track. He then drove his car to the pits and was forced to stop in Greg Biffle's pit area when the right side burst into flames.
''I've never been in that position before,'' Hamlin said. ''I had seen it with other guys but I've never known what it's actually like. It gets hot.
''I thought for a second there I was OK. It was just in the back and then something exploded in the front and caught on fire. Thankfully we've got everything that we have safety wise. It's just one of those days. I'll be glad to get out of Michigan.''
Hamlin, who started the race from the ninth position, was examined at the track's infield care center and released.
''I thought we had a car that could run in the top three or four at times but just didn't have a great day,'' Hamlin said. ''A fire's not a great way to end it.''
---
BAYNE BOWS OUT: Trevor Bayne had the dubious distinction of being the first driver forced out of the race Sunday.
The 2011 Daytona 500 winner left the track on the seventh lap because of engine problems.
''I didn't even get to break a sweat,'' said Bayne, who was making only his sixth start of the year. ''It seems like nothing like this happens on a day you are running bad. As soon as you have a fast race car and feel like you are in the hunt, something comes up. I feel like we were OK and hanging in there and running top 10, so it is pretty disheartening.''
Bayne said he doesn't think the extra practice time on the track Saturday may have contributed to his problem. NASCAR added the practice to allow drivers to test new left-side tires that were made available to teams earlier in the day.
''Obviously, we would have run a few more laps today if we hadn't practiced yesterday but I don't think that had much to do with it,'' Bayne said. ''I am sure they will get it apart and see what caused it.''
---
HOWARD AS GRAND MARSHAL: Detroit Red Wings goalie Jimmy Howard served as the race grand marshal, along with his father, James Howard II.
Howard said he first became interested in NASCAR while living next door to ''huge NASCAR fans'' in his hometown of Ogdensburg, N.Y.
''They had all the flags, all the bells and whistles, and they'd go to a lot of different tracks,'' he recalled. ''When we were running around in the neighborhood on Sundays, we'd pop through the house. They'd always have the race on. Growing up, my favorite was probably Ricky Rudd.''
Howard was asked which would be tougher - playing goalie in a playoff game or driving a racecar in excess of 200 mph on a hot day?
''I'm going to have to say being in one of these cars,'' Howard said. ''I get scared to death when I get my vehicle up over 80.''
---
---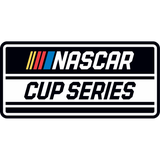 Get more from NASCAR Cup Series
Follow your favorites to get information about games, news and more
---