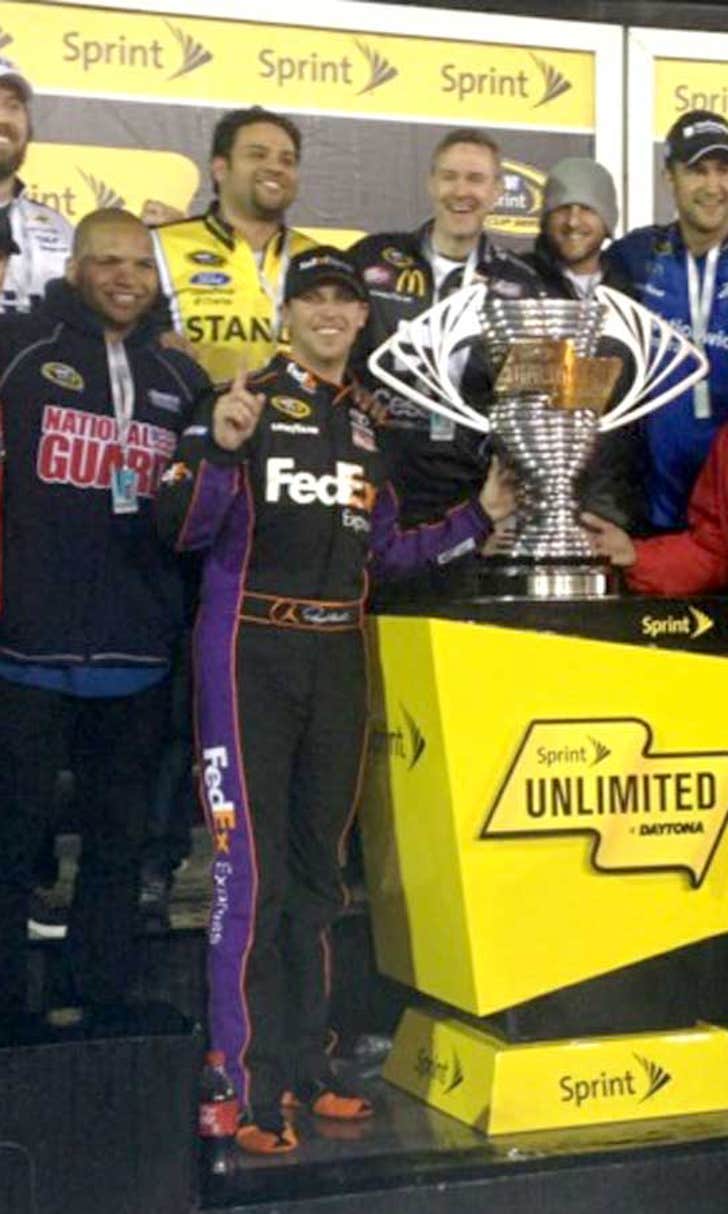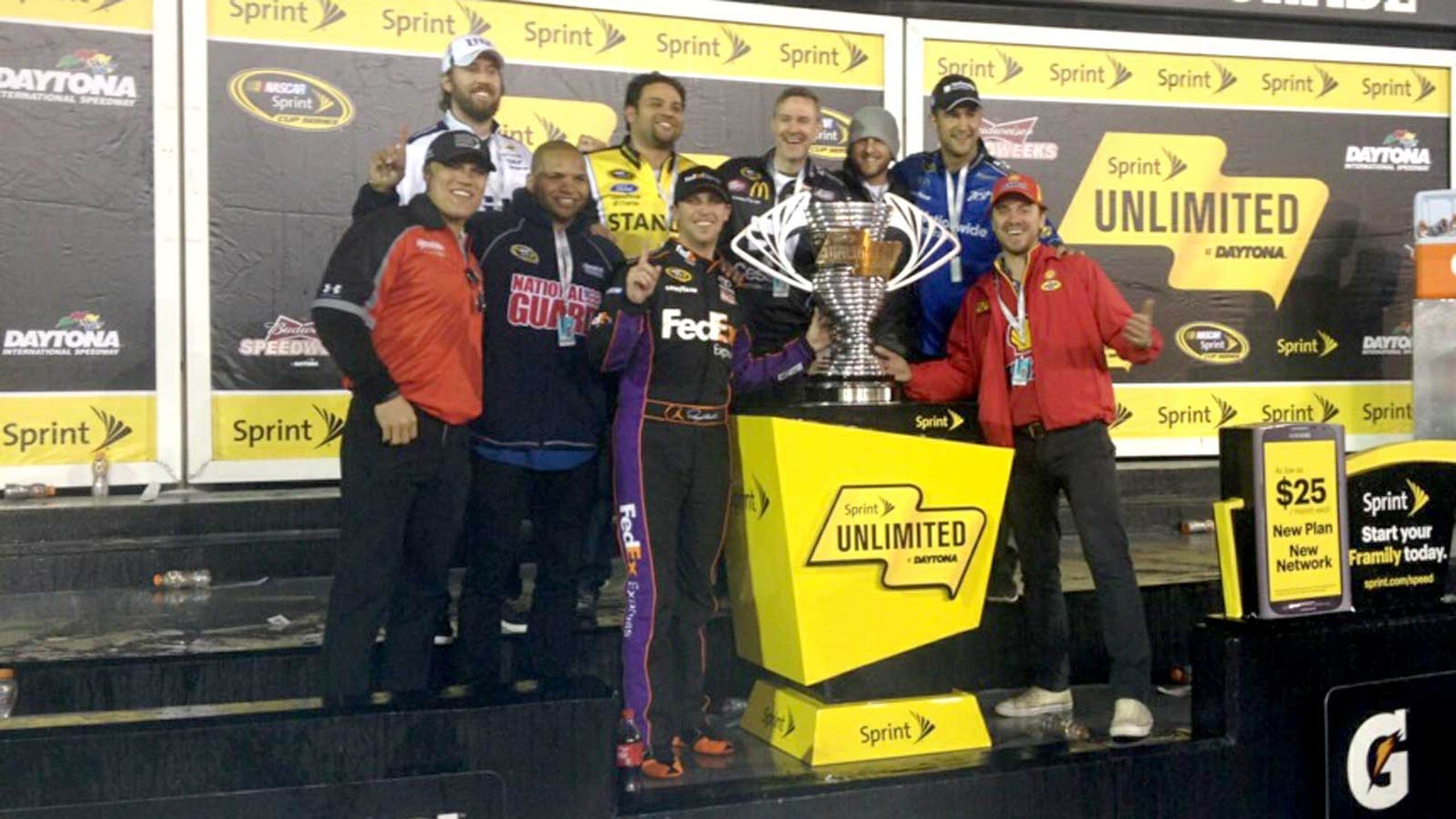 Driving around Daytona offers speed to thrill, plenty of chills
BY foxsports • February 23, 2014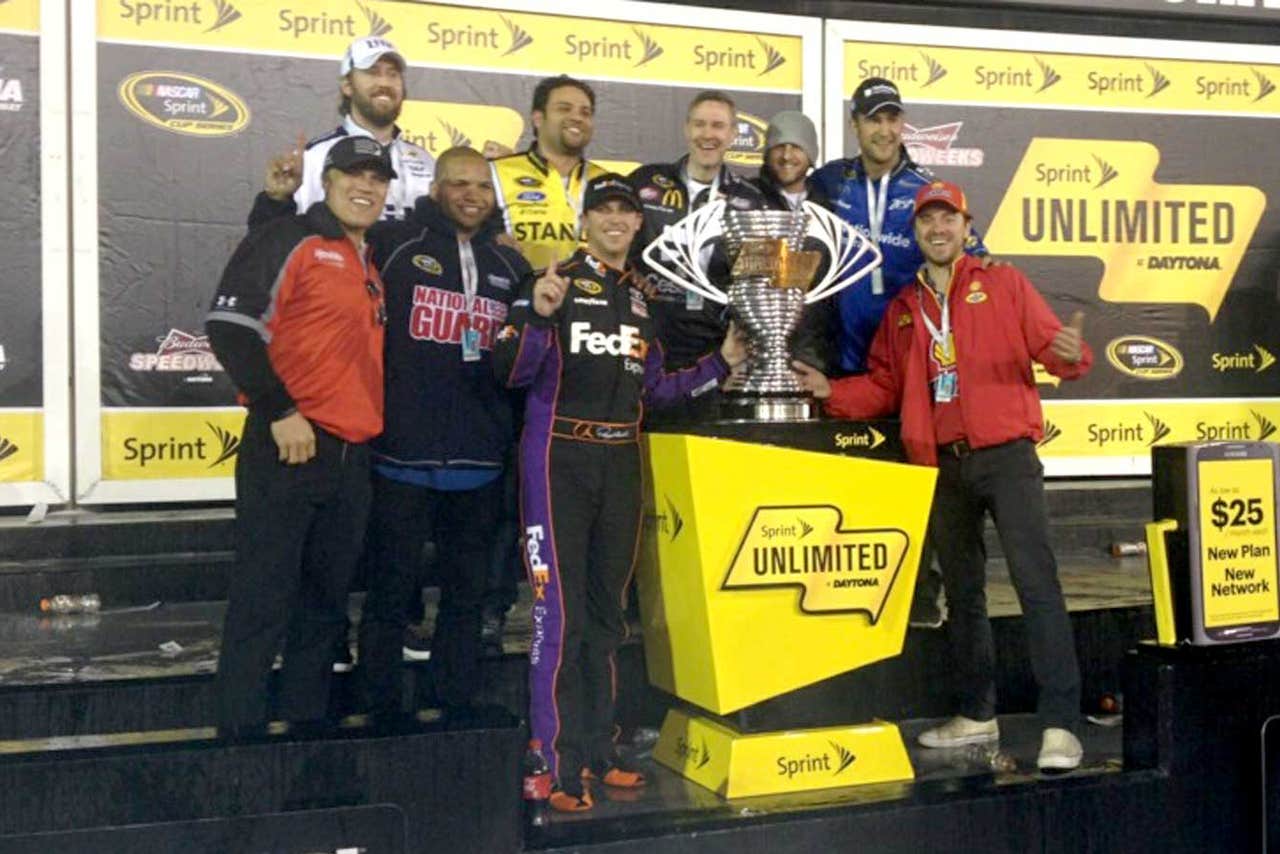 DAYTONA BEACH, Fla. -- As I set my eyes on the 2.5 mile course of the Daytona International Speedway, I had no idea what was in store.
Before I could hit the track and drive, I had to learn the ins and outs about these amazing stock cars.  
At 3,500 lbs, these cars are built for safety and speed, yet I was still going to drive a 600 horsepower machine that tops out at 170 mph.
In the actual Daytona 500, cars have 900 horses at the throttle with a restrictor plate that keeps the car just below 200 mph. Keep in mind these cars are tuned specifically for each race track. At Bristol, Las Vegas or Daytona, the cars will have different top speeds and engineering.
The cars are always tuned to pull to the left, and you have more control to stay on your lines in the turns than the straightaways. Keeping your hands at 10 and 3 on the steering wheel is the best way to control the vehicle. You can't white knuckle it, either. You need to have a relaxed grip on the wheel and trust this fully throttled beast in the turns.
Speaking of the turns, once I was caught up on the basics of the 4-speed, manual stock car, it was time to learn about Daytona.
Turn one is three stories high of asphalt in a 31 degree bank. There is nothing I can compare this to other than a surfer riding in the barrel of a wave. The bank, like the wave, controls you and shoots you out like a rocket. When my professional driver ripped out of pit row and hit turn one it was a sensation I had never experienced. I had never gone that fast in a car before let alone on an embanked turn.
Gravity pulled the car down and into the pavement. Like the contents on a lazy Susan spinning too fast, it felt as if the car was trying to spit me out of the passenger side window. Of course, I had my five-point safety belt on and wasn't going anywhere. Let's say I had never felt that kind of force in my fully tuned, 500 horsepower Porche Cayenne GTS with leather seats and suede headliner.
I was convinced within 10 seconds that I could never drive a NASCAR car like this pro driver did in the Richard Petty Driving Experience. We hit a buck seventy for eight laps. It took a few minutes to go 20 miles. It was an exhilarating experience, but now it was my turn to get into the driver's seat.
I had never been so excited yet nervous at the same time. This isn't the local miniature golf and go kart race track. This was the big leagues, where some of the most skilled athletes in the world execute their craft with 40-plus other cars on the track going 200 mph only inches away from each other.
I was flat-out scared, possibly more scared than I have ever been in my life -- at least for a situation that I had willingly put myself in.
I thought about what Jimmie Johnson had told me as I squeezed into the driver side of the vehicle. "Our sport is much safer than football," the champ said. "We have top of the line safety protection."
I thought to myself I will take my chances on the Sunday grass any day over NASCAR. The technician snapped my HANS device (the equipment that protects the driver's head and neck) in place. I couldn't move much in any direction.
I was now an organic yet most important piece of the vehicle. I let up on the clutch and pressed into the throttle and she took off. I hit turn one at around 100 mph, which felt entirely too fast. I have never hit a curve at that speed before.
The driving coach, sitting in the passenger side of the car, encouraged me to slowly but surely give her more gas while keeping the car in the middle of the track.
It was much easier to center her on the turns. The straightaways were more difficult. I couldn't imagine trying to control the car in any capacity going 200 mph and have cars stacked around me. It takes tremendous precision, stamina and mental focus.
I got the car up to 164.15 mph as I ripped around the turns and whipped into the straighaways. My driving instructor did a great job. We both had microphones in our helmets so we could communicate.
I don't know if you have heard a NASCAR Sprint Cup car, but it sounds like you are standing under a 747 as it approaches the airport. You can't hear jack.
As I lapped Daytona ISP, I trusted the car more and more building speed. Just as I thought I was at the edge of my capabilities, the car drove better and pulled more out of me. And when I say the edge, I literally mean the edge. It was amazingly frightening!
After eight laps, and a few minutes of driving, I was pretty exhausted. It took so much concentration while being overly stimulated it wiped me out. I can see why winning the Daytona 500, the Super Bowl of NASCAR, is such an amazing feat.
I have been playing sports my entire life and eight laps got the best of me. NASCAR drivers are true athletes, though some would argue against it. I say to them: hop in a stock car, do the Richard Petty Driving Experience and you will never see the sport the same again. "To date, over a million Americans have driven our cars," said Joie Chitwood III Daytona ISP president.  
PART II
Having driven a stock car, I know why people are so hooked on the sport. Now, it's time to dive into the some of the nuts and bolts of racing.
NASCAR is comprised of Chevy, Ford and Toyota cars, each car costing around $250K. Then there's labor, engineering and everything else that goes into these cars, which is  a whole lot of TLC. Haulers, which house the cars, cost upward of $2 million each. A whole garage is basically inside each custom-made hauler. There are three cars inside each hauler, two fully assembled -- a primary and backup -- and one fully disassembled vehicle in spare parts. Haulers are a traveling circus with a full-time driver marching through 32 cities over the course of the 36-race season. There are also a handful of non-point races.
One of the most fascinating, behind-the-scene stories about NASCAR is that former football players, yes some Division 1 athletes -- make up part of the pit crews.
NASCAR teams, such as Hendrick Motor Sports, recruit these guys out of college. Hendrick has more than 500 employees and a huge campus, where they hold their pit crew combine. They have a full training facility with a weight room, yoga room, sand pits, turf field, hot/cold tubs and functional training. Just like MLB, NBA and the NFL they have a training room with a full-time strength and conditioning coach, physical therapist, head trainer and staff to keep the athletes healthy and in tip-top shape to perform their best.
I ran into one of my former teammates from the Miami Dolphins, TE Nate Bollig, who is the jack man for Denny Hamlin's pit crew.
Denny won the Sprint Unlimited last weekend when I was in Daytona. A fun, interactive race where the fans get to pick the racing format.  Nate loves being on the pit crew, "Its a physical job and I still get to compete on Sundays just like I did when i was in the NFL," he told me.
NASCAR is always evolving. The game is continually getting safer and performance is constantly increasing. There is no sport more tied into technology than NASCAR. There are so many nuances it is mind-boggling. Tim the tool man Taylor, pit chief from  BKracing, said, "We evolve with technology that's why we have PhDs in aeronautical science and aerodynamics on our team. It's not a good ole boy sport any longer."
From the garages to the tracks, NASCAR understands that it needs to appeal to a wider audience. With a strong presence in the South, NASCAR is extremely lucrative. Capturing an audience beyond the South means larger profit margins. In the meantime, gourmet foods at the race track, plenty of fan interaction with the drivers and their teams, wifi and open radio channels,NASCAR is one of the most fan friendly and transparent sports I have witnessed.
Daytona Rising is a complete retrofit of Daytona ISP. It is a $400 million facelift. The 2.5 year project is adding more than 40 million pounds of steel to the track's current infrastructure to transform it into a year-round entertainment stadium that can host not only motorsports, but also college football, soccer friendlies and more. Luxury boxes are going in as well as building the stands higher. Contrary to most other sports the nosebleeds in NASCAR are the best seats in the house. These seats can fetch upward of $600 a ticket.
NASCAR has turned me into a fan. I got to sit in with Dale Earnhardt Jr and his 88 team as well as Johnson and the 48 team. Jimmie and Dale Jr, and crew chiefs Steve Letarte and Chad Knaus welcomed me into their team. I got to spend time with both drivers and checked out their haulers. Come race time for the Sprint Unlimited, I was front and center with both Steve and Chad, jumping back and forth from their respective perches in the pit box.
What a rush!
---
---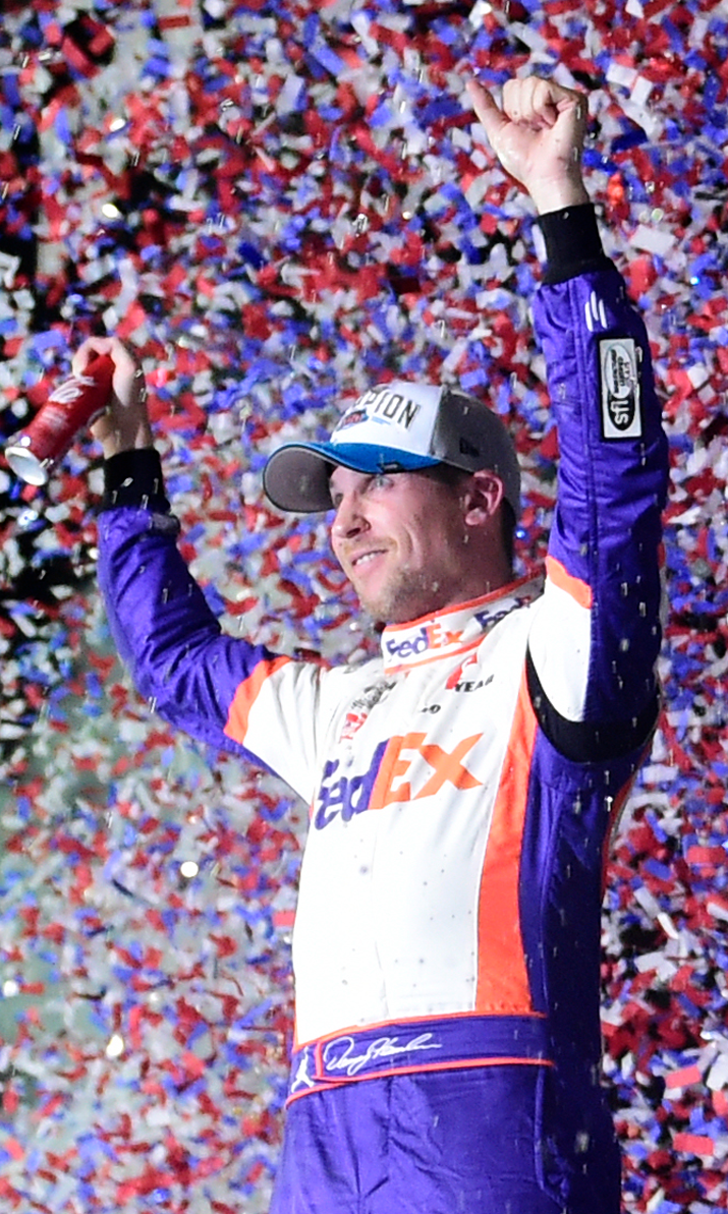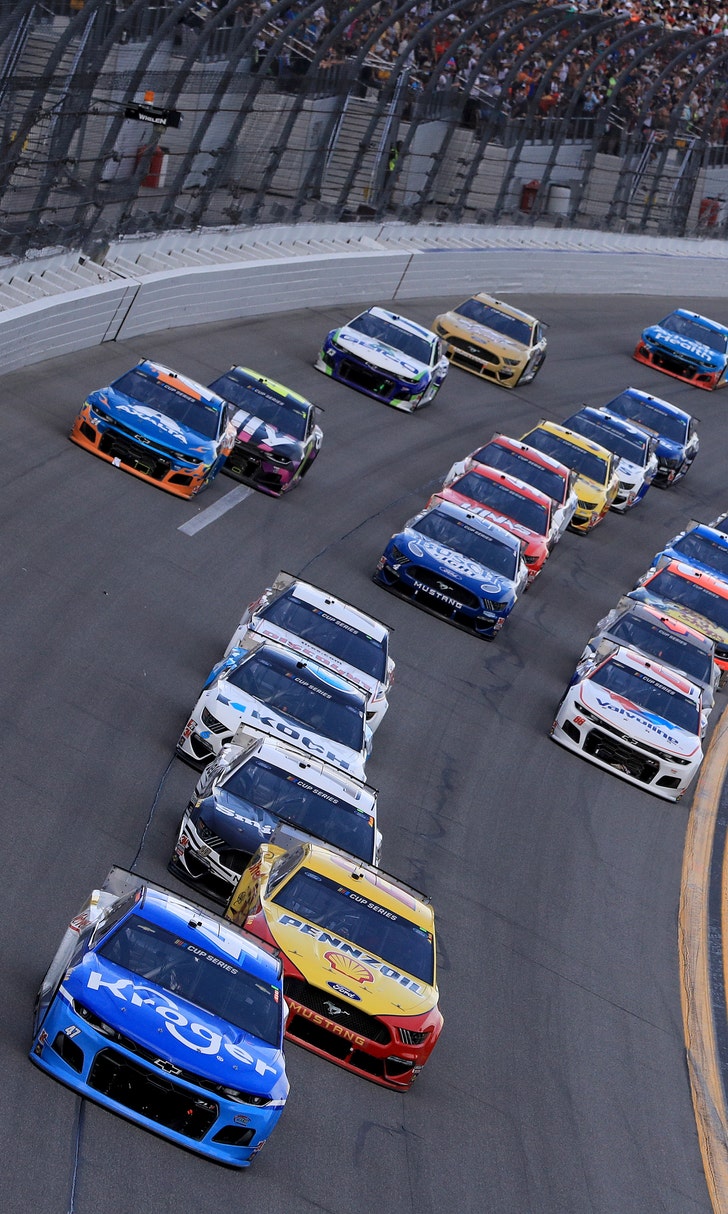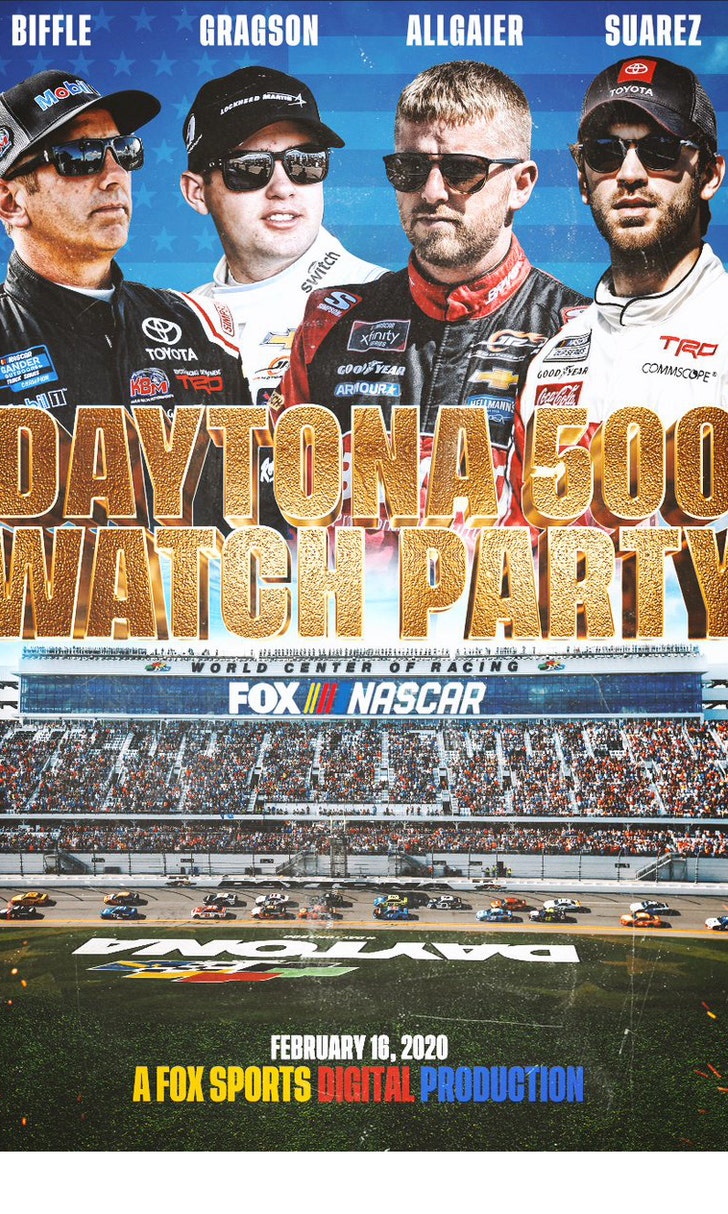 The Daytona 500 Watch Party!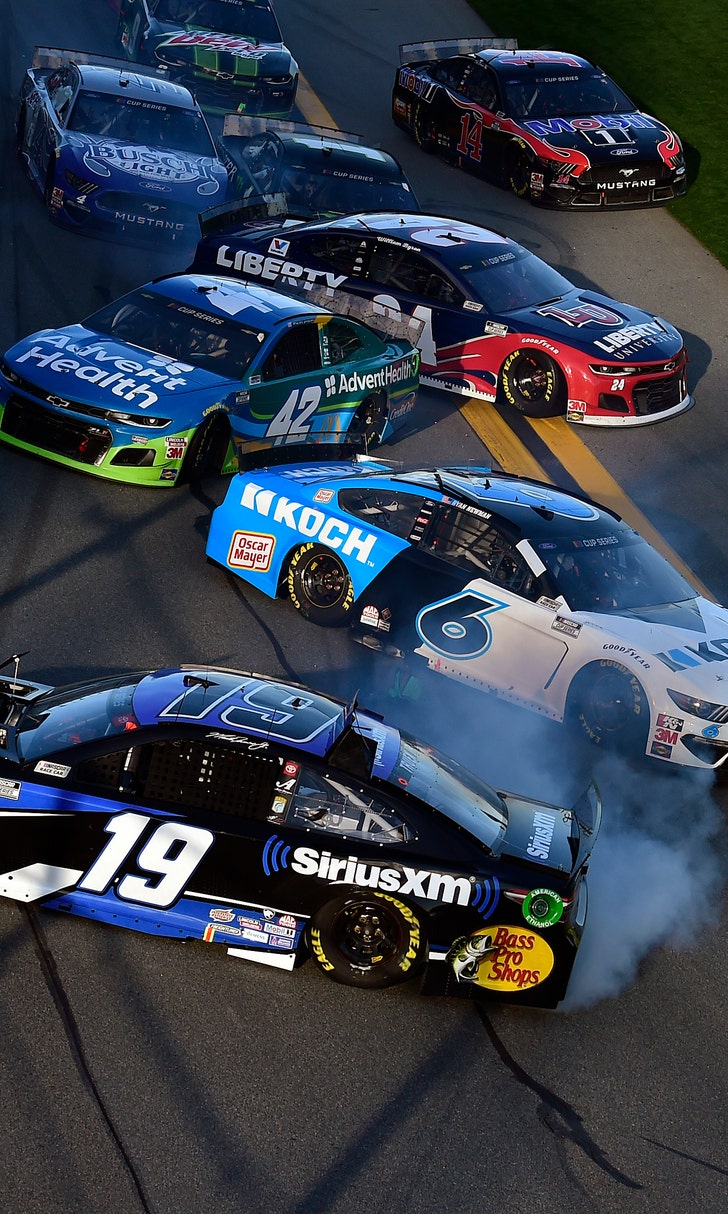 The Numbers Game At Daytona