NASCAR Cup Series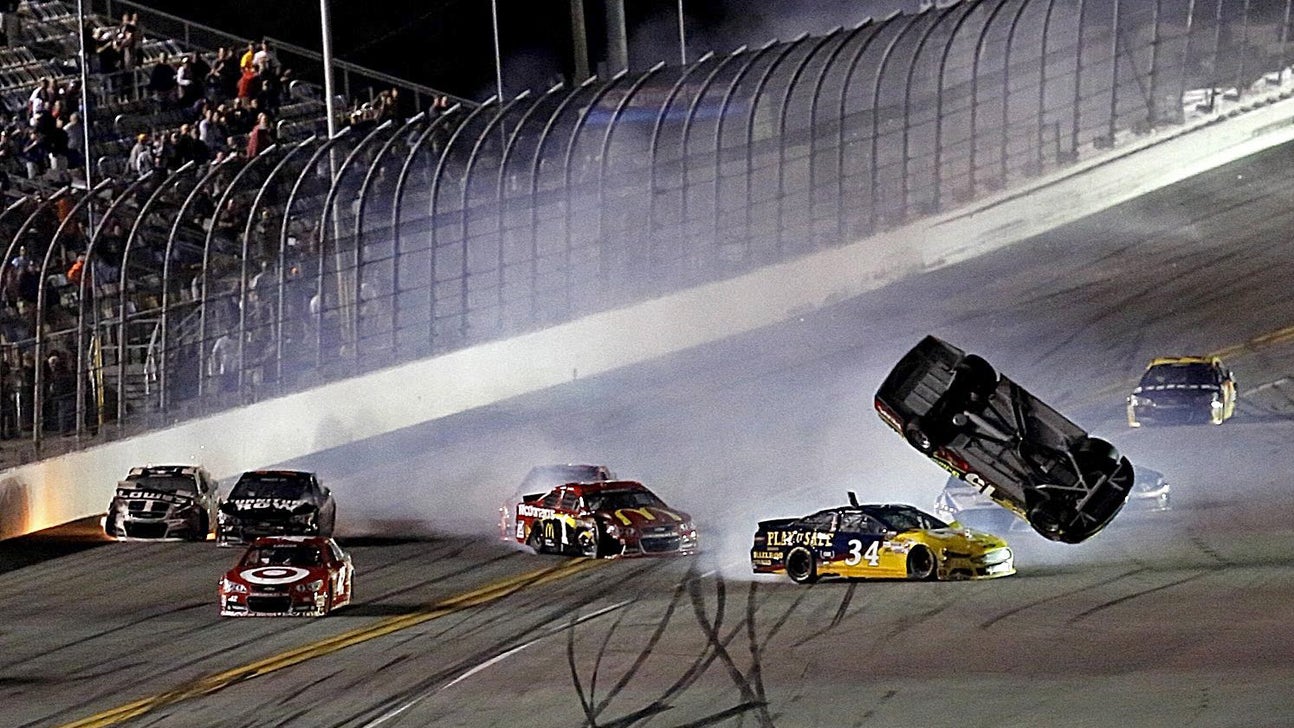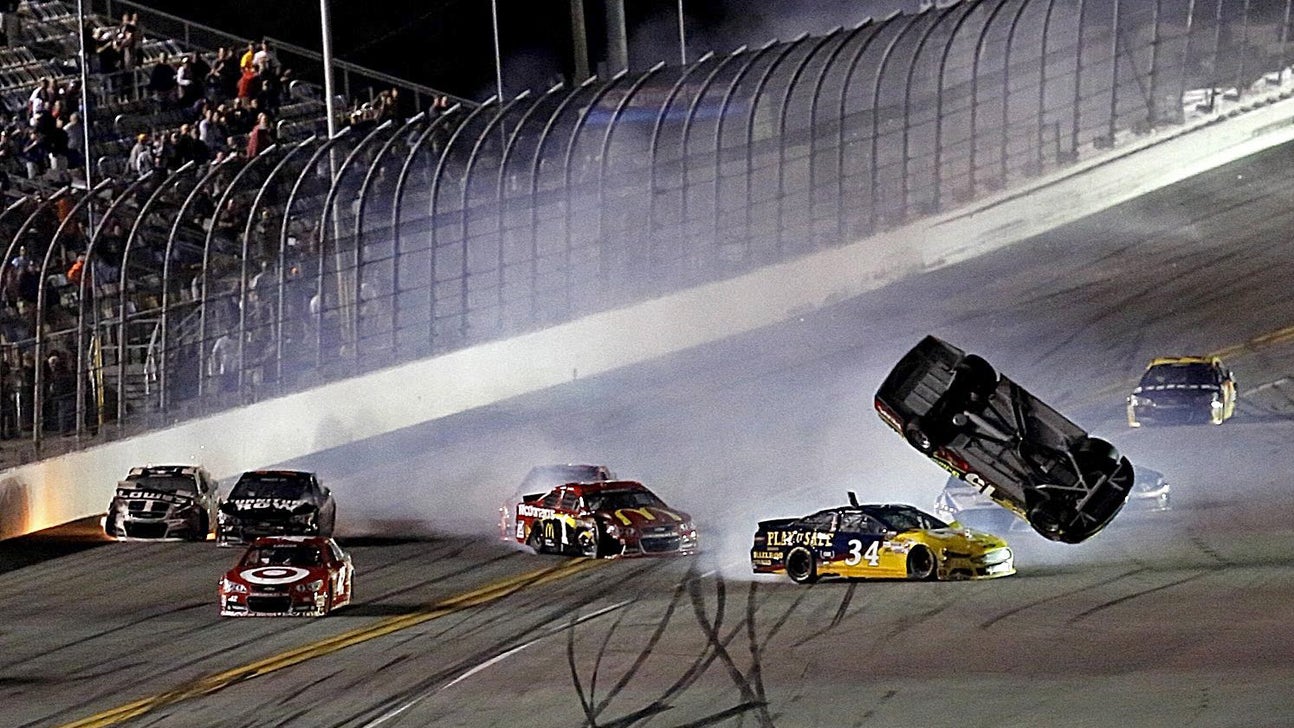 NASCAR Cup Series
Denny Hamlin grabs win in wild finish to second Duel
Published
Feb. 20, 2014 9:45 p.m. ET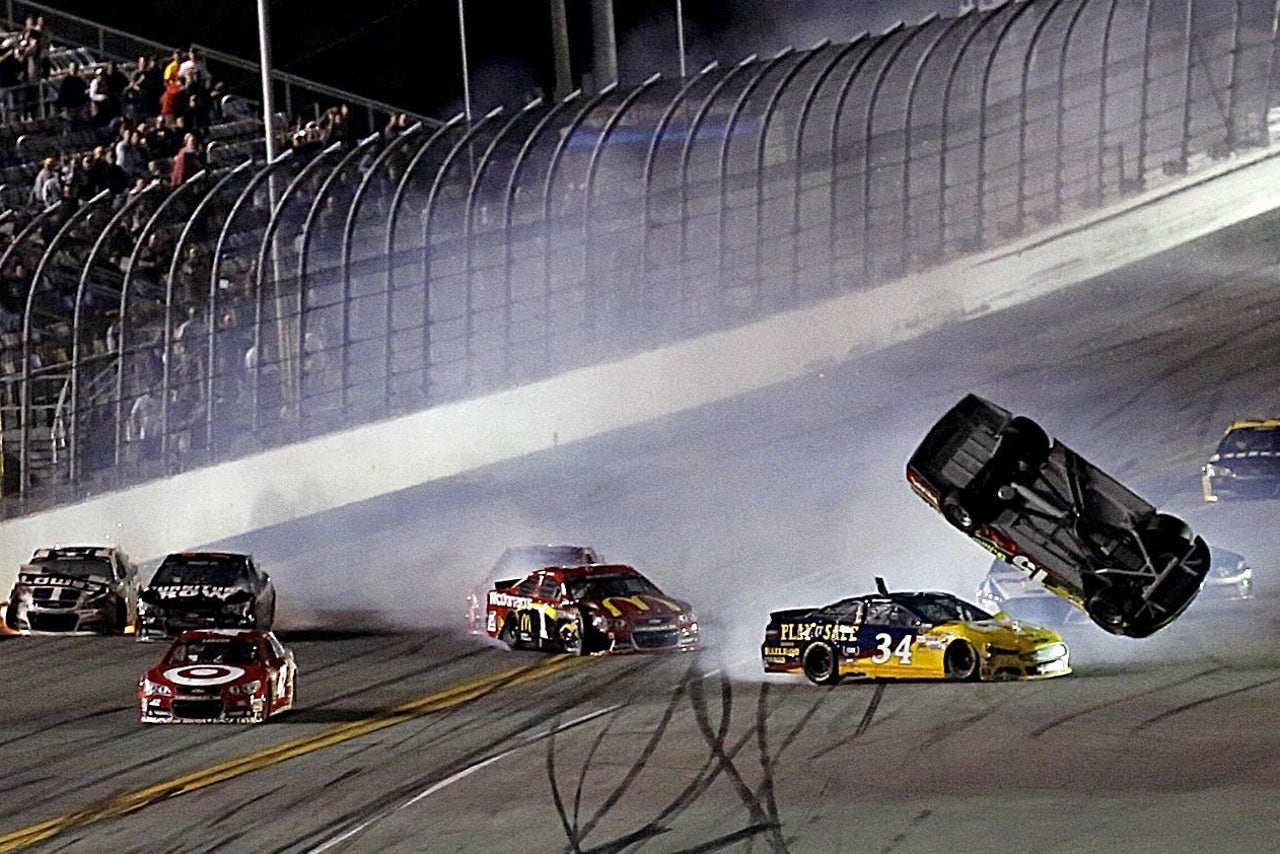 Denny Hamlin kept his hot streak going, as he captured the second of two Budweiser Duel 150 Daytona 500 qualifying races Thursday night at Daytona International Speedway. It was the third consecutive race victory for Hamlin, dating back to the 2013 NASCAR Sprint Cup season finale at Homestead-Miami Speedway.
The race was marred by a huge last-lap crash that collected nine cars, including six-time NASCAR Sprint Cup Jimmie Johnson, Duel pole-sitter Martin Truex Jr., and Clint Bower, his No. 15 going airborne and doing a barrel roll before landing on its wheels.
Check out the wild finish below, which was triggered when Johnson ran out of gas.
There were no serious injuries, but Johnson, Bowyer, Martin Truex Jr., Jamie McMurray and a handful of others destroyed their cars and will go to backups, meaning they will start the Daytona 500 at the back of the field.
For Truex, who earned the No. 2 starting spot in the Daytona 500 in last Sunday's qualifying, the damage is most severe — not only for his car, but for his positioning. A clean Duel and he starts in the front row on Sunday. Instead, it will be Hamlin or Matt Kenseth (the Duel 1 winner) who will start alongside pole winner Austin Dillon in the 500.
"Hindsight is 20/20. Yeah, we should have parked the damn thing," Truex told NASCAR.com. "But we're out here to race. That's what we do. [Crew chief] Todd [Berrier] said we're here to race, and something bad happens, we've got a backup that's just as good. We'll be fine. It doesn't matter where we start here, anyway. The biggest thing is, I feel bad for the guys that built the race car and put all the effort into building a front-row race car, and us not being able to use it on Sunday. That's the worst part."
The incident began in Turn 4 when Johnson ran out of gas on the last lap and slowed. McMurray then hit Johnson and turned the No. 48 into the wall. From there, it was chaos as cars piled up behind them and Bowyer went airborne.
"It's too bad to tear cars up like that," said Bowyer. "That was one of the wildest flips I've ever had. I think we would have been just fine if I hadn't hit the grass right here. Dammit!"
For Hamlin, the victory gave him a sweep of both last week's Sprint Unlimited and Thursday night's Duel. And with Matt Kenseth winning the first Duel, Joe Gibbs Racing has now won all three NASCAR Sprint Cup races in this year's Daytona Speedweeks.
As a result, JGR will be a prohibitive favorite to win its first Daytona 500 since Dale Jarrett's memorable victory in 1993.
"What I was most worried about is obviously when you have such a strong car like you have on Saturday night that we had in the Unlimited, you get a little bit spoiled and you worry about what you're going to have for the 500," said Hamlin. "But obviously this right here shows that we've got some great speed and a car capable of winning the Daytona 500."
"We're hungry," said team owner Joe Gibbs.
"Starving," added Hamlin.
The race began uneventfully.
Truex, who qualified second for the Daytona 500, started on the pole for the second Duel in his Furniture Row Racing Chevrolet. But he led only one lap before Brad Keselowski put his Penske Racing Ford out front.
Keselowski dominated the early going. Once he passed Truex, the 2012 Sprint Cup champion stayed out front throughout the first half of the race. At the halfway point, Keselowski led Carl Edwards, Jeff Gordon, Brian Scott and Kurt Busch.
For most of the first half of the race, it was a single-file affair, the drivers clinging to the high line.
Keselowski pitted from the lead on Lap 37, bringing most of the field with him. But Keselowski was too fast on pit road and had to serve a pass-through penalty.
That gave the lead to Hamlin, who would not surrender it the rest of the night.
Things quickly got worse for Keselowski, who slid his tires on his stop-and-go penalty, which led to a flat tire after he pulled out of the pits. So after leading 34 laps, his chances of victory were ended for good.
Out front, Hamlin led Busch, Gordon and Johnson, with a freight train of Chevrolets behind him with 15 laps to go.
The last-lap wreck brought out the caution, which then froze the field. Brothers Terry & Bobby Labonte both past series champions, avoided the carnage and raced their way into the 500. After Hamlin came Gordon, Kurt Busch, Paul Menard and Scott to round out the top five.
Five drivers failed to qualify for the Daytona 500: Eric McClure, Joe Nemechek, Morgan Shepherd, Michael McDowell and Ryan Truex (Martin's brother).
—NASCAR.com contributed to this report
---
---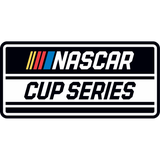 Get more from NASCAR Cup Series
Follow your favorites to get information about games, news and more
---