Allmendinger turns in top Martinsville run
April 2, 2012

AJ Allmendinger calmed his critics with a career-best second-place finish on Sunday at Martinsville Speedway.
Since securing the NASCAR Sprint Cup ride of a lifetime with Penske Racing for 2012, the 30-year-old racer had yet to live up to the preseason hype – especially after winning the Rolex 24 sports car race at Daytona International Speedway in January.
For pundits, there were no excuses. Allmendinger was supported by a team with Chase for the Sprint Cup potential. However, the early results simply weren't there.
Yes, Allmendinger was disappointed, perhaps even angry at times. But throughout the challenges that marred his No. 22 Shell team's results, there was continual support behind the scenes from those that mattered – including one of Allmendinger's childhood heroes, team owner Roger Penske.
Not surprisingly, Allmendinger's frustration surfaced at Bristol Motor Speedway, where he qualified second and led 54 laps before a piece of his suspension broke and affected the No. 22 Dodge's handling. The incident came a week after a fuel-pump issue relegated Allmendinger to a 37th-place finish. Despite the problems at Bristol, the team recovered with a 17th-place finish. In the rain-shortened Auto Club Speedway race the following week, Allmendinger broke through with his first top-15 result for the season.
At Martinsville this past weekend, Allmendinger felt puny throughout the weekend and his lap times were reflective of his condition. Sunday morning he went to the Martinsville Infield Care Center searching for relief from flu-like symptoms and received a prerace shot – "the most painful thing I've ever felt," Allmendinger said.
He started the Goody's 500 in 27th, but the team rallied around him. Two hundred laps in, the No. 22 Dodge was 16th. Following 40 additional circuits, AJ was 12th and running one lap down. He received the free pass 14 laps later and returned to the lead lap.
By the next restart on Lap 270, Allmendinger was in the top 10. As his car's handling tightened over the next 100 laps, Allmendinger reported he brushed the wall. But crew chief Todd Gordon continued to make adjustments while the driver remained in contention for a solid finish.
And when the smoke cleared after the first attempt at a green-white-checkered finish took out frontrunners Jeff Gordon, Jimmie Johnson and Clint Bowyer, Allmendinger and Ryan Newman were prepared to contend for the win.
The pair raced clean to the checkers. There was no way that Allmendinger wanted his first victory marred by being "that guy" that went after the cheap win by wrecking Newman – or both cars – at the finish.
"Sure the finish was exciting, but I was more happy with how we ran all day because we sucked all weekend," Allmendinger said. "I felt like we were legitimate fifth- to sixth-place cars on long runs. We struggled on short runs. But I was happier with how we ran than where we finished.
"Todd went to work to come up with some ideas from what I ran last year. It wasn't great. It wasn't perfect, but it was better than what we had. We just needed that first good race where nothing went wrong. Heck, if I finished eighth, I was going to be happy because that's where we ran. I'm hoping it gives us the direction we need to take us through the rest of the season."
Yes, this is Allmendinger's sixth season on the Sprint Cup tour. But for a driver who has endured seven crew chiefs during that period and perhaps wasn't given the proper skill set as he transitioned from open wheel to stock cars, Penske Racing could provide a nurturing environment where Allmendinger can thrive.
But it will take patience – from the team and the driver.
Let's not forget how unremarkable Brad Keselowski's first season was at Penske Racing. Keselowski didn't score a top five in 2010 and suffered through five DNFs. The following May, after winning a Nationwide Series title and experiencing a crew chief change, Keselowski turned the corner after return visits to tracks with Paul Wolfe.
And with persistence – and patience – Allmendinger will break through, too. He and Gordon just need to establish a platform to build their program upon. Certainly, upcoming tire tests at Dover and Pocono will help solidify their relationship.
"Ultimately, to have a team behind you and Roger, it's nice to have," Allmendinger said. "The organization has been so supportive. I've put more pressure on myself to run up front because that's what everyone is used to on that team. They're definitely more patient than I am.
"But I think everyone knows how hard we're working to get there and that's what really matters."
Here are 10 other things to watch after a wild weekend of racing at Martinsville Speedway:
1. Hendrick (engines) win
If it weren't for Stewart-Haas Racing winning half of the season's first six races, this might be considered a slow start for Hendrick Motorsports. At least these cars have speed, which is evidenced by Tony Stewart and Ryan Newman's wins and the 443 laps led by three HMS drivers on Sunday. But it was clear the bossman was disgusted after race leaders Jeff Gordon and Jimmie Johnson were dumped on the penultimate restart at Martinsville. There's no doubt that the Hendrick cars were the class of the field. However, the caps feting Hendrick's 200th win will have to be dusted off for the next race.
2. Hendrick's consolation prize
Dale Earnhardt Jr., NASCAR's Most Popular Driver, is six points behind Greg Biffle in the points standings. And Sunday's third-place finish at Martinsville was no fluke. Not only did Junior post his third top-five of the season and his fourth top-10 overall, he's completed every circuit, led 75 laps (23 more than last year) and has not dropped outside of the top five in points all season long. Junior has been stout at Martinsville, with 14 top 10s in 25 starts including finishes of seventh or better in his last four starts. Following his postrace duties, Earnhardt didn't rush off to the helicopter pad. He rejoined his No. 88 team and thanked the men for their effort. Yes, it's been 135 races since Earnhardt's last win. But there's no doubt this team is moving forward together.
3. The newcomer
Kasey Kahne's arrival at Hendrick Motorsports was heralded as one of the best acquisitions coming into the season. And while Kahne and his crew seemed to fit the HMS mold from the get go, the team's misfortune so far has been rampant. "I am upset we haven't run great this year, but we are great on Friday and Saturday, we were fast again (Sunday), and we have the speed, so when it's our time we will be ready to take advantage of it," said Kahne following his second DNF of the season. Yes, the speed is there. Kahne has two poles in six races and an average start of 7.8, but just one finish in the top 15. Kahne will surely welcome a week off to regroup and come back fighting at Texas Motor Speedway. No one in the Hendrick camp, including Kahne, can be pleased with the No. 5 team sitting 31st in the points standings.
4. Be careful of the quiet ones
Don't look now, but Matt Kenseth has jumped from sixth in the points standings into a three-way tie for third – 12 points behind Greg Biffle. No, it's no surprise as solid as the No. 17 team was leading up to the race at Martinsville last year that Kenseth would pick up where he left off on the half-mile track. However, Kenseth led the Ford contingent with his fourth-place finish on Sunday. He's led laps in five of six races. Plus, he strategically avoided Brian Vickers this time.
5. The Quiet Ones II
Martin Truex Jr. continues to maintain his presence among the top 10 by delivering solid finishes each week – including his second top-five finish at Martinsville Speedway and for the season on Sunday. Truex hasn't shown this much consistency since his tenure at Dale Earnhardt Inc. in 2007, the same year he won his one and only Cup race. Yes, his buddy Dale Jr. has experienced a sizeable drought, but Truex's winless streak is 173 and counting.
6. SHR - Hendrick Lite?
Hardly. This organization has won half of this year's races and seven of the last 10. And oh, by the way, Stewart's the last victor at Texas Motor Speedway, site of the next race. Again, Stewart-Haas Racing shows no signs of slowing down and, after salvaging a seventh-place finish on Sunday, the defending champ sits comfortably third in points. And as Newman remarked, he has happy to contribute his share to the win total as well. Considering this is a contract year, the victory couldn't have come at a better time for Newman.
7. What's the point?
David Reutimann desperately tried to salvage a finish that would enable the No. 10 Tommy Baldwin Racing Chevrolet to maintain a presence within the top 35 in the owners points standings. Ultimately, his effort changed the course of Sunday's outcome when his dilapidated vehicle stalled on the frontstretch with three laps remaining in the race. Of course, that was never the veteran's intention. However, the safety of all competitors is the reason NASCAR officials wave a black flag at a car, particularly when the driver is not maintaining a cautious pace. In this case, Reutimann's determination may prove more costly than simply dropping out of the top 35.
8. And then there were three
Richard Childress Racing is selling the No. 33 team's points to Joe Falk, who will field a car at Texas Motor Speedway in two weeks. While RCR's truck effort was stellar, the Cup results fell short on Sunday at Martinsville. This organization always appears stronger fielding just three teams at the Cup level. The downsizing could not have come at a better time, considering Kevin Harvick, the defending Martinsville winner, finished 19th, two laps off the pace. At least Jeff Burton, who finished 22nd, was running with a sour engine.
9. Another shot
Brian Vickers' Bristol audition and fifth-place finish earned the driver two additional starts from Michael Waltrip Racing. Vickers will pilot the No. 55 Toyota on the road-course circuits this summer. Waltrip credited Vickers' chemistry with the team for tipping the scales. Still, given the level of talent among road racers, the choice is curious considering that Vickers' average finish at Infineon Raceway and Watkins Glen is 22.7 and 20.3, respectively.
10. A fitting finish
While it's hard to believe that Alan Kulwicki passed away 19 years ago Sunday, his NASCAR legacy lives on through the people he touched in the garage. Among them, winning crew chief Tony Gibson, a member of AKR's 1992 championship team. Gibson honored his former boss, driver and friend after Ryan Newman's Martinsville win. "It's a lot of the reason I'm where I'm at is because of Alan," Gibson said. "You know, the fight to never give up, and always believe in yourself comes from him, too."
---
---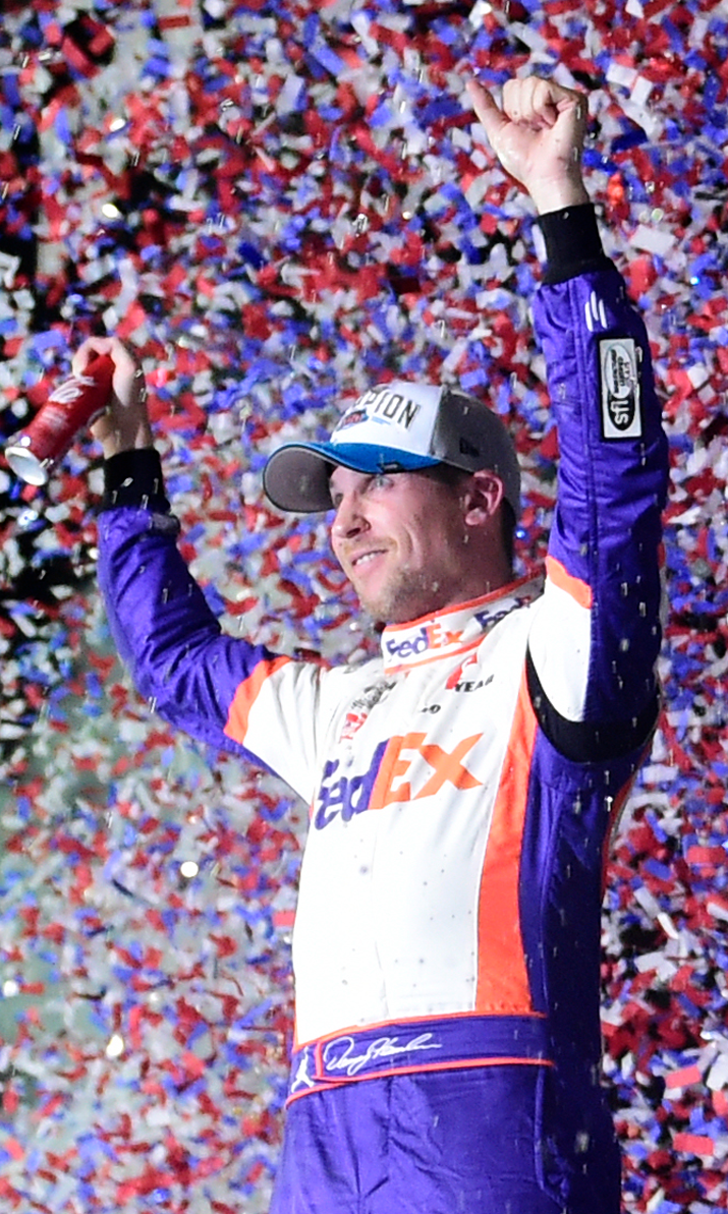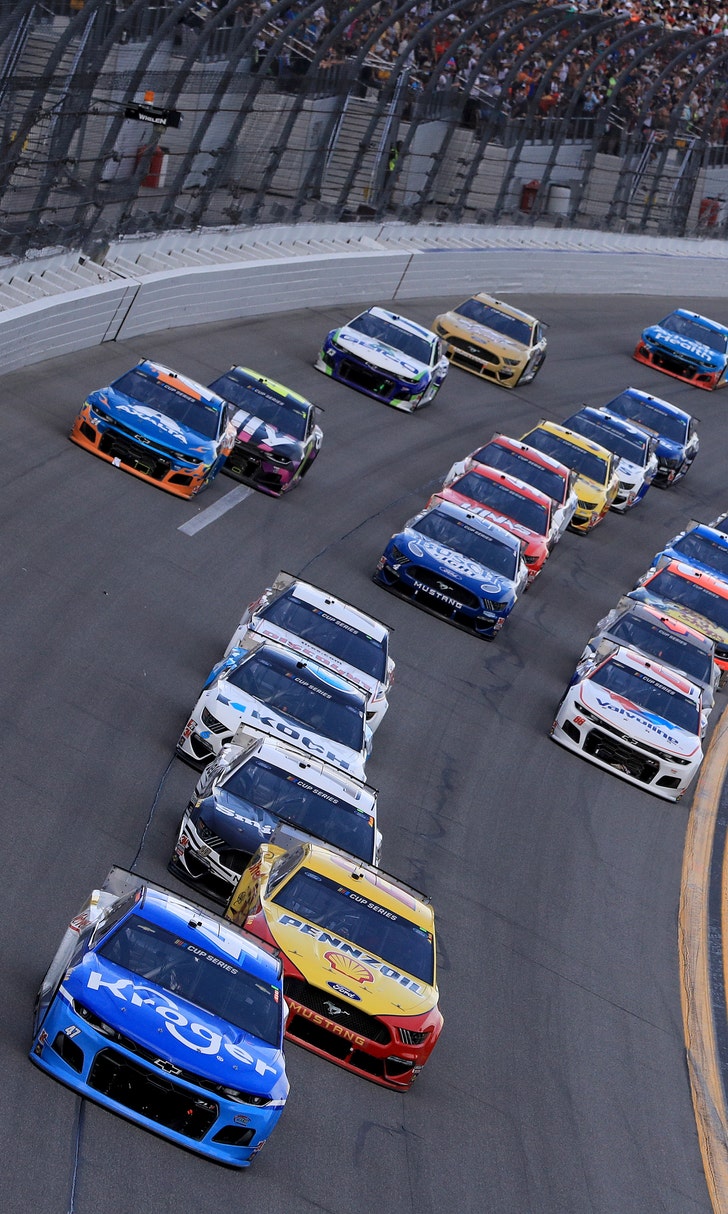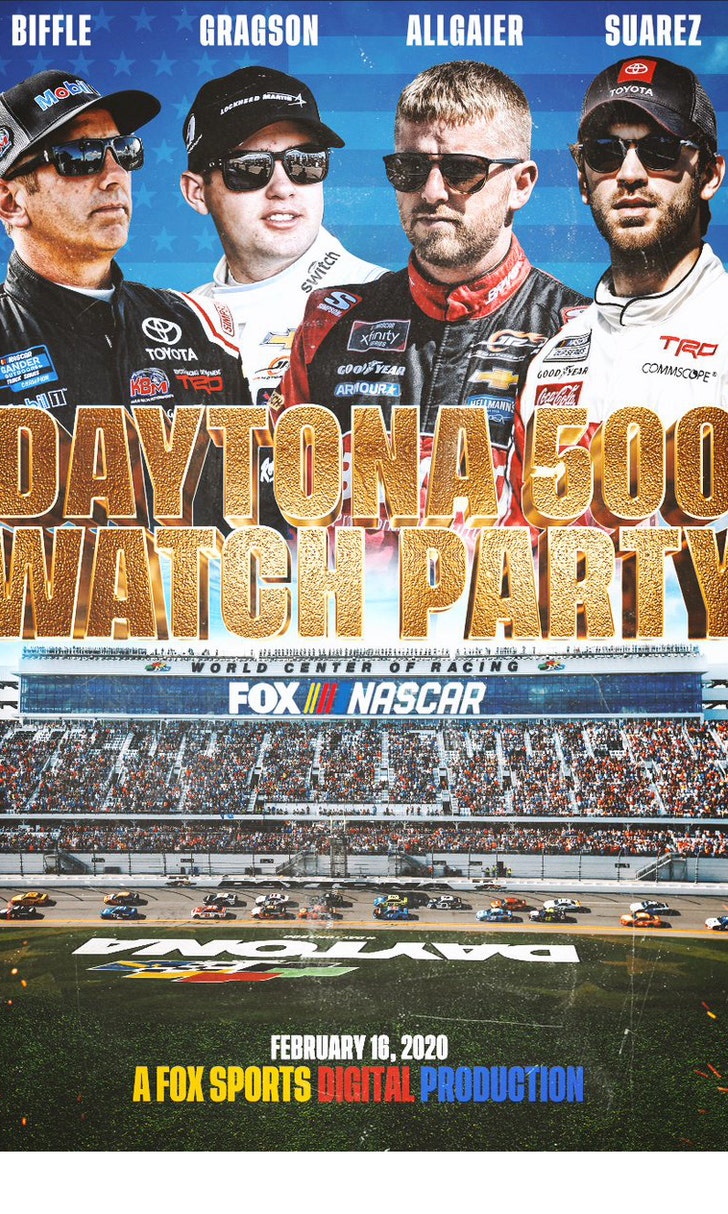 The Daytona 500 Watch Party!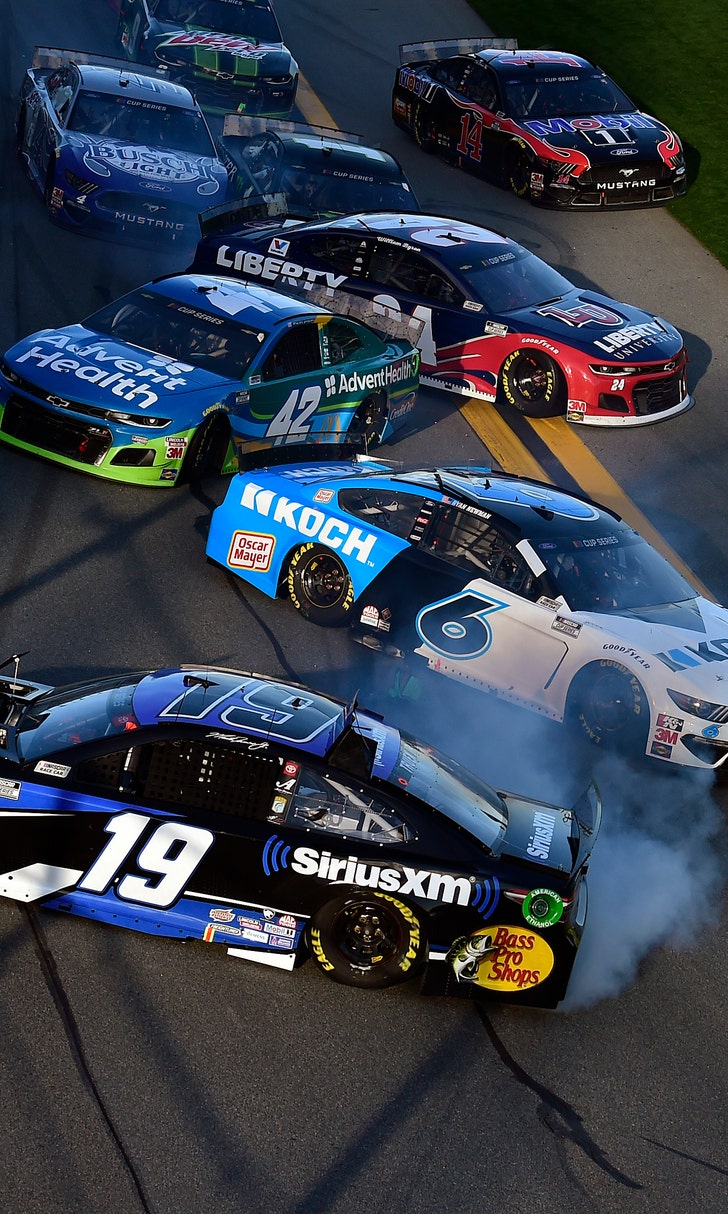 The Numbers Game At Daytona