NASCAR Cup Series
NASCAR Cup Series
Danica Patrick stays with SHR; new sponsor Nature's Bakery
Published
Aug. 18, 2015 11:05 a.m. ET

Danica Patrick's fit and healthy lifestyle has landed her a new sponsor that allows her to stay with Stewart-Haas Racing.
SHR announced a deal Tuesday that makes Nature's Bakery the primary sponsor of Patrick's No. 10 Chevrolet beginning next season. The Nevada-based food brand replaces Patrick's longtime sponsor, GoDaddy. Nature's Bakery will place its signature tagline, ''Energy for Life's Great Journeys,'' on Patrick's car for 28 of the 38 Sprint Cup events.
''Our brands align so perfectly, it's amazing,'' said Patrick, who admitted she ate a Nature's Bakery gluten-free fig bar before the announcement at SHR's race shop in Kannapolis, North Carolina.
Company founder Dave Marson said Patrick, one of the most recognizable athletes in the world with crossover appeal in sports and entertainment, fits the Nature's Bakery brand.
''All you need to say is `Danica' and people know exactly who you're talking about,'' Marson said. ''She has immersed herself and succeeded in a very intense sport and been recognized for her efforts.''
Much of Patrick's marketability was built during a long partnership with GoDaddy that began in 2007. The Internet domain giant - which tweeted its congratulations to Patrick, Stewart-Haas Racing and Nature's Bakery on the partnership - has been her main backer since the 2010 IndyCar season when she was with Andretti Autosport, and it followed her to NASCAR.
But the company said in April that this third Sprint Cup season with Patrick would be its last in NASCAR, which forced Patrick to worry about funding her racing career for the first time in probably a dozen years.
GoDaddy's sponsorship agreement was in line with Patrick's contract with SHR, and both deals ran only through the 2015 season. The loss of funding meant SHR needed a replacement sponsor in order to keep Patrick, who could also have tried to sign with another Cup team.
She wanted to remain at SHR, with co-owner Tony Stewart, reigning Sprint Cup champion Kevin Harvick and Kurt Busch, and seemed confident that her marketability and appeal to such a wide audience would help land a sponsor that fit her own brand. She said ''nope'' Tuesday when asked if she even spoke to other NASCAR organizations.
''I was really fortunate that I didn't have to, this is where I wanted to be,'' she said. ''I really feel like family here, and this is where I want to be, and I really am fortunate that I didn't have to look anywhere else.''
Patrick said representing Nature's Bakery, a company new to NASCAR, is ''a great deal of responsibility.''
''They have ambitious goals and they're going to rely on me and everyone at Stewart-Haas Racing to deliver,'' she said. ''I have ambitious goals, too. It's why I came to NASCAR and, specifically, to Stewart-Haas Racing. There's still a lot I want to achieve in this sport and I'm looking to continue my professional journey with a brand as determined as I am.''
Patrick has 105 starts at NASCAR's top level, with six career top-10 finishes. She won the pole for the Daytona 500 in 2013, and is currently a career-best 21st in the standings.
She's twice led laps in the Indianapolis 500, finished a career-best third in that race in 2011 and won her only IndyCar race in 2008, in Japan.
''Danica has proven she belongs in the NASCAR Sprint Cup Series and we're very happy to have her a part of our team for years to come,'' said Stewart. ''Nature's Bakery is a natural fit with Danica. She has played an important role in the growth of all the businesses associated with her and our growth as a race team.''
Nature's Bakery was founded in 2010 by the father-and-son duo of Dave and Sam Marson. Its deal with Patrick means no more neon green paint for her No. 10.
''I feel like that's a really good color for me, it's going to be really good for my complexion,'' Patrick said of her new blue-and-white Chevrolet.
Nature's Bakery will become one of the smallest primary sponsors in NASCAR, with fewer than 500 employees in the United States. Marson said the company's products are in all 50 states and 22 countries, and he considers Nature's Bakery'' a global brand.
Moving its marketing into NASCAR was his son's vision, and the company was familiar with SHR because it uses co-owner Gene Haas' CNC machines to make its products.
''We think Stewart-Haas Racing and Danica for believing in us because we had a dream and we believe we are the up-and-coming Fortune 500 company,'' Marson said. ''We are a normal American company that is living the American dream.''
---
---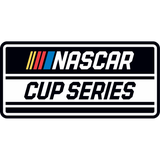 Get more from NASCAR Cup Series
Follow your favorites to get information about games, news and more
---