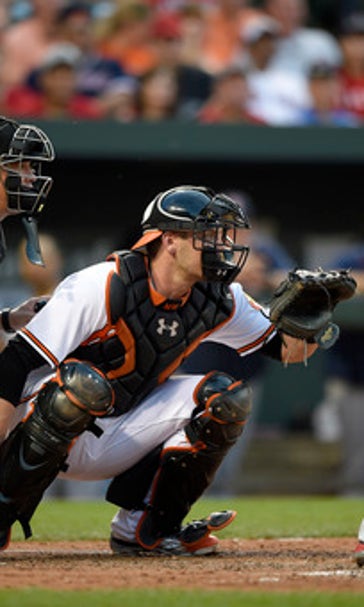 Wieters joins Nationals; Judge hits long homer for Yankees
February 24, 2017

WEST PALM BEACH, Fla. (AP) Matt Wieters finally has a new team. One crazy accident turned his free agency into a harrowing experience.
Wieters cut his left wrist when a five-gallon glass water container broke in his garage on Nov. 1, delaying his offseason preparation - and, he thinks, his chance to find a deal.
''It's tough finding a team when you can't do anything baseball-related,'' Wieters said Friday, when the catcher took batting practice and ran conditioning sprints at spring training with the Washington Nationals after his signing was announced. ''They told me I was very lucky that it wasn't worse than it was.''
Wieters agreed to a $21 million, two-year deal worth $10.5 million annually, one that gives him the right to terminate the agreement after this season and become a free agent again. It includes $2.5 million each year in deferred salary.
Now Wieters is working on getting up to speed with the pitching staff for the reigning NL East champions. The Nationals' first exhibition game is Saturday against the New York Mets.
''There's definitely enough time,'' Wieters said. ''As a catcher, I'd love to have as much as possible. Being able to listen (to the pitchers) and how they pitch will help me out a lot.''
He joins a crowded clubhouse of catchers. Jose Lobaton and Pedro Severino played in Washington last season, and the club traded for San Diego's Derek Norris. In all, there are six catchers on the 40-man roster.
General manager Mike Rizzo described Wieters as ''a leader in the clubhouse and on the field'' for the Baltimore Orioles, the only major league club the four-time All-Star has played for until now.
STICKING AROUND
The Chicago Cubs and reliever Pedro Strop agreed to a contract adding $6.35 million in guaranteed money through 2018, a deal that includes a club option for 2019.
Strop agreed earlier this month to a $5.5 million, one-year contract. The new deal calls for a $5.85 million salary in 2018 and a $6.25 million club option for 2019 with a $500,000 buyout. If the option is exercised, he could make $750,000 in performance bonuses in 2019: $250,000 each for 45, 50 and 55 games finished.
Strop went 2-2 with a 2.85 ERA in 54 appearances last year, helping Chicago win the World Series for the first time since 1908. Strop, known for wearing his hat off to the side, and ace right-hander Jake Arrieta were acquired in the same July 2013 trade with Baltimore.
AILING
Dilson Herrera has inflammation in his right shoulder and will not throw for a couple days, taking the Colombian infielder out of the World Baseball Classic and hurting his chances for making the Cincinnati Reds.
Herrera, who turns 23 next Friday, also experienced shoulder soreness for parts of last season, including during spring training. He said it started bothering him again about a week ago.
The Reds acquired Herrera when they traded Jay Bruce to the New York Mets last summer.
''I'm OK. Sometimes we've got to be strong, get the mind right so we're ready for everything, so I feel normal,'' Herrera said in Goodyear, Arizona.
Reds manager Bryan Price said Herrera probably won't throw again until Monday or Tuesday.
''He'll DH tomorrow. He's fine to hit,'' Price said Friday. ''But he's not OK to defend and throw. Until we have that, his shoulder feeling good coming off the end of last year where he had the soreness, it doesn't make any sense at all to be playing defense in the WBC or for us.''
---
AROUND THE CACTUS AND GRAPEFRUIT LEAGUES
YANKEES 9, PHILLIES 4
Hello there, Aaron Judge.
The 6-foot-7 Judge hit a solo homer off a scoreboard in left-center field in the fifth inning of the Yankees' victory in Tampa, Florida. Didi Gregorius also connected for New York, and touted prospect Clint Frazier hit a two-run triple in the eighth.
Bryan Mitchell, a candidate for the fifth spot in New York's rotation, threw two perfect innings with a strikeout.
Phillies starter Alec Asher allowed one run and two hits in two innings, striking out two.
METS 3, RED SOX 2
At Fort Myers, Florida, Michael Conforto and Gavin Cecchini homered for New York, and Seth Lugo pitched two scoreless innings.
Conforto went 2 for 3 and Travis d'Arnaud also had two hits.
Red Sox starter Henry Owens allowed two runs and three hits in two innings. Hanley Ramirez hit a leadoff double in the seventh for Boston's first hit and scored on Brian Bogusevic's two-run homer with one out.
ORIOLES 2, TIGERS 0
At Lakeland, Florida, Baltimore starter Tyler Wilson pitched two perfect innings with a strikeout against a near-opening day lineup for Detroit. Johnny Giavotella went 3 for 3 and Ryan Flaherty had a sacrifice fly.
Detroit starter Michael Fulmer threw one scoreless inning and Mike Pelfrey allowed one run and two hits in two innings.
BREWERS 11, WISCONSIN-MILWAUKEE 0
At Phoenix, Brewers prospect Lewis Brinson homered twice and drove in four runs, and Scooter Gennett added a solo shot.
Brinson played center field and led off. He was obtained at the trade deadline last year when Milwaukee dealt veteran catcher Jonathan Lucroy to Texas.
GIANTS 6, REDS 4
At Scottsdale, Arizona, Chris Marrero hit a three-run homer in the bottom of the ninth and drove in four runs as the Giants rallied after Madison Bumgarner gave up two runs on two hits in the top of the first.
Marrero, a 2006 first-round draft pick of the Nationals trying to revive his career as a non-roster invitee, had an RBI single in the fifth.
Kevin Shackelford, the seventh Cincinnati pitcher, walked Orlando Calixte to open the ninth and Christian Arroyo blooped a single into left field before Marrero hit a line drive over the wall in left centerfield.
Patrick Kivlehan had a two-run single off Bumgarner in the first and Hunter Pence doubled in a run off Reds starter Rookie Davis. Davis, acquired from the Yankees in the Aroldis Chapman deal, is likely to open with Double-A Pensacola this year.
RAYS 3, TWINS 1
At Fort Myers, Florida, Austin Pruitt struck out three in two scoreless innings and Tim Beckham had two extra-base hits for Tampa Bay.
Beckham, the top pick in the 2008 amateur draft, had a double and a triple and scored the Rays' first run on Daniel Robertson's single off Brandon Kintzler.
Minnesota right-hander Kyle Gibson, hoping to rebound from an injury-plagued season, threw 22 of 29 pitches for strikes and gave up a pair of hits in 1 2/3 innings.
---
---