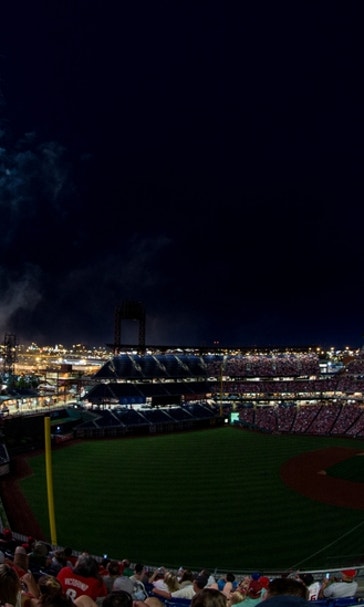 Phillies Top Ten Trades, Signings, and Roster Moves of 2016
December 27, 2016

Fansided, John Town/FanSided via That Balls Outta Here
Jul 2, 2016; Philadelphia, PA, USA; General view of a post game firework display after action between the Philadelphia Phillies and the Kansas City Royals at Citizens Bank Park. The Kansas City Royals won 6-2. Mandatory Credit: Bill Streicher-USA TODAY Sports
The Phillies made a plethora of roster moves in 2016; here we'll take a look at the top trades, signings, and other transactions made this season.
Go ahead and try reading the list of transactions on the Phillies website. Go for it, see how long it takes before your Amazon wish list has a glass set and a bottle of bleach. Most transactions on that list are middling, minor moves that have little influence on the team overall.
However, some of those moves influenced or will influence the Phillies for at least the next year, if not more. General manager Matt Klentak and team president Andy MacPhail both made their mark in their first full season at the helm.
Let's take a look at the top moves the Phillies made in 2016 as we wrap up this crazy, crazy year.
Sep 23, 2016; Toronto, Ontario, CAN; Toronto Blue Jays pitcher Joaquin Benoit (53) pitches against the New York Yankees in the seventh inning at Rogers Centre. Mandatory Credit: John E. Sokolowski-USA TODAY Sports
No. 10: Signing Reliever Joaquin Benoit
The first move on this top-ten list is a recent one. The lone move of impact the Phillies made at this year's winter meetings was inking reliever Joaquin Benoit to a one-year, $7.5 million deal.
Benoit spent 2016 with the Mariners and the Blue Jays and had quite the Jekyll and Hyde season. In 26 appearances with Seattle, he had a 5.18 ERA, but he posted a 0.38 ERA in 25 appearances with Toronto after a midseason trade. The Phillies are rolling the dice on Benoit, hoping that he will perform like the second-half Benoit and not like the first-half Benoit.
If Benoit can perform like he did in the second half in 2017, he will better a bullpen that struggled mightily in 2016. Philadelphia's bullpen was notoriously bad, especially in the last month of the season. In addition to other moves, Klentak believes the bullpen will be better in 2017: [quote via Stephen Gross of Allentown Morning Call]
"I think one of things that as appealing to us about Joaquin is he has pitched the sixth, he's pitched the seventh, he's pitched the eight, he's pitched the ninth, and he's been good in all of those roles at various times throughout his career. We feel better today than we did a few days ago that we have several players in our bullpen that can compete for the ninth, the eighth, the seventh, the sixth. We made our bullpen better."
Next: No. 9: Trading for Buchholz, Kendrick, and Neshek
Sep 6, 2016; San Diego, CA, USA; Boston Red Sox starting pitcher Clay Buchholz (11) pitches during the first inning against the San Diego Padres at Petco Park. Mandatory Credit: Jake Roth-USA TODAY Sports
No. 9: Trading for Clay Buchholz, Howie Kendrick, and Pat Neshek
I lumped all of these trades together because they are all of a similar vein: they fill a short-term need without giving up any long-term value or blocking any prospects. Pat Neshek was acquired for a player to be named later, Clay Buchholz came over in exchange for a second-base prospect who was far down the depth chart, and the Dodgers parted ways with Howie Kendrick for two major-league castoffs in Darin Ruf and Darnell Sweeney. None of those players had a place on the major-league roster in the long-term, so they didn't really give much up.
Along with not giving up any long-term value, these trades didn't block any prospects in the long-term as all three of Neshek, Buchholz, and Kendrick are all on one-year deals. Kendrick has the positional flexibility to start the year in left field and move to another position if and when one of Dylan Cozens, Nick Williams, or Roman Quinn are ready for the major-leagues. Buchholz has experience in the bullpen if the team decides to move him there to make room for one of their many starting pitching prospects, and Neshek isn't blocking anyone in the bullpen.
Finally, these trades were all smart because each player is on a one-year deal, making them even more attractive at the trade deadline. If any one of these players – as well as Benoit and Jeremy Hellickson – performs at an above-average level in the first half of the season, they could become an interesting trade chip. Philadelphia's payroll flexibility allows them to pay the entire salary of those contracts, which could help them acquire a better prospect in return for Buchholz, Nehsek, Kendrick, Hellickson, or Benoit.
Klentak even acknowledged the presence of plenty of options for trade chips at next year's deadline. He told Jim Salisbury of CSN Philly, "[W]e have a lot of meaningful players in the last years of their contracts — not just pitchers, but a number of players that could be trade chips."
May 18, 2016; Philadelphia, PA, USA; Philadelphia Phillies starting pitcher Jeremy Hellickson (58) pitches during the first inning against the Miami Marlins at Citizens Bank Park. Mandatory Credit: Bill Streicher-USA TODAY Sports
No. 8: Offering Jeremy Hellickson Qualifying Offer
The only player worth giving a qualifying offer to this year for the Phillies was starter Jeremy Hellickson. After making a career-high 32 starts and posting his best ERA since 2012, Hellickson was among one of the top pitchers in this year's weak starting-pitching market – second-best according to CBS Sports.
After the Phillies offered Hellickson the QO, most thought he would decline the offer for a longer, more lucrative deal on the open market. Here at TBOH, we envisioned a scenario where the Phillies would have three of the top 45 picks in the 2017 draft after Hellickson signed somewhere else. Hellickson would get his big contract, and the Phils would get multiple top draft picks.
Only Hellickson accepted the offer. Teams weren't willing to part with their first-round draft pick for a player coming off his first good season in several years. Reality settled in for Hellickson, and now he will be back in Philadelphia in 2017.
Now that Hellickson is back for next season, the team essentially gets a do-over on what their goal was with him in 2016. If he can keep up his performance from 2016, teams will come knocking at the trade deadline once again.
Also, with the changes to the qualifying offer system coming in the next collective bargaining agreement, Hellickson would be able to find a long-term contract on the free agent market much easier.
Sep 12, 2016; Philadelphia, PA, USA; Philadelphia Phillies right fielder Roman Quinn (24) reacts after having Powerade dumped on him during post game interview after win against the Pittsburgh Pirates at Citizens Bank Park. The Phillies defeated the Pirates, 6-2. Mandatory Credit: Eric Hartline-USA TODAY Sports
No. 7: September Call-Ups of Roman Quinn and Jorge Alfaro
Phillies fans didn't get their ultimate wish of seeing J.P. Crawford in the major-leagues in 2016, but the team still got a glimpse of other top prospects Roman Quinn and Jorge Alfaro in September. Both rank in the top ten of the system, and our former editor Matt Veasey ranked Alfaro as the new top prospect in the system over Crawford.
Alfaro saw limited action in September, recording just two hits in 17 plate appearances. He had to vie for playing time with veteran A.J. Ellis and starter Cameron Rupp, so it makes sense he got such limited time.
However, Quinn jumped right into the starting lineup in left field, and he dazzled in his major-league debut. He posted a .373 on-base percentage in his 15 games and stole five bases in six chances.
Alfaro will almost certainly return to Triple-A in 2017 as the full-time starter behind the plate there, but Quinn may start next year in the majors. I made the case for Quinn as the starting right fielder next year, but he also may return to Triple-A. Regardless, fans got to see some of the players that may save the franchise for the first time.
Jul 17, 2016; Philadelphia, PA, USA; Philadelphia Phillies starting pitcher Zach Eflin (56) throws a pitch during the first inning against the New York Mets at Citizens Bank Park. Mandatory Credit: Eric Hartline-USA TODAY Sports
No. 6: Midseason Promotions of Zach Eflin and Jake Thompson
Zach Eflin and Jake Thompson, two of the Phillies top pitching prospects, had great seasons at Triple-A in 2016. Eflin went 5-2 with a 2.90 ERA and 0.88 WHIP in 11 starts for the Ironpigs, while Thompson made 22 starts with a 11-5 record and 2.50 ERA. When injury struck the major-league rotation, both players were eventually promoted.
Eflin received the call-up first, making his debut June 14 against the Blue Jays. He gave up nine runs and three home runs to Toronto's fearsome lineup. Maybe not the best team to debut against. Eflin got progressively better, pitching two complete games, including a shutout against the Pirates that was the biggest statistical upset of the year according to Fangraphs. He then allowed 20 runs in his last three starts before going on the disabled list and eventually receiving surgery to repair his patellar tendons.
Days before Elfin went on the disabled list, the Phillies promoted Thompson to the major-leagues. He had a solid four-start stretch between August 29 and September 14 where he held a 2.49 ERA, but as a whole he struggled in his debut. In ten games, Thompson held a 5.70 ERA, 6.17 FIP, 5.64 xFIP, 5.37 K/9, and 4.70 BB/9.
Both Thompson and Eflin will likely return to Triple-A after their rough starts to their major-league careers. Eflin may be the first one up if injury strikes, but both will likely get more seasoning in Lehigh Valley before returning to the majors full-time. Even then, it was good to see two top pitching prospects in the majors for the first time.
Jun 2, 2016; Philadelphia, PA, USA; Philadelphia Phillies center fielder Odubel Herrera (37) celebrates after a home run by third baseman Maikel Franco (7) during the fourth inning at Citizens Bank Park. Mandatory Credit: Bill Streicher-USA TODAY Sports
No. 5: Extending Odubel Herrera
The Phillies have started to assemble their future core of players, and the first of that core to receive a contract extension was center fielder Odubel Herrera. On December 15, the team signed Herrera to a five-year, $30.5 million extension that has two club options for 2022 and 2023.
With the club options for 2022 and 2023, the team essentially got three extra years of Herrera before he would hit free agency. The deal has an average value of $6.1 million per year in the first five years, and the two options are worth $11.5 and $12.5 million, respectively. On the open market, Herrera would easily receive close to, if not more than, $20 million per year. He was worth more than $30 million in each of his first two major-league seasons according to Fangraphs.
By completing this extension, the Phillies avoid arbitration with Herrera for three years as well as lock up his first three years of free agency. They did this on an insanely team-friendly contract that keeps Herrera in Philadelphia through his prime.
Sep 28, 2016; San Diego, CA, USA; Los Angeles Dodgers catcher Carlos Ruiz (51) before the game against the San Diego Padres at Petco Park. Mandatory Credit: Jake Roth-USA TODAY Sports
No. 4: Trading Carlos Ruiz to the Dodgers
Since the 2014 season ended and the Phillies officially waved the white flag, the team slowly off-loaded the remaining pieces from their World Series team. First to go was Jimmy Rollins that winter, then Cole Hamels and Chase Utley both left during the 2015 season. When 2016 came around, Carlos Ruiz and Ryan Howard were the only players left from that squad. By the end of August, only Howard was left as Ruiz was traded to the Dodgers for catcher A.J. Ellis, minor-leauge pitcher Tommy Bergjans, and a player to be named later who turned out to be outfielder Joey Curletta.
Ruiz's trade only made the notion clearer that the Phillies are headed into a new era of their history. Whether or not it will be a good era will be determined, but each former star that leaves the team is another tug at the heartstrings of each fan in Philadelphia. It was especially hard to see Ruiz go because every fan liked him. Even as his play declined, he remained a fan favorite as echoes of Chooooooooooooch rang throughout Citizens Bank Park.
Turning towards what the deal meant for the Phillies looking forward, it solidified Cameron Rupp as the 2017 starter behind the plate. With Ruiz leaving and Ellis eventually signing somewhere else as well, the backup behind Rupp will now be one of the young catching prospects the Phils have.
California high schooler Mickey Moniak could be the Phillies pick with the first overall selection in the 2016 MLB Draft. (Pic credit from @MickeyMoniak on Twitter)
No. 3: Drafting Mickey Moniak No. 1 Overall
The Phillies reached the pinnacle of losing in 2015, losing the most games out of any team in the MLB that year. With the worst record, they were able to secure the first pick in the 2016 draft, giving them the pick of the litter from that year's draft class.
Mock drafts cycled between pitchers Jason Groome, Riley Pint, and A.J. Puk for the Phillies, but chatter shifted towards high school outfielder Mickey Moniak, an 18-year old from Southern California who hit .482/.565/.964 with five home runs, five triples, and 25 RBI in his senior year. Pat Gillick was at a game where Moniak hit for the cycle, and it was a lock from there as the team used their top pick on Moniak in June.
More from That Balls Outta Here
Moniak signed for a $6.1 million bonus, nearly three million dollars below the slot value for that pick. That allowed the Phillies to spread that money to other players like second-round pick Kevin Gowdy and third-rounder Cole Stobbe.
Upon joining the system, Moniak jumped to the top of prospect lists. Baseball America and MLB.com both ranked him as the No. 2 prospect in the system. In the likely scenario that J.P. Crawford graduates to the majors in 2017, Moniak should become the top prospect in the system with ease, and you could reasonably make the case he is now.
Overall, the Phillies drafted a potential five-tool center fielder who already has every tool but his power above-average or better.
Jul 18, 2016; Philadelphia, PA, USA; Philadelphia Phillies starting pitcher Aaron Nola (27) reacts after being hit by a line drive as catcher Cameron Rupp (29) calls for time during the sixth inning against the Miami Marlins at Citizens Bank Park. The Marlins defeated the Phillies, 3-2 in 11 innings. Mandatory Credit: Eric Hartline-USA TODAY Sports
No. 2: Putting Aaron Nola on the Disabled List
Aaron Nola looked like a true ace through the first two months of the season. In 11 starts, he had a 2.88 ERA, 9.50 K/9, and 1.63 BB/9 over 72 innings. He was easily an All-Star candidate for the Phillies as he headlined what was at the time an effective rotation.
Then Nola broke and he struggled immensely in his last eight starts of the year. He allowed three or more runs in every start but one in that stretch, and he carried a 9.82 ERA. Although, it should be noted his FIP of 3.87 was far lower, indicating the struggles weren't entirely his fault. They skipped his start once to try and get him on back on track, but it didn't work.
Nola went on the 15-day disabled list in early August, then was later transferred to the 60-day DL. Klentak revealed Nola had "a low-grade sprain of his UCL and a low-grade strain of his flexor." Any time someone hurts their ulnar collateral ligament, the shadow of Tommy John surgery looms large.
Nola underwent a throwing program and is expected to be ready for spring training. Even then, spring training will be a test to see if Nola's arm is truly healthy. Our own Tyler King speculated that the Clay Buchholz trade indicated the Phillies aren't confident in Nola's health.
In 2017, Nola is expected to be a key piece in the Phillies rotation and us fans hope to see him return to his early-season form from 2016. Coming off the disabled list, confidence is certainly lower and it will be a huge question mark heading into next season.
Oct 2, 2016; Philadelphia, PA, USA; Philadelphia Phillies first baseman Ryan Howard (6) tips his cap to the fans as he leaves the game during the ninth inning against the New York Mets at Citizens Bank Park. The Philadelphia Phillies won 5-2. Mandatory Credit: Bill Streicher-USA TODAY Sports
No. 1: Declining Ryan Howard's Option
Ever since Ryan Howard signed his huge five-year, $125 million extension in 2011, it his loomed over his play. Every strikeout was followed with some jeer about the contract he signed and how it was too much money. His declining play coupled with his large contract tarnished the huge part he played in bringing a World Series championship back to Philadelphia.
In fairness, criticism about Howard's play compared to his contract have plenty of ground. He was above-replacement level just once after the 2011 season. Even at his best in 2013, he was only worth $3.1 million according to Fangraphs. Overall, Howard cost the team $15.5 million in value over the span of his contract.
When the reality set in that Howard's time in Philadelphia was coming to an end, fans finally took a step back and recognized the important part Howard played in the best era of Phillies baseball. The team conducted a ceremony before the final game of the season for Howard, and he received one final standing ovation as he left the field one final time.
Howard's option was officially declined once the World Series ended as the final player from the 2008 team ended his Philadelphia tenure. As mentioned with Ruiz's departure, the changing of the guard was complete as the Phillies severed the last ties to a time that feels like so long ago.
---
---