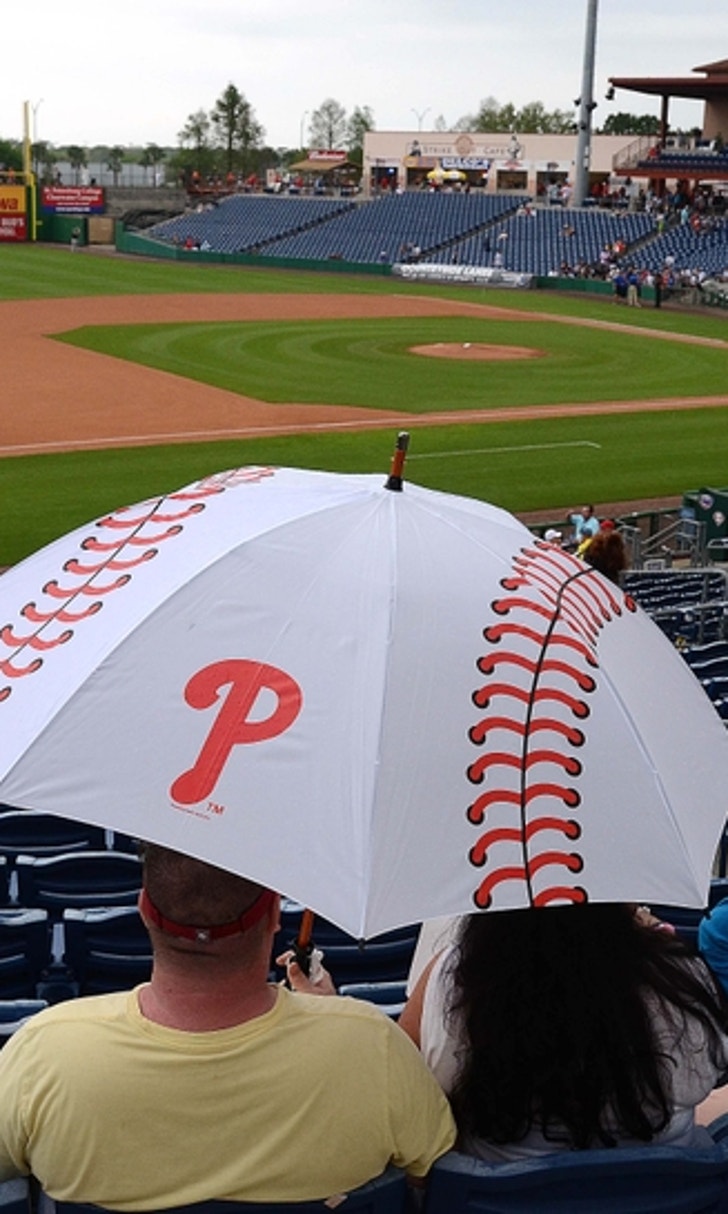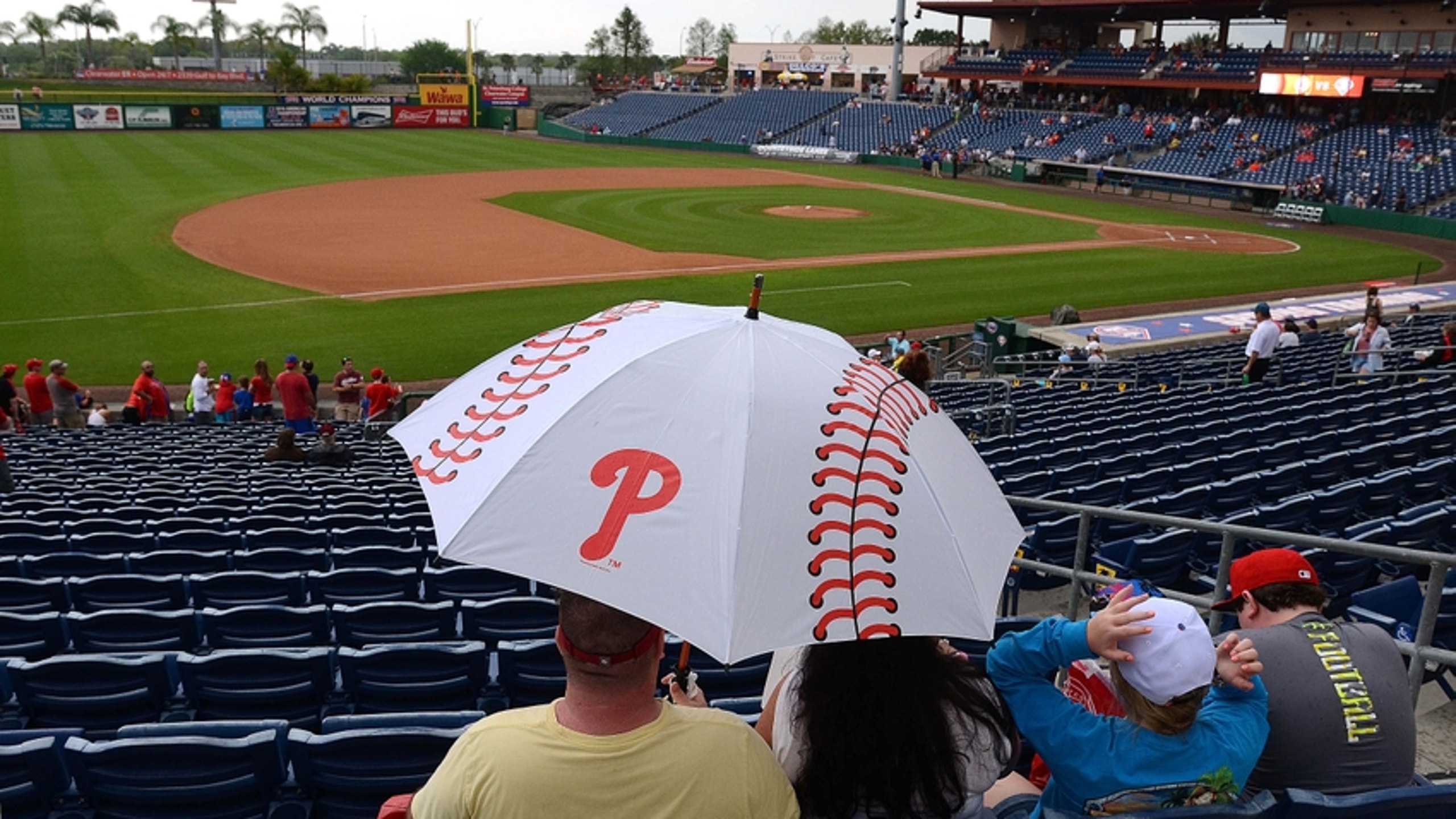 Philadelphia Phillies: Spring Preview
BY Fansided and Tal Venada/FanSided via Call to the Pen • December 27, 2016
Mackanin and One of His Coaches Are Behind the Protective Fencing During a Spring Contest. Photo by Reinhold Matay – USA TODAY Sports.
By early March, the competition for jobs will be front and center in Clearwater, while the locals warm themselves with thoughts of summer baseball at the Bank, the home of the Philadelphia Phillies.
Spring Forward:  
The weather mirrors life in northeastern America: It alternates between cold and grey days to breezy and sunny afternoons.
On the surface, many players have a shot to make the 25-man roster, but the team knows the fate of most before day one of camp. And the reason is winning and rebuilding are both necessary for the manager and the GM: It influences their decision-making. In other words, the fine line is developing talent and avoiding defeats simultaneously in a world with only 30 jobs each for skippers and general managers.
To achieve their goals, the brass considers more than just March stats. They have pros like Clay Buchholz working on his arsenal, Jeremy Hellickson receiving veteran respect and Cameron Rupp returning as a regular after earning the spot last year. So, watching them won't add any insight to the next 162. But keep in mind, seeing the acquisitions from the offseason will be noteworthy: General manager Matt Klentak picked up Buchholz, Pat Neshek, Howie Kendrick and Joaquin Benoit to compete with divisional rivals. And if all four work out, what will the GM's praise be? Effusive.
IN OTHER WORDS:        

 "I'm probably the only guy who worked for (Casey) Stengel before and after he was a genius." – Warren E. Spahn
At another site a week ago, Jim told another Phillies fan he will be going to Spring Training in a few months. And he wanted to know what to look for. Well, the other poster let him know where to focus his interest.
Like Jim, if you're considering a week or so in Clearwater, what should you do? Go during the third week of exhibition contests. Players will have nine games under their belt, and you'll see youngsters like J.P. Crawford. For now, though, Jim's current thinking is March 5 to March 10, and he should stick with those dates if he can.
Will the Reunion with McClure Benefit Buchholz? Photo by Jake Roth – USA TODAY Sports.
Right Field:   
Barring a deal for an outfielder, the competition will be between Roman Quinn, Aaron Altherr and Daniel Nava. Basically, Jim, see if Quinn is earning the role: He will either win the job or open the campaign with the Triple-A Lehigh Valley IronPigs. He will be a regular here or Altherr and Nava will most likely platoon. But why does Quinn have the advantage regarding Klentak? Elite speed.
Catching:    
Rupp has the nod already, but the backup position is between Andrew Knapp and Jorge Alfaro. Yet, barring a sensational March, Alfaro will be with Lehigh Valley and Knapp will be with the Philadelphia Phillies. On the other hand, if neither is ready for the majors, Bryan Holaday will be the reserve backstop. Therefore, Jim, you should watch Knapp, Alfaro and Holaday.
Pitching:  
Besides Rodriguez in the pen, the portsider to eyeball is Sean Burnett. Why? Left-handed alternatives are a bullpen weakness: Rodriguez was a pleasant call-up surprise in September, and Burnett is a non-roster invitee with an injury-plagued history.
FOOD FOR THOUGHT:    

"The first principle of contract negotiations is don't remind them of what you did in the past – tell them what you're going to do in the future." – Stanley Musial
Trading for Buchholz surprised or puzzled many locally, but – below the surface – the acquisition makes perfect sense. Primarily, he's a salary dump, he's a one-year gamble, and he's playing for a new contract in a sport favoring starters. Well, the remaining question, Jim, is the slot he'll occupy in the rotation: second or third. That stated, he'll reunite with an important member of the organization. Who? One Robert "Bob" McClure.
McClure Will Have His Work Cut Out for Him in 2017. Photo by Steve Mitchell – USA TODAY Sports.
The Numerical Bible:
This review is not a sabermetrics article, which means no heavy statistical analysis. But because some readers rely on stats, this is only a reference: no reason to articulate the importance of these numbers.
These numbers do not include any postseason activity. * He had 21 starts.
Pitching:
Hitting:
Triple-A Hitting:
Double-A Hitting:
More from Call to the Pen
This article originally appeared on
---
---