Josh Donaldson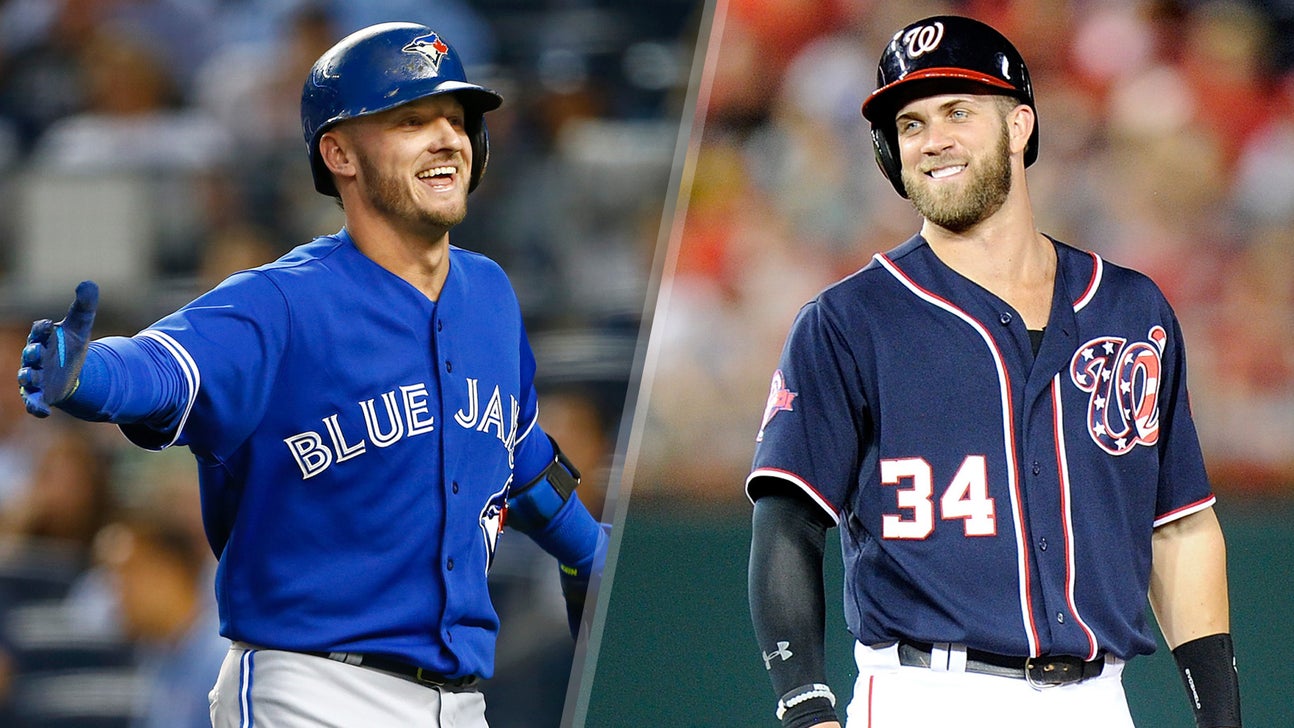 Josh Donaldson
MVP awards: Nats' Harper wins NL, Jays' Donaldson takes AL
Published
Nov. 19, 2015 7:00 p.m. ET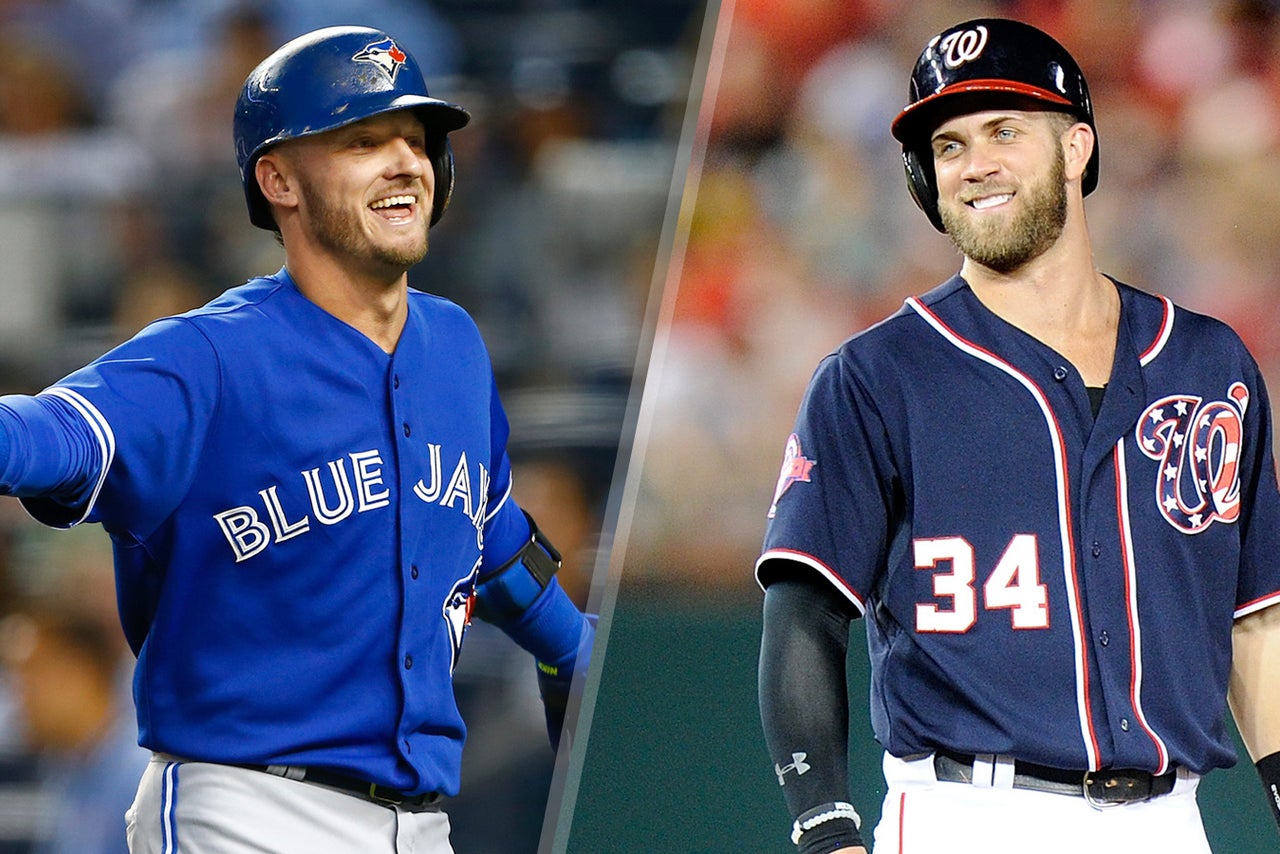 NEW YORK — Bryce Harper began this season with one personal goal — and it had nothing to do with homers, RBI or awards.
"All I wanted to do was stay healthy and stay on the field every day," he said.
Harper did that, and a lot more. The Washington slugger put behind his injury-plagued past and put up huge numbers, becoming the youngest unanimous MVP winner in baseball history when he captured the NL honor Thursday.
Toronto third baseman Josh Donaldson took the AL MVP after helping to boost the Blue Jays back into the postseason for the first time since 1993.
"We tore down a lot of thresholds this organization has had," he said.
Harper turned 23 on Oct. 16, after his Nationals had already missed the postseason. The outfielder got all 30 first-place votes from members of the Baseball Writers' Association of America, and was the first MVP in either league from a non-playoff team since Albert Pujols with St. Louis in 2008.
"Very excited, very humbled," Harper said.
Harper seemed destined for stardom ever since Sports Illustrated put him on the cover at 16. He began with a bang, making the All-Star team soon after his big league debut and emerging as the 2012 NL Rookie of the Year.
But his all-out style of play cost him, too. He missed a slew of games in 2013 after a pair of run-ins with walls, then was sidelined for much of 2014 following a headfirst slide that hurt his thumb.
The whole way, expectations kept building for Harper, not that he worried about them.
"I just want to do what I do," he said on a conference call.
This year, Harper played 153 games, avoided the disabled list and kept climbing the stat charts.
Harper hit .330 with 42 home runs and 99 RBI. He led the majors with a .649 slugging percentage and a .460 on-base average.
He went into the final day of the regular season with a chance to win the NL batting title — Miami's Dee Gordon edged him — and scored a league-leading 118 runs.
Harper was the first player from a Washington franchise to win an MVP since the BBWAA awards began in 1931 — no one on the original or expansion Senators or Nats had done it.
Harper was the fourth-youngest player overall to win an MVP, with Stan Musial, Johnny Bench and Vida Blue also 22 but not quite as old.
Arizona first baseman Paul Goldschmidt finished second in the voting and Cincinnati first baseman Joey Votto was third. Yoenis Cespedes, acquired by the Mets from Detroit at the July 31 trade deadline, came in 13th.
Harper did much better than the banged-up Nationals, who started the season as World Series favorites and finished 83-79.
"Really not sure," he said. "Sometimes, the ball doesn't roll your way."
The three-time All-Star also continued to draw fans in the Washington area and beyond. His constantly changing hairstyles are always getting attention, and the selfie he took in the outfield before a game at Nationals Park this season boosted his popularity even more.
Harper also seemed more at ease with his teammates and vice versa, notwithstanding his late-season scrap with closer Jonathan Papelbon.
Harper's hitting, though, is what made him so special.
"Every team that we played circled his name and said, `This guy's not going to beat us.' And with that said, he beat a lot of teams," Nationals general manager Mike Rizzo said Wednesday. "As we said at this time last year, I thought that `Harp' was just scratching the surface of what he can be."
Donaldson received 23 first-place votes. Los Angeles Angels outfielder Mike Trout got the other first-place votes and finished second for the third time; he won the award last year. Kansas City outfielder Lorenzo Cain was third.
"You know going into a season that if you're ultimately going to win an MVP, you've got to put up better numbers than Mike," Donaldson said.
Donaldson led the AL with 123 RBI and topped the majors by scoring 122 runs. He hit 41 home runs and batted .297.
Trout also hit 41 homers, batting .299 with 90 RBI and 104 runs.
Traded from Oakland to Toronto last offseason, Donaldson joined a power-packed lineup that included Jose Bautista and Edwin Encarnacion. The Blue Jays battered their way to the AL East title and topped the majors in runs and homers, with Donaldson leading the way.
Voting was completed before the playoffs began.
"For us to come out on top ... I definitely think that helped," Donaldson said.
Donaldson joined George Bell (1987) as the only Toronto players to win the MVP.
---
---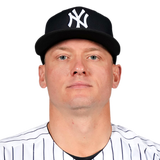 Get more from Josh Donaldson
Follow your favorites to get information about games, news and more
---