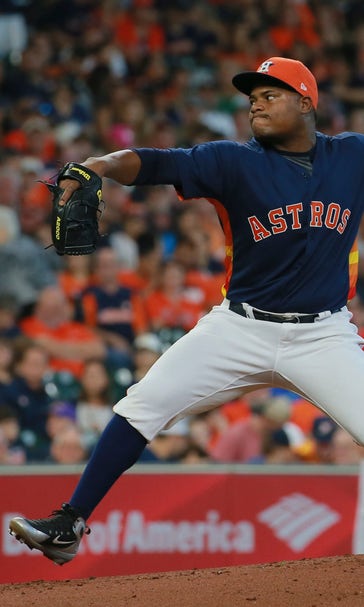 Morton leaves Astros' 6-2 win over Angels due to shoulder
September 23, 2018
HOUSTON (AP) — Charlie Morton's start was going to be short; Astros manager A.J. Hinch just didn't think this short.
After noticing a dip in velocity, Morton left Houston's 6-2 win over the Los Angeles Angels on Sunday after one inning because of discomfort in his pitching shoulder. That is a potential problem for the World Series champions, who opened a 4½-game lead over second-place Oakland entering the finakl week as they close in on consecutive AL West titles.
"He's battling," Hinch said. "This is as long as he's pitched into a season, obviously, where we've kind of nursed him at the end. If it was a playoff game, we could have kept pushing him out there.
"He was willing to go back out there. I didn't love the velocity early, and I didn't want to risk anything given the situation that we're in. I think he'll respond fine."
Morton was not available for comment after the game. The Astros said he left to ballpark to be evaluated by a doctor and then went home to be with his wife, who is expecting a child.
Hinch said the Astros planned for Morton to pitch three to four innings.
The 34-year-old right-hander did not pitch for the Astros from Aug. 28 until Sept. 8 because of right shoulder discomfort. He won his first two starts following his stint on the disabled list, allowing four runs in 11 innings.
Morton threw 24 pitches in the first. He gave up a double to Justin Upton, who scored from second on a wild pitch in the dirt that bounced off the glove of catcher Martin Maldonado, who initially had trouble finding the ball.
"We thought it was going to be a little bit of a shorter start for Charlie; it was a little bit shorter than we even expected," Hinch said.
Morton is expected to get another start before the regular season ends, Hinch said and that could come in Baltimore next weekend.
Yuli Gurriel hit a two-run homer, giving him three homers and 10 RBIs in the three-game series, and Evan Gattis had three hits and two RBIs.
"I'm really just happy to help the team at this time especially with the previous games not going so well," Gurriel said through a translator. "Doing our job is really important for us."
Gurriel hit a two-run homer in the first, extending his hitting streak to nine games, and Gattis added an RBI single for a 3-1 lead.
Framber Valdez (4-1) followed Morton and struck out a career-high nine in six innings, allowing one run and three hits. He had been scheduled to start Wednesday at Toronto.
"I had a lot of things I needed to improve upon from my previous outings," Valdez said. "So, I worked on it in the bullpen and my throwing program and working on these things, especially with my mechanics and my command I felt very good coming into the game to be able to apply these into the game today."
Tyler Skaggs (8-9) gave up four runs and five hits in 2 1/3 innings, the fourth straight start he failed to last four innings. Skaggs has given up 22 runs in that span.
"Felt good. You know thought I made some good pitches, thought I made some bad pitches," Skaggs said. "Overall just a rough day. They hit my mistakes and falling behind in the count it's tough to pitch against a team like this."
Gattis added an RBI single in the fifth off Jim Johnson, and Angels rookie Jose Briceno homered in the sixth. Josh Reddick drew a bases-loaded, four-pitch walk from Williams Jerez in the seventh.
TRAINER'S ROOM
Angels: OF Mike Trout was given the day off. ... INF Jose Fernandez is day to day after being hit by a pitch on the right hand in the first inning of Saturday's game. Scioscia said the hand is sore ... INF Andrelton Simmons left Sunday's game after jamming his right knee in the seventh inning on a play, according to Scioscia. Simmons said his knee is sore but hopes to be able to play Monday at Texas.
Astros: OF George Springer was given the day off. ... INF Carlos Correa was held out of the lineup for the fourth straight game.
UP NEXT
Angels: RHP Felix Pena (3-5, 4.20 ERA) will open a series Monday at Texas.
Astros: LHP Dallas Keuchel (11-11, 3.71 ERA) starts Monday's series opener at Toronto. He has given up 12 runs in his last three starts and is seeking his first win since Sept. 3.
---
---