Sean Manaea
Sean Manaea
Manaea looks for 4th straight win as A's host Jays (Jun 05, 2017)
Published
Jun. 5, 2017 12:03 a.m. ET

OAKLAND, Calif. -- Sean Manaea can't pinpoint exactly what, if anything, clicked for him during his past two starts, victories on the road against the New York Yankees and Cleveland Indians.
However, the numbers say the young Oakland A's left-hander has turned a corner in his promising career.
Manaea (4-3, 3.91 ERA) pitched seven shutout innings against the Yankees, allowing four hits while striking out eight and walking one on May 26. Five days later, he gave up one run on three hits over seven innings against Cleveland. He struck out nine and walked one.
Manaea, who is in his second major league season, will take a career-high three-game winning streak into his start on Monday night against the surging Toronto Blue Jays and lefty J.A. Happ at the Oakland Coliseum.
"There's still a lot of stuff I need to work on, especially with pitch selection and just being able to throw stuff consistently for strikes, just getting the slider to do what I want it to do," Manaea said Sunday before the Athletics' 11-10 loss to the Washington Nationals. "But yeah, things have just been going in the right direction for a little bit.
"Things are starting to come together, and that breeds confidence. You just gain trust in yourself, trust in your stuff. You can just go out there and do your thing and just throw your pitches and let the defense work behind you. It's been a long process, but there's still a long way to go. I just feel I'm trying to head in the right direction every day."
Earlier in the season, Manaea struggled with his command. However, commanding his pitches was a strength for Manaea against the Yankees and Indians.
"His last two times out, he's really pitched with a lot of conviction," A's catcher Stephen Vogt said. "He's got confidence. The stuff's not any different. The fastball command has been better because he's throwing it with more conviction. He knows he's going to put it where he wants to. Maybe it was just a change of his mindset. I don't think it was anything physical. It was that conviction."
Pitching back-to-back gems against two powerful lineups was a huge step forward for Manaea, Vogt said.
"It's everything," Vogt said. "When you can do it consistently, that's what you want to see, and now that he was able to do it twice on the road on the tough road trip, two tough lineups, able to do that and be able to give us a chance to win two games like he did, he was outstanding. It's big for him, and I think he's just going to continue to do it."
Happ went 20-4 with a 3.18 ERA last season, but he is 0-3 with a 4.50 ERA in four starts this year, having missed time due to left elbow inflammation. Happ returned from the disabled list last Tuesday and pitched four innings in Toronto's 6-4 victory against Cincinnati. He gave up two runs on three hits, struck out three and walked three.
"It was a battle," Happ said after his 81-pitch start against the Reds. "I expected that, the first time getting back out there. I settled down after those couple of runs in the first and got out of a couple jams. I'll get better with command. That's going to come, I think, but physically I felt good."
The Blue Jays got off to a rough start this season, in large part due to injuries that sent Troy Tulowitzki and former Athletic Josh Donaldson to the disabled list. But they are both back in action, and Toronto has won eight of its past 11 games.
Donaldson hit a solo shot in the eighth inning Sunday against the Yankees at Rogers Centre, putting the Blue Jays ahead 3-2, and they held on for the win. Toronto (28-29) split the four-game series with New York and trails the first-place Yankees by 5 1/2 games in the American League East.
"I think we needed it," Blue Jays manager John Gibbons said of the victory. "I think it would have been a kick in the teeth had we not won that one. You lose three out of four at home, that's never good -- primarily because of where we're sitting right now."
Happ is 4-0 with a 3.17 ERA against Oakland in nine career games, including seven starts.
Manaea has faced the Blue Jays once, pitching five innings of relief in a 5-3 loss in Oakland on July 17, 2016. He allowed two runs on three hits.
The last-place A's (24-32) have lost seven of their past 11 games and trail first-place Houston by 16 1/2 games in the AL West.
---
---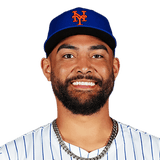 Get more from Sean Manaea
Follow your favorites to get information about games, news and more
---