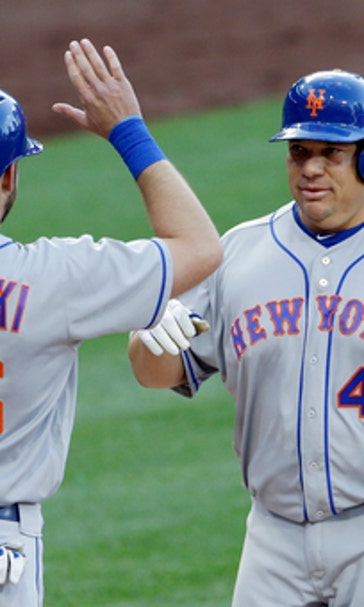 Following Bartolo Colon homer, what is baseball's next unlikely first?
May 9, 2016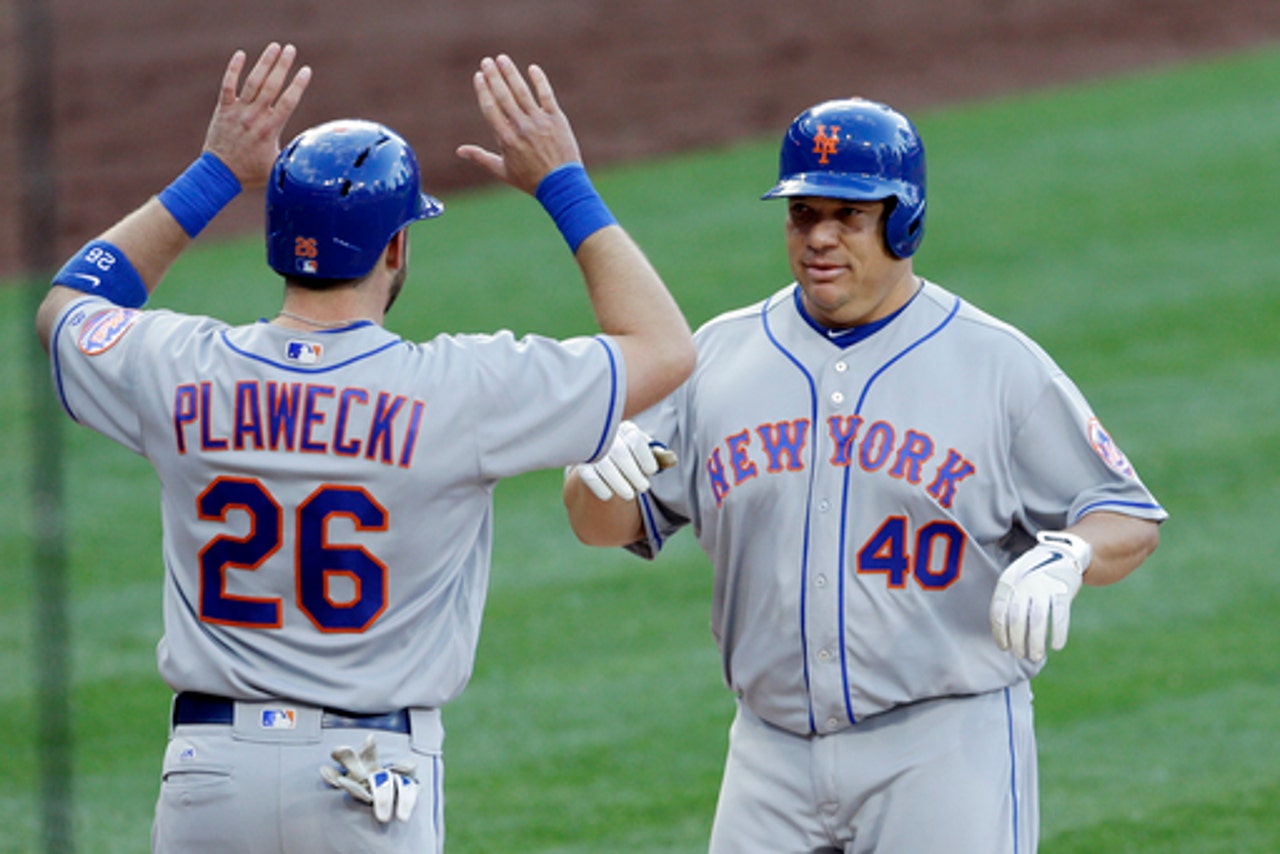 New York Mets right-hander Bartolo Colon, arguably the worst-hitting pitcher in baseball, hit a home run Saturday off San Diego Padres starter James Shields. It was the first career homer for the hefty 42-year-old best known for losing his helmet at the plate, and ended a streak of 225 big league at-bats without a round-tripper.
With the blast, Colon's career batting average sits at a robust .092, and considering his well-documented struggles at the dish, most probably figured they'd never see him bust out a home run trot. Now that he has, we can't help but wonder what the next improbable baseball feat might be. So here's a list of some other impressive sports 0-fers and the active players who have been put on notice thanks to the highlight of Colon's batting career:
Most plate appearances without a walk: Bartolo Colon
Why not start with the man of the hour? When you hit as poorly as Colon, you tend to see a lot of strikes, and Colon is no exception. In 249 career plate appearances, Colon has drawn exactly zero walks, and most of the time he doesn't get close. Colon has only seen a three-ball count six times in his career, so we may be more likely to witness a second home run before we see this.
Most plate appearances without a home run (fielder): Christian Colon
Must be something about the name. The Kansas City Royals' reserve infielder has 201 career plate appearances without a home run. It's the most among current big leaguers, but not tops among all active players, as four current farmhands have more big league PAs without a homer. As for Colon, he has 38 career minor-league home runs, so the power is there. We just haven't seen it yet.
Most plate appearances without a home run (pitcher): Johnny Cueto
For all the flack Colon gets for his swing, there are other pitchers who are as bad or worse at the dish. In fact, there are a dozen active pitchers with more career plate appearances than Colon who have yet to hit a home run, a list topped by the Giants righty Cueto, a career .107 hitter with zero homers in 484 trips to the plate.
Most plate appearances without an extra-base hit (pitcher): Ubaldo Jimenez
Had it not been for a lone double in 2012, Cueto would also top this list, but instead the title goes to the Baltimore Orioles right-hander Jimenez, a lifetime .117 hitter who has yet to record a double, triple or home run in 332 career plate appearances.
Most times on base without a steal: A.J. Ellis
Catchers are generally not known for being fleet of foot, and Ellis is perhaps the best example of that. The LA Dodgers backstop has reached based 642 times in his career, the most by any active player without swiping a bag -- and at this point it would be a surprise if he ever does. After all, Ellis has only been caught stealing three times, the most recent attempt coming in September 2013.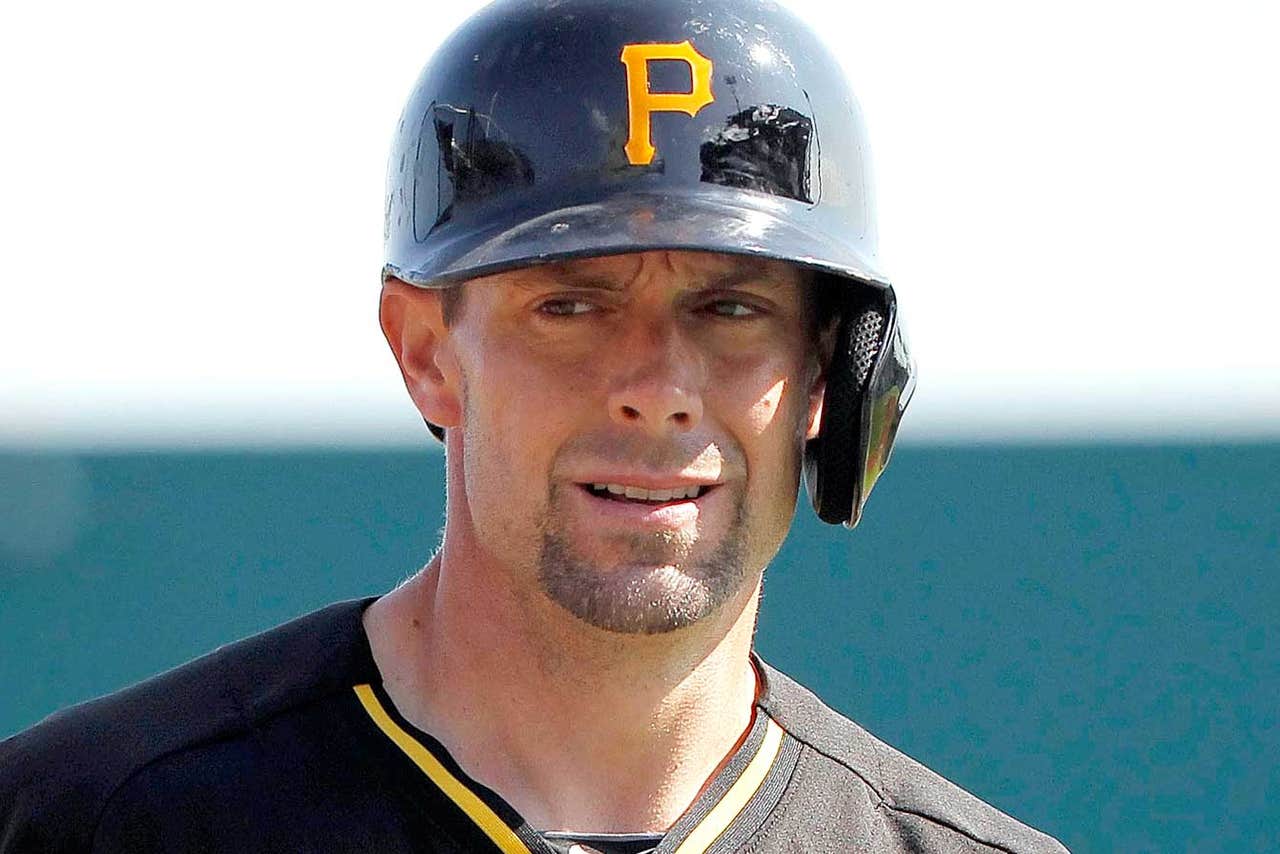 Pittsburgh Pirates catcher Chris Stewart (Kim Klement-USA TODAY Sports)
Most plate appearances without a triple: Chris Stewart
Another one for the "catchers-aren't-very-fast" file. Stewart made his MLB debut in September 2006 and has been looking for his first triple since. Now a reserve with the Pittsburgh Pirates, Stewart has yet to hit a three-bagger in 1,092 career plate appearances.
Most plate appearances without grounding into double play: Paulo Orlando
At some point, everyone grounds into a double play, but that's not true (yet) of the Royals outfielder Orlando, who has more walk-off grand slams in 285 career plate appearances than double plays. Of those 285 plate appearances, 55 have come with a man on first, 19 have come with runners on first and second, nine have come with men on the corners and two have come with the bases loaded. Orlando's time will inevitably come, but frankly it's amazing that it hasn't already.
Most plate appearances without being hit by a pitch: Adam Wainwright
Between the regular season and postseason, Wainwright has hit 45 batters with pitches during his decade-plus in the big leagues -- some more memorably than others -- but he's yet to get plunked himself in 597 career trips to the batter's box. Meanwhile, Minnesota Twins outfielder Eddie Rosario is the leader among fielders, with 572 career plate appearances without being hit.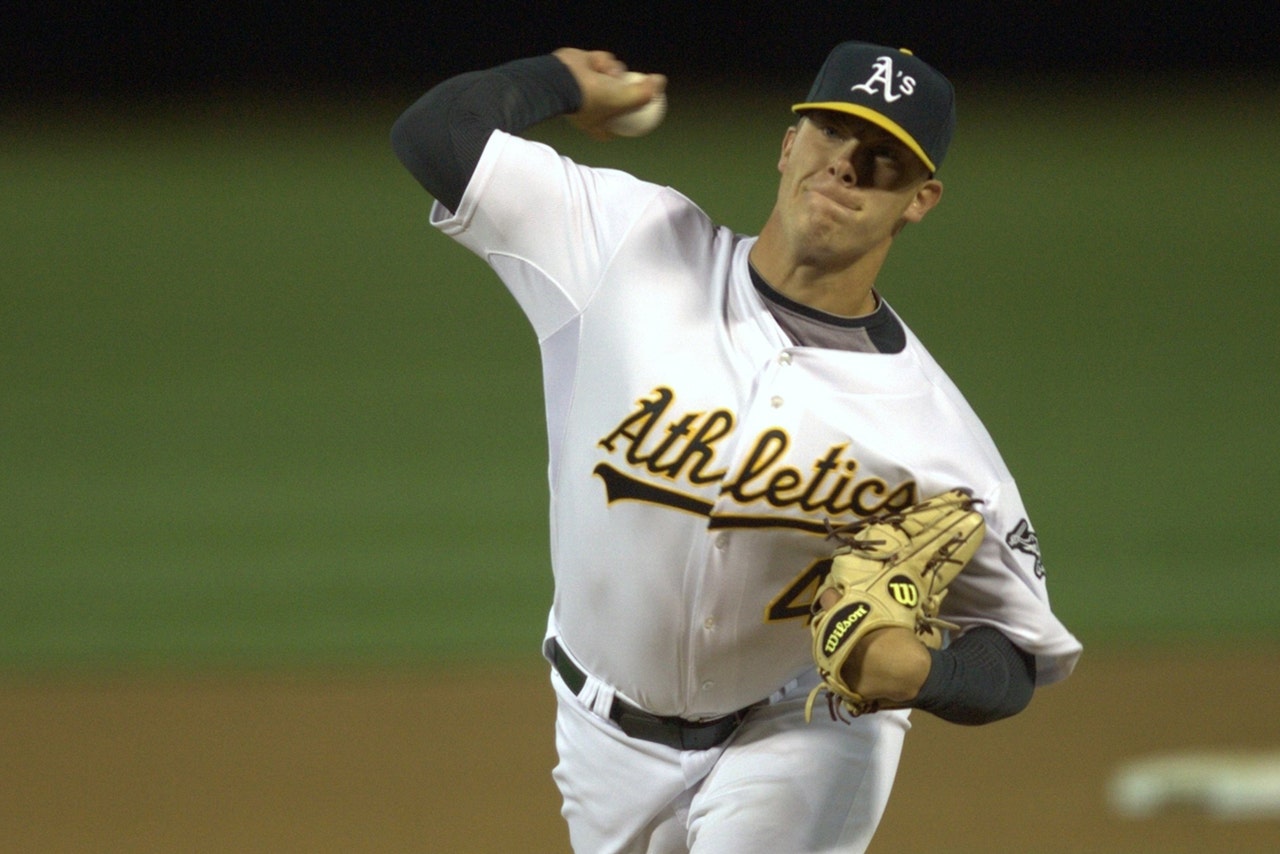 Oakland A's pitcher Andrew Bailey (Michael Zagaris/Getty Images)
Most innings pitched without hitting a batter: Andrew Bailey
A former Rookie of the Year during his time with the Oakland Athletics, the current Philadelphia Phillies reliever Bailey has shown impeccable control during his career, with zero hit batters in 234 career innings. That's 171…" more innings than Mariners righty Steve Johnson, the No. 2 pitcher on the active list.
Most starts without a complete game: Bud Norris
The eighth-year veteran Norris has made 171 career starts and has yet to have one go the distance -- and at this point it's unclear when he'll get another chance. Norris began the year in the Atlanta Braves' starting rotation, but went 1-4 with an 8.74 ERA in his first five starts and has since been moved to the bullpen. Overall, Norris has had just one career start go into the ninth inning.
Most starts without a shutout: Jorge De La Rosa
The veteran lefty has started 222 games in his 13-year career, but has yet to toss a shutout. In 2009, De La Rosa had two starts where he threw eight scoreless, but generally, he's lucky to get out of the sixth, with a career average of fewer than six…" innings per outing. To his credit, De La Rosa does have two complete games, including one last year, but even those were of the eight-inning variety.
Most games finished without a save: Ryan Webb
A journeyman reliever, Webb has played for five different teams since breaking into the big leagues in 2009. In that time, Webb has finished off 101 games on the mound but has yet to register a save. Now pitching for the Tampa Bay Rays, Webb has generally not been used in save situations, but he does have nine blown saves for his career, so he's had his chances.
And for fun, a couple other non-baseball accomplishments we'd love to see ...
Most games played without making a 3 (NBA): Tyson Chandler
Virtually every NBA player hits a 3-pointer at some point. Even Shaq did it once during his days in the league. But in 986 career games, Phoenix Suns big man Tyson Chandler has never made a triple, going 0-for-10 all-time from beyond the arc. The next closest player is Dallas Mavericks center Zaza Pachulia, who has gone 0-for-24 in his 891 career games -- the most 3-point attempts among active players without making one -- and while Oklahoma City Thunder reserve Nazr Mohammed has never drained a 3 in 1,005 regular-season games, he is, incredibly, 2-for-3 from deep for his career in the playoffs.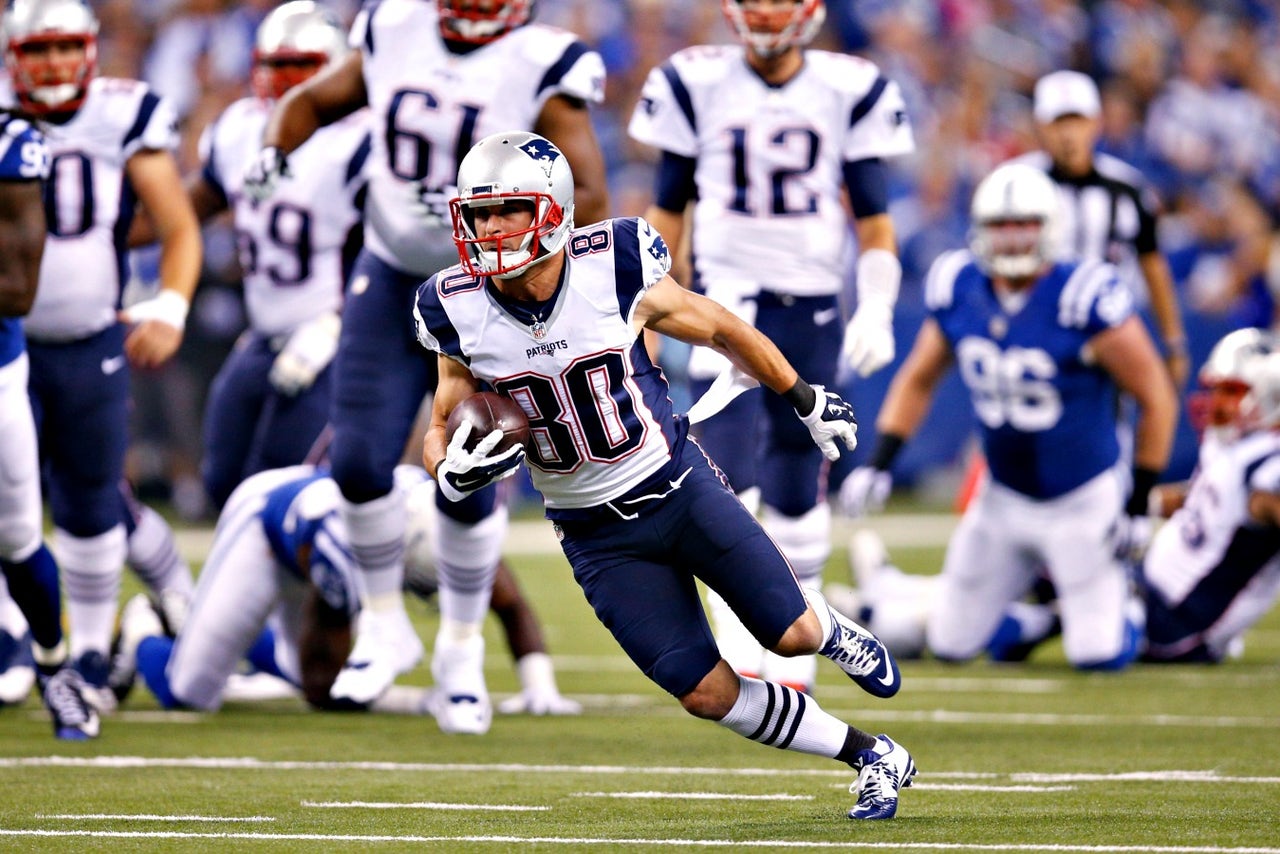 New England Patiots WR Danny Amendola (Joe Robbins/Getty Images)
Most kick/punt returns without a touchdown (NFL): Danny Amendola
The New England Patriots wideout Amendola has returned 146 kickoffs and 129 punts in his NFL career, and has yet to have one go for a touchdown. That barely beats out the man Amendola replaced, Wes Welker, who has 264 career punt returns without taking one to the house (Welker does have one career kick return TD in 183 tries). Other notable marks among active players include Matt Barkley, who has the most pass attempts (50) without a TD; Melvin Gordon, who has the most carries (184) without a score; Mark Ingram, who has caught the most passes without a TD grab (103); and Nick Folk, who has yet to miss on 311 PAT tries.
You can follow Sam Gardner on Twitter or email him at samgardnerfox@gmail.com.
---
---