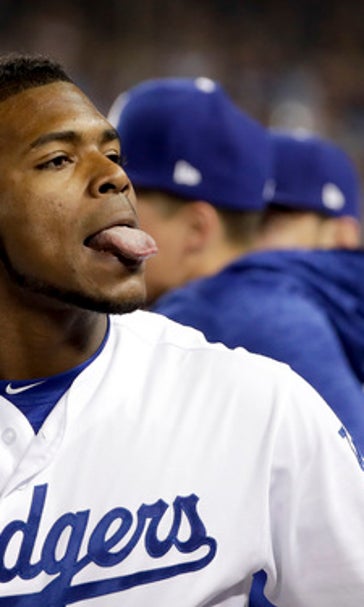 Dodgers' exciting Puig might just have his struggles licked
October 16, 2017

LOS ANGELES (AP) When Yasiel Puig licks his bats , Dodger Stadium laughs. When he stands at the plate admiring a base hit , the fans' initial cheers hilariously morph into a group exhortation to ''Go! Go!'' - which he eventually does.
The Cuban outfielder's entire baseball career has been a quest to learn how to direct his prodigious talent without losing the fundamental joy he derives from the game.
Just 14 months ago, that quest appeared to be over, at least in Los Angeles. Puig had been demoted to Triple-A and seemed unlikely to return to the Dodgers amid frustration with his consistency and discipline.
The Wild Horse just might have it all figured out now, and LA is thrilled to be along for a redemptive ride that's going deep into October.
''This is my best season,'' Puig said. ''I grew up a little bit more. I'm going to home plate for having fun, because I know (if) I hit nothing, I do nothing in the game, my teammates are going to have my back. That's the reason I play better and my team is in this position again.''
With his most consistent big-league campaign and a dynamite start to the playoffs, Puig is a major component of a team closing in on the World Series after a 4-1 victory over the Chicago Cubs on Sunday night to take a 2-0 lead in the NL Championship Series.
Puig set career highs this season with 28 homers and 74 RBIs while playing his usual superb defense in right field and appearing in a team-leading 152 games. In the postseason, he is 7 for 16 with five walks and six RBIs. He has already surpassed his entire career postseason RBI total, capped by his first playoff homer in Game 1 against Chicago.
Puig has made big plays in every game for the unbeaten Dodgers, who resume the NLCS at Wrigley Field on Tuesday. Once a shameless free-swinger, he drew three walks and scored a run in Los Angeles' 4-1 win in Game 2.
''I would have got the fourth walk, but my tongue wasn't working when I licked the bat, so I got struck out with the ball in the dirt,'' he said.
Oh yes, he also licks pine tar from his lumber for luck, flips his bats on seemingly minor hits, plays right field with inimitable grace and kisses his hitting coach on the cheek constantly.
''This is as good as we've seen him focus on every single pitch in the game,'' said manager Dave Roberts, who took over the Dodgers before last season. ''When you combine that with the skill set that he has, and the energy he brings, he doesn't only energize 50,000 people. He energizes everyone in the clubhouse.''
Ever since he joined the Dodgers in 2013 after his perilous exit from Cuba , Puig has played baseball with an ebullience that offends some baseball purists, but usually proves irresistible to younger fans, most teammates and anybody who enjoys fun.
''It's dumb sometimes, but he brings a lot of energy to this team,'' rookie star Cody Bellinger said.
He struggled with hamstring injuries over the past two seasons, perhaps because he weighed too much. He showed up late for work on occasion, and some teammates weren't laughing. It all culminated in August 2016 when the Dodgers sent Puig to Triple-A Oklahoma City.
But Puig's banishment lasted only a month due to his ability to hit left-handed pitching, and he contributed to the Dodgers' postseason run. He returned this season with a clear dedication to his job, and it translated into his most complete season.
''He's really come a long way,'' Roberts said. ''He cares so much about his teammates. He's a very talented player, but all he cares about is winning.''
Puig usually hit near the bottom of the Dodgers' lineup this season while the spotlight settled on youngsters Corey Seager and Bellinger. He thrived as a supporting player, no longer carrying the weight of the Dodgers on his shoulders.
''He understands that the whole team is going to pick each other up, and that takes a lot of pressure off him,'' closer Kenley Jansen said.
During the summer, Puig followed big hits by planting an equally big kiss on the cheek of hitting coach Turner Ward, grinningly powerless to escape Puig's grasp. Ward has played a key role in keeping the slugger focused and upbeat.
''I think that's great when he can play with such emotion and focus as well,'' Roberts said. ''He loves the big stage, and his only focus is helping us continue to win baseball games. Right now, he's playing at a high level. Not only the fans, but his teammates are feeding off it.''
Puig set the tone for the Dodgers' postseason in the NL Division Series opener against Arizona. After he tripled in Game 1, Puig looked up from his headfirst slide and stuck out his tongue at the Dodgers' bench, wagging his head and delighting his teammates.
''I was thinking, `That's about right,''' ace Clayton Kershaw said. ''Yasi is an exciting player, and it's pretty special when he gets focused and locked in.''
As for Puig's instantly meme-able bat licks, the Dodgers don't exactly get it - but they like it.
''I never asked him,'' Kershaw said. ''Doesn't seem like the most sanitary thing to do, but if he keeps getting hits, I hope he does it more.''
Not everybody loves Puig: Baseball fundamentalists frequently take offense to his lighthearted approach to their game. But Puig has even proved irresistible to the likes of Keith Olbermann, the irascible former SportsCenter anchor who ripped Puig after the NLCS opener for his bat flips.
Incredibly, Puig is now the Dodgers' fourth longest-tenured player - third excluding Adrian Gonzalez, who is injured and not with the team. His English has grown strong enough to allow him to conduct interviews in his second language, and he relishes pregame chats with Don Newcombe, the 91-year-old Dodgers legend.
Puig still hasn't figured out everything: In late September, he received a one-game benching for a baserunning blunder - and then he showed up late to Dodger Stadium the next day, earning another benching.
He owned up to his mistake and bounced back with flair in October.
''When he stuck out his tongue and waved his head? That's no surprise,'' Roberts said. ''That's what Yasiel does. He's called the Wild Horse for a reason. Sometimes you shake your head. Sometimes you smile. But he's a heck of a talent.''
---
More AP baseball: https://apnews.com/tag/MLBbaseball
---
---