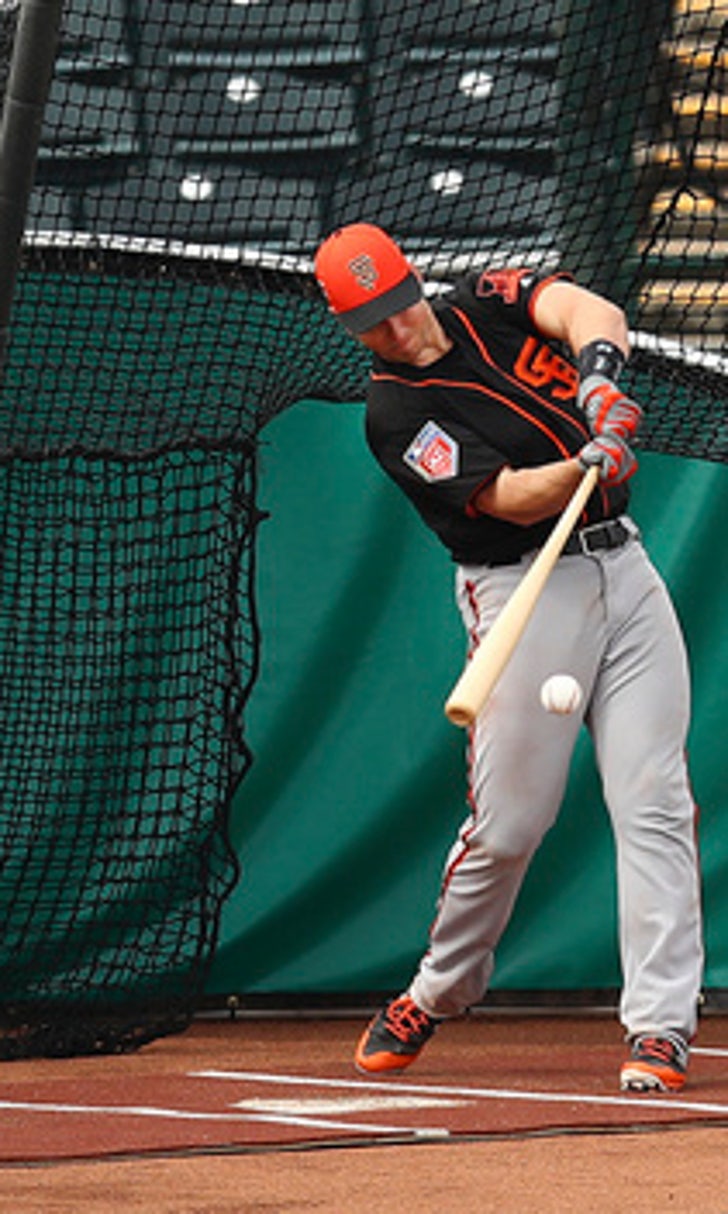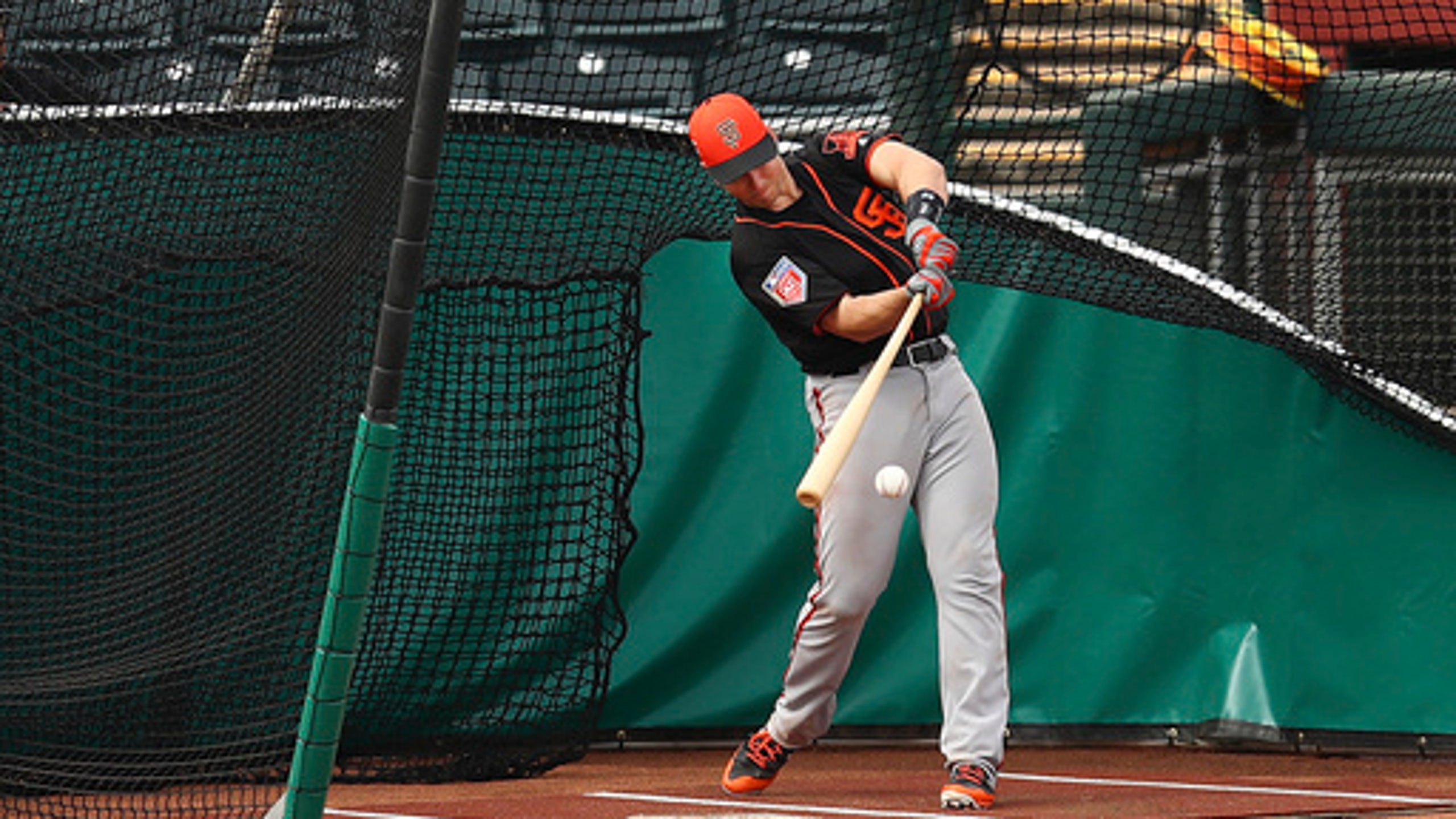 Buster Posey, new SF teammate Andrew McCutchen go way back
February 17, 2018
SCOTTSDALE, Ariz. (AP) Buster Posey recalls watching Andrew McCutchen in awe.
They were 17, spending a few weeks together as teammates on a junior Olympic team in Taiwan.
McCutchen remembers Posey's immense popularity - swarmed at every single stop. Cheered when on the bus, or when fans just thought he was on the bus.
''The one thing that I remember is all the Taiwanese natives really loved Buster Posey. I don't know why,'' McCutchen said, chuckling. ''But they'd be doing the whole roll call of the team and they'd say Buster Posey and everybody would go crazy in Taiwan. We'd get on buses, we'd be on the bus waiting to leave, fans would be coming up, `Buster Posey, Buster Posey,' like, `He's not on the bus.' But I know he's a very likable guy, so I'd always joke with him about that in the times playing against him.
''I said, `You ever know or wonder why they liked you so much? He said, `Honestly, I don't know.'''
Now, more than a decade later as early 30-somethings, they're teammates again with the San Francisco Giants. And McCutchen kind of understands it now. He thinks Posey is pretty cool.
McCutchen considers the star catcher San Francisco's go-to guy.
''I look at Posey as the captain. I look at him as the jefe,'' McCutchen said, using the Spanish word for boss.
Grinning and chatting up his new teammates, McCutchen is already at it shagging flyballs in right field and taking his cuts in the covered batting cage.
He arrived at Scottsdale Stadium on Wednesday, well ahead of position players' reporting day Sunday and then the first full-squad workout Monday.
''I just remember watching him and Justin Upton and thinking they were just a notch above everybody else at that age,'' Posey said. ''And obviously both of them did have a meteoric rise to the big leagues. Even then they were men playing with boys back then.''
McCutchen is no longer the face of his franchise the way he had been as a beloved member of the Pirates, and new third baseman Evan Longoria is in the same situation after departing Tampa Bay in the December trade that brought him to the Bay Area.
They are two key acquisitions the Giants are counting on to get them contending again following a 98-loss season and last place in the NL West.
''That's what an offseason can bring, a new hope when you add players like this,'' said manager Bruce Bochy, who is moving Hunter Pence from right to left field.
McCutchen insists he will be just fine without the weight of an organization, an entire city, on his sturdy shoulders.
''I never introduced myself as Andrew McCutchen Pirates face of the franchise,'' he said matter-of-factly. ''I was just being myself, I was trying to be true to myself and that's all I tried to do every single day. It is important. It is something that is very humbling to have that but it just shows that I'm doing my part and I'm doing what I expected playing the game of baseball.''
A few things McCutchen has made clear: Don't count on him growing back those dreadlocks he cut off for charity. They took nine years to perfect last time. His son, Steel, was not named after Pittsburgh's ''Steel City'' nickname but rather just the choice of a ''strong,'' masculine moniker. The outfielder appreciates San Francisco's cream-colored uniforms. ''That was always something I would say to a lot of guys when I would come here, `Man, the cream, that cream on those uniforms is so nice as opposed to stark white.' It's awesome.''
McCutchen wanted to wear No. 24 when he broke into the big leagues to honor Ken Griffey Jr. but settled for 22 when teammate Tom Gorzelanny - ''Who has 24 as a pitcher?'' McCutchen cracked - had 24.
He will gladly accept triples at pitcher-friendly AT&T Park and work his legs by sprinting the bases, saying, ''I may lose who knows how many homers.''
''I may come off as a guy who doesn't say a whole lot and kind of goes about my business, likes to smile a lot. I'm very silly,'' he said. ''At the end of the day, I like to have a lot of fun, so just look forward to that.''
McCutchen, the 2013 NL MVP, batted .279 with 28 home runs and 88 RBIs in 156 games last year with the Pirates. He has played at least 153 games in each of the past three seasons and seven of the last eight since his rookie year of 2009.
''As you have probably seen already, he's got a lot of energy,'' Bochy said. ''He's got a personality that I think is just going to fit on this club nicely.''
---
More AP baseball: https://apnews.com/tag/MLBbaseball
---
---