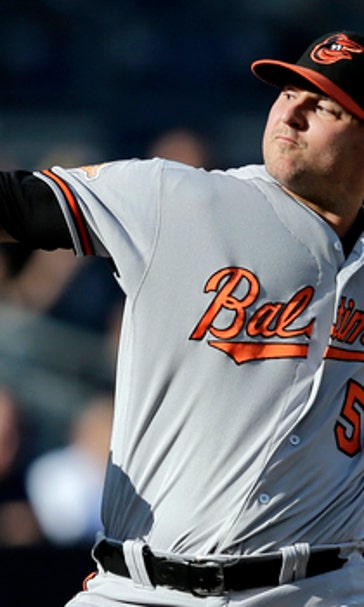 Britton activated from DL by Orioles after 6-month recovery
June 11, 2018
BALTIMORE (AP) Baltimore Orioles left-hander Zach Britton has been activated from the disabled list, six months after undergoing surgery to repair a ruptured Achilles tendon.
Assuming he's finally healthy enough to resume his role as one of the best closers in the big leagues, the question now is: How long will Britton be with the Orioles?
Britton's contract expires after this season, and Baltimore entered play Monday with the worst record in the major leagues (19-45).
So, as he stood in front of his locker and spoke excitedly about his return to the Orioles, Britton conceded that his stay in Baltimore may not extend beyond the July 31 non-waiver trade deadline.
''I want to pitch well and help the team, regardless of our standing or trade discussions,'' he said.
Asked if the next few weeks might serve as an audition for other teams, Britton replied, ''I guess so, but I'm not going to think of it like that.''
Britton made the 2016 AL All-Star team during a season in which he converted all 47 of his save opportunities and compiled a 0.54 ERA in 69 appearances.
He fought forearm and knee injuries last season and had only 15 saves. Then, during the winter, he tore his right Achilles tendon during a workout.
''When I injured myself in December, I was just looking forward to walking again and running again and then to be able to pitch back in the big leagues,'' Britton said. ''There were a lot of hurdles that I overcame.''
Surgery and an intense rehab program under Orioles trainer Brian Ebel enabled the 30-year-old to return sooner than many anticipated.
''The thought that he's a pitcher for us on June 11, that's remarkable,'' manager Buck Showalter said. ''He's checked every box to get ready. I don't know what else you could possibly do.''
Although Britton will be pitching for a team that's struggled mightily this season, that won't influence the intensity he will bring to the mound.
''I had some injuries the last few years, so I'm looking forward to turning the page on that and just getting back to pitching well,'' he said. ''Everyone in this clubhouse wants to do well at this level, and that's my focus.''
To adjust the roster for Britton's return, the Orioles placed right-hander Pedro Araujo on the 10-day disabled list with a right elbow strain and moved outfielder Colby Rasmus to the 60-day DL.
---
More AP baseball: https://apnews.com/tag/MLBbaseball
---
---