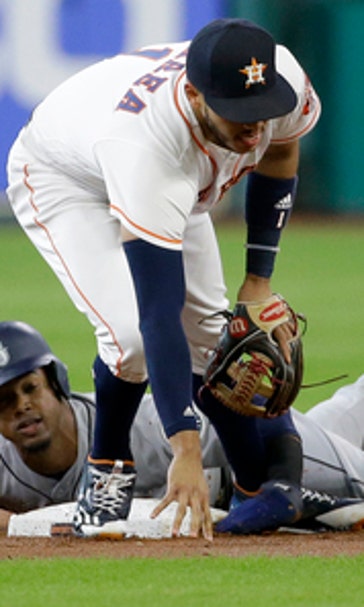 Astros put shortstop Correa on 10-day DL with thumb injury
BY AP • July 18, 2017
HOUSTON (AP) All-Star shortstop Carlos Correa of the AL West-leading Houston Astros is expected to miss six to eight weeks because of a torn ligament in his left thumb.
The Astros put Correa on the 10-day disabled list Tuesday, a day after he hurt himself taking a swing against Seattle. They expect to have him back in the lineup for the stretch run in September.
The Astros opened the day with a 15 +-game lead over Seattle. Infielder Colin Moran was recalled from Triple-A Fresno in time for the game against the Mariners.
''It's obviously disappointing, but at the same time I have to focus on what I can control and that's hopefully having successful surgery and finishing my rehab and hopefully coming back late September or so and being able to play in the playoffs,'' Correa said.
Correa is batting .320 with 18 doubles and 20 home runs, and his 67 RBIs are second in the American League.
The Astros plan to play Moran at third base and split time at shortstop between Alex Bregman, who has played third base all season, and Marwin Gonzalez, the team's super-utility man.
''We'll move some guys around,'' manager A.J. Hinch said. ''It's going to take an adjustment for a lot of us. We're so used to putting Correa out there every, single day and having the middle infield be set and moving the pieces on the corners and in the outfield. But things change quickly.''
The 22-year-old Correa, who was the first overall pick in the 2012 draft, has been a mainstay in Houston's lineup since being called up in June of 2015. He played 153 games last season and has appeared in 84 of the team's 93 games this season.
''He's a big presence in our lineup, on our team,'' Hinch said. ''To see someone go down like that this tough for everybody. We'll absorb it and we'll have the next man up continue to play. We'll get him better, welcome him back sometime in September and move on. But there's no doubt that it's a punch in the gut when one of your best players is down for a while.''
The good news for the Astros is that Gonzalez is having the best season of his six-year career. He's hitting .311 with 17 homers and 55 RBIs, which are both career-highs.
Moran, a left-handed hitting corner infielder, was batting .308 with 15 doubles, 18 home runs and 63 RBIs in 79 games at Fresno. Bregman was primarily a shortstop in the minors, but moved to third base in Houston because of Correa. Bregman, who was the second overall pick in the 2015 draft, is hitting .257 with eight homers, 22 doubles and 28 RBIs in 88 games this season.
All-Star second baseman Jose Altuve is prepared to do whatever he can to help the team deal with Correa's absence.
''It's hard to fill that space,'' he said. ''I don't think there's one player in the league that can fill Carlos' spot, but we're going to try to help the guy that's going to play shortstop.''
---
More AP baseball: https://apnews.com/tag/MLBbaseball
---
---