Pittsburgh Pirates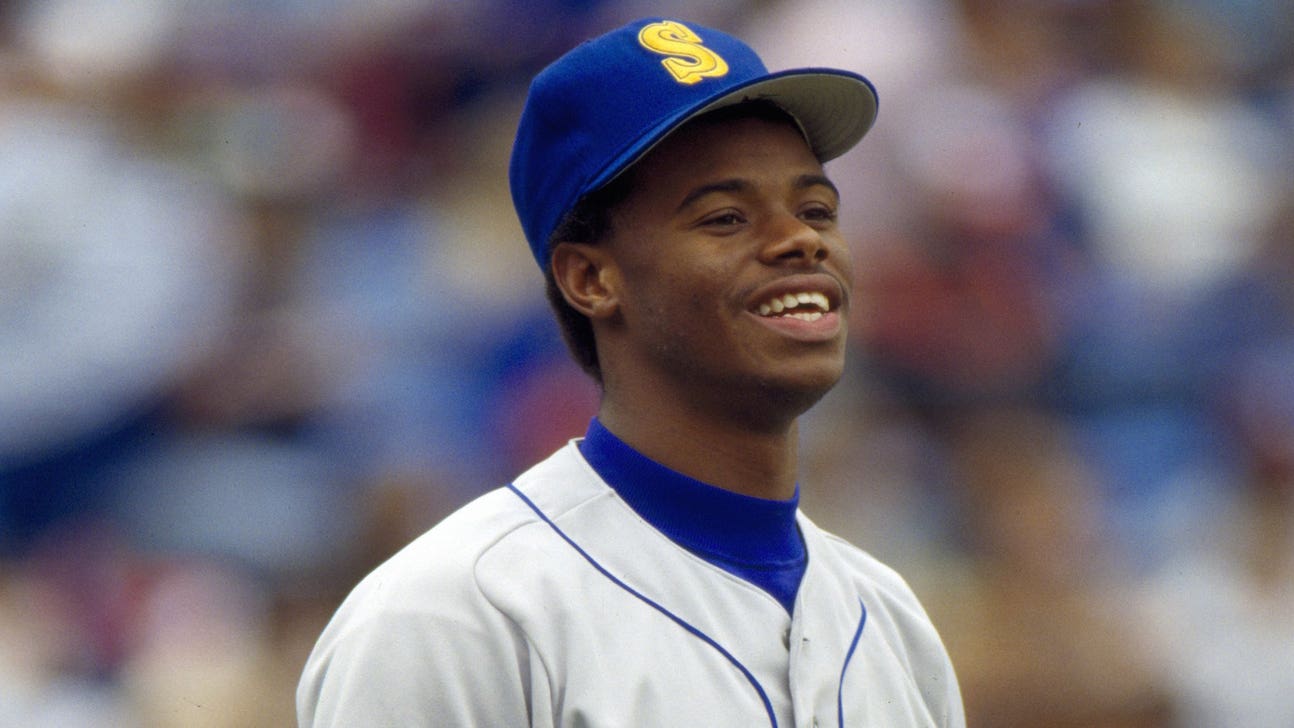 Pittsburgh Pirates
7 MLB stars whose draft reports predicted their greatness
Published
Jun. 8, 2016 11:30 a.m. ET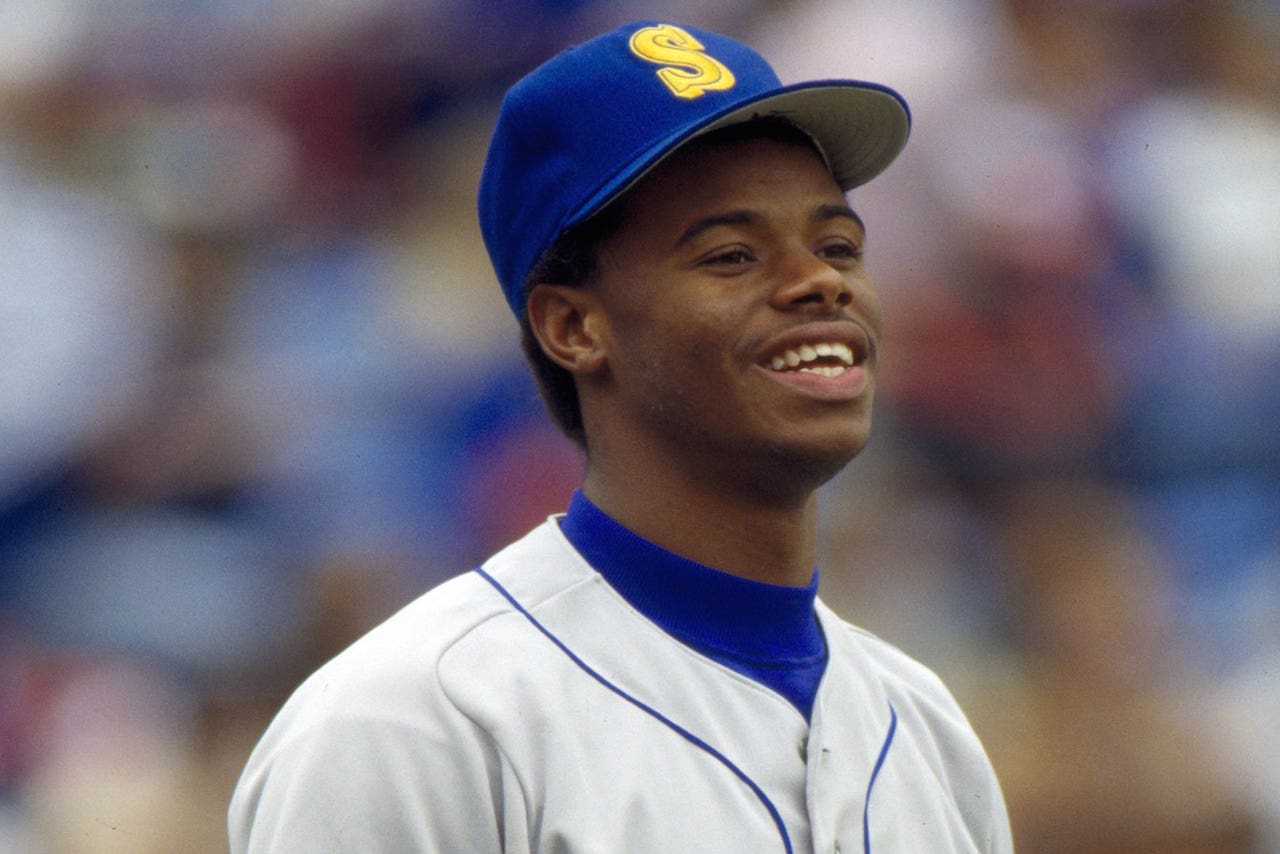 Baseball scouting is tough gig that requires thousands of miles of driving (or millions) through small towns where dining options are few.
At every stop the objective remains the same: watch the kid play, thoroughly evaluate him and project his future ability and how he might be able to help the organization.
It's a tall task. Even guys who appear top-flight talents and become consensus "no-doubt" prospects often flame out in the big show. (Here's the 10 biggest MLB draft busts). Sometimes scouts are just dead wrong because, among other reasons, it's challenging to project how a teenager will develop mentally and physically in a grinding sport in which the majority of players never ascend all the way.
As the 2016 MLB Draft is set to begin on Thursday, climb into the time machine (via Diamond Mines) and see prescient remarks about young future stars before they became household names. While some reports foretold greatness with more vigor, they're all pretty interesting to read with the benefit of hindsight.
Notable remarks: On his "arm and fielding" it reads: "Very good arm -- accurate. Excellent hands -- very good fielder. Is the best I've seen coming in on bunts and swinging bunts. Will be tough to beat out bunts to him."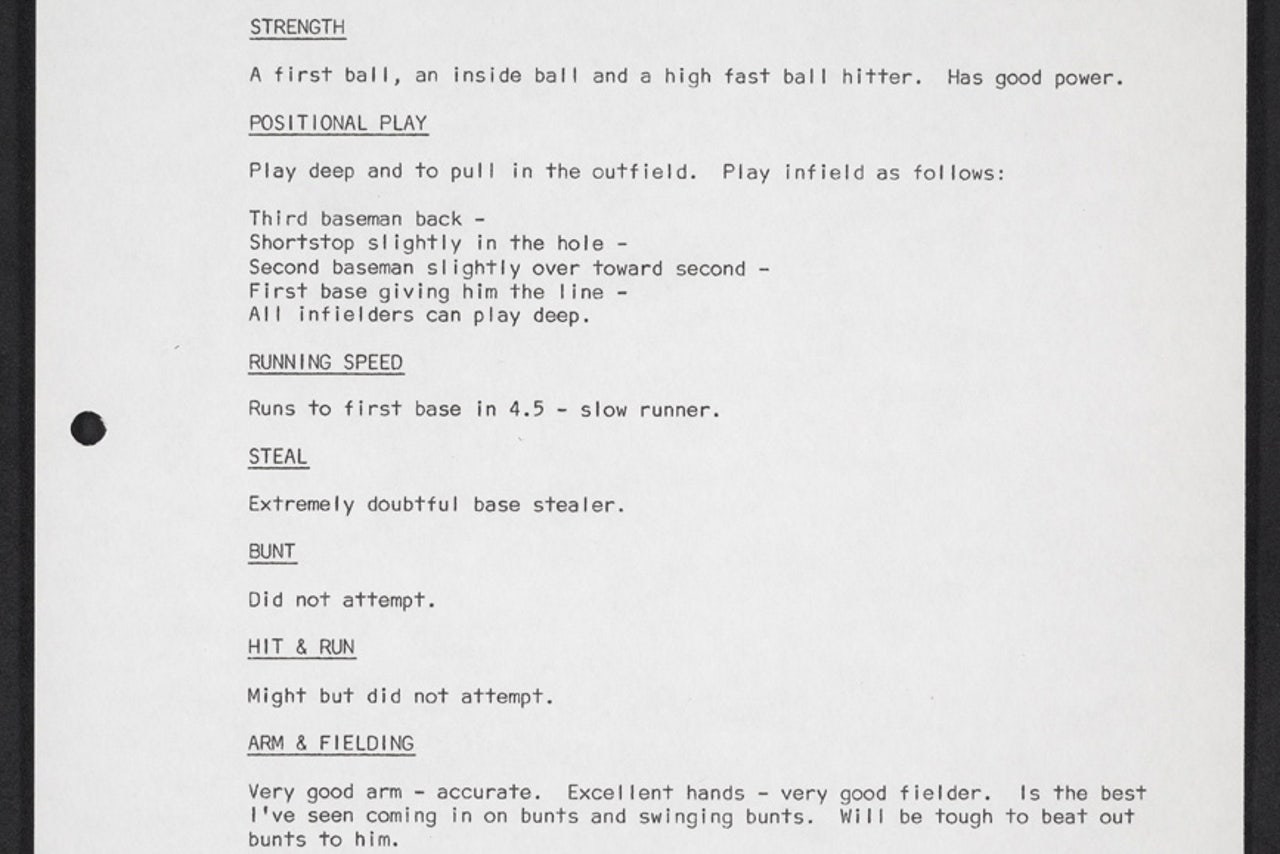 The ensuing career: Also known as the "Human Vacuum Cleaner," the Hall of Fame plaque for the defensive wizard begins, "Established modern standard of excellence for third basemen..."
Notable remarks: "Outstanding instincts, leadership ability and knowledge of game. Superstar potential."
Ensuing career: Though the Braves (and a dozen other teams) mulled a way get Texas-raised pitcher Todd Van Poppel to sign, they ended up taking shortstop Chipper Jones at No. 1 overall in 1990 draft. The plan worked out in the way that scout Russ Bove saw it, so much so that Chipper eventually named one of his sons Shea because he frequently ripped the Mets at their old Shea Stadium (19 homers and .557 SLG in 88 games there). And speaking of his leadership ability, the lifelong Brave and future Hall of Famer is still serving the franchise well: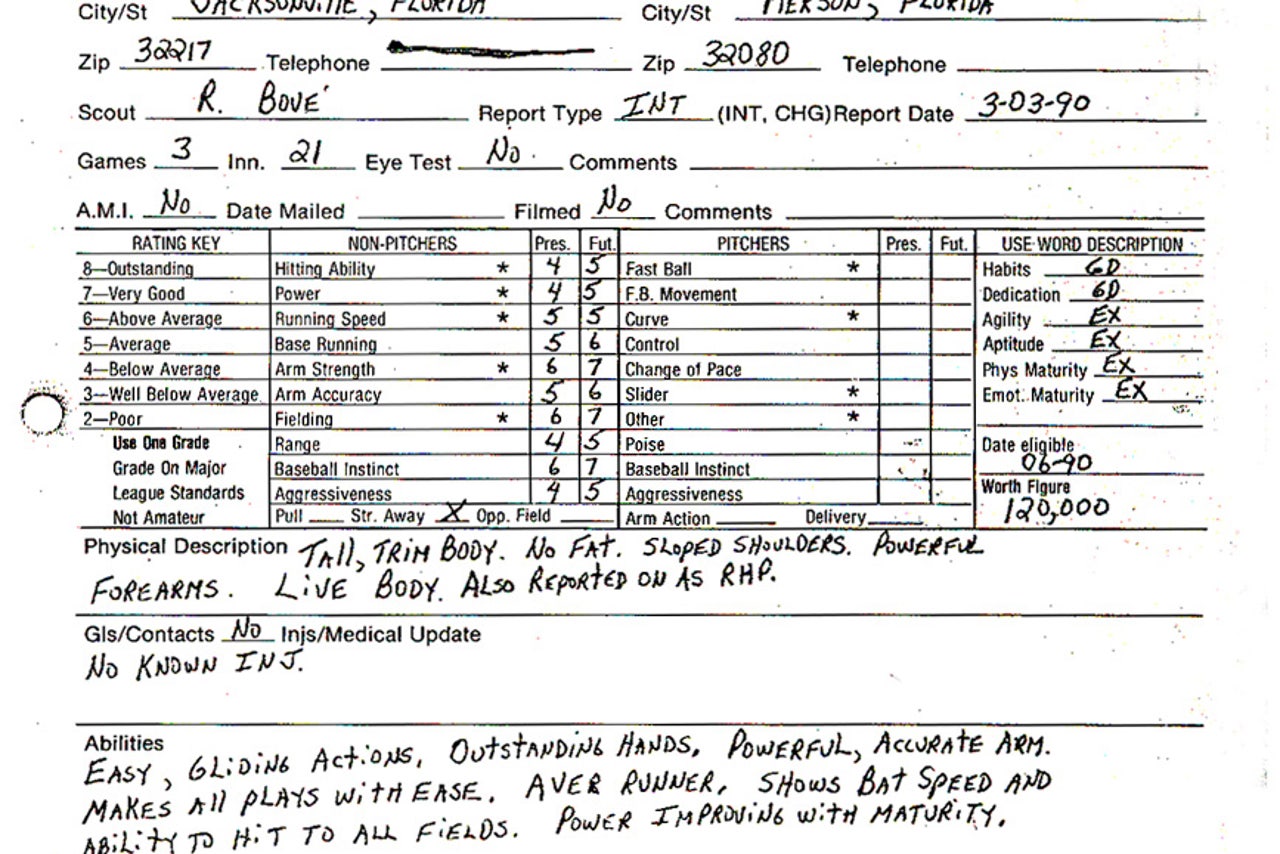 Notable remarks: "Has been surrounded by question marks all spring because of erraticness of play, dependability. Introverted kid, almost sullen looking. But coming where he's from, now wonder ... has plenty of ability especially with bat to be solid everyday big leaguer -- if intangibles permit."
The ensuing career: Intangibles permitted and he became one of the most feared right-handed hitters of all time with bouts of "Manny Being Manny."
Notable remarks: The report on Biggio, a junior at Seton Hall at the time, reads like someone in the Biggio family may have written it. Since the whole thing is a compliment I'll point out the ironic weakness that Biggio "will at times pull back from breaking pitch (curveball)."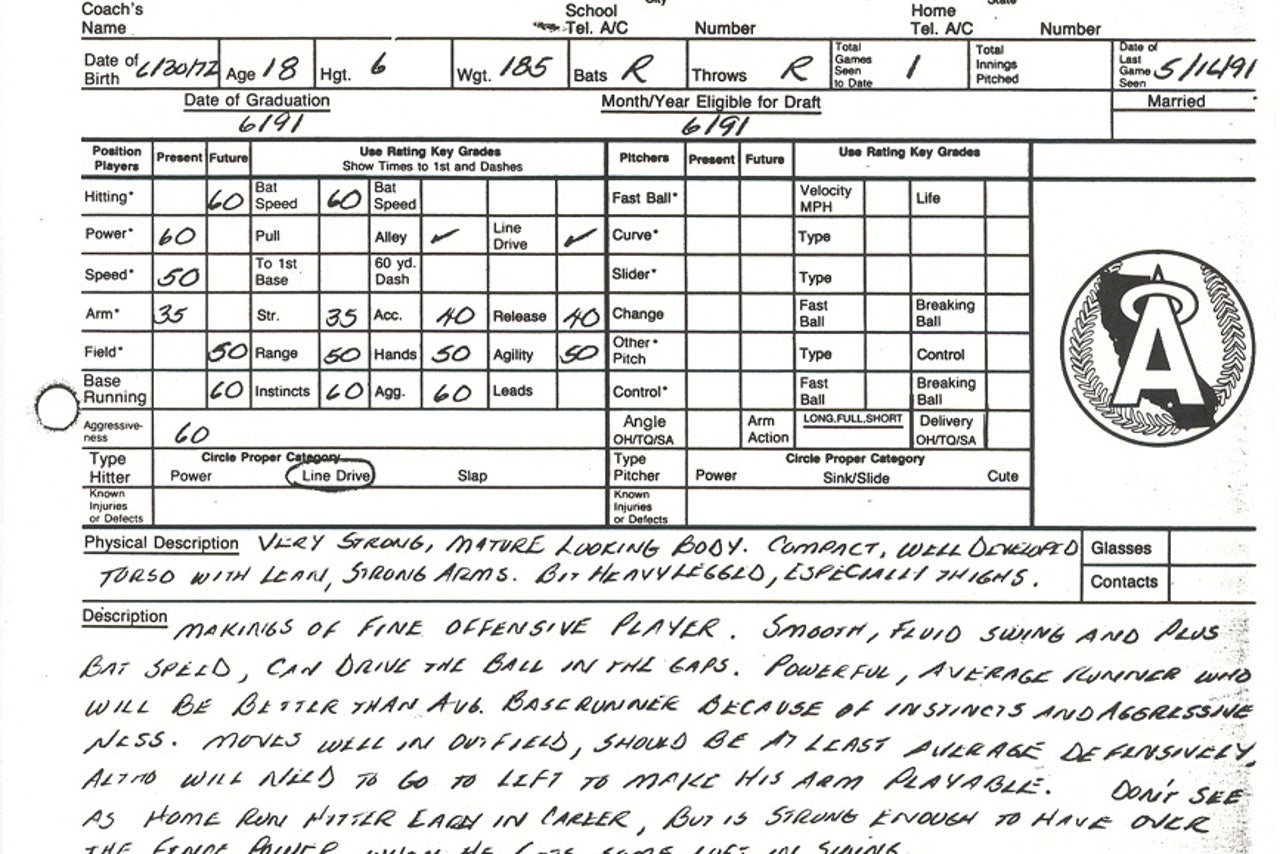 The ensuing career: That's pretty funny considering how he became notorious for crowding the plate, finishing second all-time hit-by-pitch list with 285 career bruises over 20 seasons. He even inspired the blogspot "Plunk Biggio" that was "dedicated to Craig Biggio and his (probably unintentional) quest" to break the MLB HBP record.
Notable remarks: "Only 17, one of the best projectable pitchers I've scouted. [Steve] Carlton was another ... really like his future."
Ensuing career: Won the 1984 NL Rookie of the Year award with the Mets the 1985 NL Cy Young and the 1986 World Series. Injuries, some drug problems and perhaps a heavy workload in his early years stunted what may have ended in a trip to Cooperstown, but he did get to enjoy two more World Series titles (1996, 1998) in another New York borough.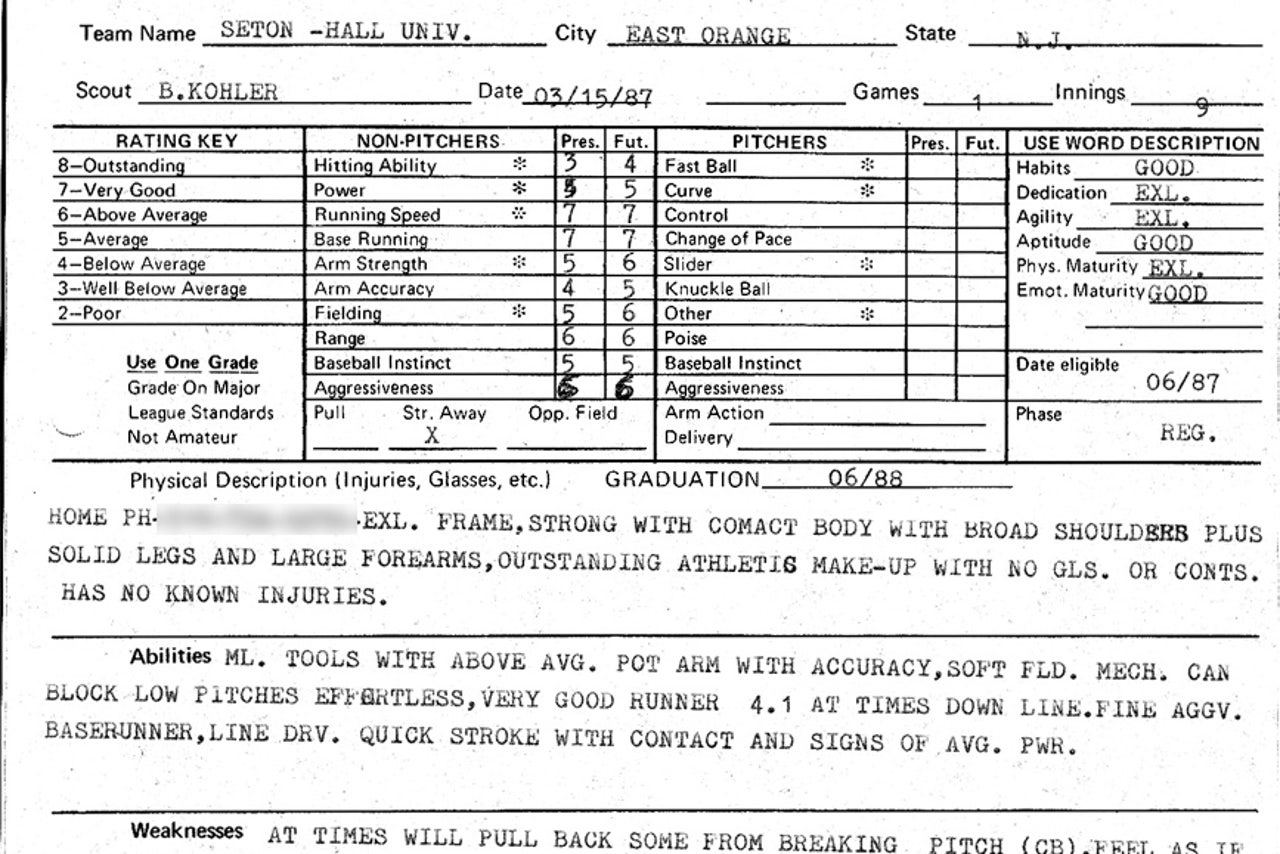 Notable remarks: "Obviously has had to prove himself at every level he's played and has risen to the occasion. A warrior on the mound."
Ensuing career: The totality of the report on Abbott, born without a right hand, put the teen into the average/above-average range. Overall it's not a declaration of future greatness but it does capture the kind of baseball-transcending inspirational talent that he became.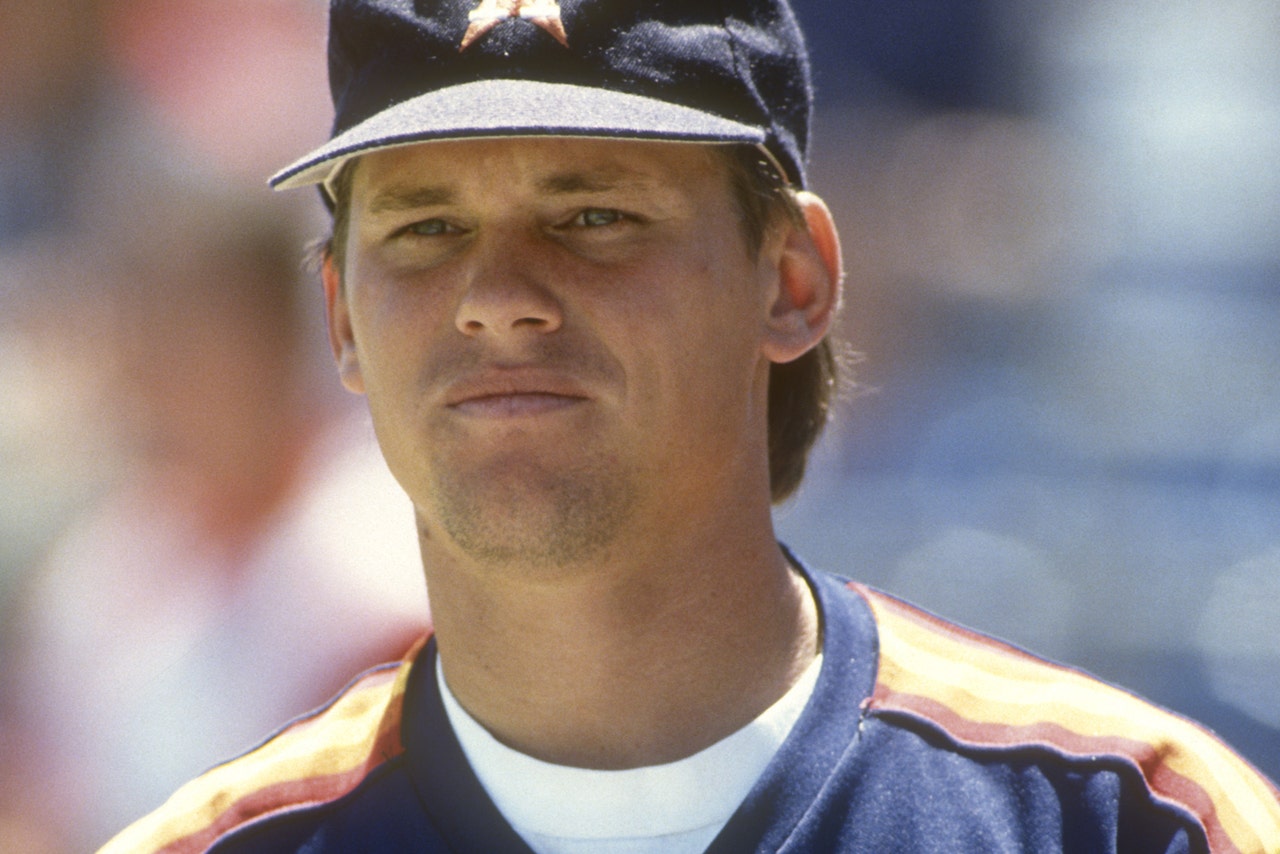 Notable remarks: "Future outstanding power. Very good fielding and range ... Top prospecting for me with outstanding skills ... solid thighs and buttocks."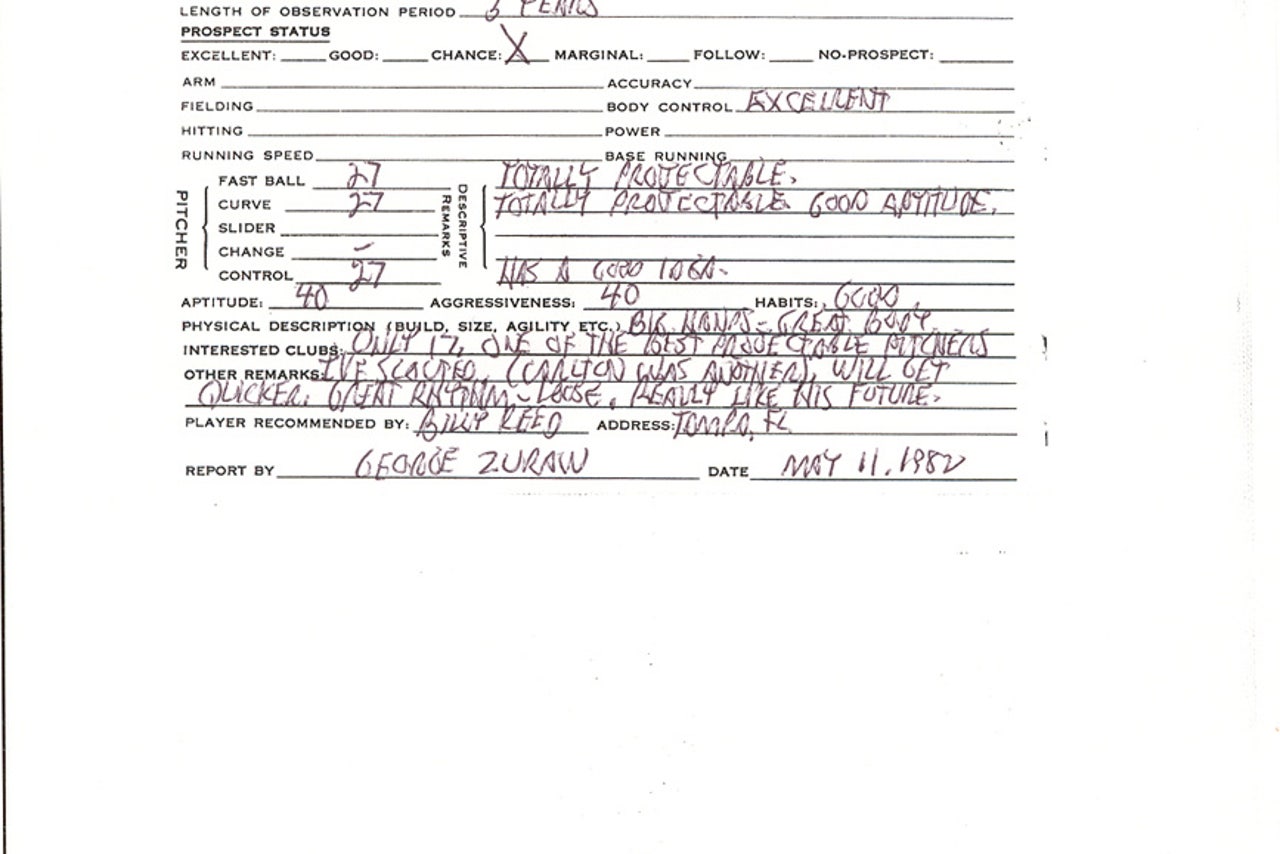 Ensuing career: Became a wall-climbing 10-time Gold Glove award winner with one of the sweetest home run strokes of all time. "The Kid" will enter the Hall with the class of 2016 in July the highest percentage of BBWAA votes of all time (99.32%).
Since Junior recently wrote a few words about what he feels was his best catch, let's take another look at that one:
With a particularly comical line in his report in light of historical events.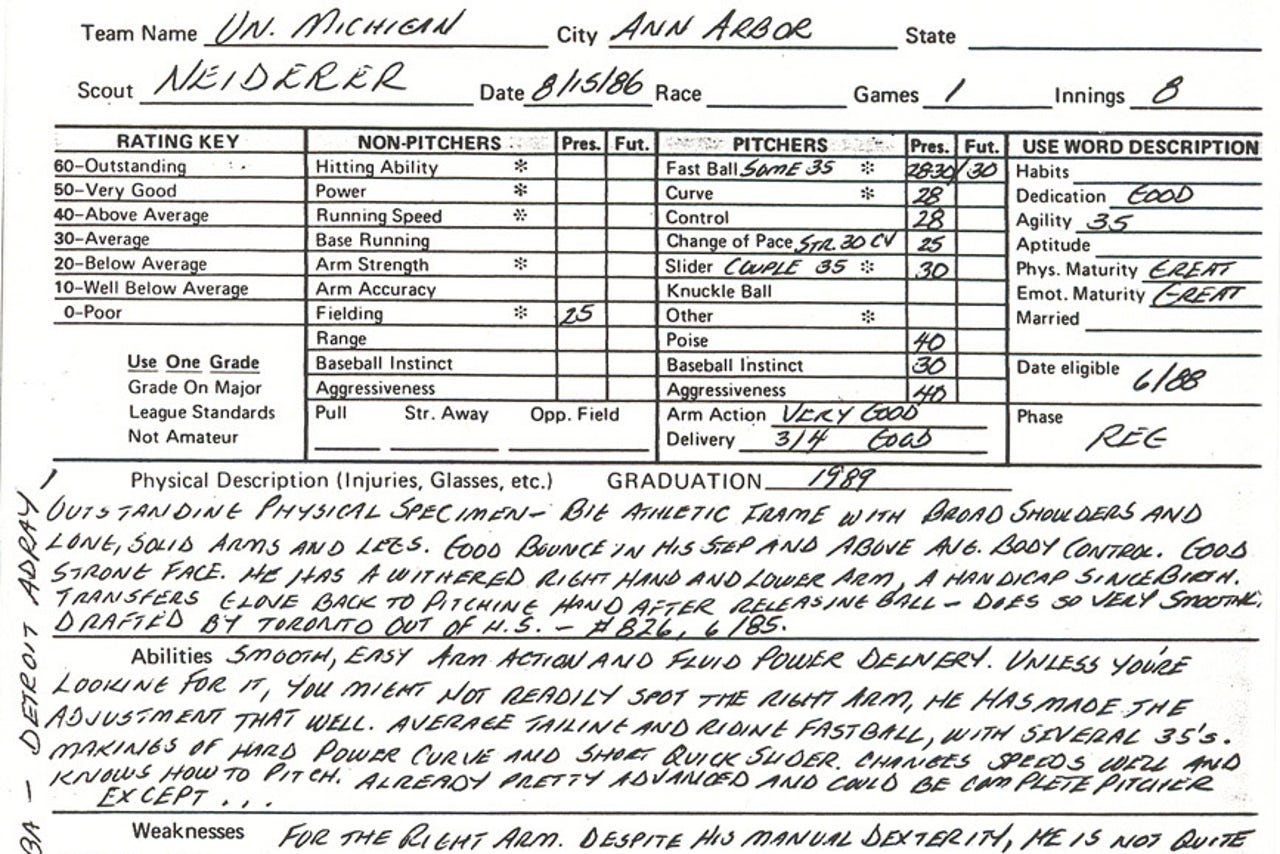 Notable remarks: "Will not have average speed."
Ensuing career: He had juuuuuust enough speed. Barely.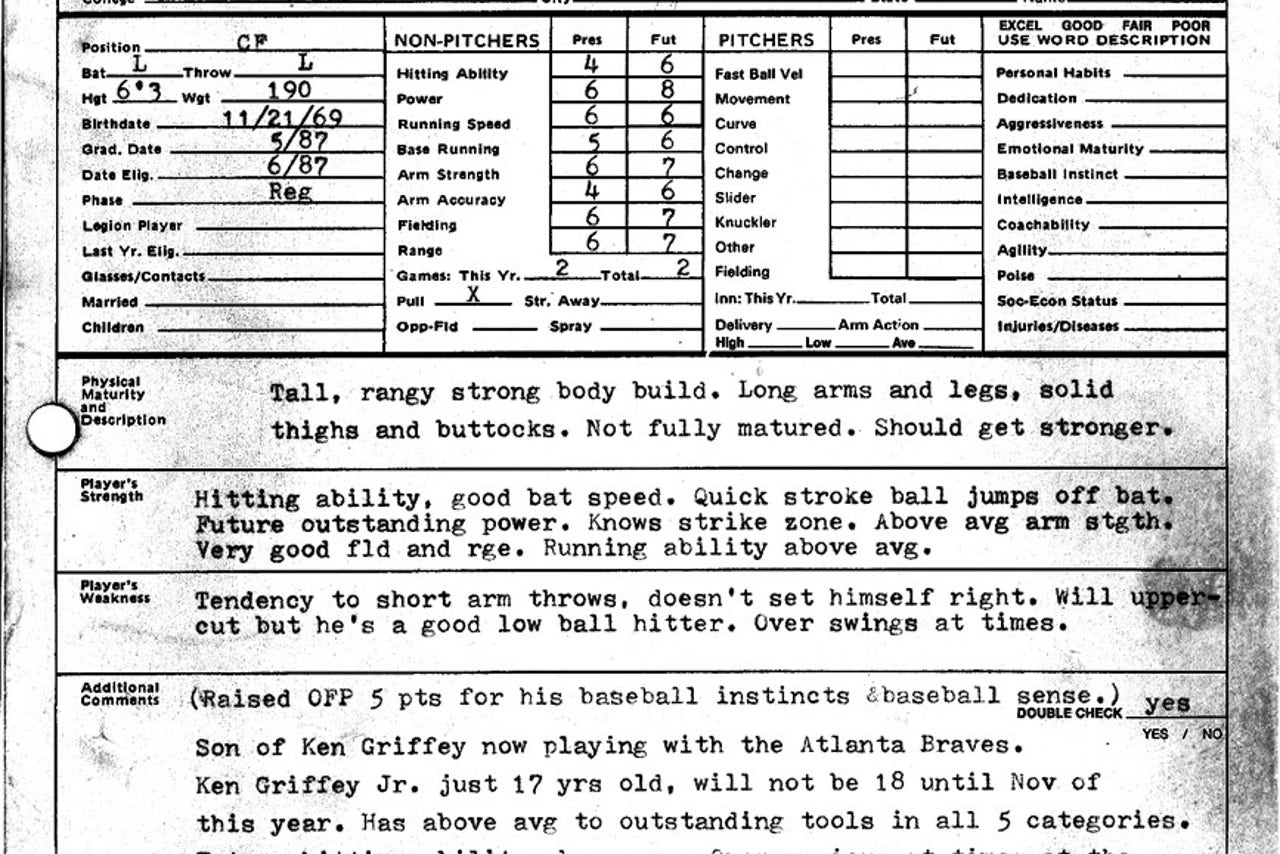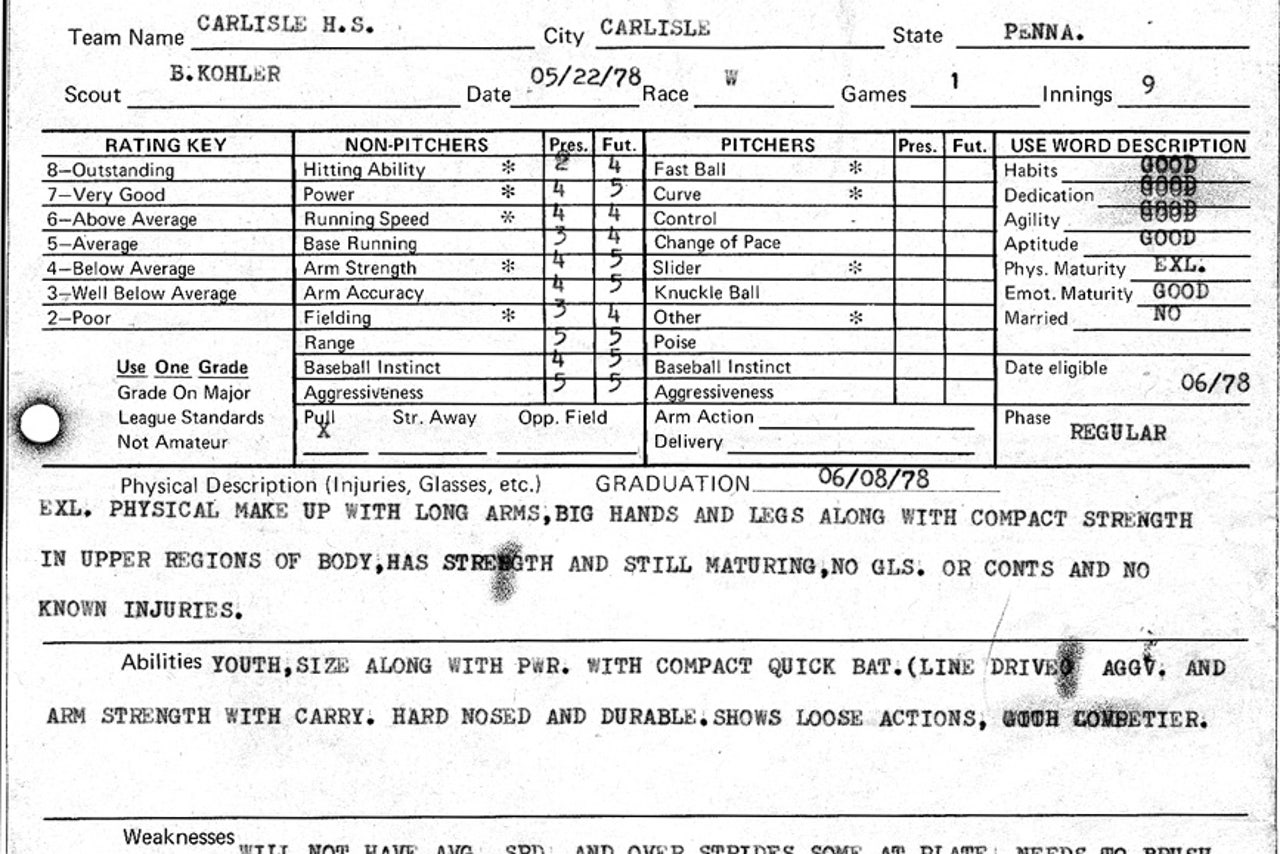 ---
---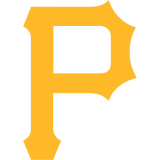 Get more from Pittsburgh Pirates
Follow your favorites to get information about games, news and more
---