Why Texas would be crazy to fire Charlie Strong now
BY foxsports • October 5, 2016
Over the past couple days, there hasn't been a bigger story in college football than the status of Texas coach Charlie Strong. Strong's Longhorns looked downright pitiful in a 49-31 loss to Oklahoma State on Saturday, and they put on a tackling display that made Icebox and the "Little Giants" look like a reincarnation of the 1985 Chicago Bears.
That loss -- and the embarrassing performance that caused it -- put Strong clearly back on the hot seat, a place that he seemed to coach himself off of earlier this season. It also led to reports early Monday that the Longhorns could fire Strong after this season if he doesn't turn things around in a hurry.
However, Strong shouldn't be on the hot seat ahead of this weekend's Red River Rivalry game on FS1. And barring something disastrous (like a 4-8 finish), his job status shouldn't even begin to be evaluated until this time next season. Admittedly, Texas isn't where it wants to be. But given everything Strong has had to overcome since he got to Austin, the Longhorns are right where they should be -- a good program that is still a long way from competing with the best teams in the country.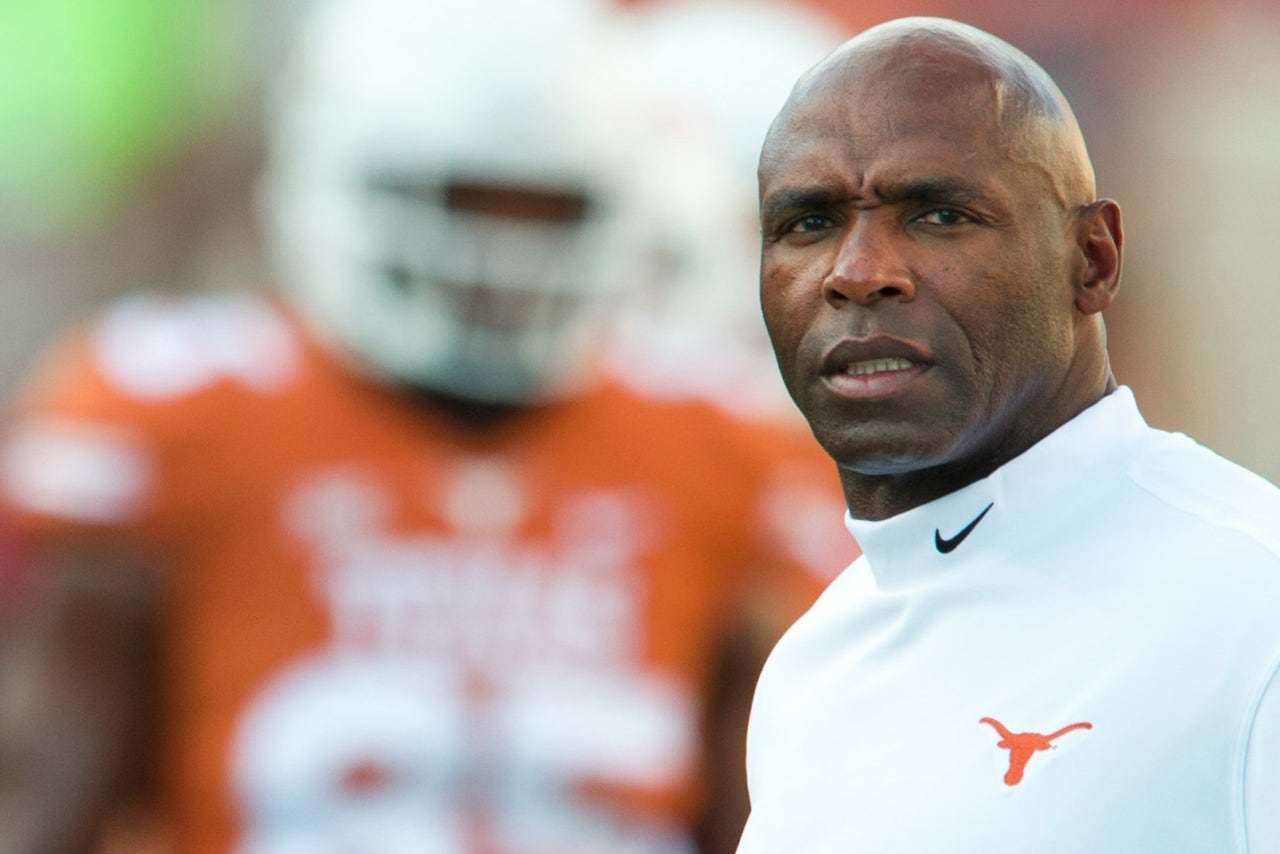 Looking at things in the big picture, it's clear that Mack Brown didn't exactly leave the cupboard full for Strong when he left. Texas has had just six players selected in the NFL Draft since Strong arrived -- and that reveals the direct correlation between the talent he inherited and the results we've all seen on the field. For comparison's sake, Notre Dame -- a good, but hardly elite team over the past few years -- had the same number of players drafted in just the first three rounds of last year's draft alone. This same Texas program had six players drafted following its 2005 title season. The Longhorns' talent hasn't been up to par with college football's good teams over the past few years, let alone it's elite ones.
If you want to blame Strong for not developing more of those guys into draft picks, fine. But it's also left Strong with no choice but to sport one of the youngest rosters in college football over the past few seasons. It's also led to a staggering number of players from his heralded 2015 and 2016 recruiting classes being forced into action, whether they're ready or not. And that's the biggest reason why Strong shouldn't be on the hot seat. You can't blame him for having no choice but to throw a bunch of young -- and maybe slightly underprepared -- players onto the field.
Looking at Texas' overall roster, it's amazing how many freshmen and sophomores are on the field. We all know about Shane Buechele at quarterback, but the Longhorns leading receiver John Burt is a true sophomore too, and the team's three leading tacklers (Anthony Wheeler, Malik Jefferson and Breckln Hager) are all true sophomores as well. In total, 11 of Texas' top 16 tacklers are either freshmen or sophomores, and that doesn't include heralded recruits like safety Brandon Jones or lineman Jordan Elliott -- true freshmen who also have been thrown into the fire more in the past couple weeks.
That's an insanely young cast of characters compared to just about any program in college football, let alone the elite teams that Texas has designs on competing with at the highest level.
Just for fun, I decided to compare it with Alabama, the unquestioned top program in college football.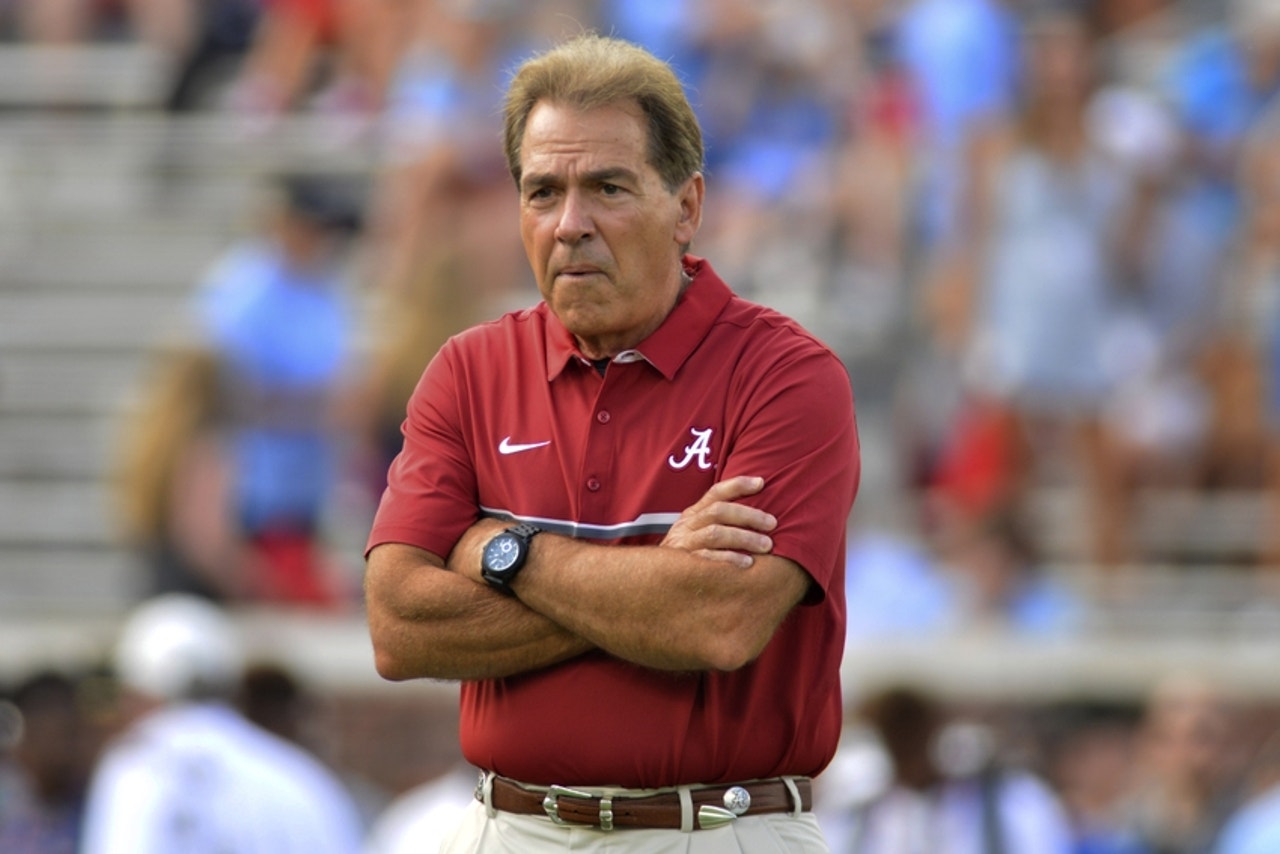 This is Nick Saban's 10th season at 'Bama, and he has had a chance to establish his culture, his way of doing things and bring in his guys. The result: a veteran-laden team that includes five seniors among the teams' top 10 tacklers, including three guys (Reuben Foster, Jonathan Allen and Eddie Jackson) who were probably good enough to leave for the NFL Draft this past year. Heck, even the Oklahoma State team that Texas lost to last weekend has a third-year starter at quarterback, with its top eight -- EIGHT -- tacklers as seniors or juniors. If the Longhorns had any edge in talent last weekend, it was negated by inexperience.
It's also why Strong needs more time to figure things out. With so many top players returning next year, can you imagine how much better this team will be? Not to mention that the Big 12 isn't exactly brimming with elite teams; heck, with the way Baylor and TCU have looked this year, if the Longhorns can somehow beat Oklahoma this weekend, they will be right in the thick of the Big 12 conference title race. Even if the Longhorns don't win it this year, they'll have to be favorites coming into next year.
Add it up, and it makes no sense to fire Strong right now, or even list him on the hot seat. The guy has only been in town for two and a half years and is still in the process of rebuilding the mess he inherited.
Obviously, changes have to be made (starting with the demotion of Vance Bedford as the team's defensive coordinator), but the big one -- firing Strong -- shouldn't be considered for the foreseeable future.
The Texas football program isn't where its fans want it to be, but it is where it should be: getting better, but with a long way to go.
That's the reality in Austin right now.
---
---